The most annoying sound in the world has got to be my alarm clock's ring. No matter what time it goes off, I loathe it all the same. I used to be one of those people that got up on the first ring. I would even try and beat the alarm clock and turn it off before it went off, just so I didn't have to hear the ring (Ambitious right)?
Then I moved in with my husband and it all went to hell because of his addiction to the snooze button. And since I am a sucker for good old fashioned peer pressure, I am now guilty of this addiction too. (We hit the snooze button at least four times before we actually get out of bed, our neighbors must really love that.)
Since we moved in together, I have gained several bad habits or addictions, thanks to him. For example, I never really liked spicy food, now I can not get enough of it. In fact, on our honeymoon I ate a habañero pepper and didn't even notice I ate it until I made my husband try it and he pretty much started to cry. (Not going to lie, I am kind of proud of this accomplishment.)
I also never ate chicken wings until this year. Crazy right? I never really liked the mess factor involved in eating them.
But since that was my husband's go-to bar or take-out food of choice in his bachelor days, it has now become one of my favorite things to have as an appetizer when we dine out.
Unfortunately, wings really aren't that good for you. (Even though the combination of frying them and then drenching them in butter laced vinegary goodness is what makes them so tasty.)
Luckily, once again, I have taken on my husband's challenge to reinvent one of his favorite bachelor foods into something easy, healthier, and "bacheloretteized."
Ingredients for Pulled Chicken (feeds six)
1 Light Beer (I used a can of Miller Lite).
1 Cup of Frank's Red Hot Buffalo Sauce
1 TSP Garlic Powder
1 TSP Salt
1 TSP Pepper
1 TSP Crushed Red Pepper Flakes
1 lb of Boneless Skinless Chicken Breasts
 
Note: Since most bachelors do not have a slow cooker, you can also combine all the ingredients in a large pot. Bring it to a simmer, and let cook for an hour with the lid off and still get the same results as using a slow cooker.
 
Seriously, it is this easy: Put everything in a crock pot and cook it on low for eight hours. When the chicken is done, remove it and let it rest for a few minutes.

Using two forks, shred the chicken breasts. Add them back to the sauce. Scoop out a healthy portion and pile it on any kind of hearty bun.
 
Ta-da! Just call me your chicken wing-ed fairy godmother!
 
Ingredients for Simple Blue Cheese Dressing
½ Cup of Blue Cheese Crumbles
1 Cup of Sour Cream
¼ TSP Salt
¼ TSP Pepper
¼ Cup of Milk
1 TBSP Fresh Chives, finely chopped
 
Crumble the blue cheese. Add the salt, pepper, and chives to the sour cream. Mix well. Add in the milk slowly, mixing continually until you get the consistency you desire.
 
Every man (and most women) I know has beer and hot sauce in their fridge at all times.

So, just go to the store, buy chicken, buns, blue cheese, sour cream, and chives (because I know most bachelors don't have those handy at all times) and an hour (or eight if you are a fancy chef kind of bachelor with a slow cooker) later you have enough pulled buffalo chicken to avoid buying wings for weeks!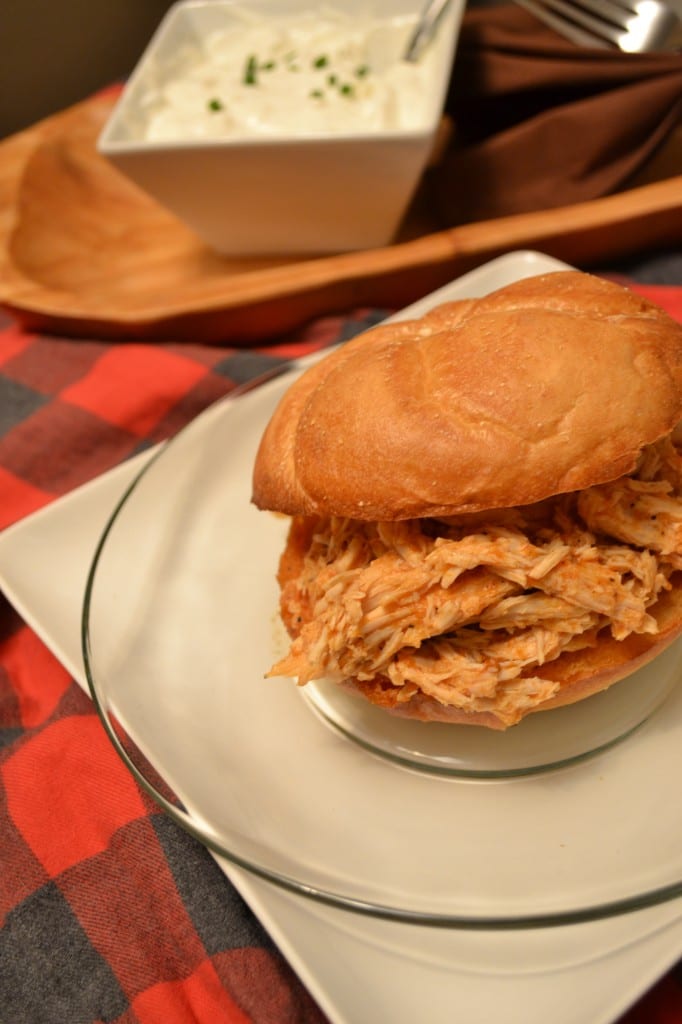 I'm kind of diggin' on dude food right now!
Related posts: