I am becoming a mixture of Larry David and my 60 year old father. How so, you ask?
Well, this morning around 6:30am our upstairs neighbor and his 4 year old child decided to run laps around their apartment wearing construction boots. Not really, but that is what it sounded like to the person in the room directly below them.
I lay in bed glaring at the ceiling and ruing the day I did not have a tennis ball to throw at the ceiling or a broom to poke the ceiling, to let them know they are being quite loud.
It's not like they were playing or even laughing. I could have been a little more understanding if they were enjoying some bonding time or something. But what I imagined in my head was them just stomping around in heavy boots just for the heck of it.
I know what some of you are thinking, "Oh when you are a parent, you will understand, it will be different." All I know is that (God willing) when I am a parent, that crap will not fly in this house. It is 6:30am and you have neighbors kid! Come on!
I have noticed other Grumpy Old Men qualities seeping into my life as well. I like to say hello to people passing on the sidewalk while I am out walking my dog. It is common courtesy to exchange pleasantries while you cross paths. I hate when you say "Hello" or "Good Morning" and the other person just ignores you! I also like when said passerbys stay on the right side of the sidewalk. This is America; we drive on the right side of the road and should therefore stick to the same policy while walking on the sidewalk.
 My taste is also being affected by this phenomenon. I am to the point in life where I like what I like and I don't need to be convinced otherwise or have people give their two cents about the dish I have ordered. Don't get me wrong, I will always try new things and am totally open to new food suggestions (let's be honest there really isn't a food I don't like). The thing is, if you don't like what I'm eating, I don't need to hear a laundry list of reasons why it is the grossest thing in the world to you.
The above paragraph is going to make my old curmudgeon father so happy because for years, he has ordered the same seafood pasta at our family's favorite Italian restaurant. And when we were little to see that giant plate of mussels, shrimp, and baby squid coming towards the table was our cue to start the whines of disgust. But, he kept ordering it, because to him, it was the best plate of pasta and, honestly, he didn't care what three little children thought was gross at the time. We would turn our noses up to his food and tell him how disgusting it was incessantly, but you knew it was time to stop when he would do his signature "I have had enough" head tilt and close his eyes. We then stopped our taunts and went back to eating our plain spaghetti marinara.
Oh, how times have changed. Now, when we are out to dinner as a family and that plate of seafood arrives we all clamor to get a mussel before my dad eats them all. Either my father is the most patient man alive or he knew that eventually we would stop being so frickin' annoying and our tastes would mature.
So until the lovely little boy that lives above me grows up or moves out I will keep the broom out of the bedroom and leave the tennis balls with the dog and try my best to have a little patience, and eat my little-kid-gross-out stew!
Ingredients (feeds 4-5)
1 (28oz) Can of Plum Tomatoes
1 Cup of Coconut Milk
1 tablespoon of Salt
1 tablespoon of Pepper
1 teaspoon of Curry Powder
¼ teaspoonCayenne
½ teaspoon Coriander
1 teaspoon Turmeric
½ teaspoon of Cumin
¼ teaspoon Cinnamon
1 tablespoon Olive Oil
¾ Cup Onion, diced
2 Red Jalapenos, seeded and finely diced
2 Cloves of Garlic, grated
1 Cup Low Sodium Chicken or Vegetable Stock
2 Pieces of Tilapia
1 ½ lbs. of Scallops
1 lb. Shrimp, peeled and de-veined with the tails on
2 tablespoons of Fresh Cilantro, chopped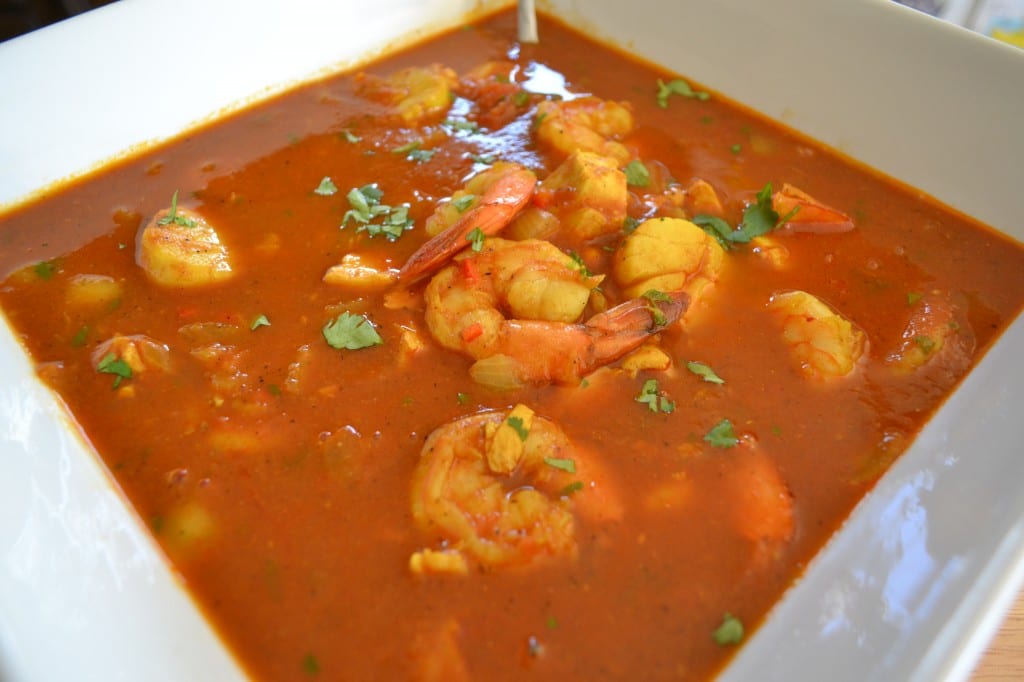 Combine the can of tomatoes, coconut milk, salt, pepper, curry powder, cayenne, coriander, turmeric, cumin, and cinnamon in a blender or large food processor. Puree the mixture until it becomes smooth.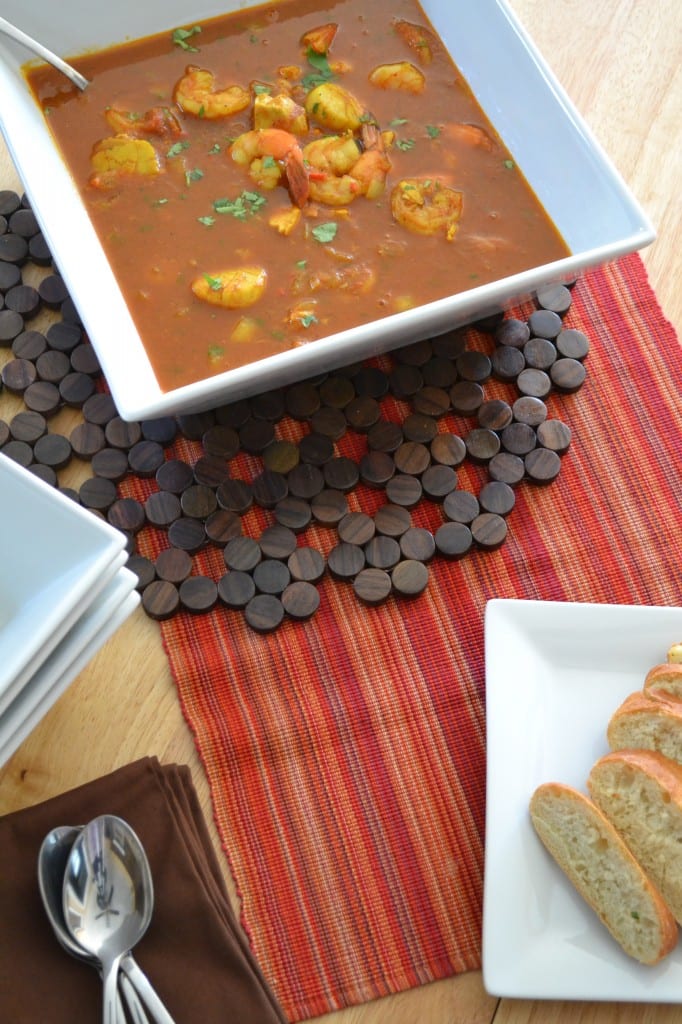 Heat the olive oil over low in a large stock pot. Add the onions and red jalapenos to the warm olive oil. Cook until the onions become translucent. Stir in the grated garlic to make sure it is evenly distributed. Cook for two minutes then add the chicken stock. After the mixture of stock, garlic, onions, and peppers comes to a simmer, add the coconut curry tomato sauce to the pot.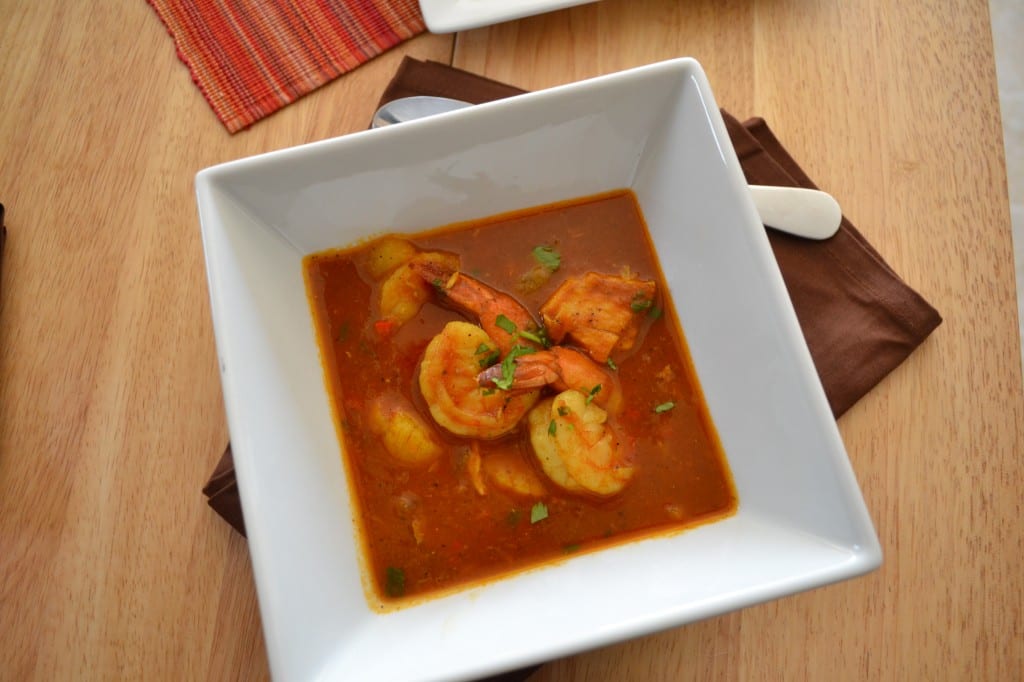 Cut the tilapia into bite size pieces. Add the tilapia and scallops to the pot. Cover with the lid and cook the mixture over medium/low heat for twenty minutes. After twenty minutes of cooking, add the shrimp to the pot. Cover the pot and cook for five more minutes.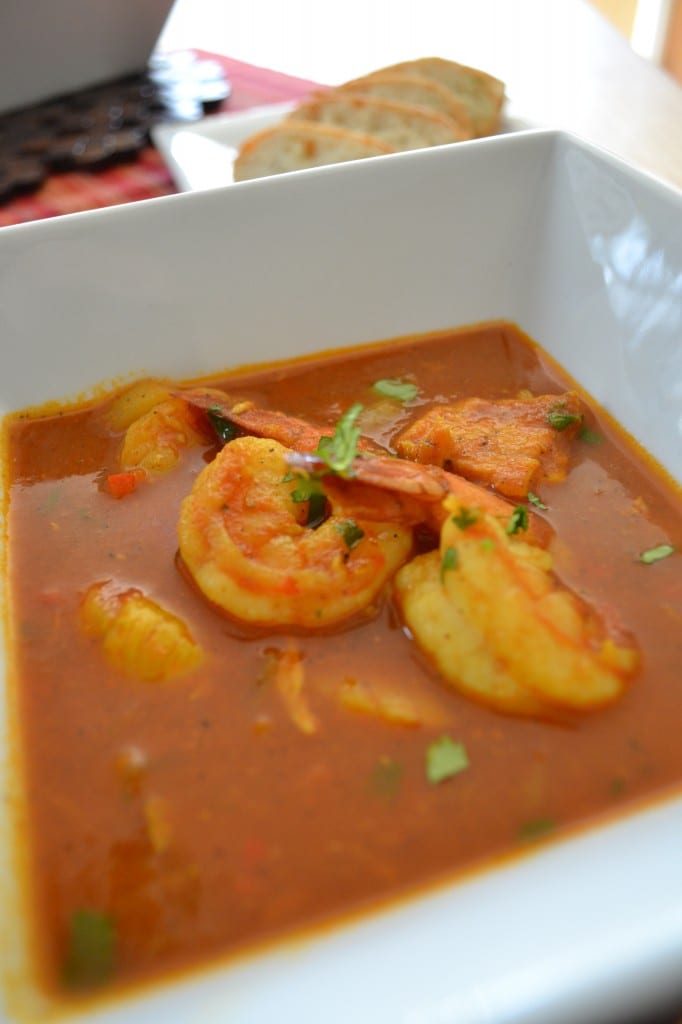 Remove the pot from the heat and add in the fresh chopped cilantro. Let the stew cool for about ten minutes before serving. The stew is great alone, with a crusty piece of bread, on top of rice, or even on top of some noodles.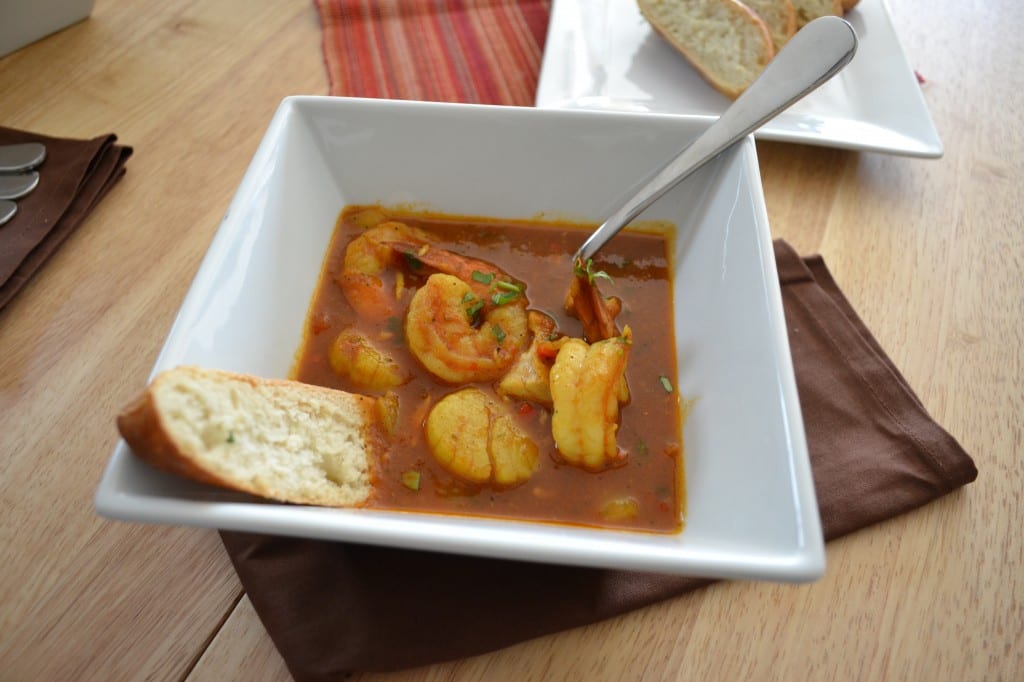 I kid you not, while I was cooking then eating this beautiful stew, my upstairs neighbor (who for some reason was home today) was walking around above me all day long! It is like he was following me or he knew I was writing about him and his child. Or else there is a ghost…
Time for the broom!
Related posts: