I never knew sourdough was such hard work. Ever since I won a sourdough starter giveaway, I have been playing mad scientist in my kitchen every night. Before I go to bed I have to feed my living sourdough culture to make sure it doesn't die. The crazy thing is how fast and how much this "thing" eats and grows; my own little Frankenstein.
Most of you know how bad I am at baking. I somehow am guaranteed to mess something up in terms of measuring or just by not following the instructions in the right order. Any time I am faced with a baking task I get really nervous.
Having this "sourdough baby" has made me inspired to try baking more often. Plus, two other bloggers, Salty Seattle and Pinch My Salt, have started a sourdough movement called Doughvember, for those of us who cannot grow beards for Movember, and I really wanted to be a part of that. Plus who doesn't love a good sourdough, right?
I am not going to lie; there have been major fails and spills along the way, but I finally got one to work and from then I have been a baking machine!
My nerves have been calmed through a lot of trial and error and also from this nerdy ritual my husband and I made up as a joke that kind of stuck.
You know how Notre Dame Football has a "Play Like a Champion Today" sign in their locker room? Well, if you didn't, they do. The players hit the sign on their way out to the game to inspire them. My husband and I joked that when I get nervous about baking I should jump up and hit the little overhang in the hallway into the kitchen and imagine it says "Cook Like a Champion Today" right there. Yes, this is what we do in our spare time. We are both huge nerds, I know.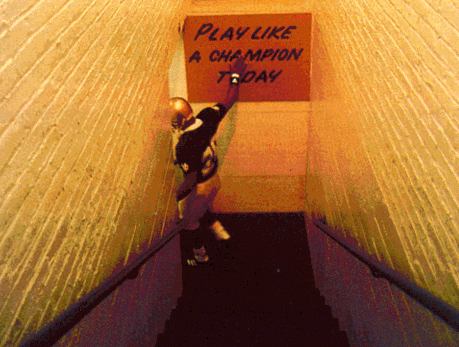 I feel like this is a good message for all of us before the big cooking holiday comes up next week. If you are scared about bringing a mess of a dish to your family Thanksgiving gathering, just remember two things:
1. Cook like a champion today! All you can do is give it your best shot.
2. Holidays are about being together and your family has to love you regardless of how your dish turns out… Unless the dish is headed to the in-laws, then just trash the mess and bring a bottle of wine instead!
At least you tried.
Ingredients (makes 7 pretzels)
1 Cup Sourdough Starter
1 Cup of Warm Water
3 Cups of Flour
1 Cup of Whole Wheat Flour
1 tablespoon of Olive Oil
1 teaspoon of salt
2 tablespoons of baking soda
4 quarts of boiling water
1 Egg White
Coarse Sea Salt
Mix the flours and salt together using a whisk in a large bowl. Create a well in the middle of the dry mixture. Then add in the starter, water, and oil. Knead for about 7 minutes until smooth. Shape the batter into a ball and place it in a warm area to rise for about two hours. When the dough ahs almost doubled in size, punch the batter down and knead it for another five minutes. Roll the dough out on a floured surface into a 7" x 12" rectangle. Cut off 7, 1" wide strips of dough. Roll them into snake-like shapes. Let the dough rise for another thirty minutes.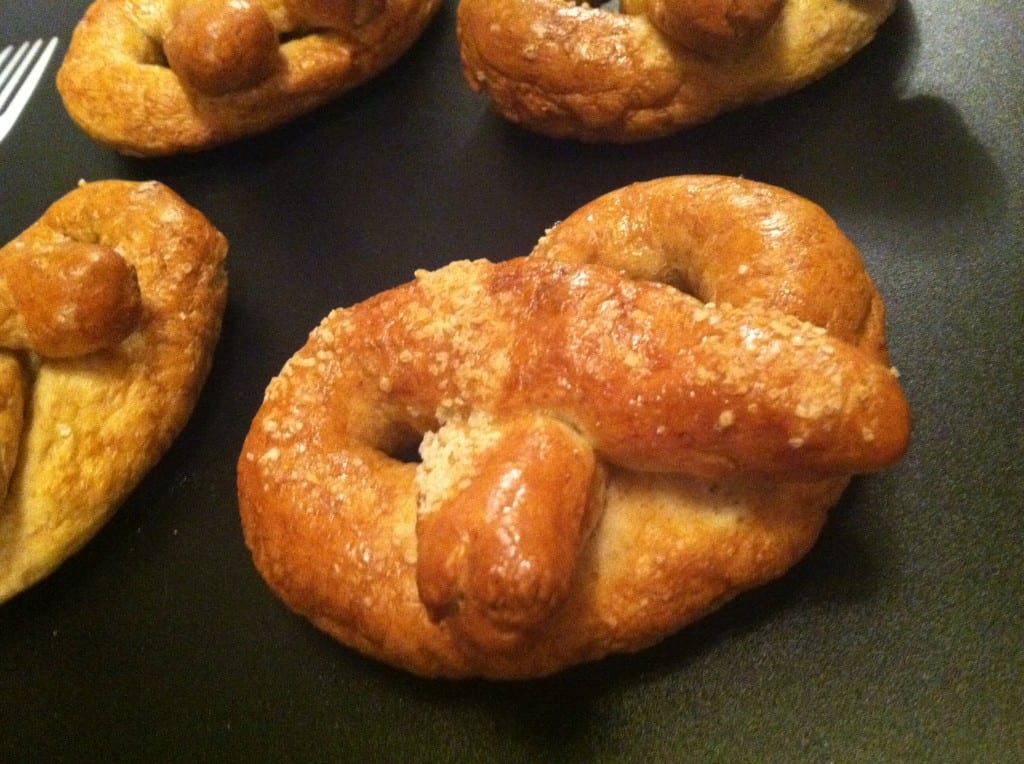 Bring the water and baking soda to a boil in a large pot. While the water comes up to temperature, form the pretzel shape with each piece of dough. When the water is at a rolling boil, add each pretzel one at a time the boiling water. When the pretzel rises to the top remove it from the water and place it on a wire rack to cool. Immediately after the pretzel is placed on the rack, brush it with egg white and dust it in coarse sea salt. Continue this process until all seven pretzels have been boiled.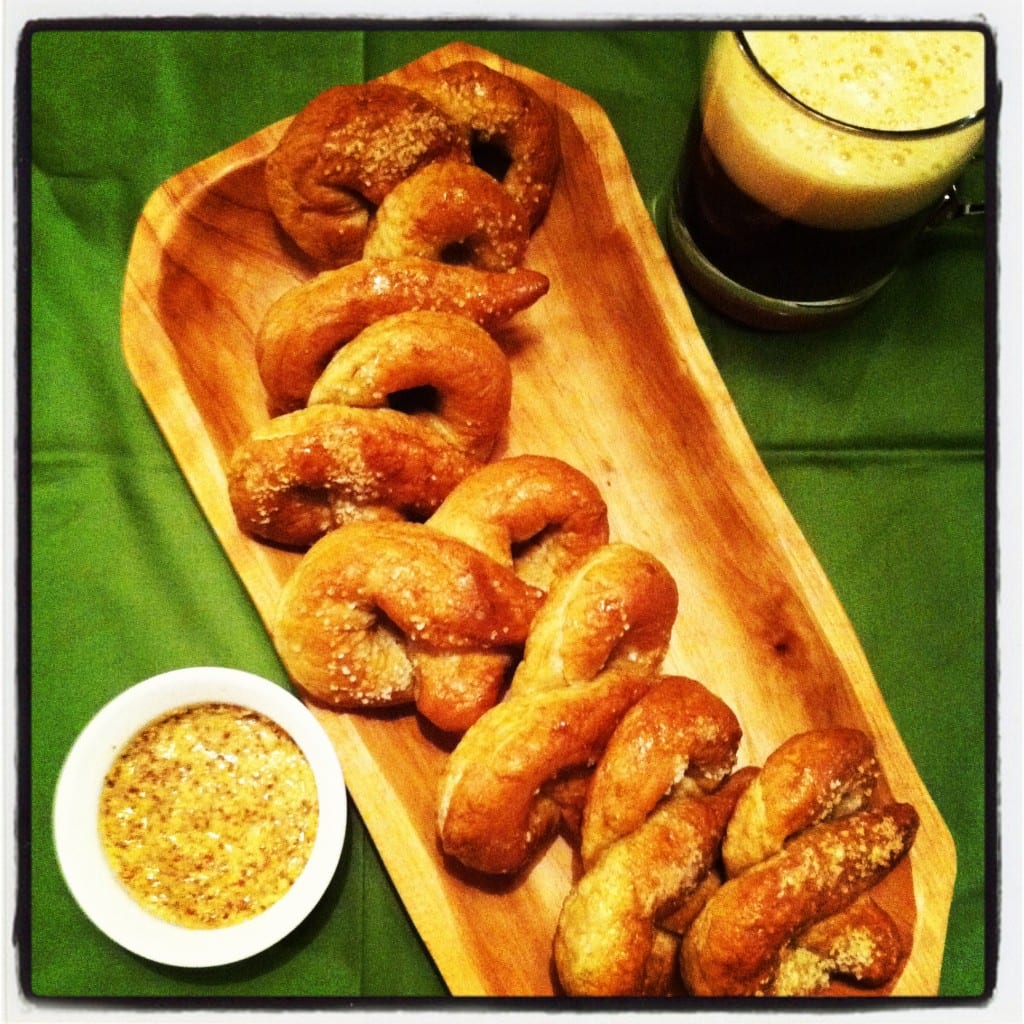 Place pretzels on a baking sheet and place them in a 450 degree oven for 20 minutes to complete the cooking process.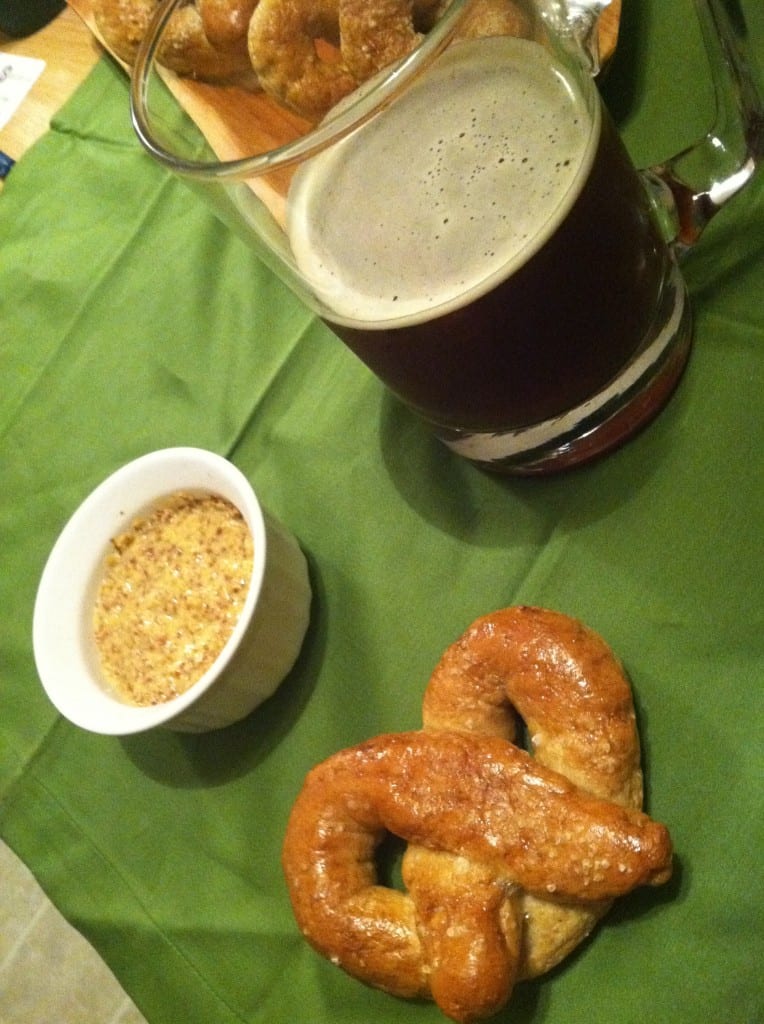 I know it is complex, but if I can do it, so can you! In the end, as your reward, you get to enjoy my favorite happy hour food with a cold beer. What's better than that?
COOK LIKE A CHAMPION TODAY!
Related posts: