This week is all about cookies and sweet treats!
My mom makes these cookies all the time. Everybody loves them! My dog loves them, even though he can not eat chocolate. He still comes creeping around whenever a batch is baking.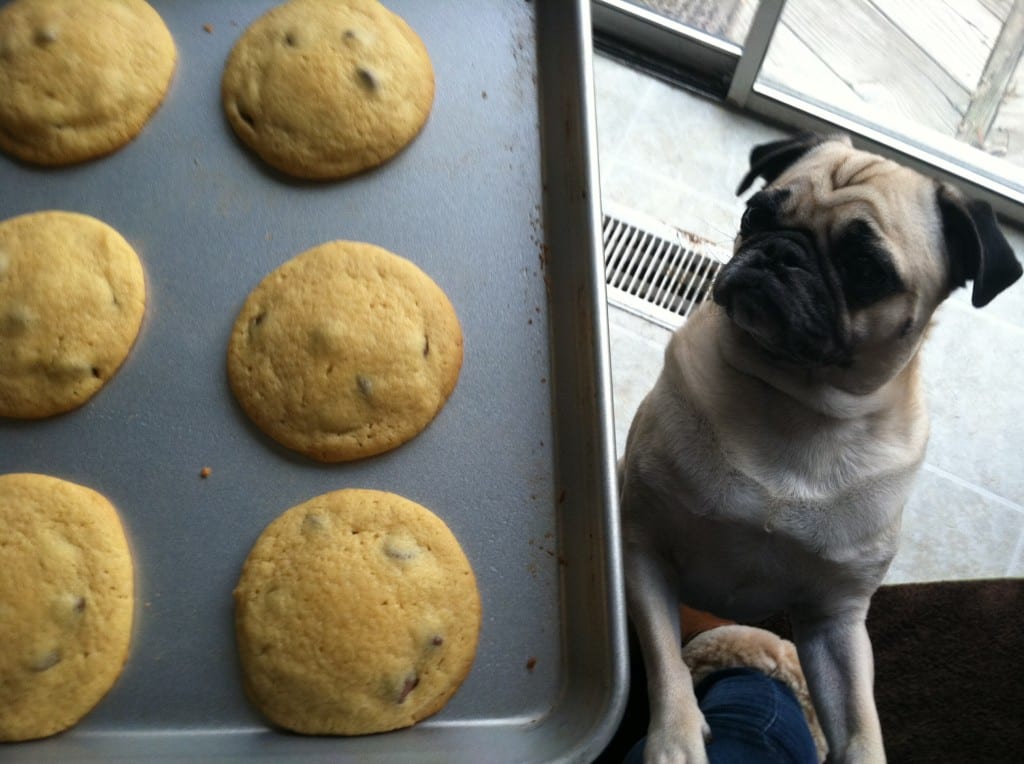 My niece Kate loves them. Cute right?

And thanks to the wonders of the secret ingredient, Jell-O, there are no limits to the flavor combinations you can make to accommodate every type of palate.
This week I am going to share three variations of this basic recipe so you can now add these puffy clouds of goodness to your holiday baking repertoire.
Ingredients (makes approx. 30 cookies)
2 ¼ Cup Flour
1 Teaspoon of Baking Soda
1 Cup of Soft Unsalted Butter*
¾ Cup Light Brown Sugar
¼ Cup Sugar
1 Package of Jell-O Vanilla Instant Pudding
1 Teaspoon of Vanilla
2 Eggs
12 oz Chocolate Chips
*If your butter is in the slightest bit cold, the cookies will not puff up, they will be flat. They are fine to eat, but they look better when you use soft room temp butter.
First, using a whisk, mix the flour and baking soda together in a large bowl. In a separate large bowl, combine the sugars, instant pudding, butter, and vanilla. Beat with a hand mixer until smooth. Beat in one egg at a time. Mix until evenly combined.
Gradually add in the flour and baking soda mix. It is best to use a stand mixer or hand mixer for this part, since the dough is very hard. When all the flour has been mixed in, add the chocolate chips.

Form 1-inch sized balls of dough. Place them about 2 inches apart on an un-greased baking sheet. Bake cookies in the oven at 375 degrees for 8-10 minutes. The cookies keep cooking the longer you keep them on the sheet. So to maintain a nice soft cookie, get them off the baking sheet and on to a wire rack to cool as soon as possible.

Stay tuned for tomorrow's cookie recipe: Dark Chocolate Cayenne Cookies!
Related posts: