I have a lot of great memories from Christmases as a child. One of my favorites was baking cookies with my mom (well not so much baking as taste testing). Everybody has positive memories of their mom baking and the house smelling so wonderful. I would always sneak a cookie off the cooling rack when my mom wasn't looking. When I got older I would help my mom roll out the cookies and bake them. Then after a year of doing that, I realized how irritable she is while baking and went back to being just a taste tester. I don't know what it is about the women in my family and baking. They just don't go together.

Another great memory was heading out to pick the family Christmas tree. My mom and I were picky when it came to finding the right tree. We would stand out in the cold and make my poor dad and brothers lift trees and spin them around to check for bald spots. We would make them slam the tree on the ground to see if any needles were falling off. The trips to the Christmas tree lots were usually an hour long ordeal, but all worth it to find that one special tree.
Once we found that perfect tree, we would watch them cut a little of the base off and wrap it in twine. We would wait in anticipation of what was coming next, our favorite part about the trip, the free candy canes!
My father instead of chancing a shoddy attachment on the roof of the car always shoved our tree in the mini-van. The tree would fit perfectly right down the center of the car. It served as a perfect camouflage for sneak attacks against your sibling on the other side of that tree.
 
Maybe we were bad kids, I don't know. But, we used to fashion our candy canes into a sharp, pointed shank-like object. We would then take turns stabbing each other through the tree all the way home.
Sigh…memories. Life was so simple back then. All I needed to be happy was a cookie and a pointy candy cane to wield as a weapon toward my brothers.
Ingredients (makes approx. 30 cookies)
2 ¼ Cup Flour
1 Teaspoon of Baking Soda
1 Cup of Soft Unsalted Butter*
¾ Cup Light Brown Sugar
¼ Cup Sugar
1 Package of Jell-O Chocolate Instant Pudding
1 Teaspoon of Vanilla
2 Eggs
12 oz White Chocolate Chips
4 oz Crushed Candy Cane Pieces
*If your butter is in the slightest bit cold, the cookies will not puff up, they will be flat. They are fine to eat, but they look better when you use soft room temp butter.

First, using a whisk, mix the flour and baking soda together in a large bowl. In a separate large bowl, combine the sugars, instant pudding, butter, and vanilla. Beat with a hand mixer until smooth. Beat in one egg at a time. Mix until evenly combined.
Gradually add in the flour and baking soda mix. It is best to use a stand mixer or hand mixer for this part, since the dough is very hard. When all the flour has been mixed in, add the chocolate chips. Place a handful of mini peppermint candy canes in a plastic bag, and using a rolling pin or meat tenderizer, smash up the candy canes into small pieces. Measure out 4 ounces and add it to the dough.

Form 1-inch sized balls of dough. Place them about 2 inches apart on an un-greased baking sheet. Bake cookies in the oven at 375 degrees for 8-10 minutes. The cookies keep cooking the longer you keep them on the sheet. So to maintain a nice soft cookie, get them off the baking sheet and on to a wire rack to cool as soon as possible.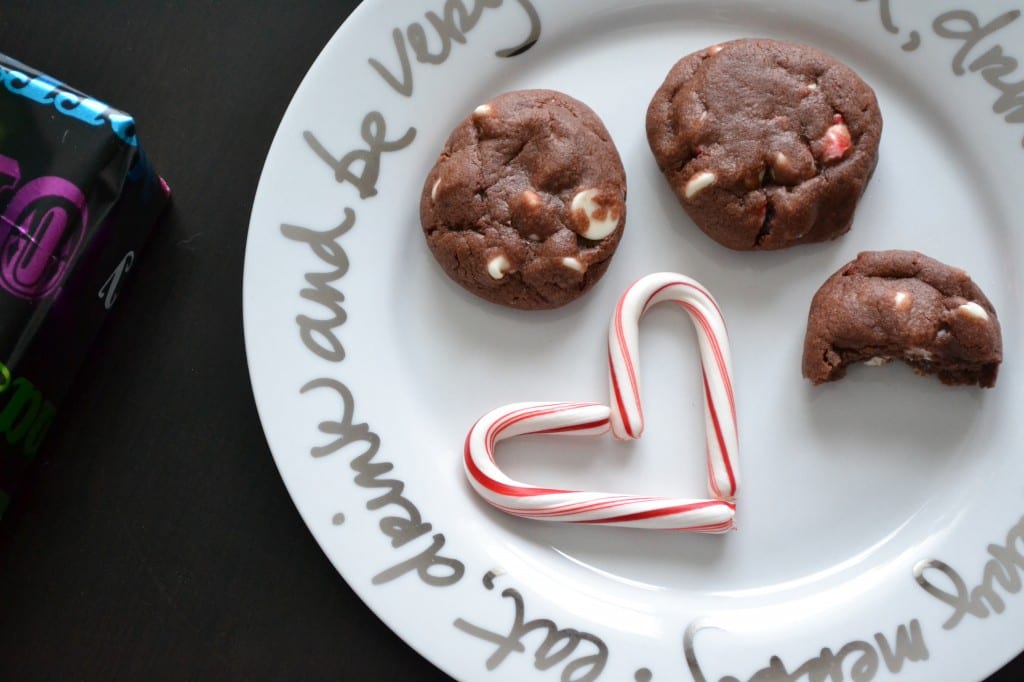 Enjoy this cookie that combines three of the greatest holiday pastimes: candy canes, cookies, and fond memories of sibling brutality!
Related posts: