When talking over the upcoming recipes and food ideas to be featured on the blog with my husband, I brought up this recipe. Here is how the conversation went down:

"So, Wednesday is Polish Pork Chops. I don't know why they are called Polish. Do you?" I asked. "Am I missing something?"
Silence – Husband
"Then Thursday…I don't know what to call these. They are like boneless buffalo chi…" I started to say.
"Stop! You had me at buffalo." He said.

Here is how the conversation went down in my husband's head:
"Woahmp wahmp wahmp. Mwahh waah blah blah?"
(Internal monologue: I wonder how my fantasy basketball team is doing tonight? Did I put deodorant on today?"
"Hmmm… Blah blah buffalo blah."
(Internal monologue: I wonder if she is going to make me eat a salad again. Wait! Did she just say buffalo?)
My husband seriously wants to eat like everyday is a super bowl party. He could live off buffalo anything, pizza, wings, chips, salsa, and dips. For real.
The sad thing (but awesome for him) is he gains no weight!
I'm just waiting until the day his metabolism slows down. Then these vegetables and salads won't look so bad!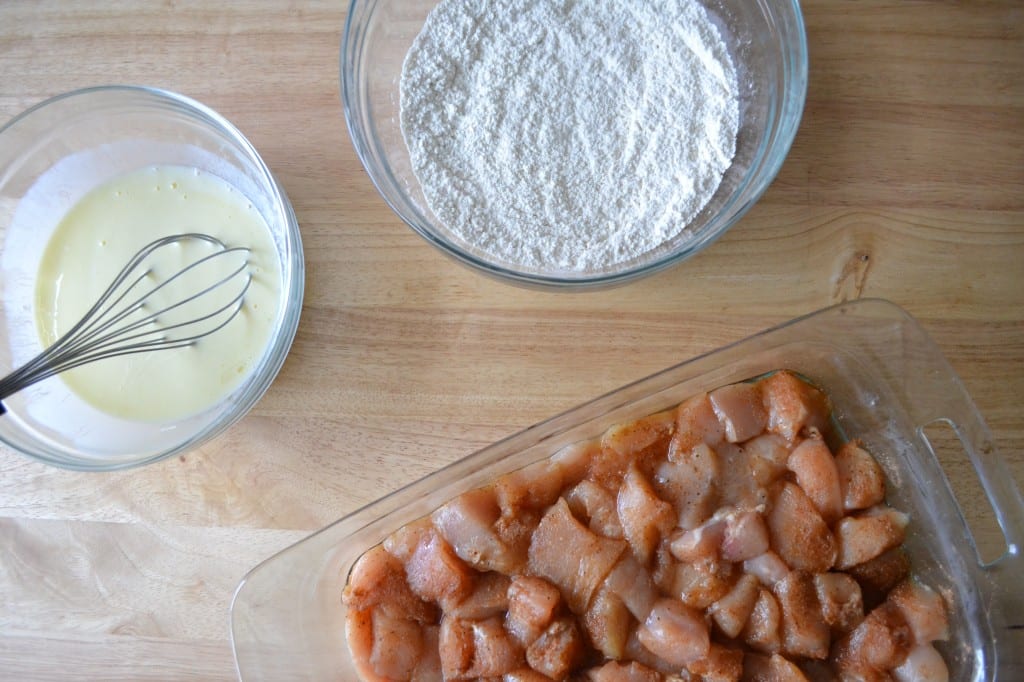 Ingredients for Chicken Bites
2 lb Boneless Skinless Chicken Breasts, cut into small bite size pieces
1 Tablespoon of Taco Seasoning
¼ Teaspoon of Cayenne Pepper
1 Teaspoon of Onion Powder
1 Teaspoon of Garlic Powder
1 Teaspoon of Salt
½ Teaspoon of Pepper
1 Cup Low-fat Cultured Buttermilk
1 Egg, beaten
2 Cups of All Purpose Flour
1 Tablespoon of Corn Starch
Vegetable Oil, for frying
Ingredients for Honey Chipotle Lime Sauce
1/3 Cup of Lime Juice
¼ Cup of Honey
1 Tablespoon of Chipotle in Adobo*
½ Tablespoon of Unsalted Butter
*Place the entire can of chipotle peppers in a food processor. Process until the chipotle peppers have become a paste.
Ingredients for Parmesan Garlic Sauce
½ Cup of Buttermilk
½ Cup of Grated Parmesan
1 Teaspoon of Grated Garlic
¼ Teaspoon of Italian Seasoning
½ Teaspoon of Crushed Red Pepper Flakes
½ Tablespoon of Unsalted Butter

Before you say, "There are only two sauces above Stefanie! What the heck!" The third sauce is just whatever buffalo sauce you like plus a ½ tablespoon of unsalted butter. I used Frank's Buffalo sauce. It is my favorite.
I also kept in mind some of our gluten-free friends, and grilled some chicken breast bites instead of breading and frying them.
FYI This is a great Super Bowl party recipe and also a great recipe for fried chicken breading. It is so good that you can eat the bites without any sauce on them. But, where is the fun in that?!?!

Cut the chicken breasts into bite size pieces. Place them in a large dish so they are in one single layer.
Combine the taco seasoning, cayenne, onion powder, garlic powder, salt, and pepper in a small bowl; whisk to mix. Season the chicken breast pieces, cover dish with plastic wrap, and then place them in the fridge and store overnight.
Let the seasoned chicken sit out at room temperature for at least an hour before you start frying it.
In a large bowl whisk the egg and buttermilk together. In another large bowl, combine the flour and corn starch using a whisk.
Working with one piece at a time, dip the chicken in the buttermilk/egg mixture then, let some of the excess drip off before placing it in the flour/corn starch mixture. Coat the chicken in flour, then place it on a pan to slightly dry off before you fry it.
Fill a large non-stick skillet or a cast iron pan about ¾ of the way up with vegetable oil. Heat the oil until it is approximately 320 degrees.
When the oil has come up to temperature, start dropping in five pieces of chicken at a time, and fry them for ten minutes total. Turn them once at the five minute mark.

When about 1/3 of the chicken is fried, toss them with about ½ cup of buffalo sauce. It is best to do this when they are hot, and then place them on a wire rack to drain and cool.
After the next third is done, toss them with the honey chipotle lime sauce and then place them on the wire rack to drain and cool.
If you are grilling some of the bites, grill them for about four minutes per side. Then toss them in whatever sauce you like (I tossed them in the garlic parm) then place them on a wire rack to cool and drain.
 
Serve up the bites with all the traditional fixins: celery, carrots, blue cheese dressing, and ranch dressing.
Also, if you are feeding somebody like my husband, even though these can be eaten with a fork, I'm sure you will still need lots of napkins.
Related posts: