Everyday life is boring and dull sometimes. Here is the typical Friday of the average worker bee:
Wake restlessly after pressing the snooze button at least two times.
Roll out of bed. Shower.
Coffee. Skip breakfast.
Traffic. Annoying morning radio DJ talk.
Arrive at work.
Dick around on the computer for at least an hour.
Work tirelessly until lunch.
Lunch. Sigh of relief.
Back to the grind. Semi-snoozing the afternoon away at your desk.
Maybe nobody will notice if you sneak out early.
Boss catches you last minute and asks for some dumb project within the last hour of work.
As you curse your life, you think, "God, I need a vacation!"
Run as if you are being chased by a serial killer to your car. Drive home. Slowed down by traffic.
Get home….Sigh. Take off your work clothes immediately.
Eat dinner and forget the troubles of the day.
Seriously. This is it for most of us. That is why I love food. On those days where you think you need a break or need a vacation, food has the ability to comfort you or take you miles away to a tropical island of serenity and crystal clear waters.

When I am going through one of those days, I let my thoughts meander back to my honeymoon with my husband, inCabo San Lucas,Mexico.
It was my heaven. The food. The weather. I loved it all.

My favorite memory was sitting at an umbrella covered table sipping margaritas all day at this ocean-front restaurant called The Office.
I remember the freshness of the seafood, the cold crisp taste of lime in the margarita, I remember the feel of my feet in the sand, and I remember looking around at all the people with huge smiles on their faces. Not a care in the world. Maybe that's why everything tasted so good, who knows.
The most beautiful thing they served at the Office was the ceviche. Say it with me: SUH-VEE-CHAY. Good! Basically, when you make ceviche, you are "cooking" fish in the acidity of the fruit or vinegar. The acidity breaks down and denatures the fish, mimicking what happens during the normal cooking process. (There is your Bill Nye the Science Guy lesson for the day).
Back to Mexico…The ceviche was a combination of octopus, tilapia, and crab in lime juice with a little cilantro on top. It came out in a huge margarita glass. It was so simple and still so beautiful and complex.
On days where I want to go back to Mexico, but I can't, I bring Mexico to my house. Ceviche is so easy to make. Take your favorite fresh fish, add your favorite citrus, a dash of salt and pepper, let it sit for at least an hour, and POOF! A vacation in your mouth!
Ingredients
2 Tilapia Filets
Juice of 2 Limes
1 Kiwi, peeled
¼ Teaspoon of Salt
¼ Teaspoon of Pepper
1 Teaspoon of Fresh Cilantro
1 Shallot, finely minced
1 Serrano Pepper, seeded and finely minced

Cut the tilapia into small ½ inch cubes.
Peel the kiwi. Slice off the flesh surrounding the seeds. If you get a few kiwi seeds in the slice, it's ok.

Add the kiwi, lime juice, salt, pepper, and cilantro to a food processor. Blend until completely liquefied.

Add the tilapia to a small bowl, pour the marinade on top of the tilapia, cover with plastic wrap, and refrigerate for at least an hour.

Mix the finely minced serrano pepper, the finely minced shallot, together in a small bowl with a little bit of chopped cilatro and salt and pepper.

Top the ceviche with a little of the pepper and shallot mixture to cut the sweetness.

Serve with endive, butter lettuce, romaine lettuce, or even a nice fresh 'slaw. You can eat this solo or in a taco if that scares you too much.

Well, if you need me…I won't be here, because I am in Mexico.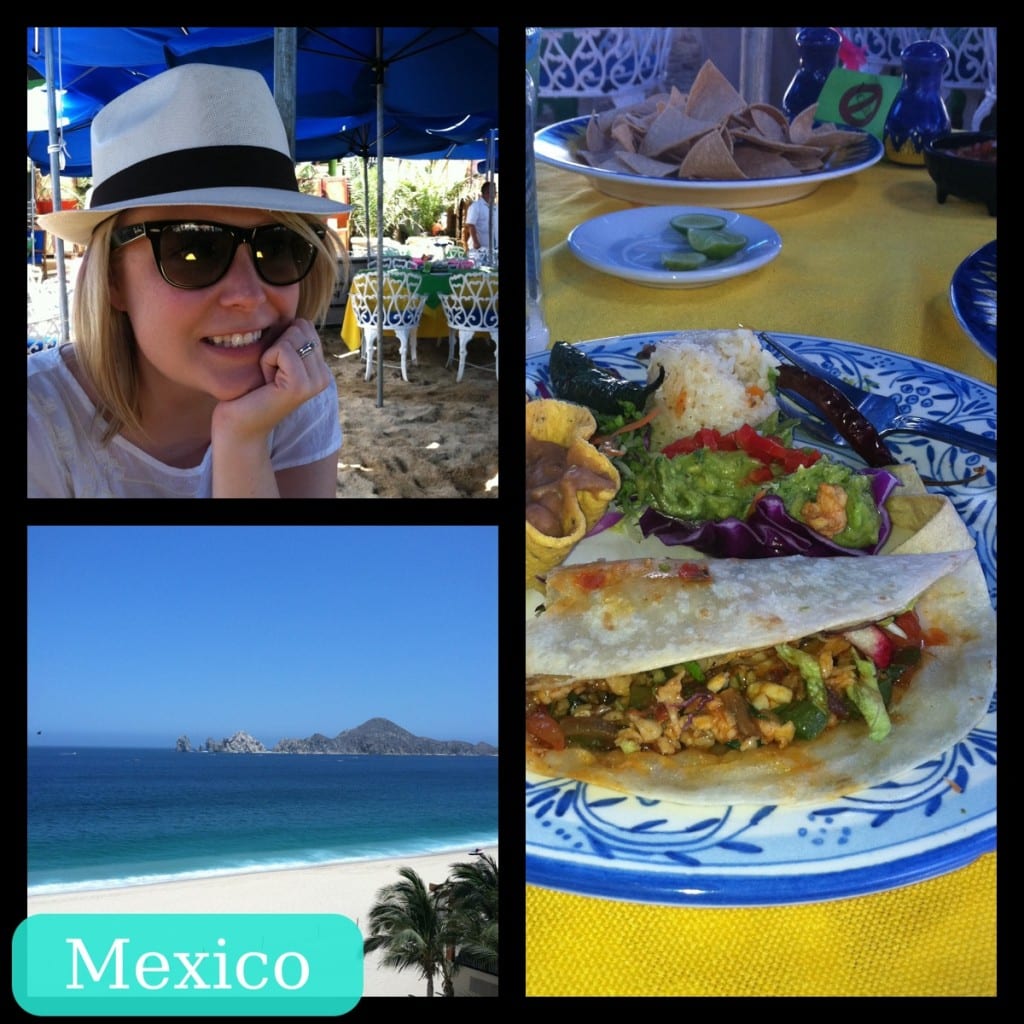 I hope you will join me!
Related posts: