Have you ever looked around at your life and thought, "Is this really my life right now?" I have thought this to myself on more than one occasion: for both good and bad reasons.

I asked myself this question yesterday during what I had thought to be very pathetic circumstances.
Last night, around seven thirty, I was lying on the couch, a Whitney Houston E! True Hollwood Story was droning on in the background, and I felt myself starting to drift off to sleep.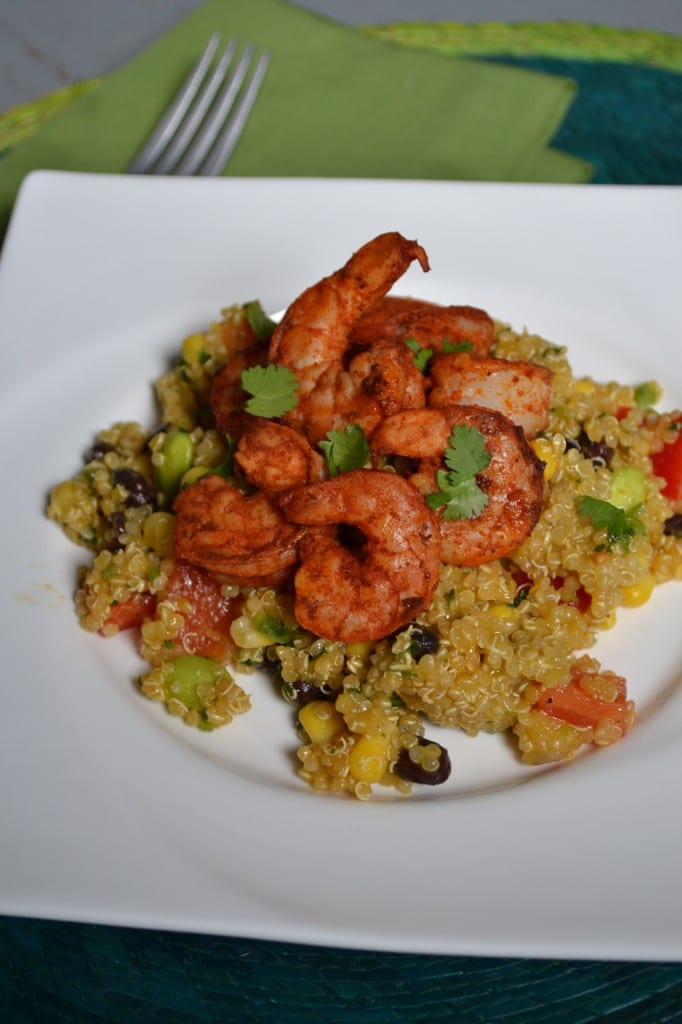 I looked to the love seat next to me and saw my husband already miles into a deep slumber. Then I glanced down at my feet and saw my dog snoring away.
Before I completely dozed off, I had to double check that it was really only 7:30 pm. It was. And at that moment I thought, "Is this really my life? Twenty seven years old, newly married, and asleep on the couch by seven thirty."

My best laid plans of not watching as much TV and eating more balanced meals was kind of shot to shit last night by a very filling burrito bowl from Chipotle and reality TV that, in reality, I wasn't that invested in.
I am 27, not 60! I do not do hard labor and my life is not that jam packed with activity. I should not be falling asleep atseven thirty.
So tonight, this is not happening again! I am eating a lighter meal and not going to be put into a food coma by mindless television.
Ingredients For the Salad (Serves 4)
1 Cup of Quinoa
2 Cups of Low-Sodium Vegetable Stock
1 lb Shrimp, peeled and de-veined
Juice of Half a Lemon
1 Tablespoon of Paprika
½ Teaspoon of Cayenne Pepper
¼ Teaspoon of Salt
1/8 Teaspoon of Pepper
1 Teaspoon of Olive Oil
½ of a Red Pepper, diced
½ Cup of Canned Corn Kernels, drained and rinsed
½ Cup of Canned Black Beans, drained and rinsed
½ Cup of Frozen Shelled Edamame
10 Grape Tomatoes, halved
¼ Cup Red Onion, finely minced
1 Teaspoon of Fresh Cilantro, chopped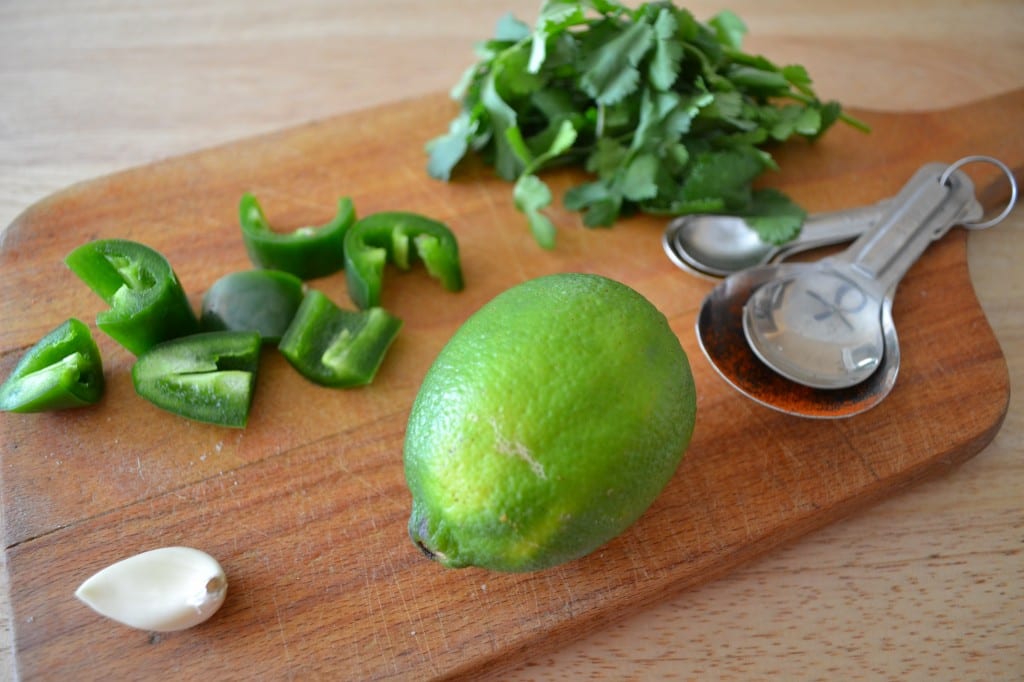 Ingredients for the Jalapeno Cilantro Dressing
A handful of Fresh Cilantro
1 Small Garlic Clove
1 Jalapeno, seeded and roughly chopped
1 Teaspoon of Vinegar
The Juice and Zest of 1 Lime
2 Tablespoons of Olive Oil
1/3 Cup of Water
¼ Teaspoon of Salt
1/8 Teaspoon of Pepper

Start by bringing the vegetable stock and quinoa to a boil in a small sauce pan. Reduce to a simmer and cover with a lid. Cook quinoa over medium/low heat for 10-15 minutes.
In a small bowl, combine the shrimp with the lemon juice, paprika, cayenne, salt, and pepper. Toss to evenly coat the shrimp in all the seasonings.

Add the teaspoon of olive oil to a medium skillet and heat for a minute over high heat. Add the contents of the bowl to the skillet. Cook shrimp for 1-2 minutes per side as to not overcook it.
When the quinoa is cooked, fluff with a fork, and remove from heat. Place the quinoa in a medium bowl along with the diced red pepper, corn, black beans, edamame, tomatoes, and red onion. Toss the salad together. Chill in the refrigerator for at least thirty minutes. (If you so desire, this salad can also be served warm.)

To make the dressing; add the cilantro, garlic, jalapeno, vinegar, lime zest, lime juice, olive oil, water, salt, and pepper to a food processor. Puree until the dressing is smooth.

Pour the dressing over the quinoa and mix to evenly combine. Top the salad with the cooked shrimp and the chopped fresh cilantro for garnish.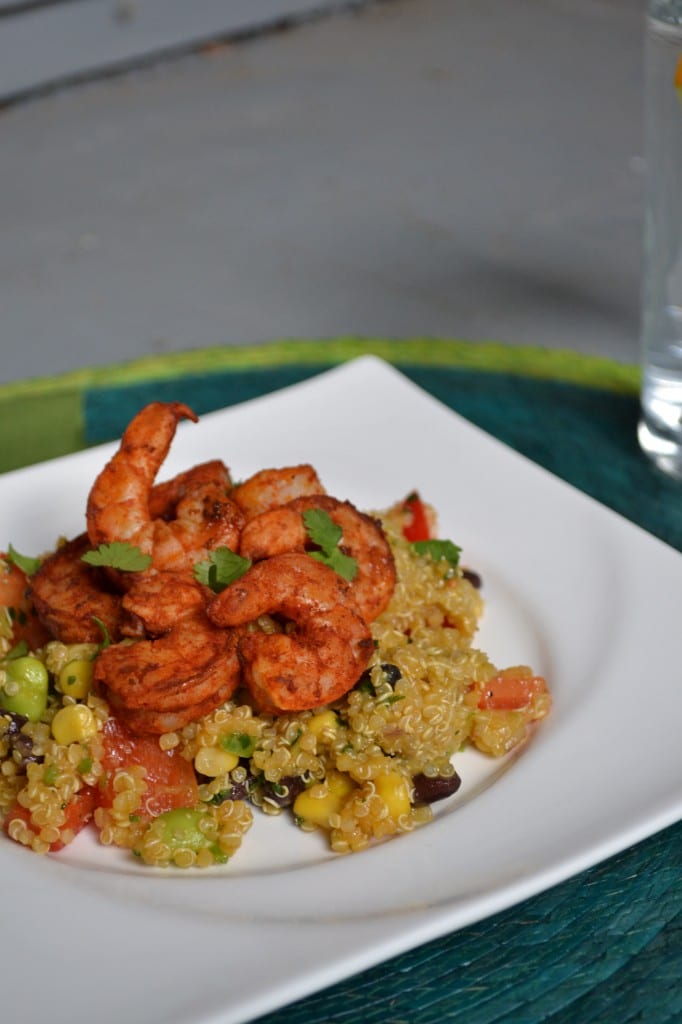 This salad can be done however you like. As long as you have the seasonings for the shrimp, the ingredients for the dressing, and quinoa on hand you can add and subtract vegetables as you see fit.
After this meal I now feel so alert and awake. I am ready to take on the world…Well, at least until 9:30 when it is more socially acceptable to fall asleep. I mean, I'm not 21 anymore.
Related posts: