Today is Fat Tuesday. Since I am Polish and Catholic (Gasp! Don't mix religion and food Stef!) that olny means one thing for me today…Paczki!!!
It is pronounced poonch-key. This Polish dessert is similar to a jelly doughnut-except better, because it is Polish and has no filling. You fill up on these fried bad boys today before you start the season of Lent tomorrow.
My mom once told me a story about my Dziadzia (Polish for grandpa, pronounced jah-jah), where he tried to make a chocolate cake from a box and failed terribly. You see, my grandmother was working days and my mom forgot to tell her she needed a cake for a bake sale at school before she left for work. The next logical choice was to ask my Dziadzia to make the cake (ou would think).
My Dziadzia came from the mentality that nothing is cooked until it looks cooked. So, he baked the crap out of this cake. My mom told him she could not take this cake to school for the sale; nobody would buy it. He tried to pawn it off on her saying,"This is how a cake is supposed to look!"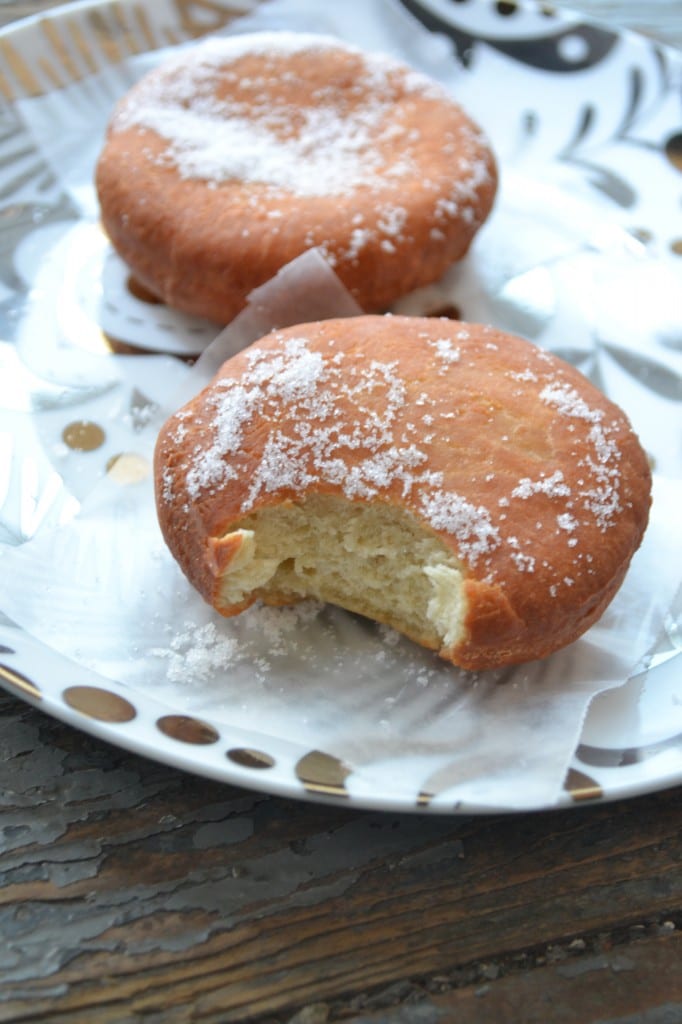 My mom snuck out of the house without taking the cake. My grandmother got home from work, saw the cake, and laughed. My Dziadzia was known for many things, and boxed cakes just didn't happen to be one of them!
Luckily, he could fry up a mean paczki. My mom told me that him and my grandmother would make the dough and fry up these little clouds of heaven together in their kitchen. My grandmother would make the dough and my Dziadzia would be in charge of frying them.
I can just imagine my mom and uncle as children, sitting at the table watching the two of them lovingly interact and cook together. They would smile at the interactions between their parents. When the paczki were done, everybody would eat them right away, when they were still warm. My mom, being the interesting person that she is, would save a little stash on the side and wait for them to get stale and crunchy and then eat them.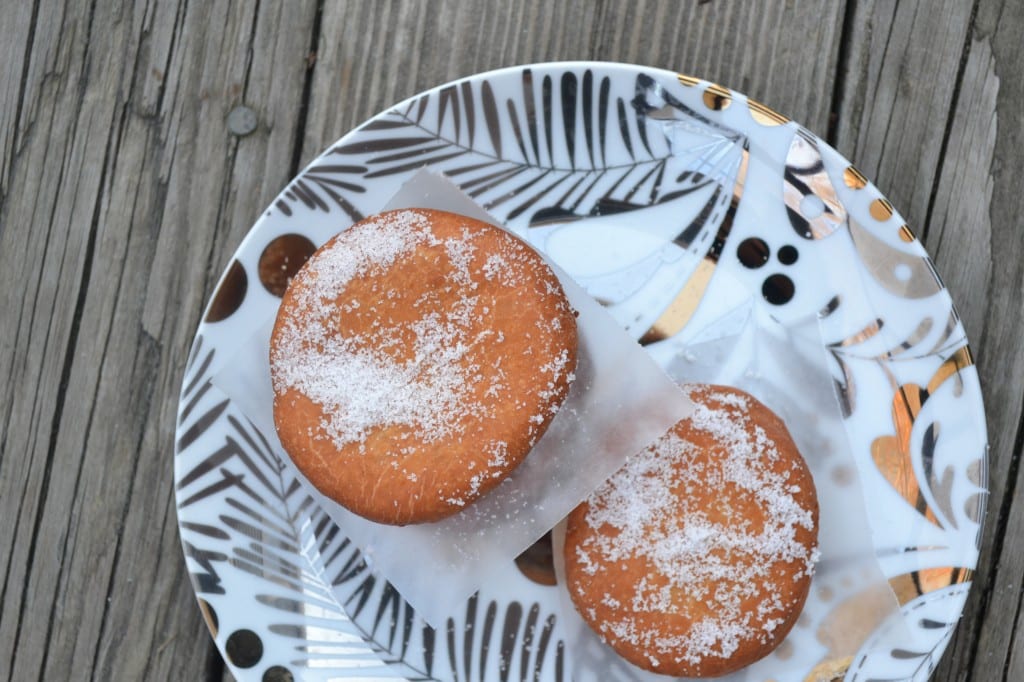 So, in honor of my Dziadzia and my mom, today I am sharing with you the Polish tradition of Paczki.
Note: Sorry I don't have the usual step-by-step pictures. I stress out when dealing with yeast, because normally it never works for me. Here is a great video that will walk you through the steps.
Ingredients
2 Tablespoons of Sugar
2 Tablespoons of Butter
½ Cup Milk, heated to 110 degrees
¼ Teaspoon of Vanilla
¼ Teaspoon of Salt
2 Eggs
1 Teaspoon of Yeast
2 Cups of Flour, plus additional for rolling out the dough
Vegetable oil for frying
Sugar or confectioner's sugar for coating the Paczki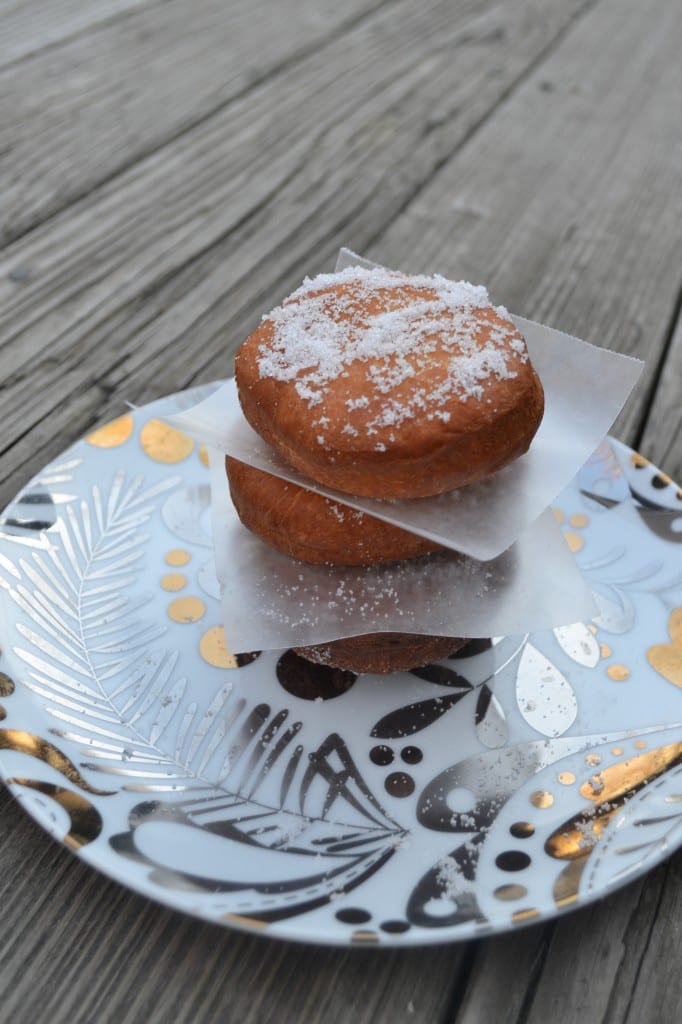 Add the butter and sugar to a large bowl. Heat 1/2 cup of milk in the microwave to about 110 degrees F., and pour it in. Add 1/4 tsp vanilla, a pinch of salt, and then 2 whole eggs.
The milk should be cool enough by now to not scramble the eggs, but if you need to let it cool a little, let it cool. Whisk those in, and add 1 teaspoon of yeast – whisk that in to dissolve, and then we're going to add, about a 1/2 cup at a time, 2 cups of flour. This step can be done with a hand mixer or using the bread hook attachment and your stand mixer.
What you want to do is keep adding the flour until you have a really stiff dough and you can barely stir it. Then you're going to transfer this on to the board.
Knead the dough for about 5 minutes. We're going to put that back in the bowl, cover it, and let that double in size, which will take about an hour to 1 1/2 hours.
When the dough is ready, pat it down on a lightly floured board. Roll it to about 1/2-inch thick. Use a little flour if you need too. Then cut out little round paczki shapes. I used a 3 inch glass as my cookie cutter. I think I might need to invest in some actual cookie cutters…
I got 12 from this batch. You can re-roll the excess dough to cut a few more. Let those rise for about 30 minutes, or until doubled in size. In the meantime, heat your oil to 350 degrees F. I used regular vegetable oil.
Fry the paczki about 2 minutes per side, until they are a beautiful golden-brown. Fish those out with a strainer and let them cool on a wire rack for at least 15 minutes.

I didn't fill them, because that isn't the way my Dziadzia used to do it. I just rolled them in some plain old sugar. Trust me, they are good enough alone where you don't need all the frills or filling.
Related posts: