I am not sure if any of you have ever heard of Atomic Cake before. I don't know if this was just a little local Chicago Polish kid thing….Anyway, I am here to make you familiar.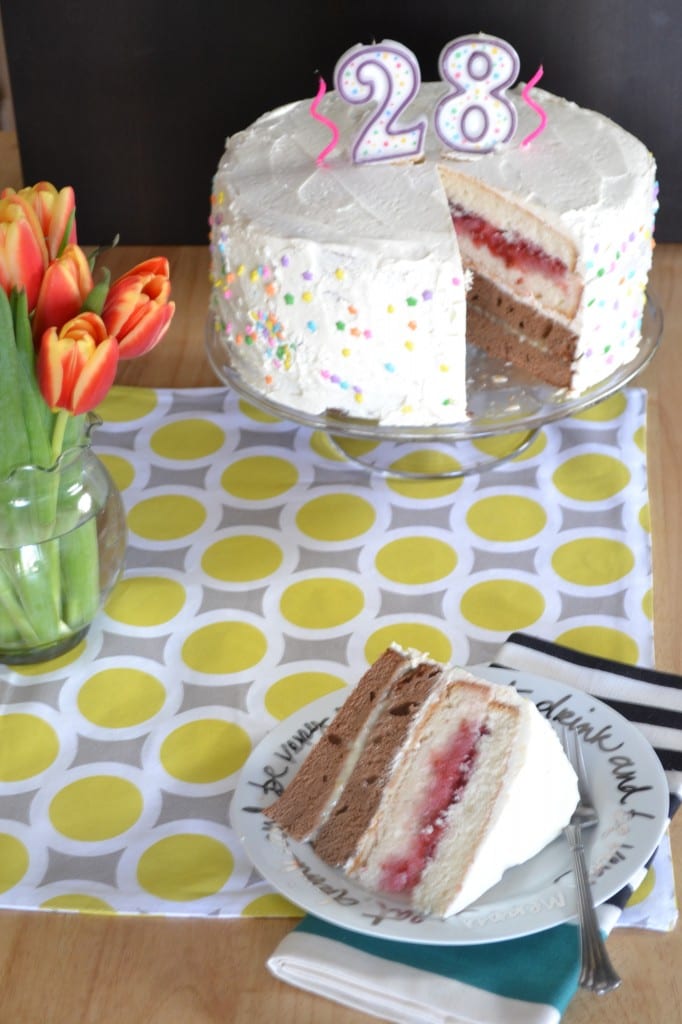 Atomic Cake is a cake with two layers of vanilla white cake with strawberry filling in between and two layers of chocolate cake with banana cream filling in between, all covered in thick, sugary frosting.
Sounds amazing right?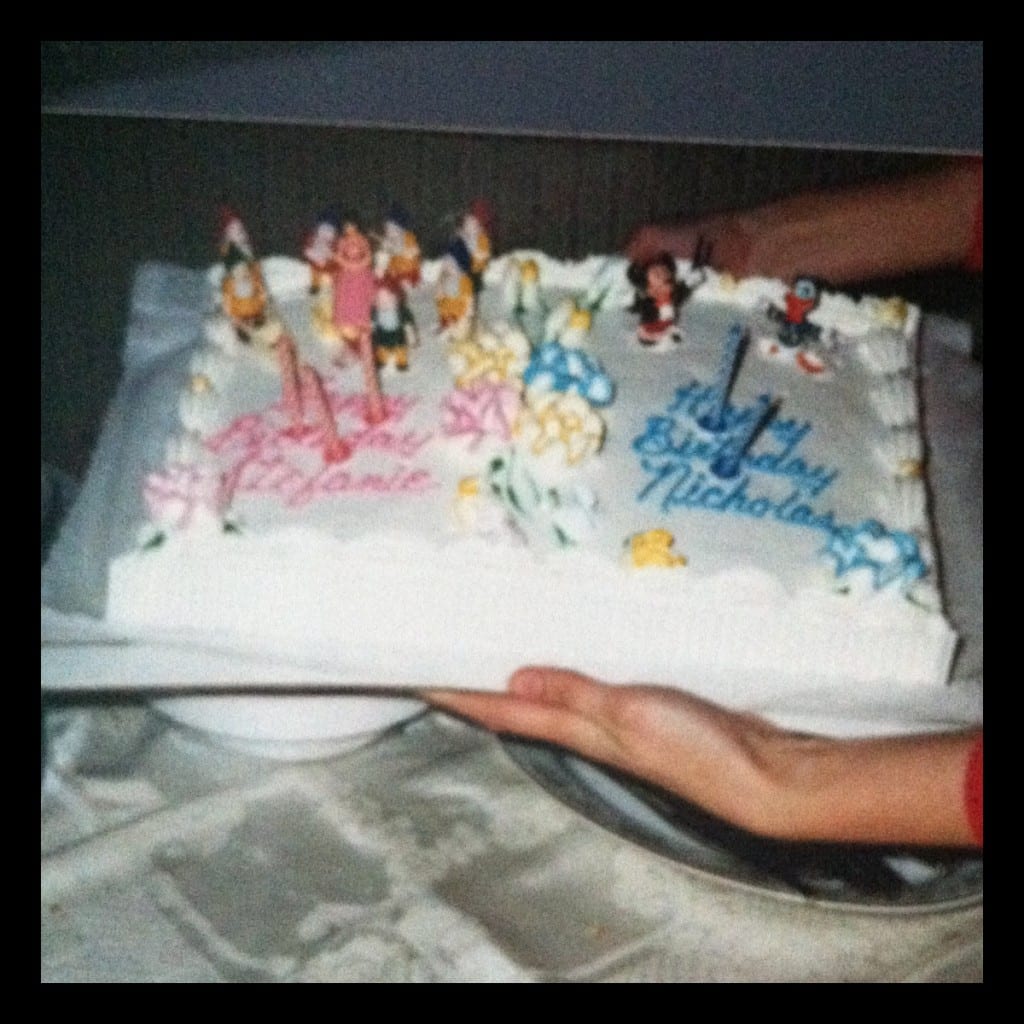 As a child, I used to have joint birthday parties with my younger brother Nick. We are only a year apart in age and our birthdays are only four days apart, so my parents were just being logical. Neither my brother nor I minded the shared aspect. When our youngest brother came along, then there was an issue.
He was a strange child. He felt left out at our party because we were getting presents and he wasn't. So my Grandma started buying him presents for our birthday so, you know, he wouldn't feel left out. Then when it came time for his birthday party in September, he broke with the family tradition and wanted a plain chocolate cake. Seriously!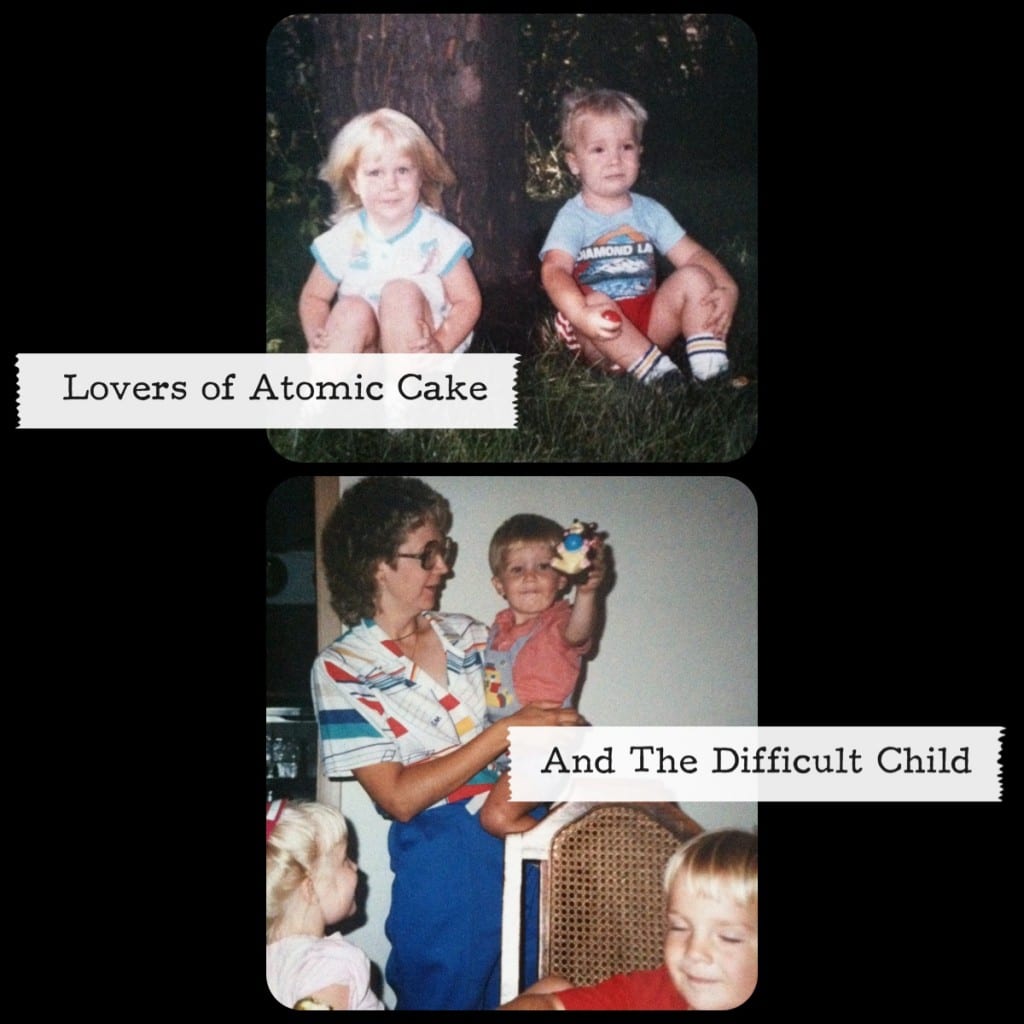 The best part of a birthday in our family was the Atomic Cake! I never understood how he would want to miss out on that.
This little Polish bakery whipped up some of my greatest birthday memories. Half of the sheet cake would be decorated for me and the other half for my brother. As you can see from the evidence below, these cakes rocked and were pretty much a staple at any family party for the two of us up until the age of ten, when we stopped having big family parties.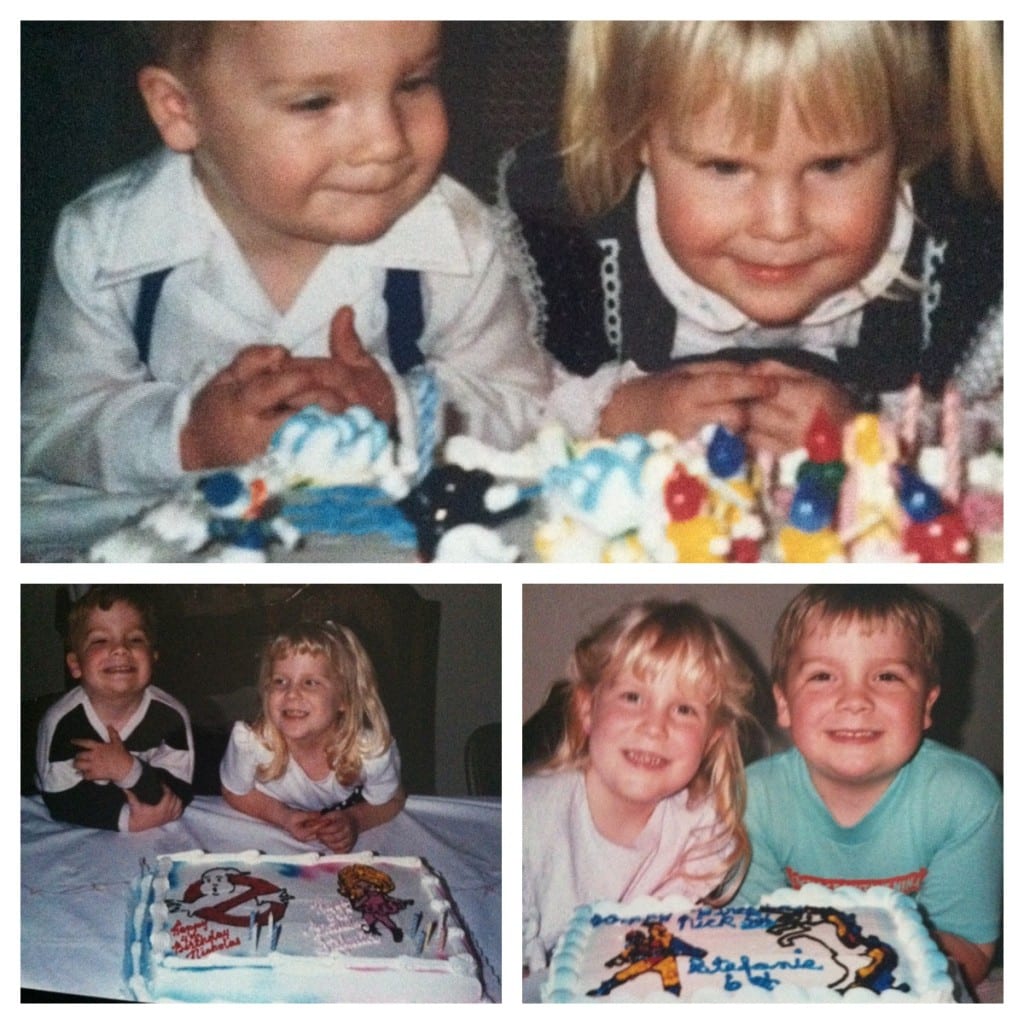 Every so often, a smaller version of this famous cake would appear at one of our birthdays. It was a nice treat that always brought back great memories.
Since today is my birthday, I baked myself my very own version of the Atomic Cake. I can not tell you how many weeks I have been both looking forward to and dreading attempting to make this cake!!!
As you all know, I am not the most confident and or skilled baker. If I was, this website would be called Sarcastic Baking.
Luckily, I found great help in this recipe from Sweetapolita. The only changes I made was I didn't use vanilla beans in the frosting and I added a ½ a cup of cocoa powder to make the chocolate layer
Ingredients for the Cake
5 large egg whites at room temperature
3/4 cup whole milk, at room temperature
2 1/4 teaspoons pure vanilla extract
2 1/2 cups sifted cake flour
1 3/4 cups sugar
1 tablespoon + 1 teaspoon baking powder
3/4 teaspoon salt
12 tablespoons unsalted butter, at room temperature and cut into cubes
Preheat oven to 350°F (180°C). Grease, line with parchment, and flour two round 8-inch pans.
In a medium bowl, combine and stir the egg whites, 1/4 cup of milk, and the vanilla. Set aside.
In the bowl of an electric mixer fitted with the paddle attachment, combine the dry ingredients together on low speed (Rosie recommends using the "stir" setting on the mixer) for 30 seconds.
Add the butter and remaining 1/2 cup of milk, and mix on low speed until just moistened. Increase to medium speed and mix for 1 1/2 minutes.
Scrape the sides of the bowl and begin to add the egg mixture in 3 separate batches; beat on medium speed for 20 seconds after each addition.
 
Divide the batter in two, spreading it evenly with a small offset palette knife. If you have a kitchen scale, weigh to ensure 2 even layers.

Bake 25-35 minutes or until a cake tester comes clean when inserted into the center. Be so careful to not overbake. Check cake at 20 minutes, but not before, and once you feel it's almost ready, set the timer for 2 minute intervals. Let cool on racks for 10 minutes before loosening the sides with a small metal spatula, and invert onto greased wire racks. Gently turn cakes back up, so the tops are up and cool completely.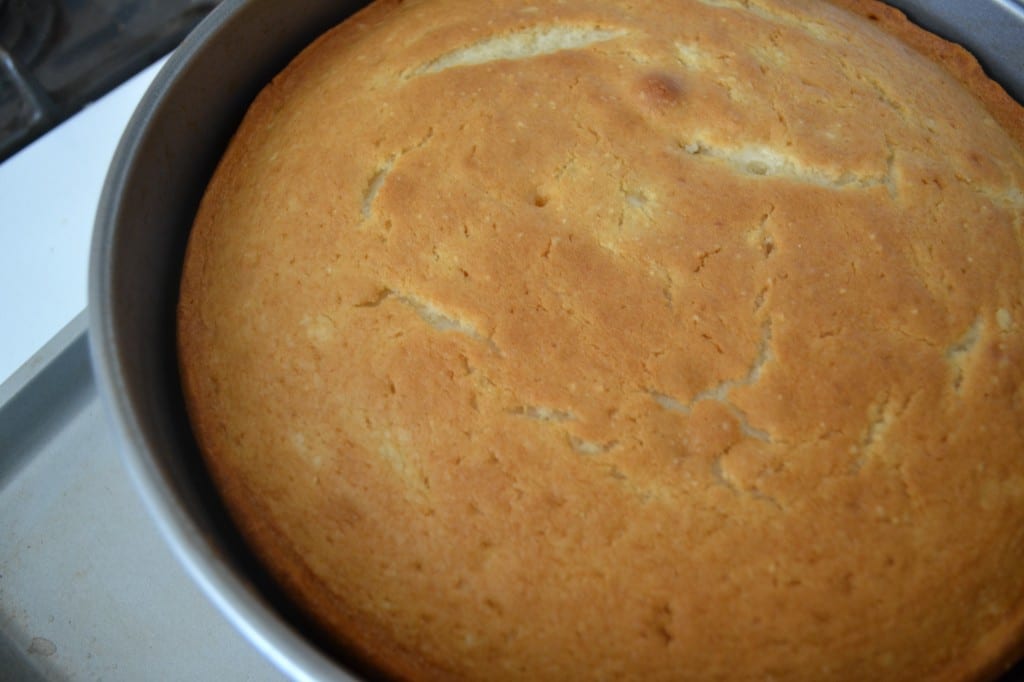 Ingredients for the Banana Cream Filling
1 Cup of Milk
½ Cup of Sugar
3 Tablespoons of Corn Starch
1/8 Teaspoon of Salt
2 Egg Yolks, slightly beaten
1 Banana, mashed
In a pot, heat the milk until very hot, not boiling. Mix the sugar, corn starch, and salt together in a small bowl. Add the dry mixture to the hot milk. Whisk vigorously to combine. Cook while mixing for four minutes. Add a tablespoon or two of the hot mixture to the beaten eggs to raise their temperature. Then add the egg yolk to the pot. Continue to cook and whisk for another minute until the mixture becomes smooth and thick. Let cool in the refrigerator for five minutes. Add the banana to the cooled cream. Refrigerate for at least an hour before adding to cake.
Ingredients for Strawberry Filling
1 lb. Fresh Strawberries, sliced
1 Cup of Sugar
2 Tablespoons of Water
2 Tablespoons of Corn Syrup
Add the sugar, water, and corn syrup to a small pot. Stir to combine. Bring to a slow simmer. Add the sliced strawberries. Reduce the heat to low. Cook for five minutes until the mixture becomes a thick syrup. Chill overnight.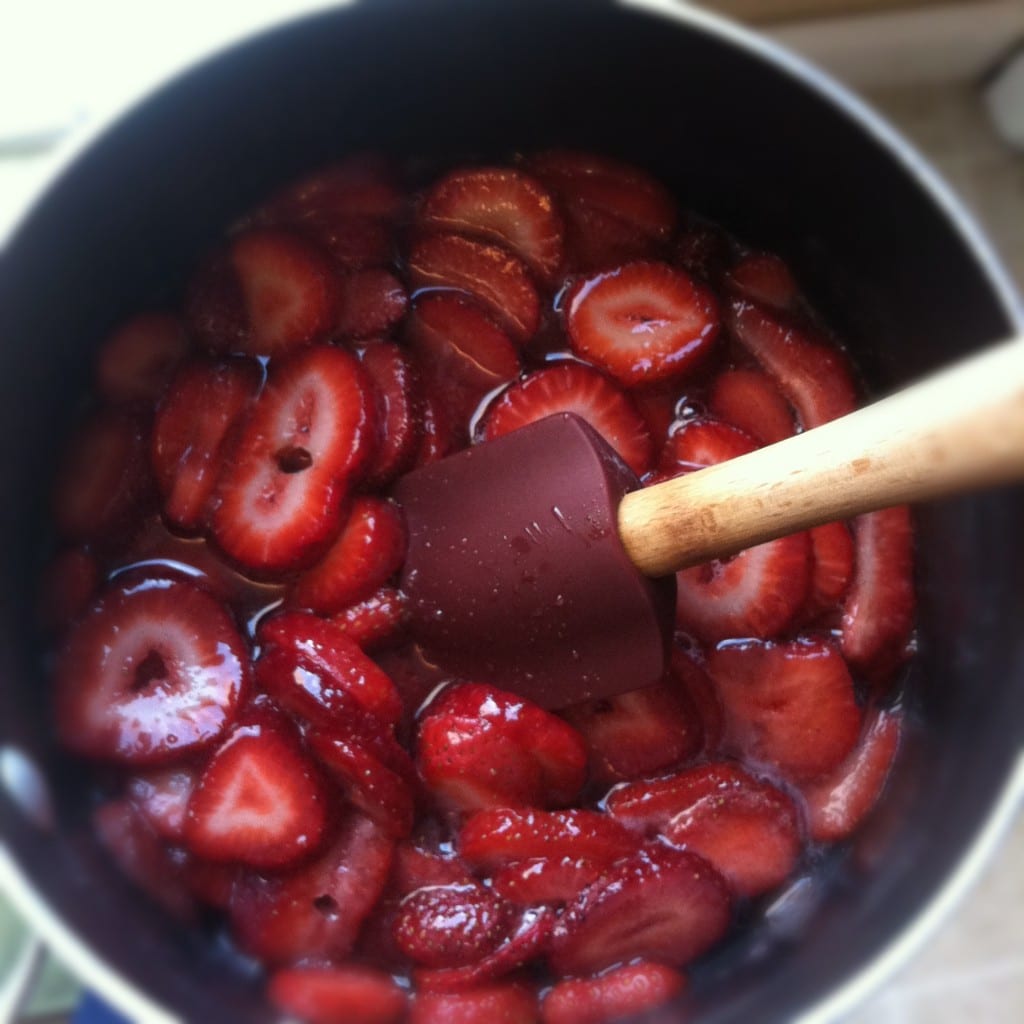 Ingredients for the Whipped Vanilla Bean Frosting
3 sticks + 2 tablespoons unsalted butter, softened and cut into cubes
3 cups sifted confectioners' sugar
3 tablespoons milk
1 vanilla bean, scraped
1 teaspoon pure vanilla extract
Pinch of salt
In the bowl of an electric mixer fitted with the paddle attachment, whip butter for 8 minutes on medium speed (Rosie recommends using speed "4″ on the mixer). Butter will become very pale & creamy.
Add remaining ingredients and mix on low speed for 1 minute, then on medium speed for 6 minutes. Frosting will be very light, creamy, and fluffy. Best used right away.You can eliminate the vanilla bean and use a total of 1 1/2 teaspoons of pure vanilla extract.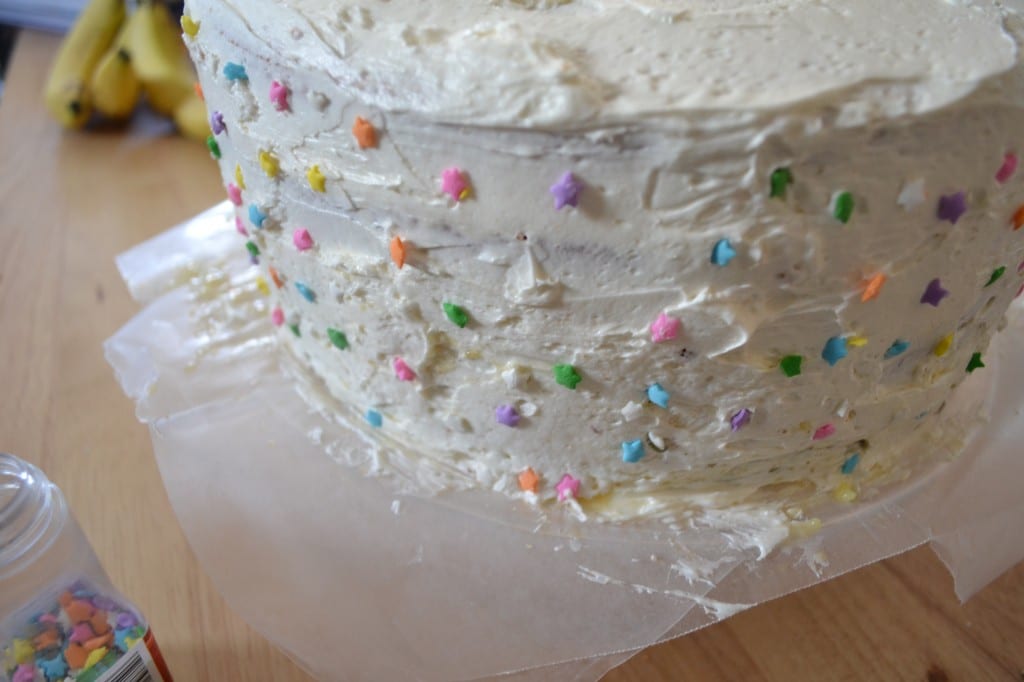 Cake Assembly
Place bottom chocolate cake layer on cake plate or 8″ round thin cake board. Place 1 cup of banana filling on top, and spread evenly with a small offset palette knife. Gently place 2nd cake layer face down on top. Place a generous scoop of frosting on top, spreading evenly with a small offset palette knife.
Place the first vanilla cake on top face down, Place 1 cup of the strawberry filling on top, spreading evenly with a small offset palette knife. Place the second vanilla cake layer on top. Place the rest of the vanilla frosting on top of the cake, and working your way down the sides until you have a thin layer of frosting over the entire cake. Chill until set — about 30 minutes.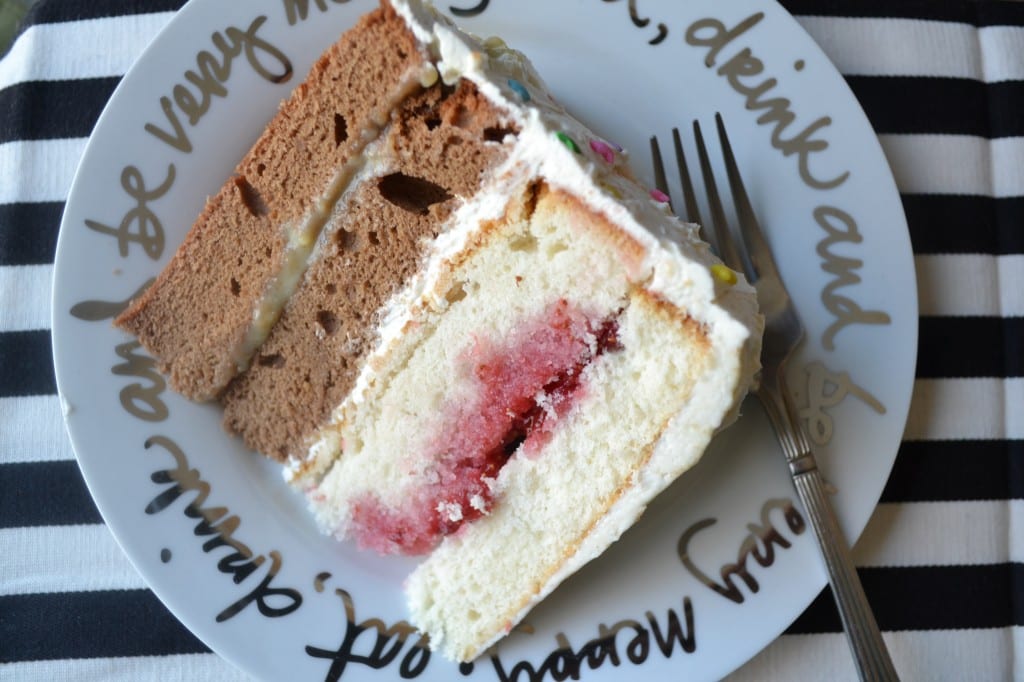 Alas, everything turned out ok….Not the fanciest, but ok. Even though I did spill egg yolks all over my floor, shoot frosting out of the mixer and into my hair because I had the speed too high, and accidentally shut the oven off instead of the timer in the middle of baking the cake.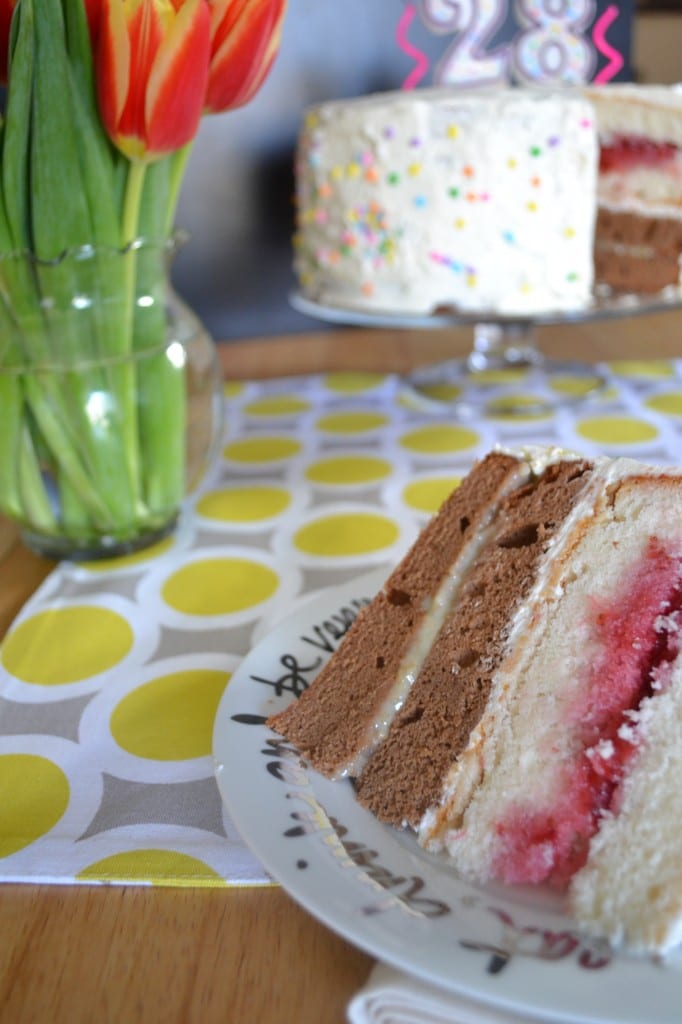 All the stress I put upon myself was worth it in the end because I made a cake that the younger Stefanie and Nick would dive right into!
Related posts: