There is a famous story in my family about my younger brother, Nick. Well, now I guess you would call it infamous.
There was a fancy buffet we would always go to for Mother's Day when we younger. The cool thing about being a kid at a buffet was that you got to choose all the stuff you wanted to eat and skip all the gross stuff.
But you got to feel like a grown up for a little moment in time. We would make multiple trips up to the buffet, piling our plates full of chicken, pasta, beef, and maybe some veggies.
Most of the time, we wouldn't finish what we had on our plate before we went back up for a new one. But that was the joy of a buffet; you called the shots.
On a trip to the buffet, my brother Nick came with little white, circular, noodle-like tubes. He was so proud of his buffet find that he was walking back to the table and eating off his plate at the same time. I looked at those "noodles" and wondered how I missed them on the buffet.
"Mom, Dad. What kind of noodles are these?" asked Nick. They exchanged a look. At the time I had no idea what that look meant. Now, I can see that they were deciding if they should tell him what it really was and possibly turn him off from a food that children normally did not like.
"Well, it is calamari. Squid. Like an Octopus." My mom told him.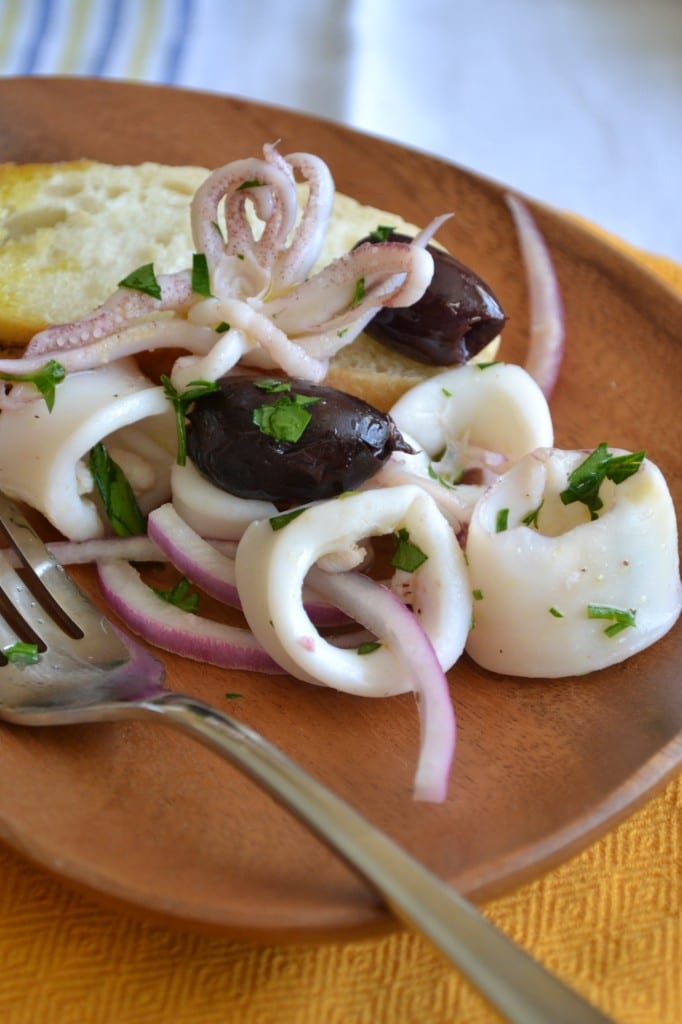 Nick thought about it a second, looked down at the "noodles," and then popped another one in his mouth and said, "Not bad. Kind of like a rubber band."
Ingredients
1 lb. of Calamari, cleaned and cut into ½ inch pieces
½ Cup of Water
½ Pint of Pitted Kalamata Olives
½ Red Onion, thinly sliced
1 Tablespoon of Fresh Parsley, chopped
¼ Teaspoon of Salt
1/8 Teaspoon of Pepper
1 Tablespoon of Olive Oil
Juice of a Lemon
1 Tablespoon of Red Wine Vinegar
Add the calamari and water to a large skillet. Bring to a simmer and cover with a lid. Steam the calamari for three minutes. Remove from heat and drain the calamari.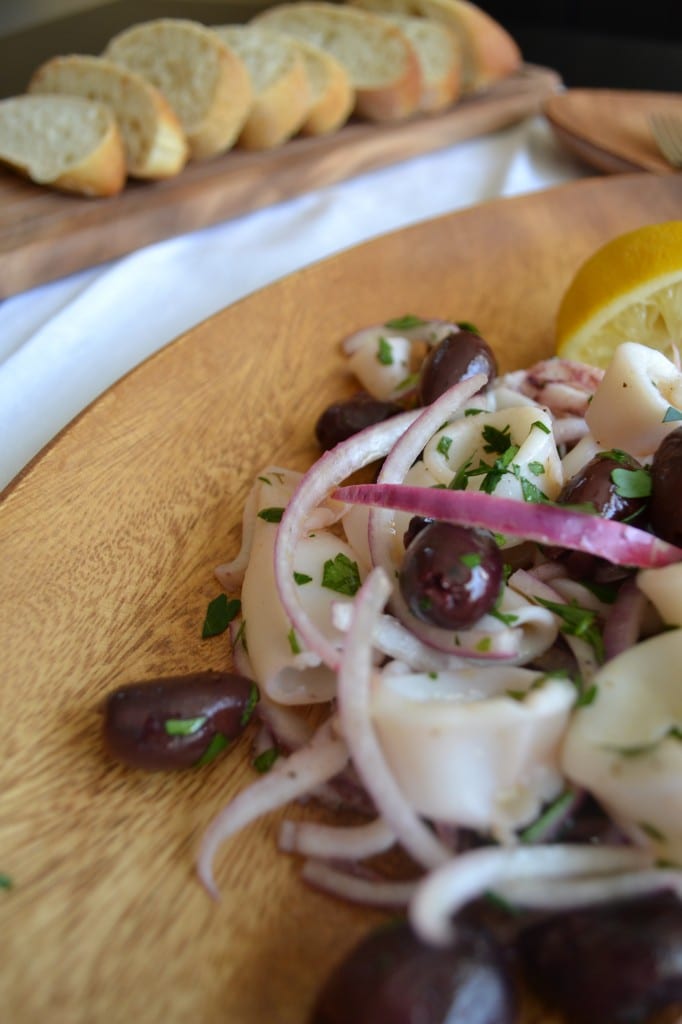 In a large bowl toss the calamari with the Kalamata olives, red onion, parsley, salt, pepper, olive oil, lemon juice, and red wine vinegar.
This is great as an impressive appetizer along with some crusty bread or on top of some pasta.
Thank you all for the birthday wishes and for entering my $50 Crate and Barrel gift card giveaway. I am happy to announce that the winners are Julie @ Bananas For Bourbon and Shawn @ I Wash You Dry! Congrats Ladies!
Related posts: