Through our hopefully long blogger and reader relationship, I am sure I will share with you many of my embarrassing, horrifying, and triumphant stories. I am sure you will come to find I have more awkwardly embarrassing Liz Lemon moments in my life. This moment I am about to share with you is totally embarrassing.  (Like a 7 on the Liz Lemon scale of humiliation). Note: Feel free to laugh at this story, I do…now.
When I was a freshman in high school, I made friends with some really great girls who all happened to have beautiful singing voices. They had all been in their grade school productions and church choirs. Some even took voice lessons. I always wished I had a great singing voice but, more so than a great singing voice, I wished I had the guts to sing in front of other people.
My lovely friends convinced me to take choir as an elective. Singing scales in front of a class of twenty five wasn't as hard as I thought it would be. People I had gone to grade school with were actually shocked at my range. Honestly, so was I. So, when auditions for the school musical came around, I was an easy sell on trying out for the musical.
The day of the audition was finally upon me. My friend's dad drove all of us to the audition. All I was hoping for was a spot in the chorus so I could hang out with my friends. We all sang as a group first to get the hang of the song. I felt good. It was in my range; I could really end up in the chorus!
We all lined up in alphabetical order. My heart was beating so fast. On either side of me were two seniors who had previously held lead roles in past musicals. I could feel my palms sweating like crazy.
It was my turn. Gulp. Here comes the intro… Oh God. Nervous laughter. "Give it another try," the director said. Here comes the intro again…
I opened my mouth, and nothing came out!!! Maybe a shy squeak, but that was it. As if it couldn't get more awkward-nerd-teen movie predictable-then the tears came. Soooo… I just stood there in shock with silent tears streaming down my face as they moved on to the next singer who of course rocked it out of the park.
The rest of the audition is a blur. By the time my friend's dad came to pick us up, my heart had finally stopped beating in my throat. My friends were so nice and gave me great pep talks all the way home. It was all really nice but still it could not erase the sheer terror I had just endured.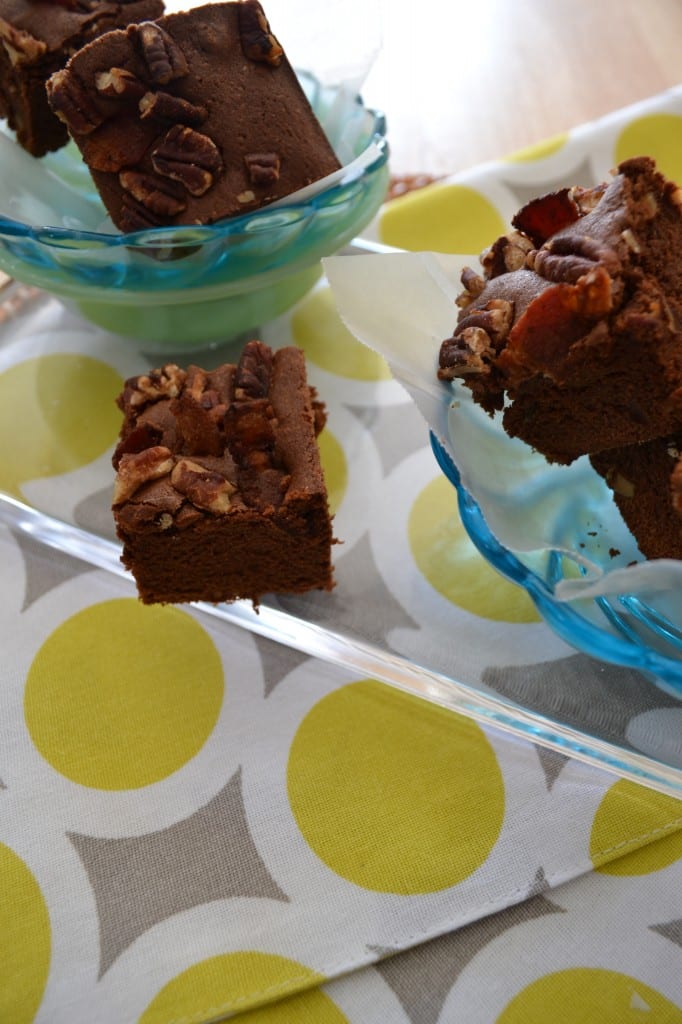 It is times like that in which you just need the comfort of your mom's shoulder to cry into and an entire batch of brownies to ease your pain.
Over a plate of brownies I came to terms with my lack of talent when it comes to singing and decided to give the set crew a shot instead. That way I could be a part of the musical still and embrace my artistic talents. I owe my great high school memories in the set crew to that moment of clarity between bites of brownie.
So, if you are having one of those days, make yourself a big batch of these beaut's. Clearly the brownies I had in high school did not have booze in them, but just think of that as a little added bonus to cure all your woes.
Ingredients
½ Cup Pecans
½ Pound Sliced Bacon
8 Ounces Bittersweet Chocolate, chopped
2 Ounces Unsweetened Chocolate, chopped
1 Stick Plus 2 Tablespoons Unsalted Butter
1 Cup Granulated Sugar
½ Packed Cup Light Brown Sugar
3 Tablespoons Bourbon
4 Large Eggs
1 Teaspoon Salt
¼ Cup Unsweetened Cocoa Powder
1 ½ Cups All-Purpose Flour
Preheat the oven to 350°. Line a 9-inch square baking pan with parchment paper, allowing 2 inches of overhang on 2 opposite sides. Spray the paper with vegetable spray. Spread the pecans in a pie plate and toast for about 8 minutes, until fragrant. Let cool, and then coarsely chop the nuts.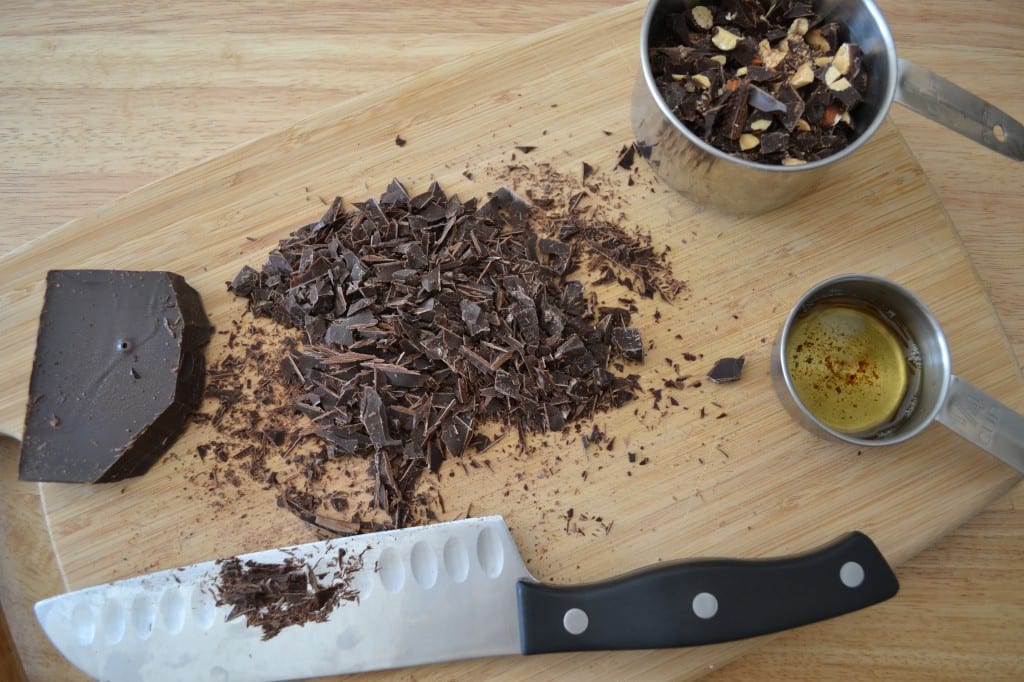 In a skillet, cook the bacon over moderate heat until crisp, turning once. Drain on paper towels and let cool; reserve 3 tablespoons of the fat. Finely chop the bacon.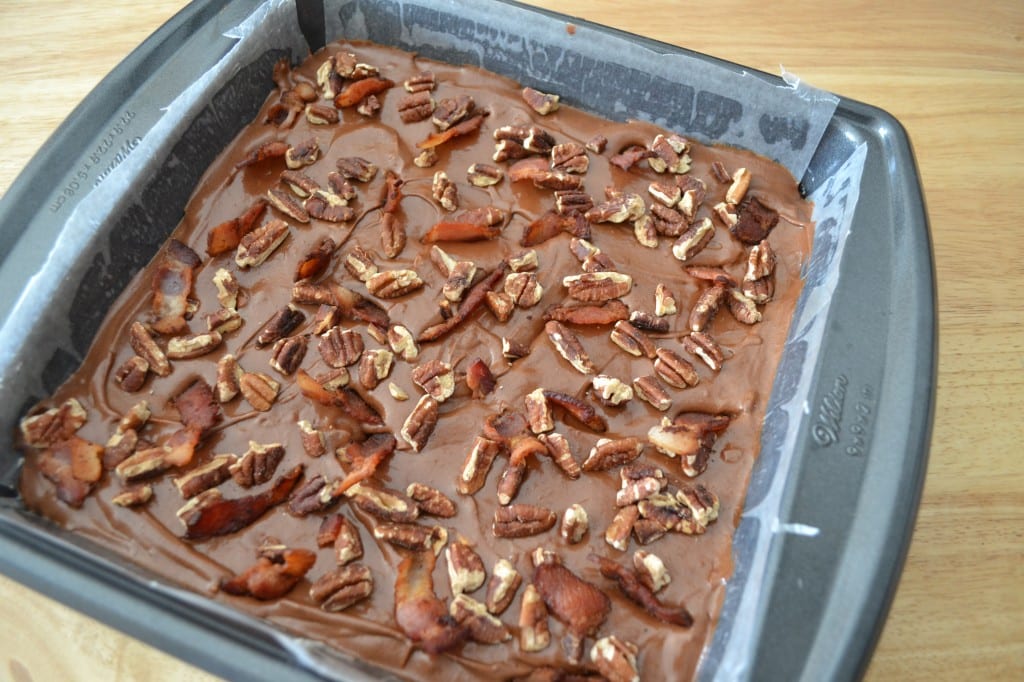 In a saucepan, combine both chocolates with the butter and stir over very low heat, until melted; scrape into a large bowl. Using a handheld electric mixer, beat in both sugars with the reserved 3 tablespoons of bacon fat. Beat in the bourbon. Add the eggs and salt and beat until smooth. Sift the cocoa and flour into the bowl and beat until blended.
Scrape the batter into the prepared pan and sprinkle the bacon and pecans on top. Bake for about 50 minutes, until the brownies are set around the edges but slightly wobbly in the center; a toothpick inserted into the center should have some batter clinging to it. Transfer the pan to a rack and let the brownies cool completely. Lift the brownies out of the pan using the parchment paper. Cut into squares and serve.
Recipe adapted from Kat Kinsman and Food & Wine
Related posts: