There is nothing more fun than a sleepover. Evan as an adult, I love crashing at a friend's place because in the morning, we either go out to brunch or we sit around, drink coffee, make breakfast, and rehash the night's events.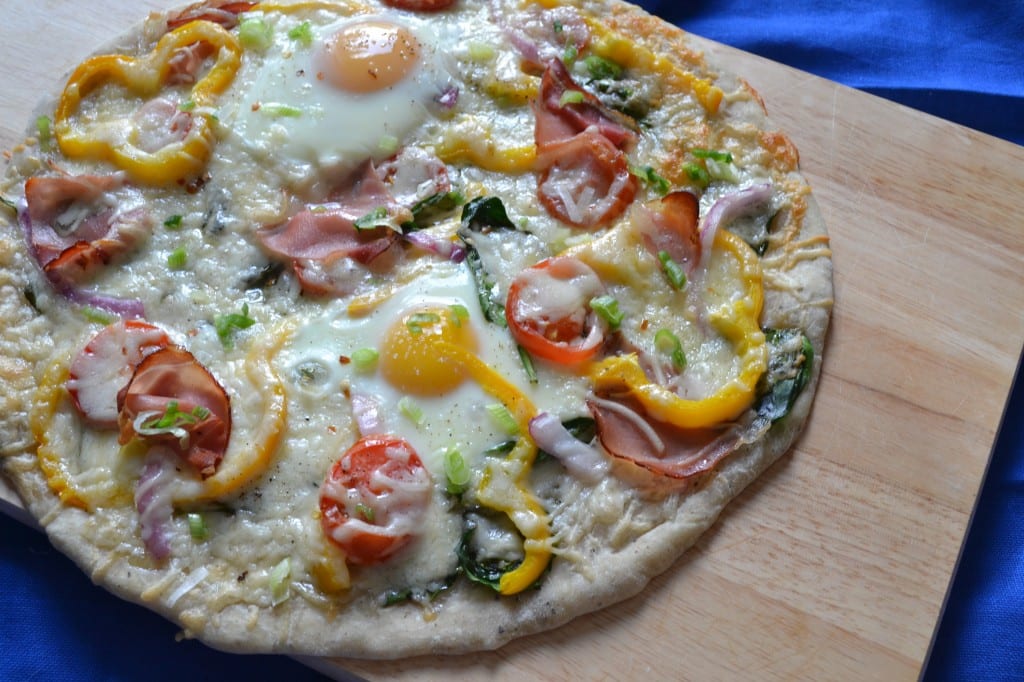 Recently I was lucky enough to sleepover at one of my best friends' apartment. This is a lucky happening for me because my bestie travels a lot for work. You could say she is a "world traveler." (She hates when we call her that, but go ahead and call her that anyways).
She shared with me this great little breakfast pizza recipe that her and her boyfriend made together a few times. I had never had pizza for breakfast, but the thought alone made me giddy.
There isn't any sauce. It is a perfect crispy crust with lots of fresh veggies and a few perfectly runny eggs cracked on top. Of course, when I got home, I purchased provisions to make my own. I waited until the next weekend and made my own version of breakfast pizza.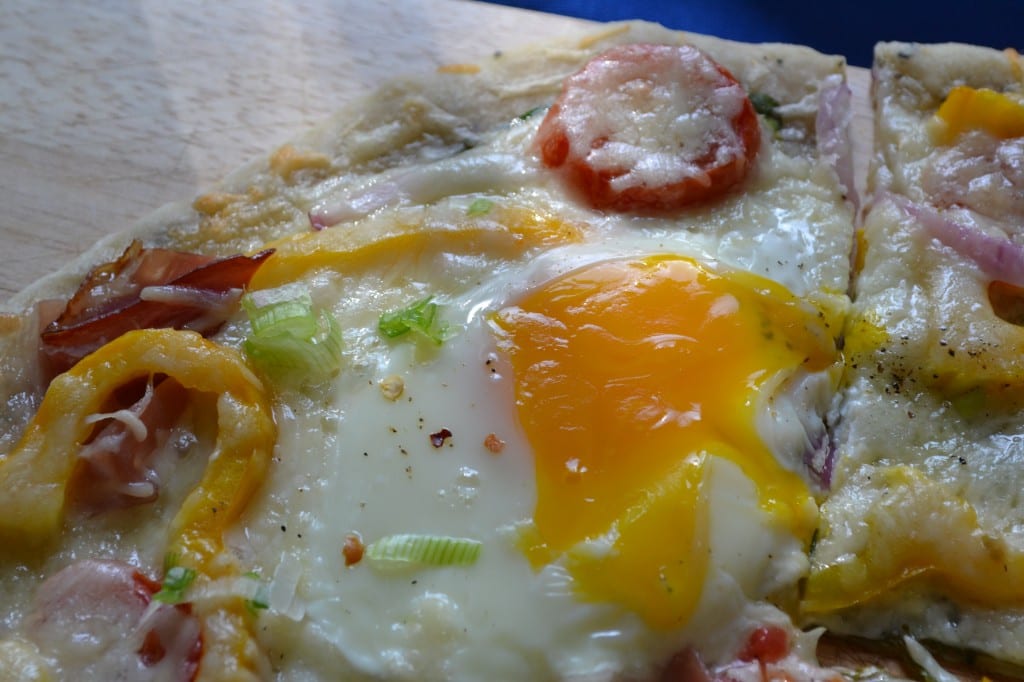 This recipe is one of those no recipe recipes. All of my ingredients are merely suggestions. It is a versatile idea that can feed two to five people. You can break the yolks on top if you don't like a runny yolk, or leave the yolks alone and ten minutes later enjoy a nice runny yolk all over the cheesy pizza. This is great for vegetarians and meat-eaters alike.
So, have your friends over for a planned sleepover, make some funny memories (or mistakes), and then relive everything the next morning over a few bites of breakfast pizza and a cup of coffee.
Ingredients (Makes 1, 12" Pizza, Serves up to Five)


A 12" Boboli Thin Pizza Crust or ½ lb. Trader Joe's Pre-made Pizza Dough
1 Cup Fresh Spinach
½ Bell Pepper, thinly sliced
¼ Cup Red Onion, thinly sliced
1 Roma Tomato, sliced
2 Cups Shredded Mozzarella Cheese
2 Eggs (I think the general rule should be an egg for every person eating the pizza).
2 Slices of Prosciutto, cut into thirds
¼ Cup Green Onions, chopped
Preheat the oven to 350 degrees. If you are using a Boboli pizza crust, ignore the following steps and skip to placing toppings on the pizza.
Lightly flour a working surface and a rolling pin. Roll the Trader Joe's out to about 12 inches and about 1/3 of an inch thick. Place a light dusting of flour or cornmeal on the bottom of a twelve inch pizza pan. Stretch the dough over the pan.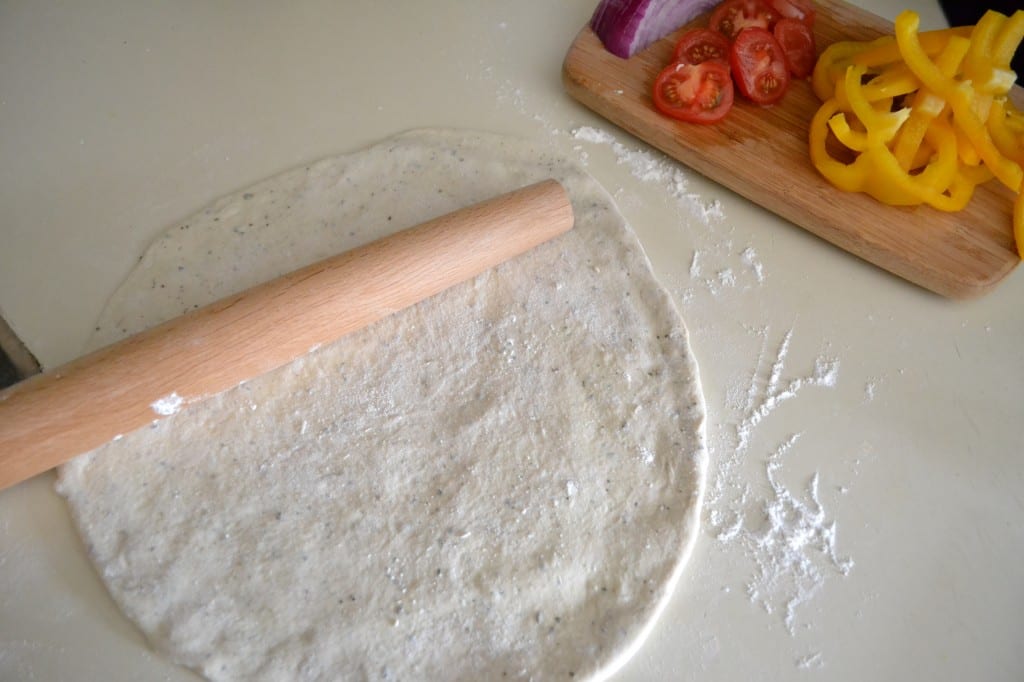 Top the pizza with the spinach, bell pepper, red onion, tomato, and cheese. Bake in the oven for ten minutes. Remove the pizza. Crack the eggs on to the pizza and spread the pieces of prosciutto on top of the cheese layer.
Note: If you do not like a runny yolk, use a sharp knife to slice through the yolk. It will ensure the yolk is cooked all the way through.
Place pizza back in the oven and bake for ten to twelve more minutes, just enough time for the eggs to be cooked through. When the pizza is cooked, let it cool for five minutes before cutting. Top with the chopped green onions and then slice the pizza into small squares.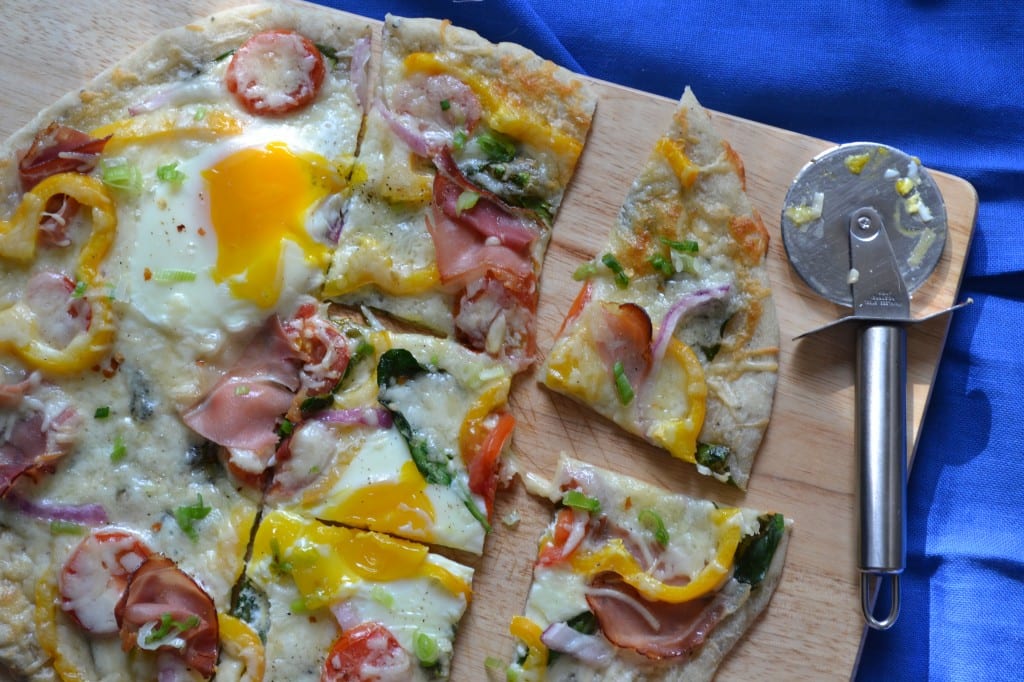 FYI—this isn't just a great pizza for breakfast. Since I had this a few weeks ago, I have eaten it for breakfast and dinner!
Related posts: