I am not going to lie to you; cooking risotto is kind of like running a marathon. Well, I never ran a marathon, so I would relate it to long-distance running, which for me would be running a mile.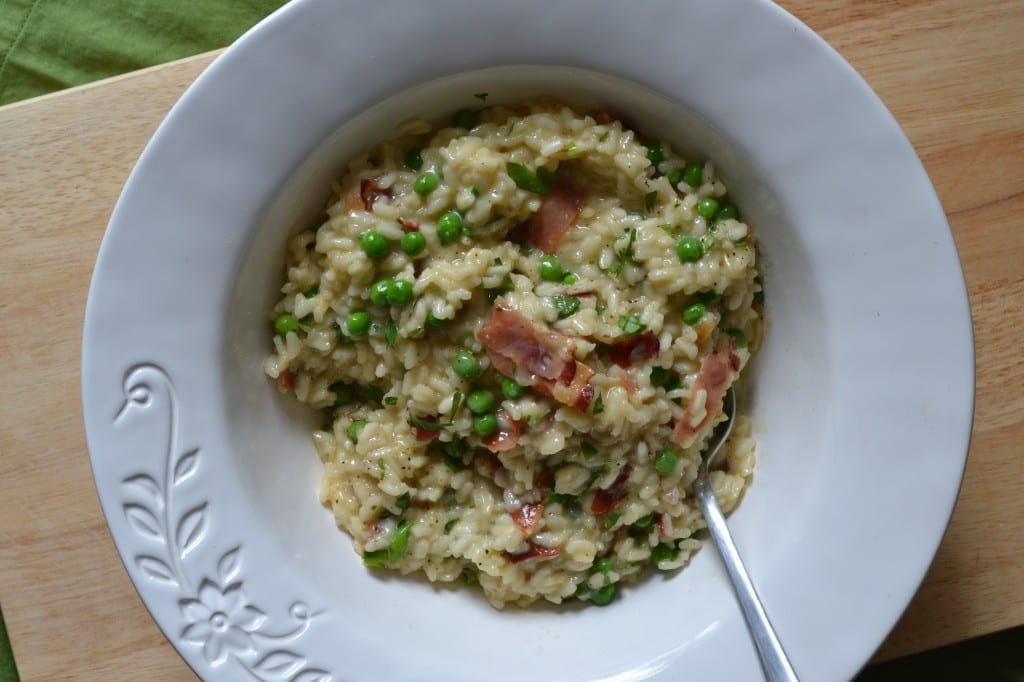 To some of you runner-types out there, that might sound pathetic. I agree with you. I am not a good runner. I find no enjoyment in it, I look like a fool, and about a block or two into running I get a cramp in my side and can no longer breathe through my nose.
I like walking. I like to walk for a long time. I like to enjoy a podcast or playlist on a brisk walk through some of the nice nearby neighborhoods. I can walk three to five miles and feel great afterwards. I just don't think that my specific body was ever designed to be a runner.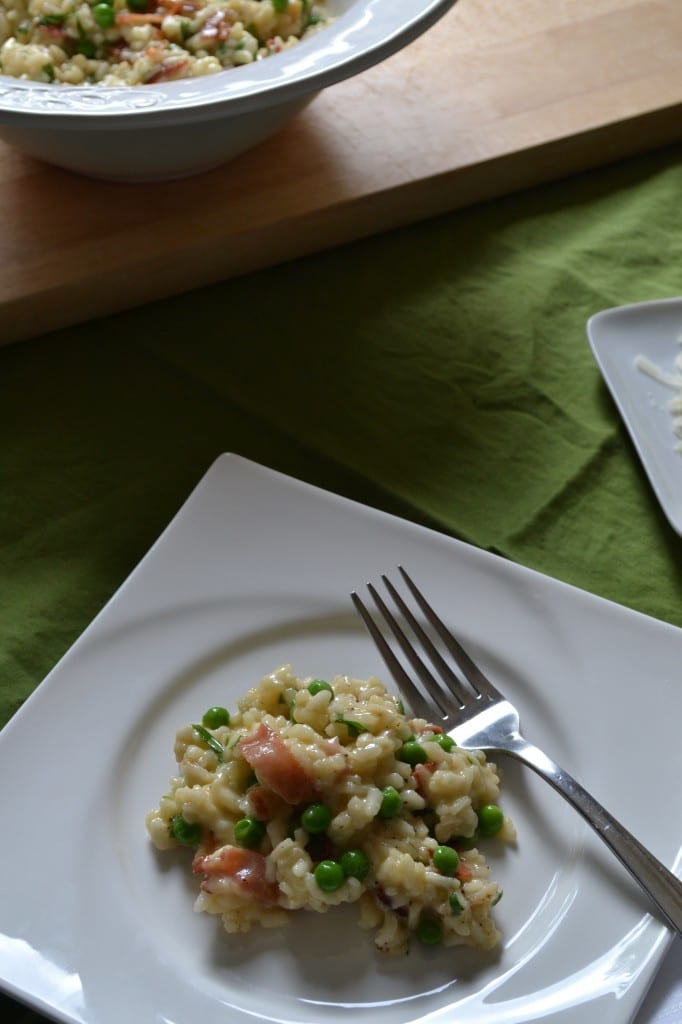 I was in track in grade school because eeeevvverrrybody was in track. I ran in relays and was somehow put into the 400 meter. I think I maybe got third place, once.
In high school it was mandatory for all volleyball players to play another sport as a part of off-season conditioning, so I thought, well I did track in grade school, so I guess I should do that.
I think my memory of the tryout for track and field is a lot different than what happened in reality. My memory of the tryout is that we were all asked to run five miles in the gym (which, by the way, was not air-conditioned). In reality, it might have only been a mile, but who really knows. Anyway, we were asked to run a distance, which is foggy in my mind, at our own pace. We were timed and based upon when we finished, we were put into specific race distances.
Needless to say, I did not finish the run. I think the coach could tell I was not having fun. It must have been the "SAVE ME NOW" eyes I was giving him in between my belabored breaths. The coach pulled me to the side ad asked if I had ever thought about shot put and discus.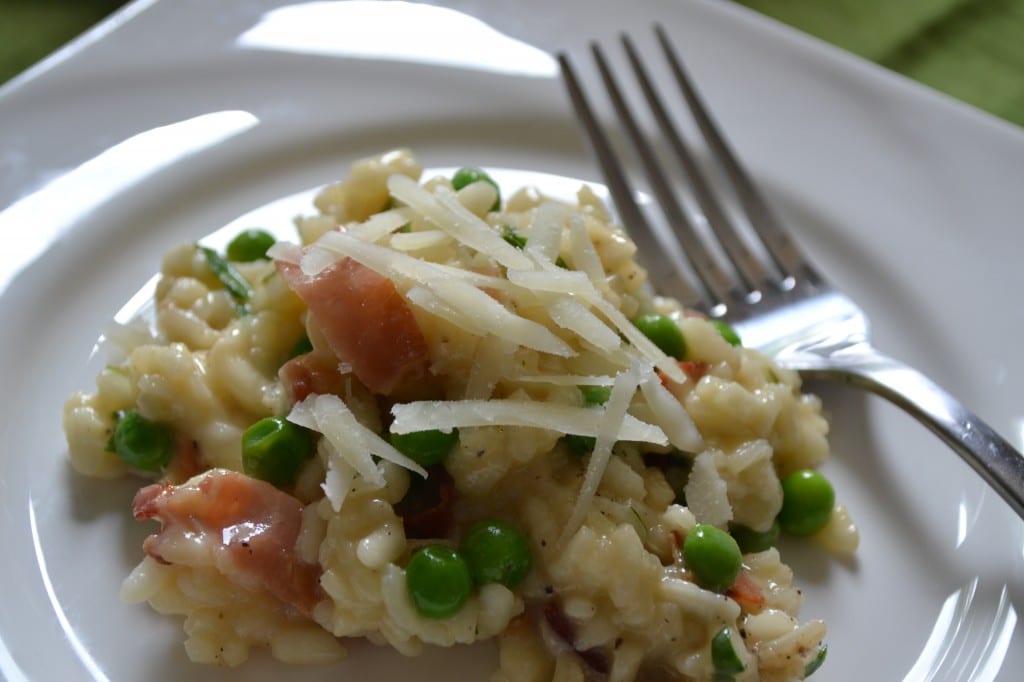 Sadly, I told him that I had actually done shot and discus in grade school. So it was decided that it made more sense for all 5'5" and 120lbs. of me to go up against girls twice my size in shot and discus, just so I did not have to risk my running ruining the chances for the team.
Seriously. Even though I am not good at running any distance, I still get the concept of running and find that it very easily relates to cooking risotto.
You take your time cooking the risotto, adding one ladle of chicken stock at a time, waiting for it to be absorbed, and then you add another ladle. You pace yourself, have patience, and trust in your cooking skills while making the risotto.
At the end of the risotto "race", you need to kick it into high gear and add the prosciutto, peas, cheese and eggs quickly as to not overcook the risotto. You finish feeling nervous, sweaty, and like you gave it your all.
I may not be the best runner, but in the risotto race I could hold my own just fine!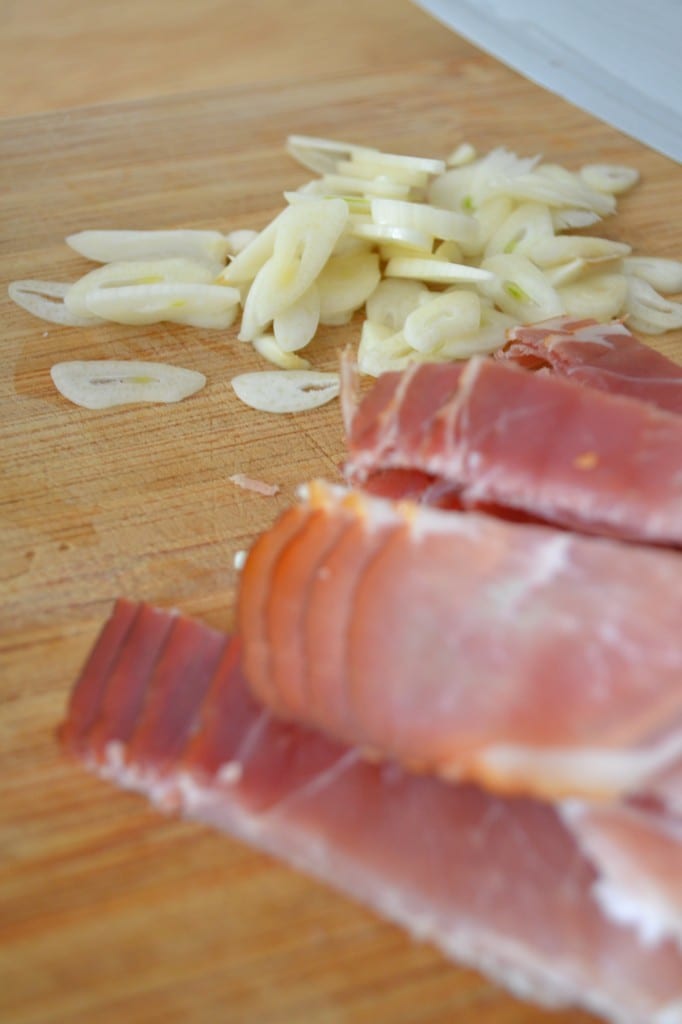 Ingredients (Serves 4)


3 Cups Low Sodium Chicken Stock
1 Cup Arborio Rice
3 Tablespoons Olive Oil
4 Slices Prosciutto, sliced into thin strips
4 Cloves Garlic, thinly sliced
½ Cup Frozen Peas, thawed
2 Large Eggs
1 Cup Freshly Grated Pecorino Romano Cheese
½ Teaspoon Pepper
1 Handful Fresh Parsley, chopped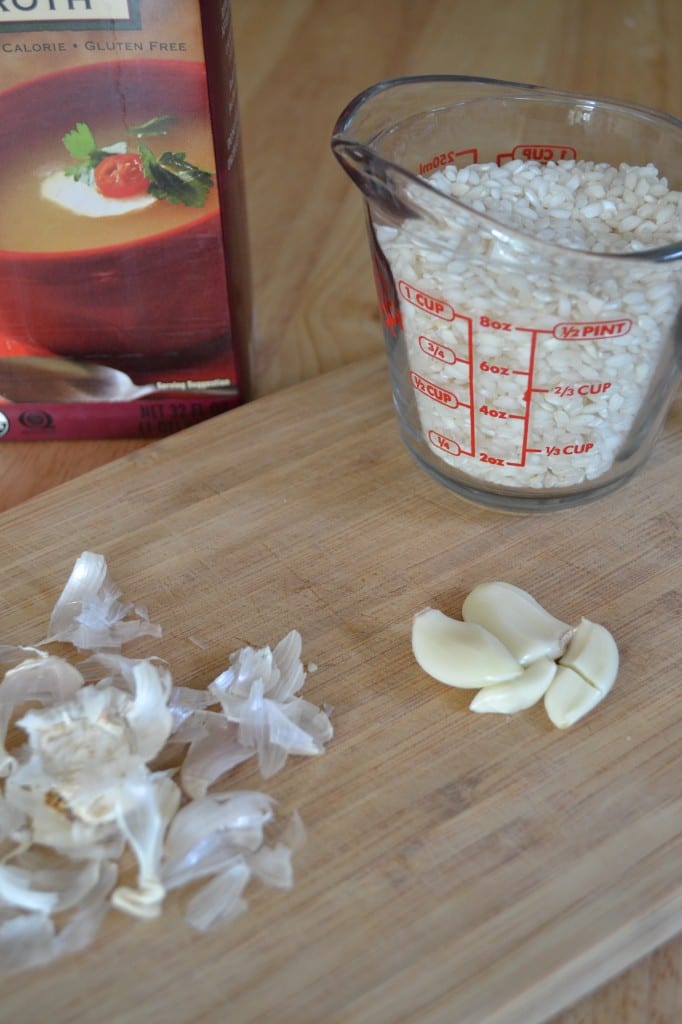 Pour the chicken stock into a small saucepan. Bring to a simmer over medium heat. Once the chicken stock comes up to a simmer, turn the heat back to medium/low.
Heat a tablespoon of olive oil in a large heavy-bottomed skillet over medium heat. Add the rice to the skillet and cook until the rice has absorbed all the oil, about three minutes.
Take a ladle of the chicken stock and add it to the rice. Continuously stir the rice until all of the stock has been absorbed.
Once all the stock is absorbed into the rice, add another ladle full of stock. Continue this process of adding a ladle of chicken stock to the risotto for about 15 minutes.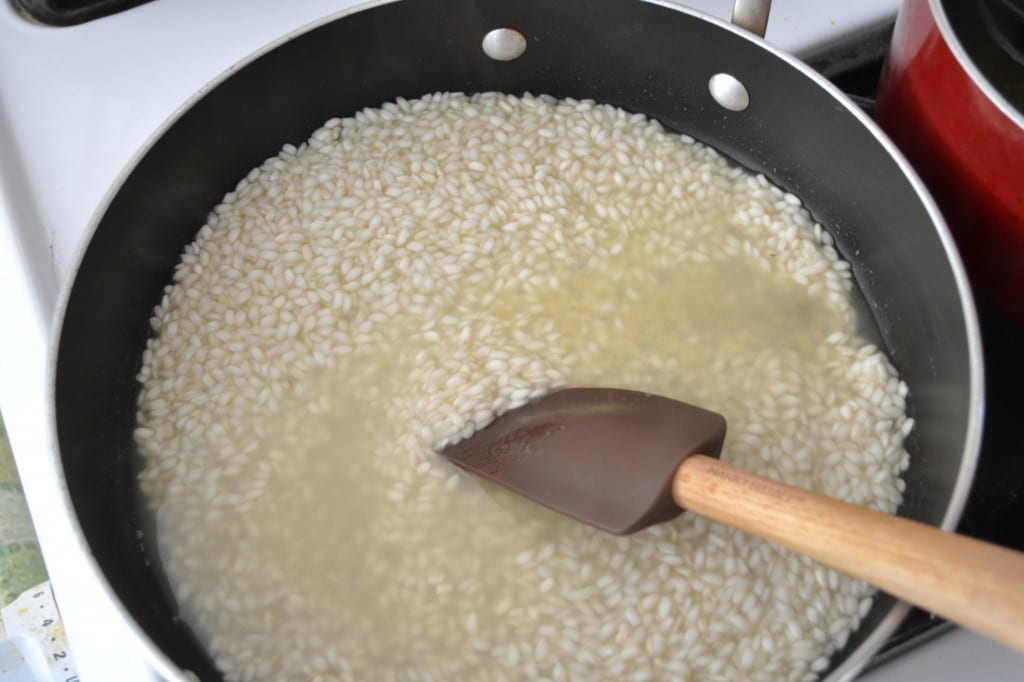 After fifteen minutes, heat the remaining two tablespoons of olive oil in a medium skillet over medium/high heat. Keep a close watch on the risotto to make sure you do not miss an addition of stock.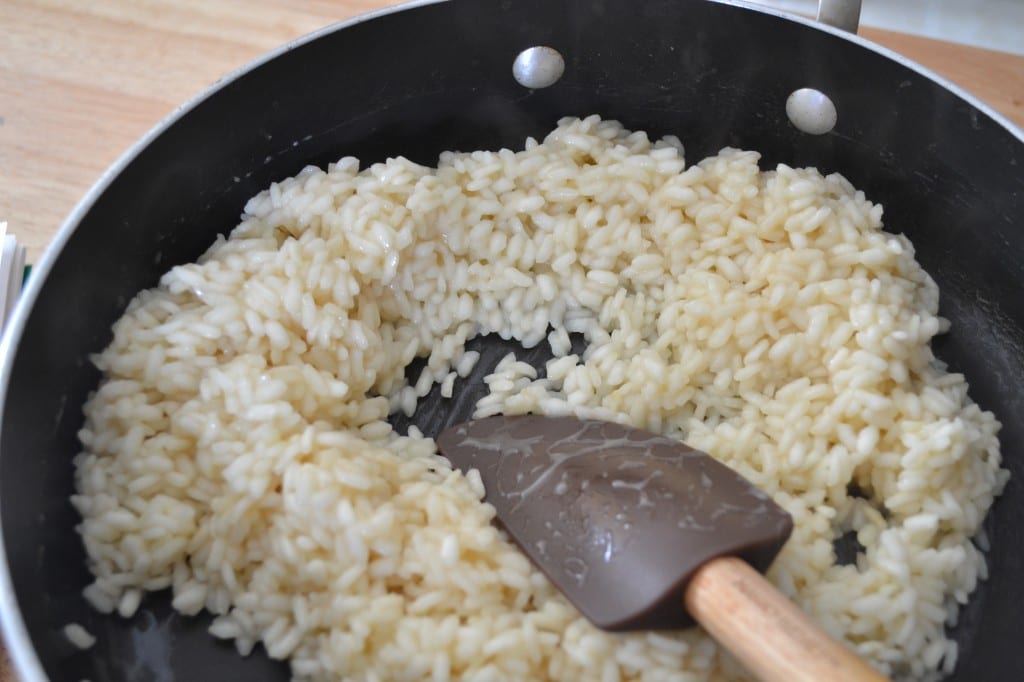 Once the oil heats up, add the strips of prosciutto and cook until crispy, about three minutes. Add the garlic to the pan and cook for two minutes. Then turn the heat of the prosciutto pan off.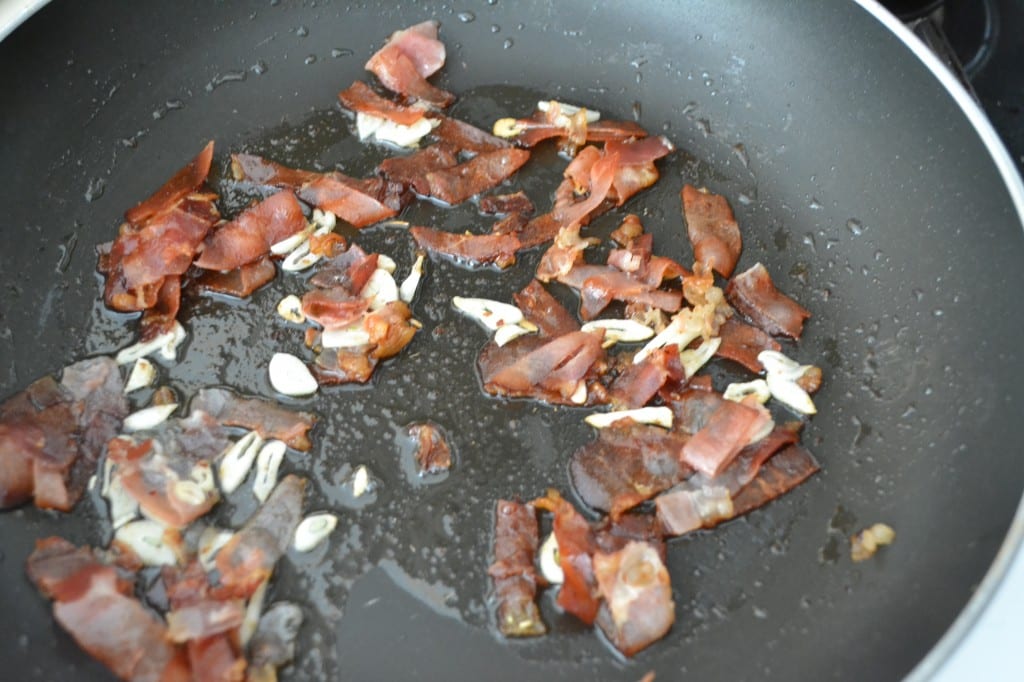 Now here comes the sprint! Whisk together the eggs and shredded cheese. At this point turn the heat of the risotto to low. Add a ladle full of the hot stock to the eggs to temper it so the eggs do not scramble.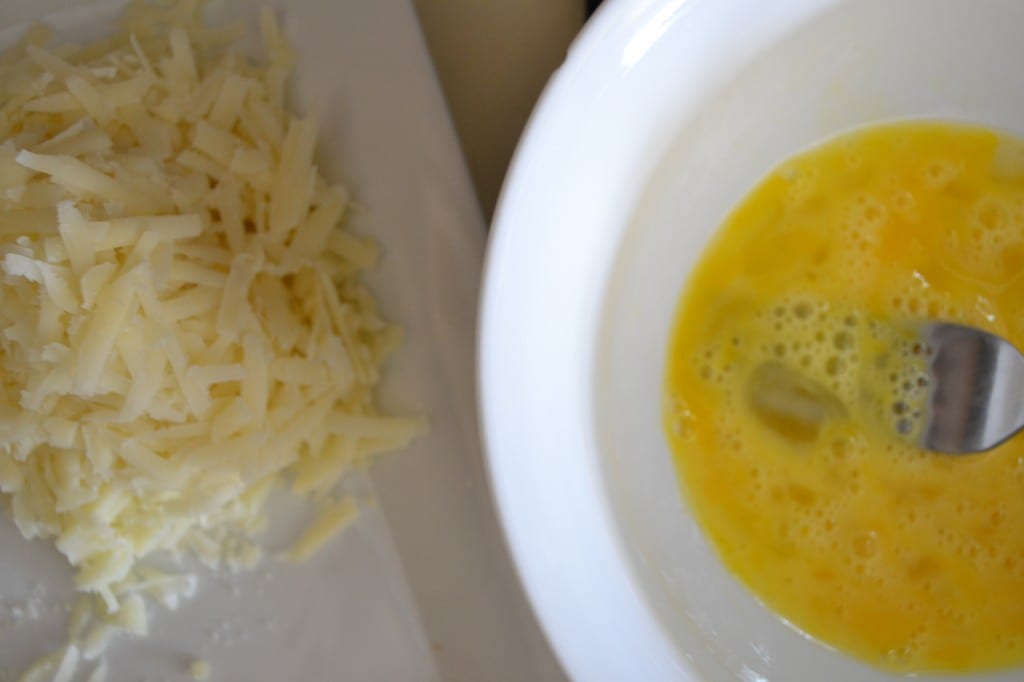 Add the peas, prosciutto, and garlic to the risotto; stir to evenly distribute. Slowly pour in the egg and cheese mixture. Stir until the risotto starts to stick together and the cheese sauce starts to come together, about a minute.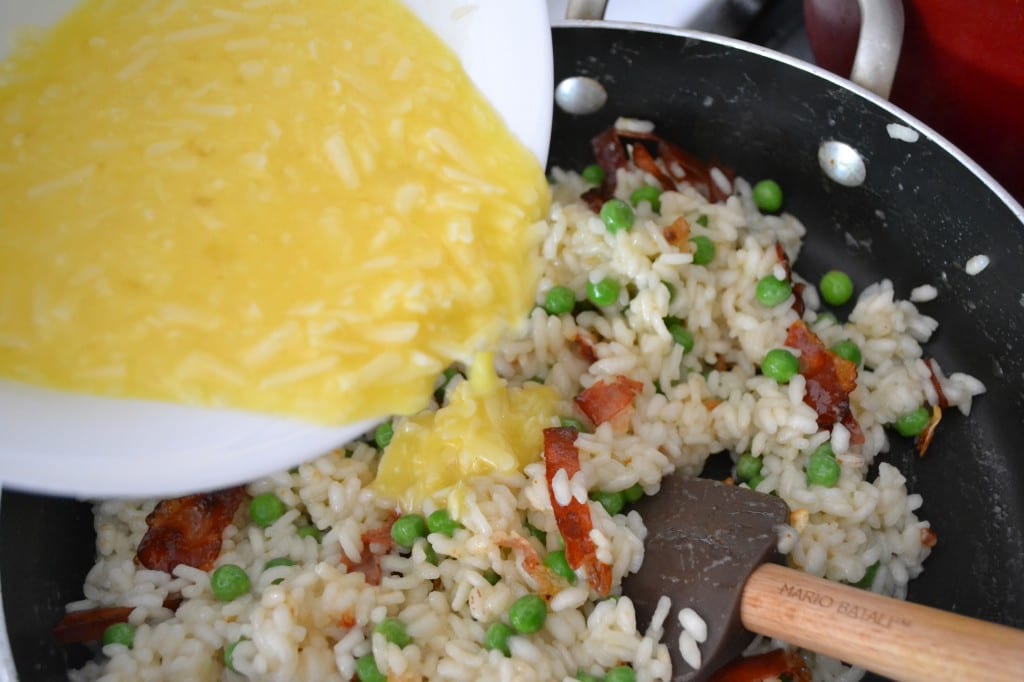 Add the pepper and parsley to the skillet, stir to distribute. Remove the risotto from the heat and serve immediately.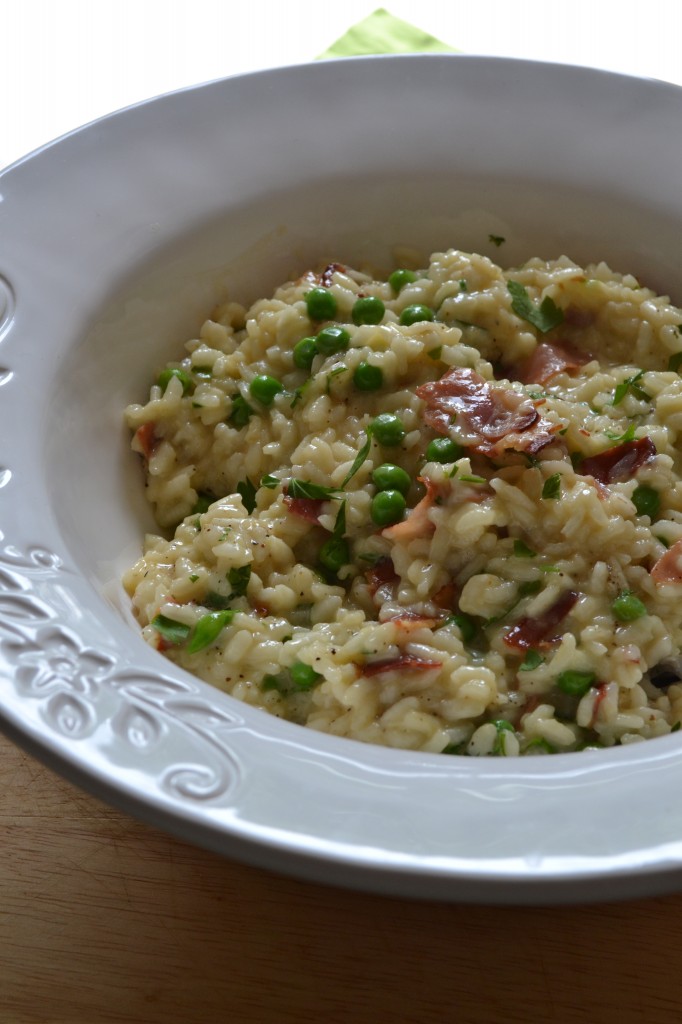 Risotto does not reheat well, so it is best served right away with a little bit of fresh parsley and grated pecorino on top.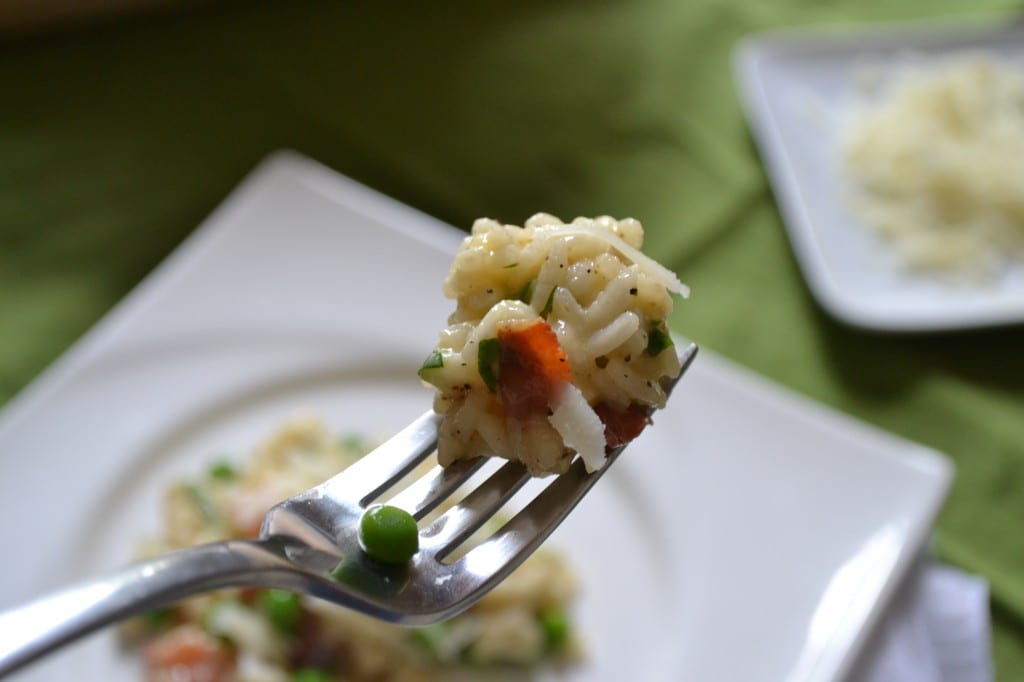 Phew! The race is over, the risotto is finished. Get yourself some water and take a break, you did great!
Related posts: