What's your biggest irrational fear?
Spiders? Snakes? The dark?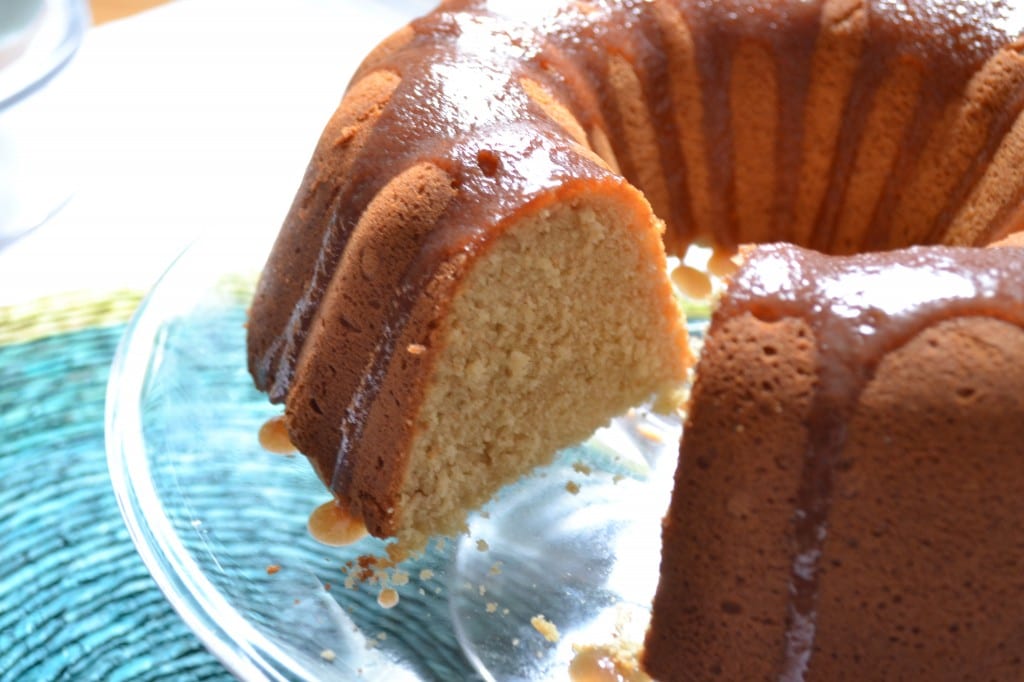 Mine is the dentist. I know that going to the dentist regularly is a part of living a health life and all, but I truly hate the dentist. I guess you could say I am an anti-dentite.
When I was very young, I asked my mom if I could go ride my bike in the driveway for a little bit. My mom told me no because it was raining. But, headstrong little 6 year-old Stefanie didn't like that answer, so she went outside and rode her bike anyways. Sadly, her back tire slipped rounding a curve on the wet driveway and off she flew, smashing into the ground, front baby tooth first. (lesson learned, kids: Listen to your mother!)
That little incident caused me years of crooked teeth. Put that together with bad brushing skills and a love for candy and you end up with a lot of visits to the dentist.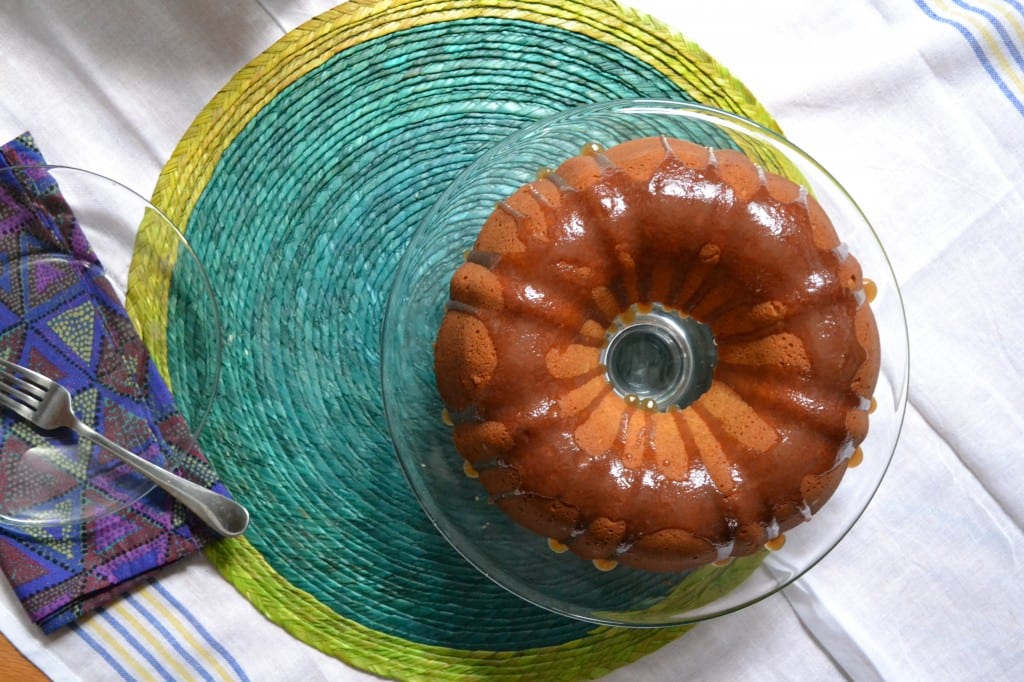 I had many many cavities when I was little. During my adolescence I went from full on braces to retainers on top and bottom. Now that I'm an adult and on my own insurance, it's so tempting to just skip the appointments all together…but I guess a big part of an adult is doing those things you just don't want to do (or the things your mom nags you into doing).
So after months of coaxing, I did it.  I made the call. Here is what happened during said appointment:
I made my mom go with me. I cried in the chair. And of course, they found a cavity.
I went back to have the cavity drilled, mom in tow. Yet again, I cried in the chair (worse than the first time). I requested more and more Novocain because I swear I could feel everything. Ugh! My stomach is turning just thinking about it!
Since then I have been brushing my teeth two times a day, flossing at least three times a week (I try for more but I am only human and sometimes a little more sleep is more important than spending time flossing in the morning), and avoiding candy and sweets. No more cavities for this girl!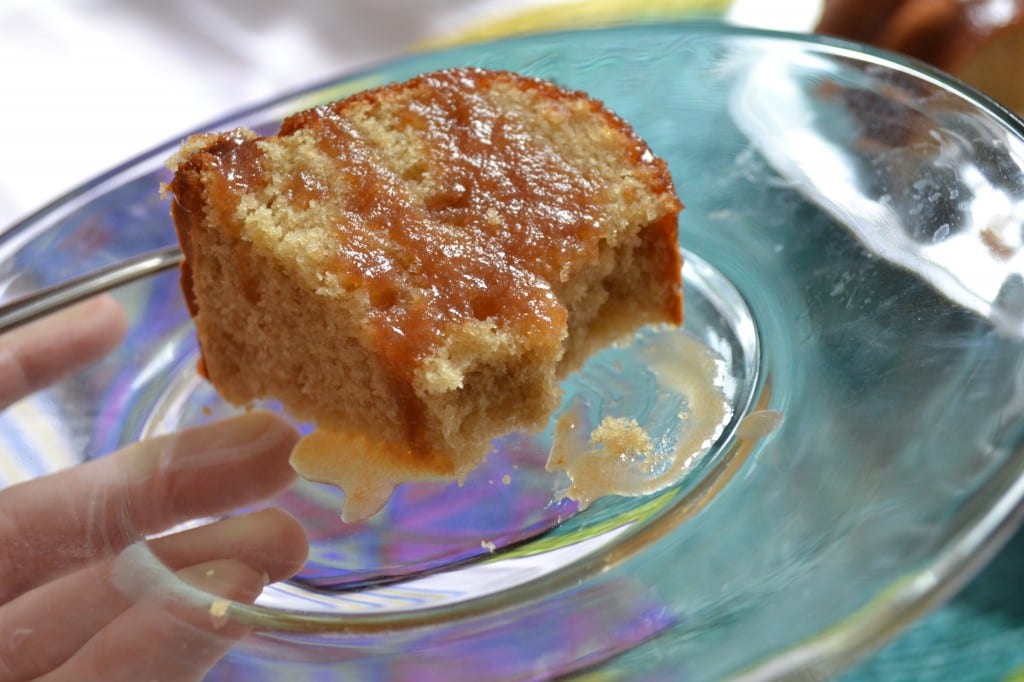 Ok, I kind of lied to you. I avoid candy. All candy. Avoiding all sweets is impossible, especially when you need to erase the memory of being the crying adult woman at the dentist and you have access to this sweet Bundt cake!
Ingredients for the Cake
2 ¼ Cups All Purpose Flour
2 Teaspoons Baking Powder
1 Teaspoon Baking Soda
½ Teaspoon Salt
¾ Cup Smooth Peanut Butter
6 Tablespoons Unsalted Butter, softened
½ Cup Granulated Sugar
½ Cup Brown Sugar
3 Large Eggs
1 Cup Plus 2 Tablespoons Buttermilk
Ingredients for the Salted Caramel Sauce
1/2 cup granulated sugar
2 tablespoons water
2 tablespoons light corn syrup
1/3 cup heavy cream
2 tablespoons unsalted butter
1/2 teaspoon sea salt
Preheat the oven to 350 degrees F. Grease a 9 inch-by-3 inch Bundt pan. Set aside.
In a medium bowl, whisk together flour, baking powder, baking soda, and salt. Set aside for later.
In the bowl of an electric stand mixer fitted with a paddle attachment, cream together peanut butter, butter, and sugars until fluffy, for three to five minutes.
Add eggs, one at a time, beating at medium speed for a minute in between each addition. Stop the mixer and scrape down the sides of the bowl as needed.
With the mixer on low speed, add half the flour mixture to the butter mixture. Slowly pour in the buttermilk. When the mixture just starts to come together, add the remaining flour mixture, beating on low speed for another minute or two. Remove the bowl from the mixer and finish incorporating the ingredients with a spatula.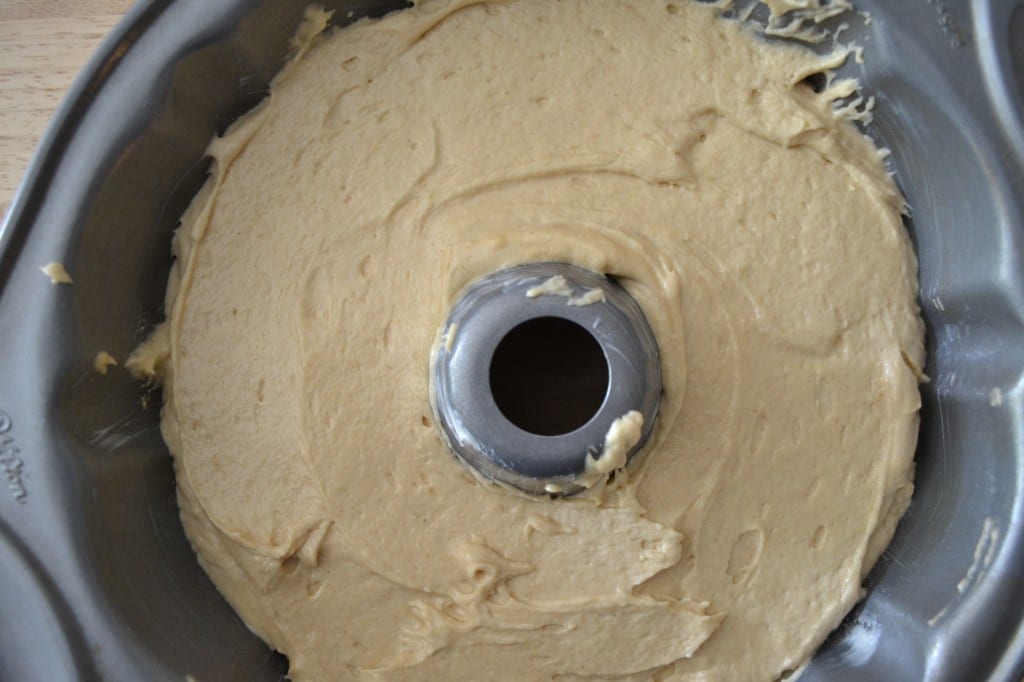 Pour the batter into the greased Bundt pan. Place Bundt in the oven. Bake for 35 to 40 minutes or until a cake tester or toothpick inserted in the cake comes out clean.
While the Bundt bakes, make the salted caramel.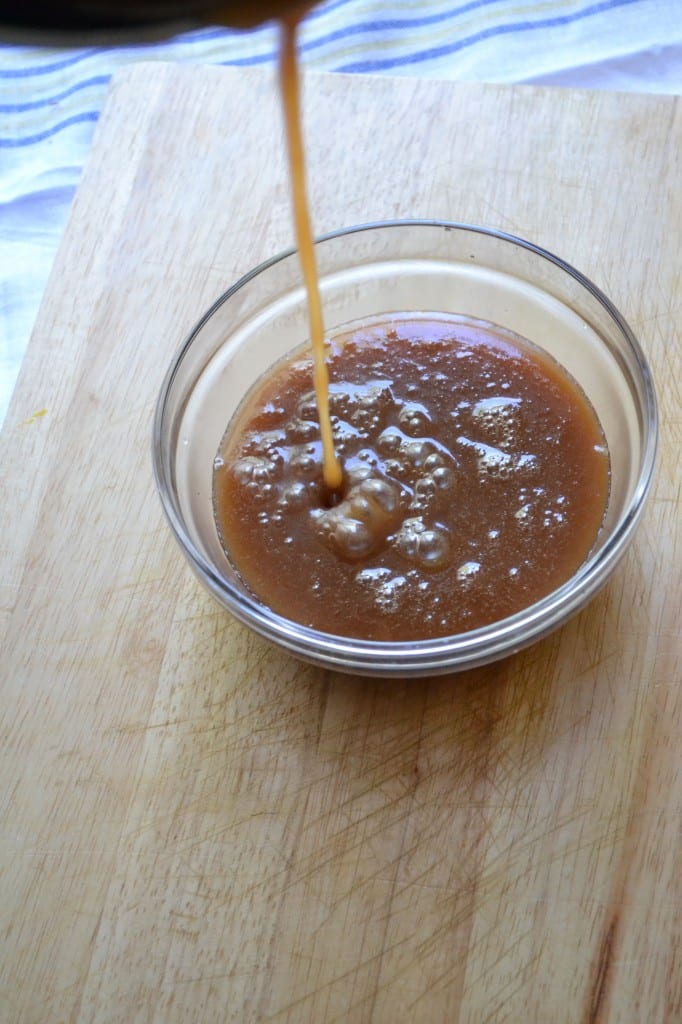 To make the caramel, add sugar, water, and corn syrup to a medium saucepan.  Bring to a boil over medium heat, stirring only once or twice.  Bring to a boil and allow to brown, takes up to ten minutes.  Once sugar has browned to a medium amber color, remove from heat and immediately add heavy cream and butter.  Be careful and watch out for steam. Mixture will boil and foam.  Stir quickly while the mixture is foaming.  Add salt and stir well to incorporate. You have to stir a lot during this whole process. Place in a bowl.  Cover with plastic wrap and cool in the fridge for at least 4 hours, overnight is best.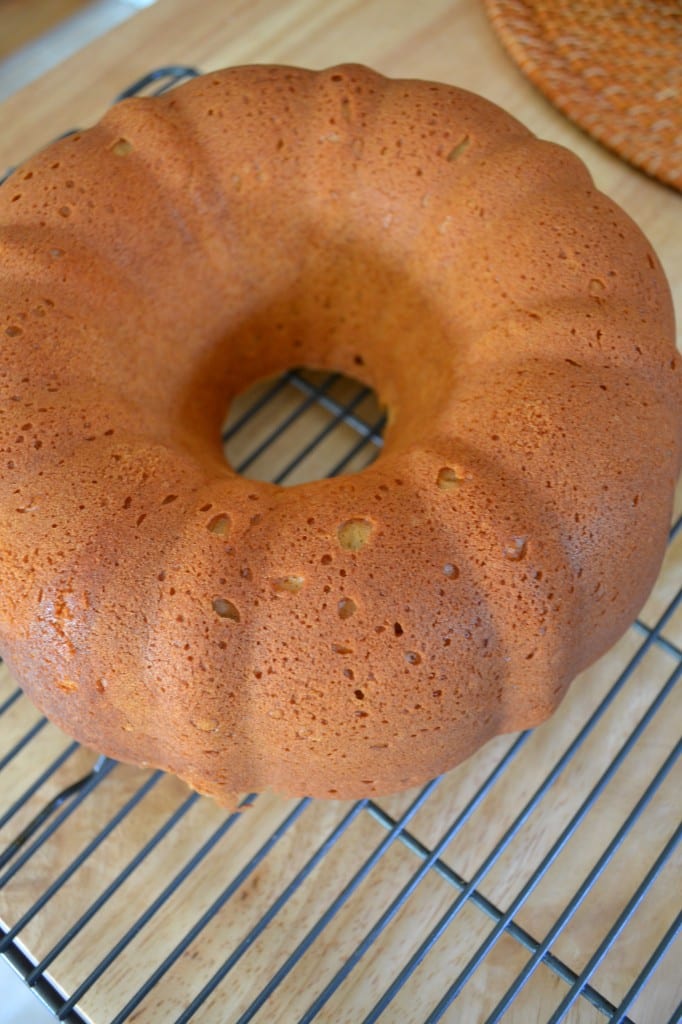 When the Bundt is done baking, allow it to cool in the pan for ten minutes before inverting onto a wire rack to cool completely. Let the caramel sauce cool completely before topping cake. If the caramel is a bit too stiff, pop it in the microwave for a few seconds until it loosens up and is easily spreadable. Spoon sauce all over cake and reserve a little extra just incase you want more sauce.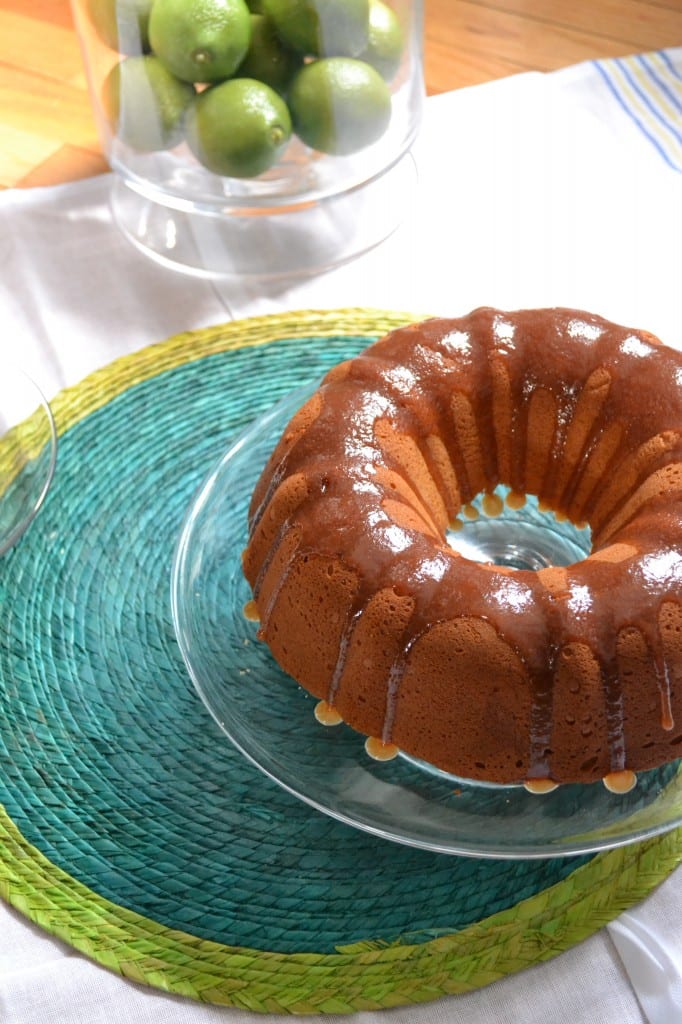 This cake will erase every irrational fear-based memory you have; just make sure to brush and floss right after eating it!
Recipe for peanut butter cake adapted from Joy the Baker's cookbook (as usual)
Related posts: