So this week, I have something a bit different for you. It just so happens that this week I am vacationing with my husband's family in Wisconsin. While I am gone, I have asked some of my favorite food bloggers to share a recipe and a little story with you guys. Here is the exciting line-up of who I have posting this week:
I won't spoil the surprise of what they have cooked up for you, so you will just have to drop in and see! Now, without further ado, here is my fab friend Stephie to kick this week off on a sweet note!

Hello everyone! I am so excited that Stef asked me to guest post for her while she is on vacation. I just adore her and her blog – and I love that a blog friend is quickly becoming a real-life friend!
When pondering what to make for you today, I knew right away that I wanted to do some sort of baked good. Stef claims that baking is her culinary downfall, and while I don't really believe that, I thought that I might indulge you all with something fresh from the oven.
Now, I have to tell you that I am running the risk of being permanently haunted by my great-grandmother for sharing this recipe with you today.
Let me back up a bit. My great-grandmother, better known in my family as Ma-Ma, was born and raised in Mississippi and was as beautifully southern as they come. She never did forgive my grandmother for moving her above the Mason-Dixon line after my great-grandfather died and she frequently referred to my mother and uncles as her "Yankee grandchildren" (they were her only grandchildren).
Now, if you did not know, there are two types of cornbread out there: southern-style cornbread (also known in my family as the "correct" cornbread) and Yankee cornbread. The difference between the two really comes down to one thing: Yankee cornbread is sweet, while southern-style cornbread is not. I will give you one guess as to which type Ma-Ma raised us to eat.
So when I started fiddling around with my family's favorite Southern Living cornbread recipe to make this blackberry cornbread, I knew I was running a risk of Ma-Ma coming back to haunt me. Adding extra sugar? Putting fruit in it? What?! Blasphemy!!
But really, this blackberry cornbread is good enough that I think I will run the risk of being haunted. While I did increase the sugar in the original recipe by a small amount, there is still far less sugar in this recipe than you would find in a typical "Yankee" cornbread. You just don't need it. Trust me. The sweetness from the blackberries pairs perfectly with the soft cornbread, and the whole thing gets the perfect crust from baking in the cast-iron skillet.
Basically? It's perfection. And if you happen to have both sweet and not-sweet cornbread lovers in your family, this might just be the happy medium that helps to bring the peace.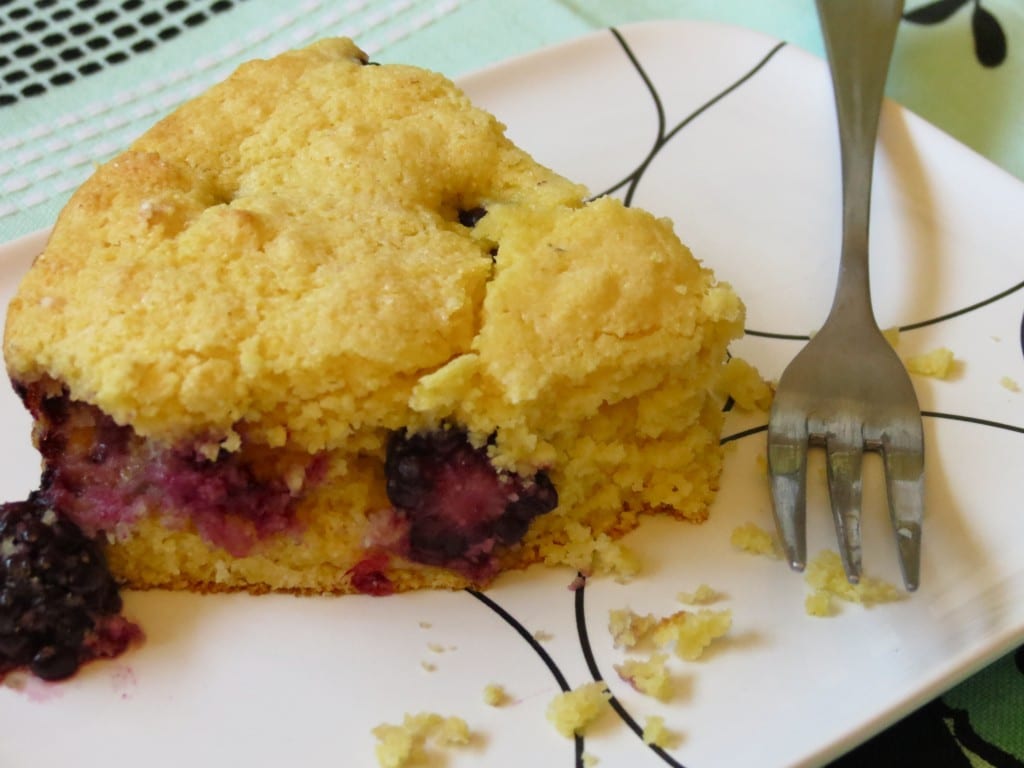 Just don't tell my great-grandmother.
Blackberry Skillet Cornbread
Adapted from Southern Living
Serves 8
1 ¼ cups cornmeal
¾ cup all-purpose flour
4 teaspoons baking powder
¾ teaspoon salt
3 tablespoons sugar + 1 tablespoon
2 eggs, lightly beaten
1 cup buttermilk
¼ cup melted butter
1 pint fresh blackberries
Preheat oven to 425 degrees. Oil a 9- or 10-inch cast-iron skillet and put into oven to heat while the oven preheats. (Note: If you do not have a cast-iron skillet, you can bake this in a 9-inch square pan instead, just skip the preheating.)
In a large bowl, whisk together the cornmeal, flour, baking powder, salt and 3 tablespoons of sugar.
In a separate bowl, whisk together the eggs, buttermilk and butter; add to the dry ingredients, stirring just until combined.

(Carefully) remove preheated skillet from oven; pour batter into pan. Quickly distribute blackberries over the top of the cornbread, gently pushing down into the batter. Sprinkle with the remaining tablespoon of sugar. Bake for 12 minutes or until lightly browned.
Related posts: