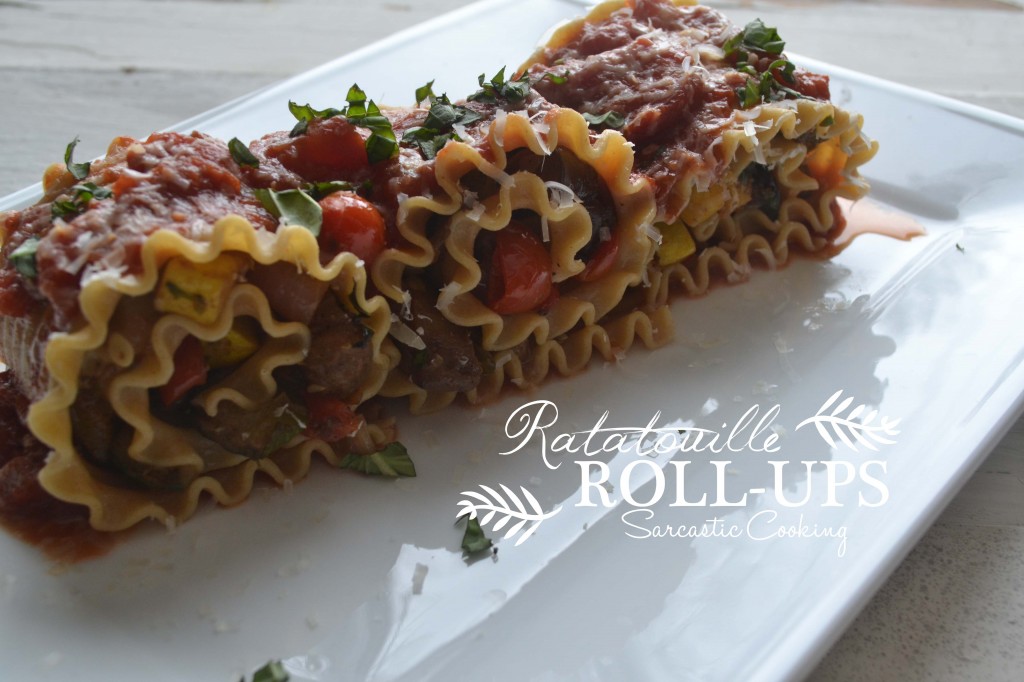 This would happen to be my third interpretation of ratatouille that I have posted here for you all. As you can see I love the flavors in ratatouille. Eggplant, squash, zucchini cooked until golden and caramelized is the secret to any version of this French favorite.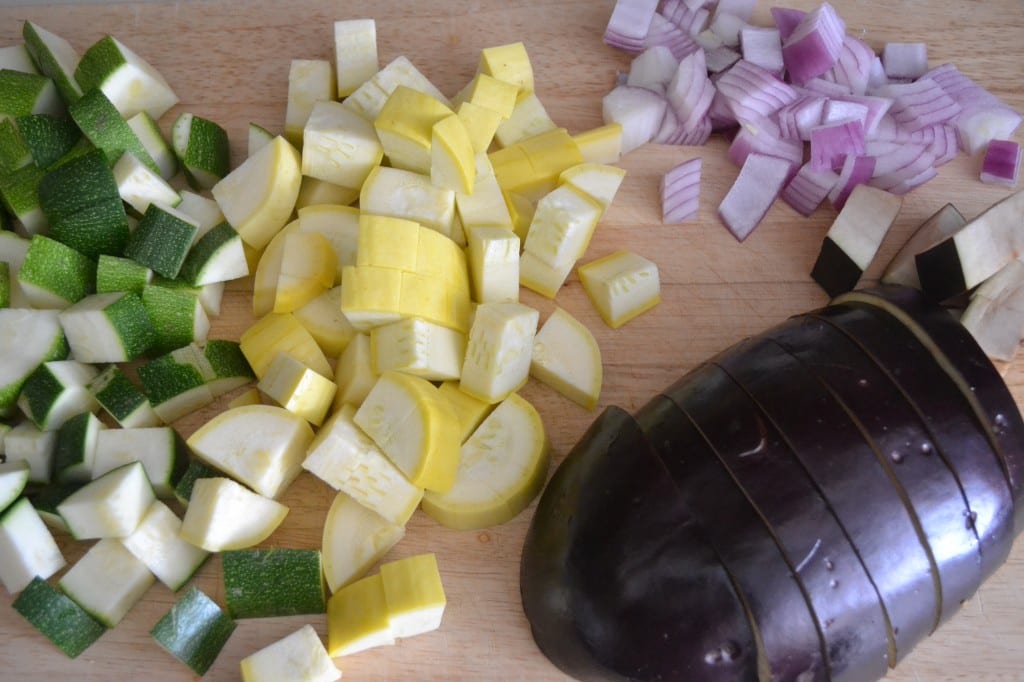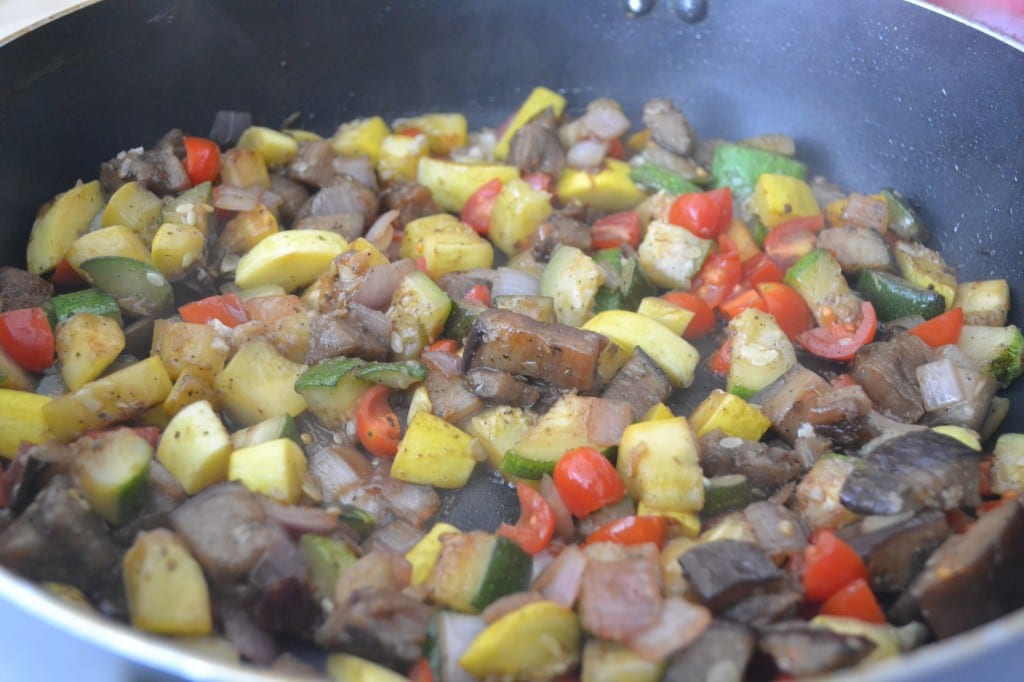 On a side note, back when I was a health inspector for the county and the fate of your restaurant food was in my hands, we had to keep up our sanitation licenses with yearly trainings. At one particular training, the teacher showed us the movie Ratatouille.
Showing a movie about a rat living and cooking in a restaurant to a bunch of people on the lookout for just that, and whose worst nightmare that would most likely be, is kind of ironic.
Even though I should have felt grossed out about a rat cooking ratatouille on screen during our lunch break in between hearing about real rats and cockroaches, I was actually sad when we didn't get to see the ending.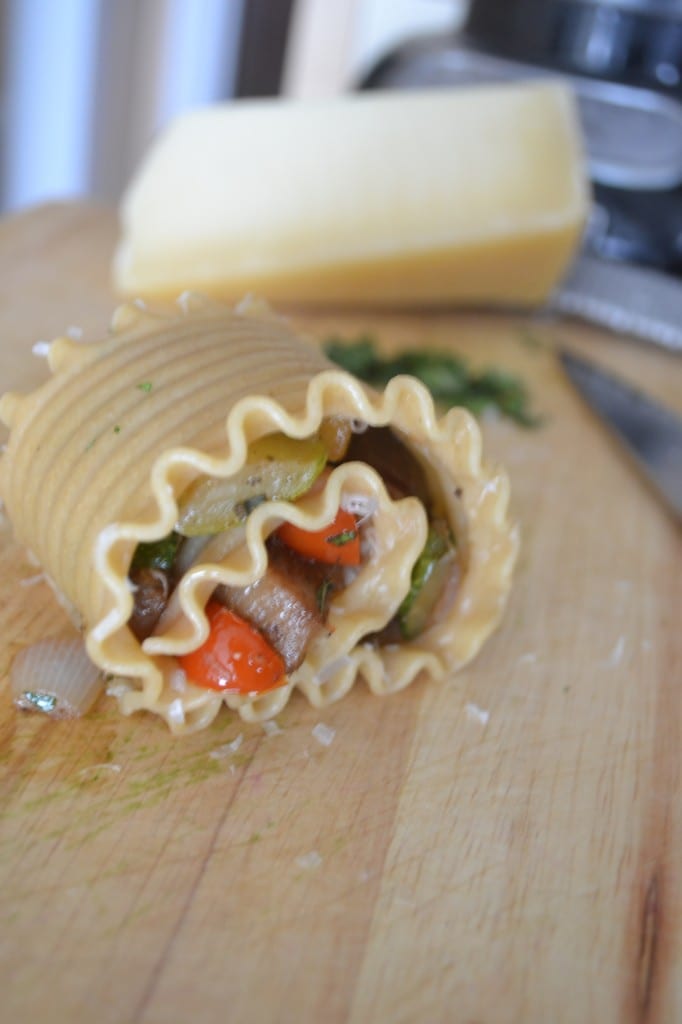 I ended up buying the movie because I really wanted to see the ending. It was pretty cute.
Yet another version of ratatouille that I like!  Damn you, Pixar!!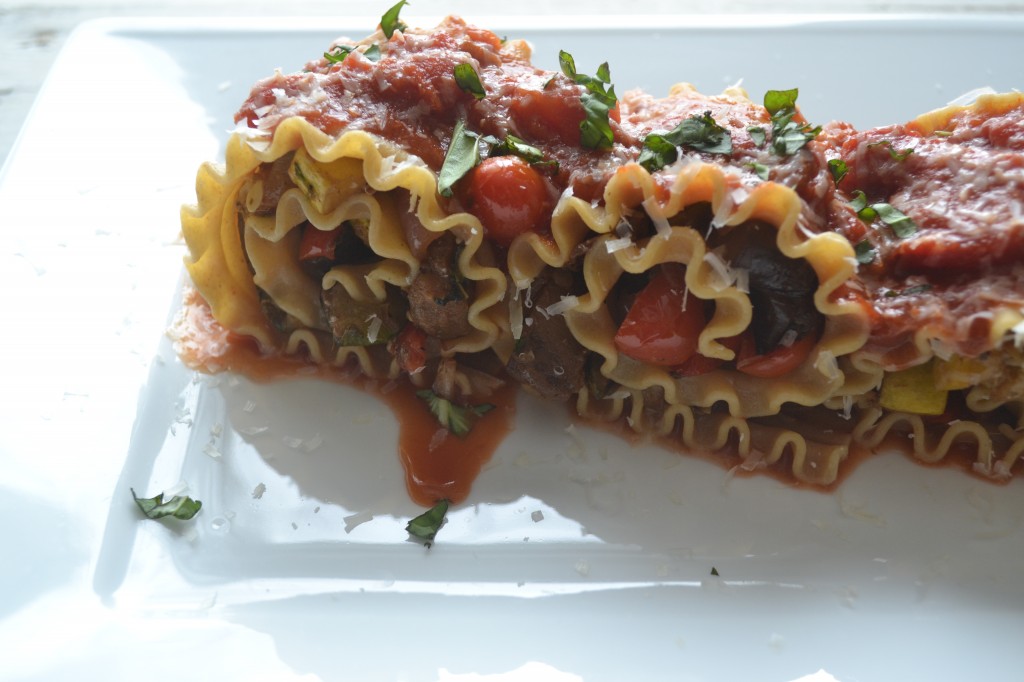 I know it is Fat Tuesday and I should be posting doughnuts or paczki, but I decided to be different and I was just really excited to share this hearty wholesome recipe with you all!
Ratatouille Roll-Ups
Author:
Prep time:
Cook time:
Total time:
Ingredients
3 Tablespoon Olive Oil
1 ½ Cups Cubed Eggplant
1 ½ Cups Cubed Yellow Squash
1 ½ Cups Cubed Zucchini
¾ Cup Diced Red Onion
1 Teaspoon Salt
½ Teaspoon Pepper
¼ Teaspoon Crushed Red Pepper Flakes
½ Teaspoon Dried Oregano
2 Cloves Garlic, grated
¾ Cup Chopped Cherry/Grape Tomatoes
1 Tablespoon Balsamic Vinegar
4 Large Fresh Basil Leaves, finely chopped
1 Tablespoon Fresh Chopped Parsley
8-10 Cooked Whole Wheat Lasagna Noodles
2 Cups Marinara Sauce
½ Cup Finely Shredded Parmesan Cheese
Instructions
Heat three tablespoons of olive oil in a large skillet over medium heat.
Add the cubed vegetables to the skillet, stir until all vegetables are coated in olive oil. Sauté over medium heat, stirring occasionally, for 10-15 minutes, until the vegetables start to caramelize around the edges.
Bring a large pot of salted water to a boil. Drop in the noodles and cook according to package instructions. When done, drain, and set off to the side for later.
Preheat the oven to 350 degrees F.
Add the red onion, salt, pepper, crushed red pepper, and oregano to the pan. Stir to combine. Sauté for five minutes until onions start to become translucent.
Turn the heat up to medium/high heat. Add in the tomatoes, garlic, and balsamic vinegar. Stir to coat all the vegetables. Cook for five minutes until the tomatoes start to break down.
Reduce the heat to low. Add in the herbs, mix. Turn off the heat after a minute.
Lay a cooked lasagna noodle out flat. Place a few spoonfuls of the cooked vegetables on to the noodle. Carefully roll the noodle up. If a few vegetables fall out, don't worry. Place rolled up noodle, seam side down, into a small oven-safe dish with a little bit of marinara in the bottom of it. Continue that process until all noodles are filled and rolled up.
Cover with marinara and parmesan. Bake for ten minutes until cheese is melted. Serve right away. Store in an airtight container in the refrigerator for three days. Reheat in the microwave or in the oven.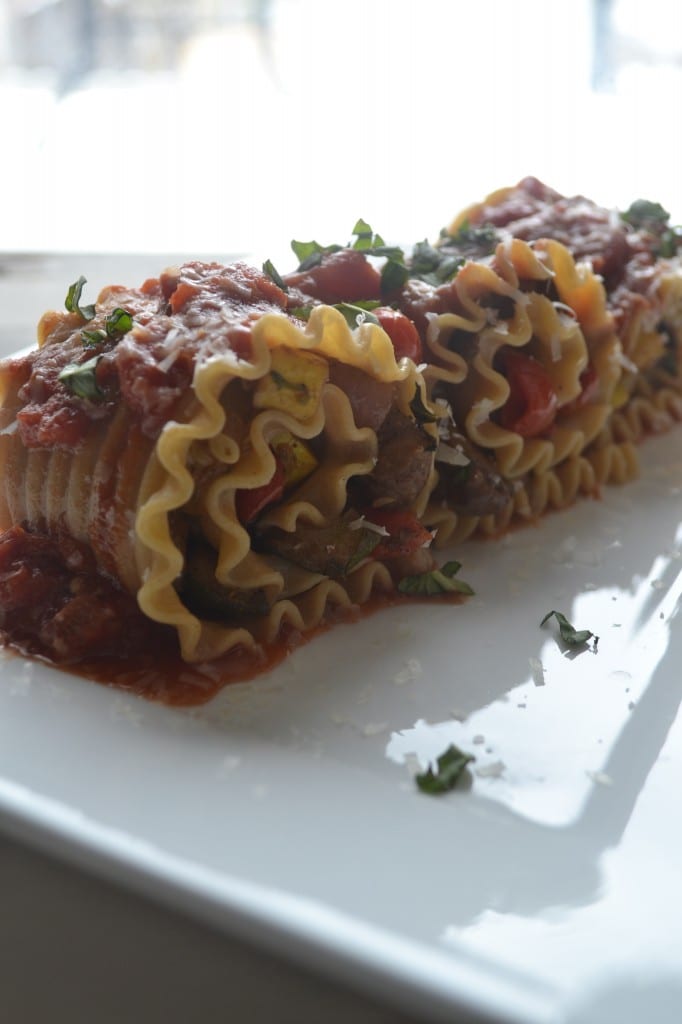 Related posts: