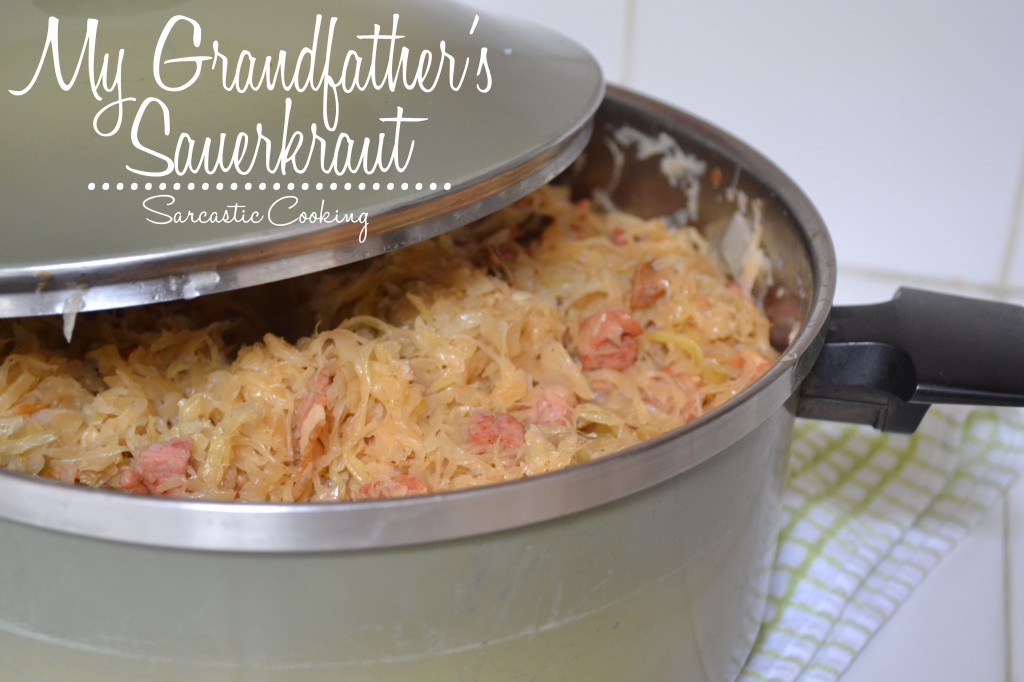 Fist off, happy Easter to those of you celebrating with your loved ones today! I wasn't going to originally post a recipe today, but then I thought, you guys are my loved ones, and I couldn't leave you hangin'!
Yesterday I was in the kitchen with my mom all day helping to prepare our traditional Easter dinner. We can't even really call it dinner anymore because my Grandma keeps requesting the time be moved up earlier and earlier, so we eat at 2:30.
When I arrived at my parent's house, my mom was well into the prep for her refrigerator mashed potatoes. She allowed me to be in charge of the beef braised in red wine. Pfff, Mom, that is a cake walk!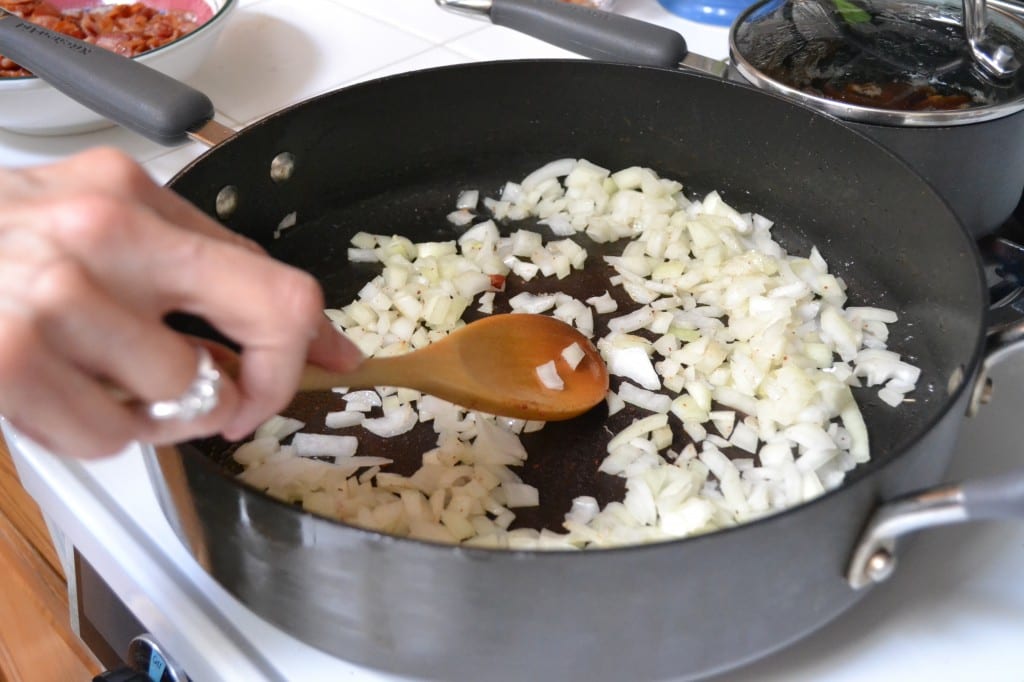 The recipe I was most excited to watch, I mean, help her cook, was my Dziadzia's (Polish for grandpa, pronounced "jah-jah") famous sauerkraut recipe. Oh. My. God. Talk about  the best combination of smells and ingredients EVER! I am being serious.
When I told my brothers I was going to share this recipe with you all, they told me I couldn't.  "It's a family recipe Stef!" Lucky for you, I am the oldest and always do what I want anyways!
I love Easter, maybe as much as Christmas. I think I love the food more…oh, and the candy! This recipe along with the ham, dyed boiled eggs, and the rye bread seriously make my meal (though it's not Easter without lamb-shaped butter!). I would be fine with eating just those four things for the rest of my life.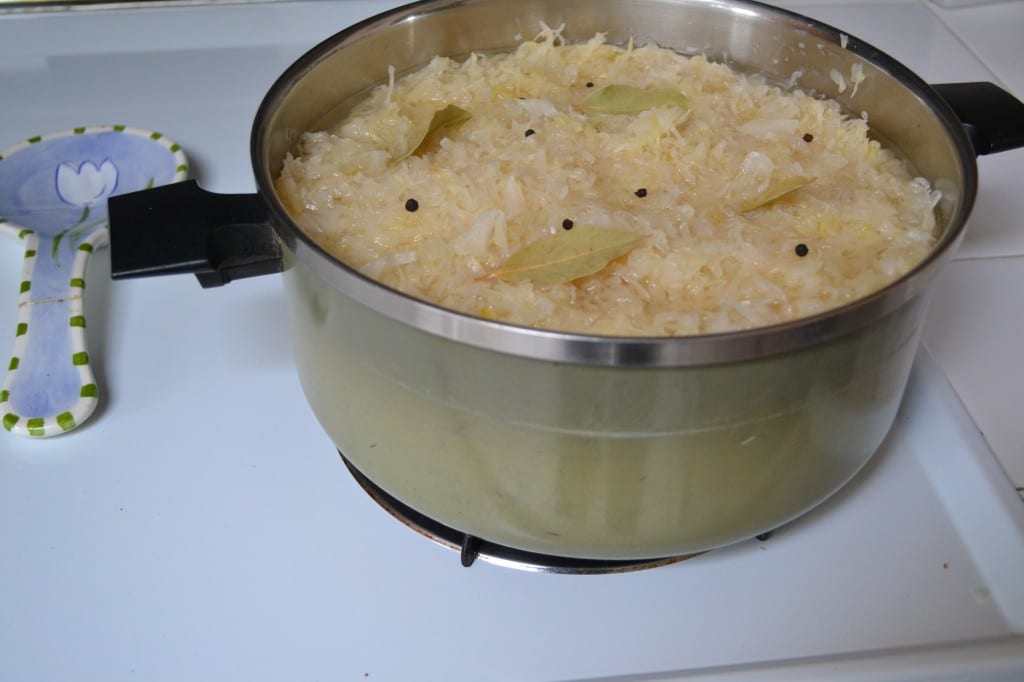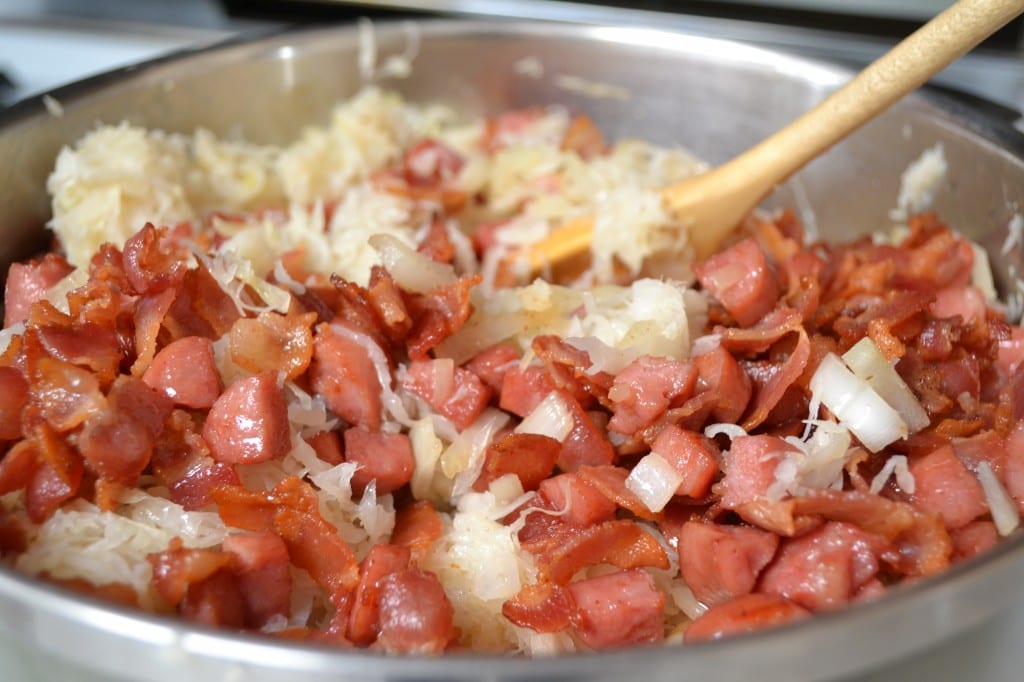 These are the staples that my Dziadzia would make, get blessed, and then share with us at dinner. Also, we have this tradition that is sort of similar to the Jewish Passover tradition. We each take a hunk or slice (depending on how gutsy you are) of raw horseradish root and eat it to remember all the suffering and bitterness from the resurrection.
I love family traditions–especially  when they end with somebody literally biting off more horseradish than they can chew and running away from the table in tears. Not that it was me or anything…thank God my Dziadzia was not around to see that travesty.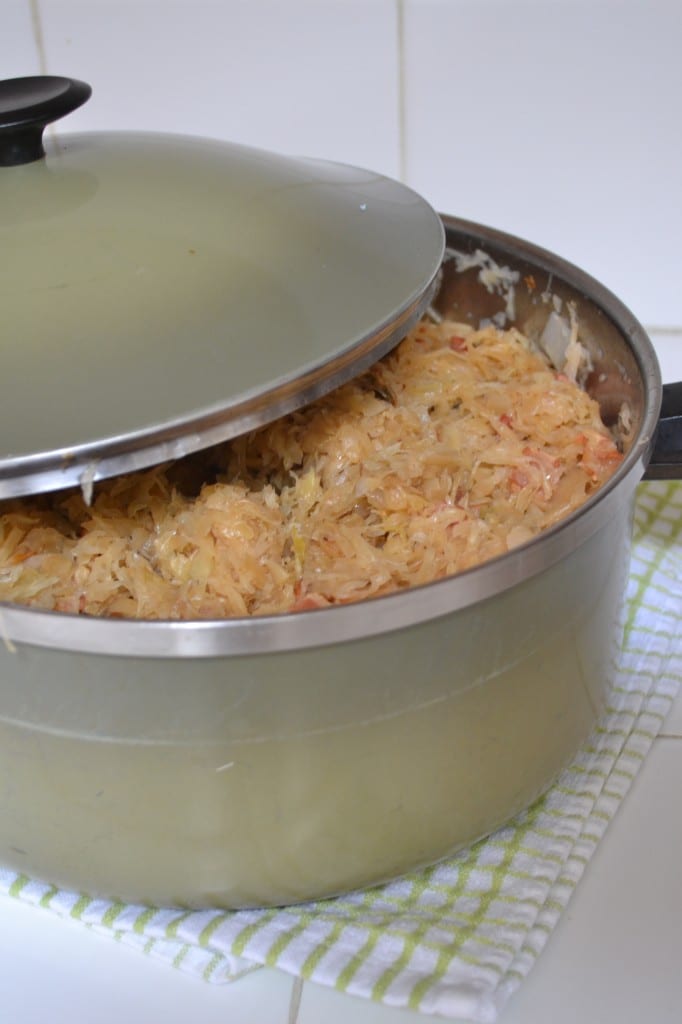 He would be so happy that I am sharing good Polish food with you all on this Easter morning. Side note, this is also fabulous on a brat with mustard.
Lent is over and we can be a little gluttonous.
My Grandfather's Sauerkraut
Author:
Prep time:
Cook time:
Total time:
Ingredients
2 Large Jars of Frank's Sauerkraut, or a comparable brand
1 White Onion, chopped
1 Pound of Bacon, sliced into thin strips
1 Pound of Polish Sausage, diced (I use Eckrich Skinless).
1 Ounce Dried Mushrooms, optional
2 Bay Leaves
8 Peppercorns
Instructions
Drain sauerkraut and pour in a large pot with bay leaves and peppercorns. Add just enough water to cover. Boil over low heat for half an hour.
Add the dried mushrooms to a half cup of water in a small saucepan, bring it to a boil, cover with lid, turn off heat, and let them soak until ready to add to the sauerkraut.
In a pan, fry up your bacon til crisp, not burnt. Pour bacon and its grease into a container and set aside. Saute onions in the same pan with the remaining grease. Place onions in a container and set aside. Saute sausage in the same pan til a bit browned.
When sauerkraut has finished boiling, drain and remove the peppercorns and bay leaves. Add the bacon, onions, sausage, and soaked mushrooms at this time. Add all of the mushroom liquid or half of it to the pot. Mix well and simmer all ingredients for another half an hour to forty five minutes, until all the liquid cooks out. Make sure you stir occasionally to prevent sticking. Serve right away. Sauerkraut will last three days in an air-tight container in the refrigerator.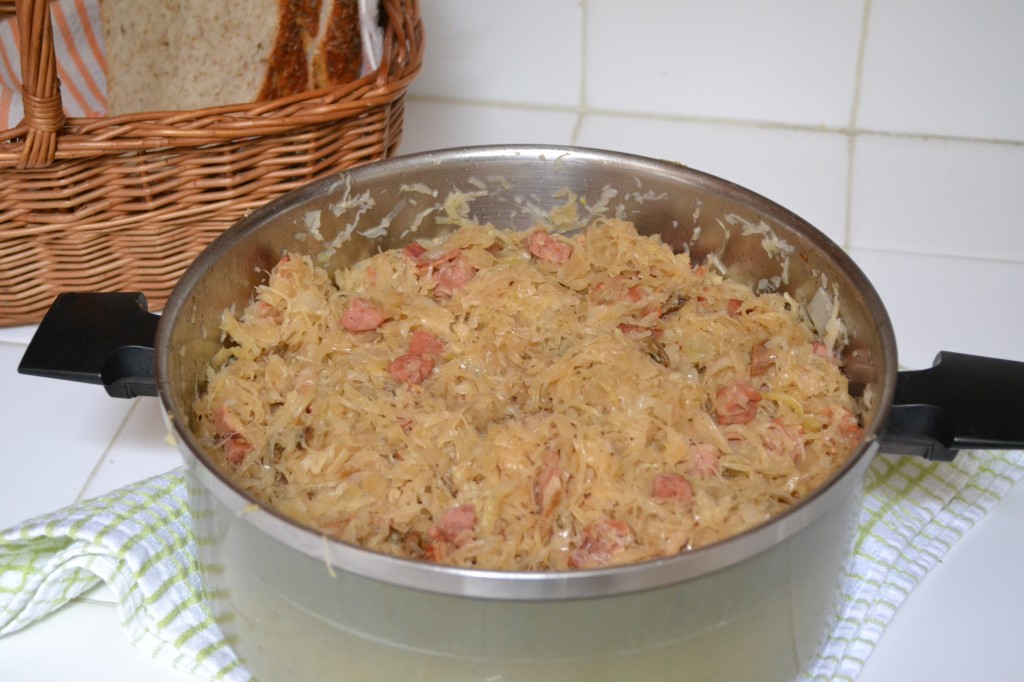 Related posts: