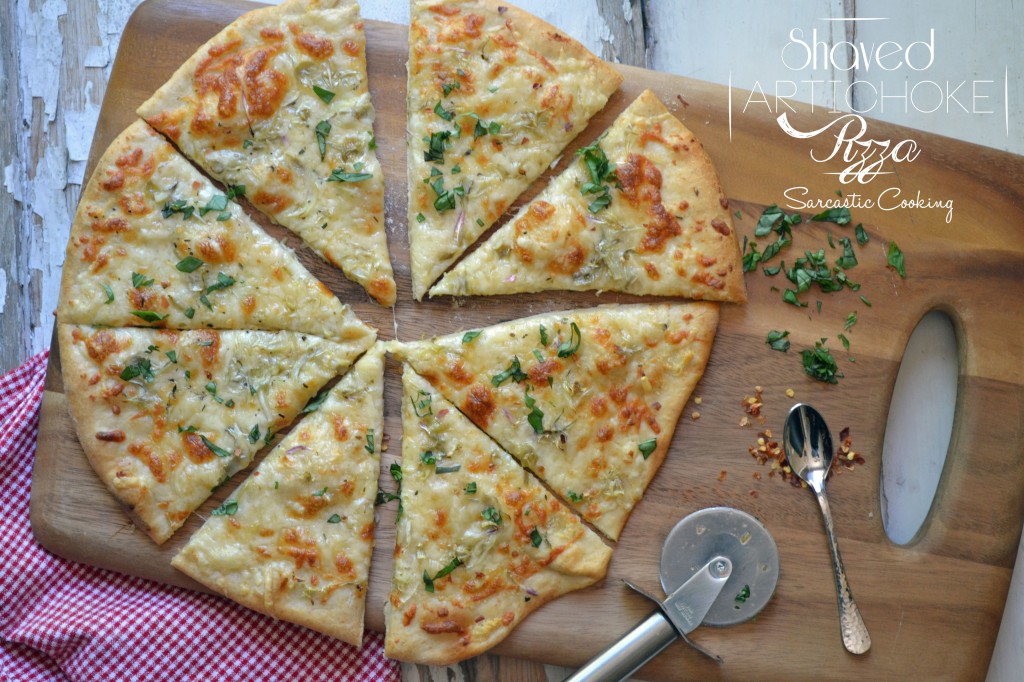 A while ago, Mike and I went out to dinner with some good friends. We went to a little fancy pizza place that we had never ever been to before. It was tucked away downtown in between all these well-known restaurants. I would have walked right past it—wait, actually we drove past it. Twice!
I love little unassuming places like this. Good food made in a simple wood burning oven. Our friends say this is their fancy date restaurant. If we lived closer, this would be an every single weekend kind of restaurant. But that is because Mike and I love routine.
It was funny. When it was time to order, the fellas both ordered pepperoni pizzas with truffle oil and, as predicted, the ladies both ordered shaved artichoke pizzas.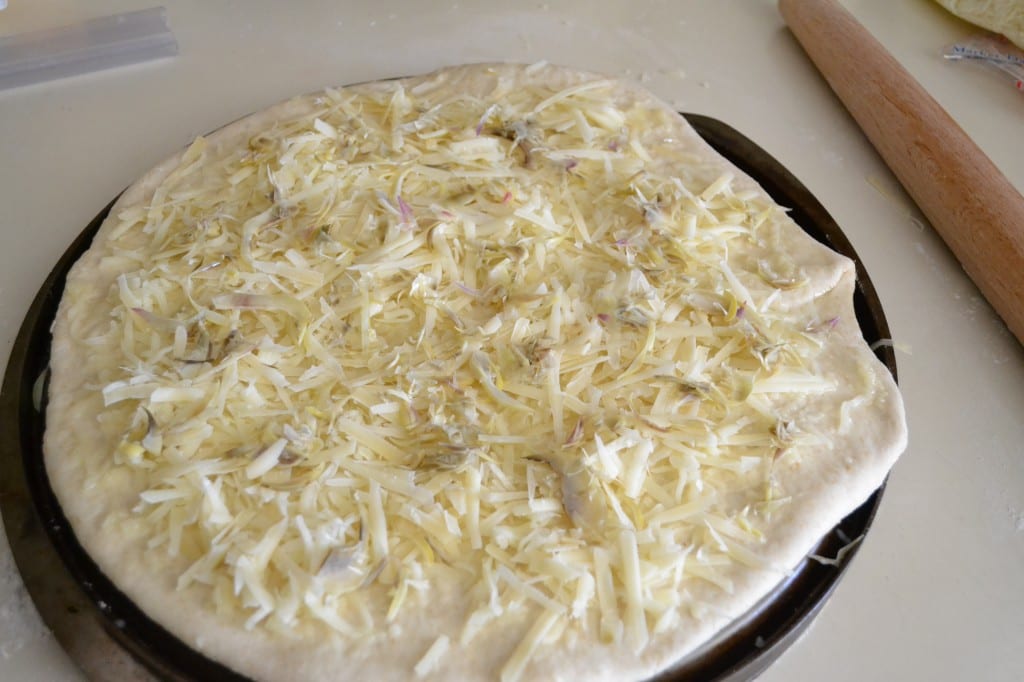 It was a simple white pizza with parmesan and crispy bits of shaved artichoke hearts. I really wasn't expecting a lot. When we brought the pizza home, I was savoring the left-overs for the next few days.
I knew I had to recreate this simple pizza at home. Plus I wanted to see how shaving an artichoke would turn out. Turns out, it was pretty good. So, now we can have our routine of pizza every weekend without leaving the house—which is how I would live all the time, if I could.
Shaved Artichoke Pizza
Author:
Prep time:
Cook time:
Total time:
Serves:
Makes 1, 12 Inch Pizza
Ingredients
[url href="https://www.sarcasticcooking.com/2012/07/22/balsamic-glazed-chicken-and-caramelized-onion-pizza-from-scratch/" target="_blank" title="Premade Pizza Dough"]Premade Pizza Dough[/url]
1 Artichoke
½ Lemon
Big Pinch of Whole Wheat Flour
2 Tablespoons Olive Oil
1 Clove Garlic, grated
1 Cup Shredded Mozzarella
1 Cup Grated Parmesan
1 Tablespoon Fresh Chopped Basil
Crushed Red Pepper Flakes
Instructions
Place a pizza stone or large pizza pan in the oven. Preheat the oven to 500 degrees F.
Bring a small pot of water to a rolling boil.
Remove the stem and large dark green leaves from the artichoke. Keep removing leaves until you get to the heart or the lighter colored leaves. Cut the artichoke heart in half. Rub each half with the lemon half so it doesn't brown.
Remove the hairy choke. Using a mandolin set to the thinnest setting, shave the artichoke. Hold the leaves and shave from the bottom up. Be careful not to get too close to your fingers.
Add the shavings to the boiling water. Blanch for a minute. Pour the contents into a fine strainer. Set off to the side to dry.
Roll out the dough on a lightly floured surface until it is about twelve inches.
Remove the preheated pan from the oven. Be very careful. Set the pan on the stove. Sprinkle the hot pan with some whole wheat flour. Transfer the dough to the pan.
Spread the olive oil and grated garlic all over the top of the dough. Cover the dough with cheese. Sprinkle the artichoke shavings all over the top of the pizza.
Bake in the oven for 8 minutes until golden and crisp.
Let cool for three minutes before cutting and serving. Serve with some fresh chopped basil and crushed red pepper flakes.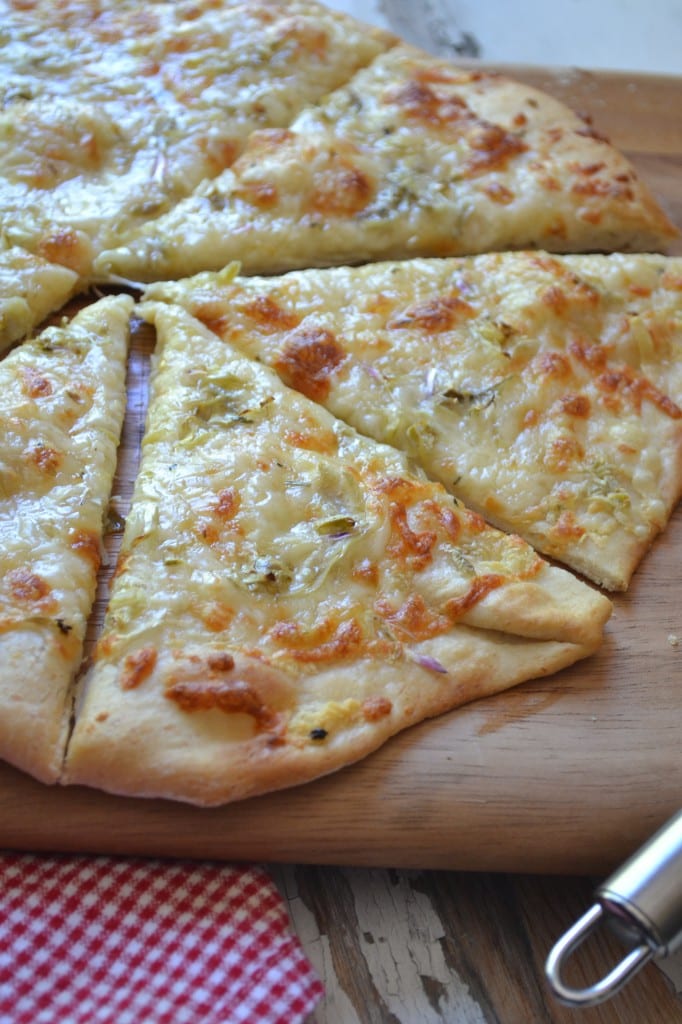 Related posts: