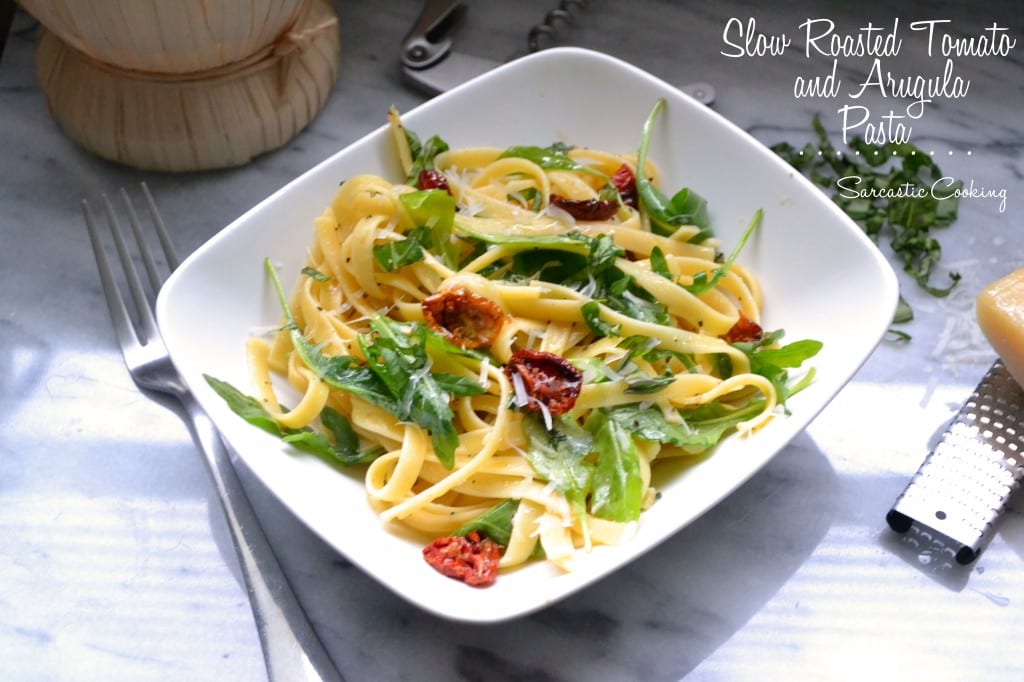 Whoa! Breaking Bad was so crazy last night!!! Actually, as I sit here writing this at 8:15 pm Sunday night, my DVR is paused on the opening scene. I am being a nice wife and waiting for Mike to get home before I hit play. So I really have no idea what is about to happen.
But, I can almost guarantee that Walter White will do something to infuriate me as per usual. I hate when I hate the main character in a show that I like. Despite my feelings about Walt, it is the last season and since I am a TV junkie I will be hanging on every last morsel of this show until it ends in hopefully a moderately satisfying way.
Since Mike wasn't home for dinner last night, I went to my old stand by pasta for one tomato lover recipe. This recipe may look familiar. If you were around in the early days of Sarcastic Cooking, you may remember this poorly photographed yet amazing recipe. I kind of spiffed it up a bit this summer and took out the fresh mozzarella for a lighter meal.
Who, am I kidding? If I wasn't pregnant I sooooo would be adding fresh mozzarella or even some burrata to this dish.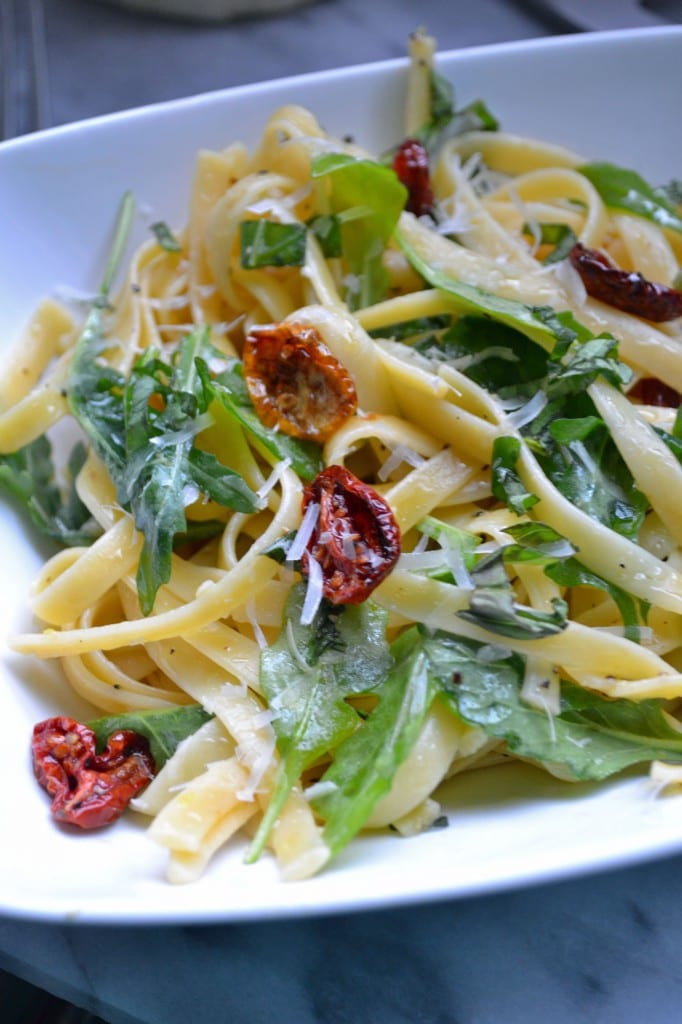 Anyway, I put the tomatoes in two hours before I need them and then forget about them. I tell Mike I am doing laundry, cleaning, or working and then proceed to watch almost the entire Netflix season of Arrested Development. Then, when the tomatoes are close to being done, I cook the pasta. No need to be picky; whatever noodle shape you have on hand will do. Add the roasted tomatoes, arugula, juice from the lemon, and a touch more olive oil. Boom! Dinner is ready to go.
I seriously just scarfed this down a few minutes ago. I could eat this three times a week, no joke—as long as Mike wasn't home to complain about the tomatoes. Hmm… Having Mike home for dinner or tomatoes for dinner? Tough call!
Ooo! I just heard his car in the driveway. Yes! Time for a quick cleanup and binge TV watching. Sunday night TV is the best!
Slow Roasted Tomato and Arugula Pasta
Author:
Prep time:
Cook time:
Total time:
Slow-roasted, sweet cherry tomatoes tossed with arugula and fresh lemon juice in your new favorite summer pasta dish.
Ingredients
1 Pint Cherry/Grape Tomatoes, halved
½ Cup Olive Oil, plus more for drizzling on the pasta
Salt and Pepper
½ Pound Pasta
3 Cups Arugula
Juice from 1 Lemon
Cheese of Choice
Chopped Fresh Basil, optional
Instructions
Preheat the oven to 250 degrees F. Line a medium baking sheet with tin foil.
Slice tomatoes in half length-wise and place cut side up on the baking sheet. Drizzle olive oil over tomatoes. Add salt and pepper. Roast the tomatoes for two hours, turning the pan every once in a while.
When the tomatoes are almost done, bring a large pot of salted water to a boil. Once boiling, add your noodle of choice and cook according to instructions on packaging. Drain the pasta and add it back to the pot.
Add the roasted tomatoes along with the oil to the pot with the noodles. Add the arugula and give the pasta a toss so the arugula becomes slightly wilted.
Add lemon juice and an extra drizzle of olive oil, toss to combine. Serve in bowls with whatever cheese you desire.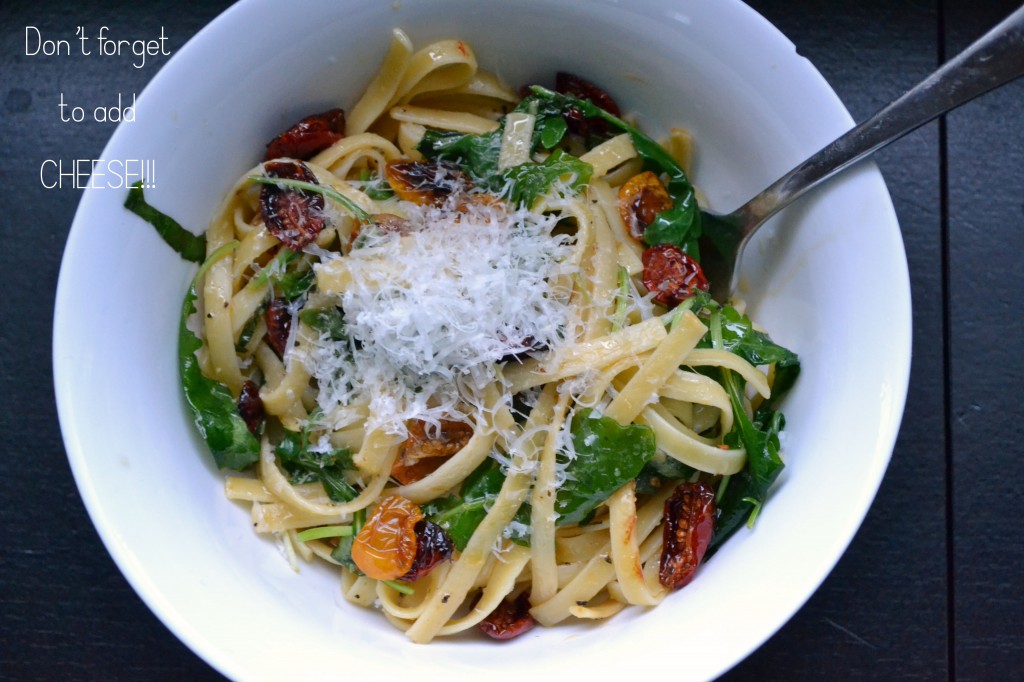 Related posts: