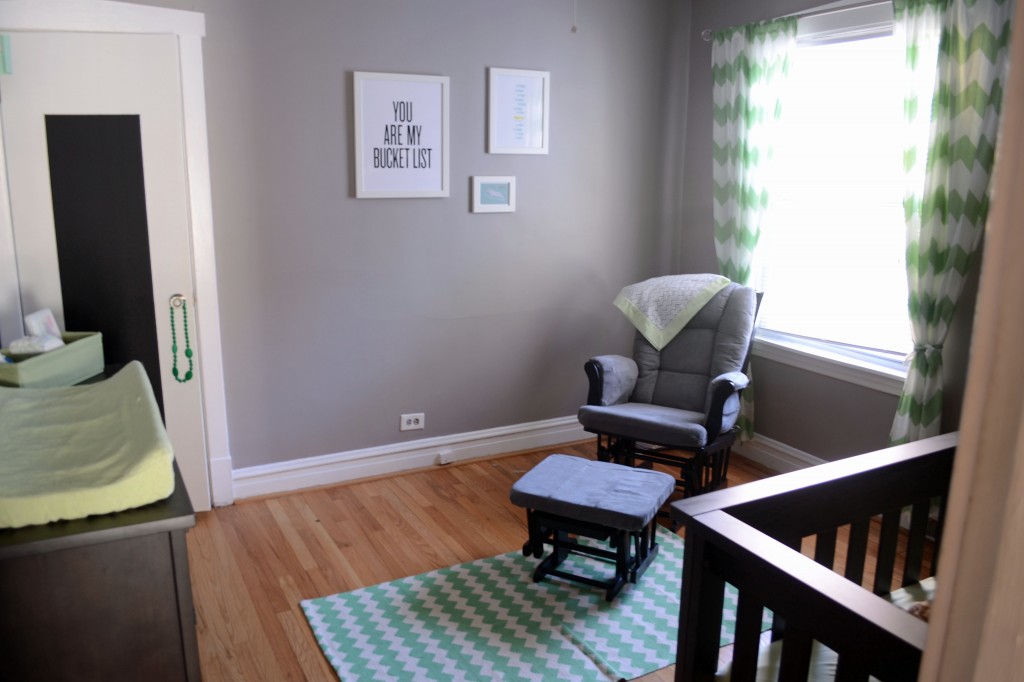 You all knew it was coming. The baby that will be here in plus or minus ten days has taken over the blog (well, for today only, at least). Don't worry; I promise to make a separate tab for baby related biz for those of you who would rather just hear funny stories and look at food.
Today, I wanted to share with you the little guy's room! We went for a simple gray and mint green theme with a few whales thrown in for good measure. Why whales? I have no idea. They just spoke to me, like Dory in Finding Nemo.
Ok, so let's start off with the wall you see when you first walk in.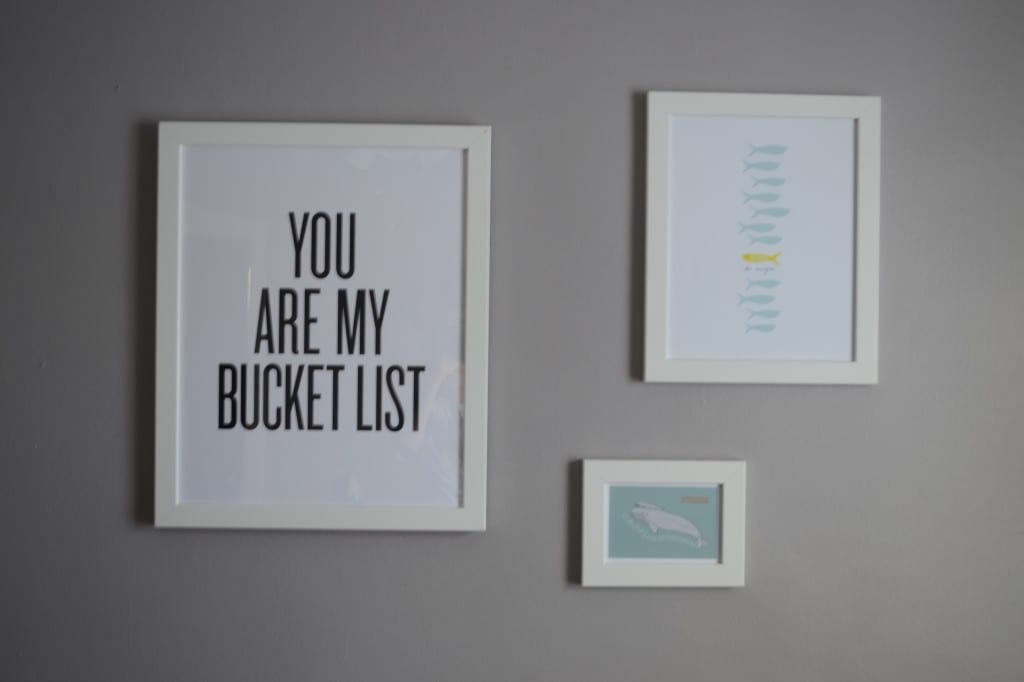 On this wall I have a beautiful framed print from Read Between the Lines. I am obsessed with the quality of their work and they have really cute stationery too! The smaller two prints are from Minted. You cannot go wrong with that company. I order my Christmas cards from there every year. The whale print says, " Our Love is as Deep as the Sea." The fish print says "Be Unique." I love that one. I think it is great advice for anybody at any age.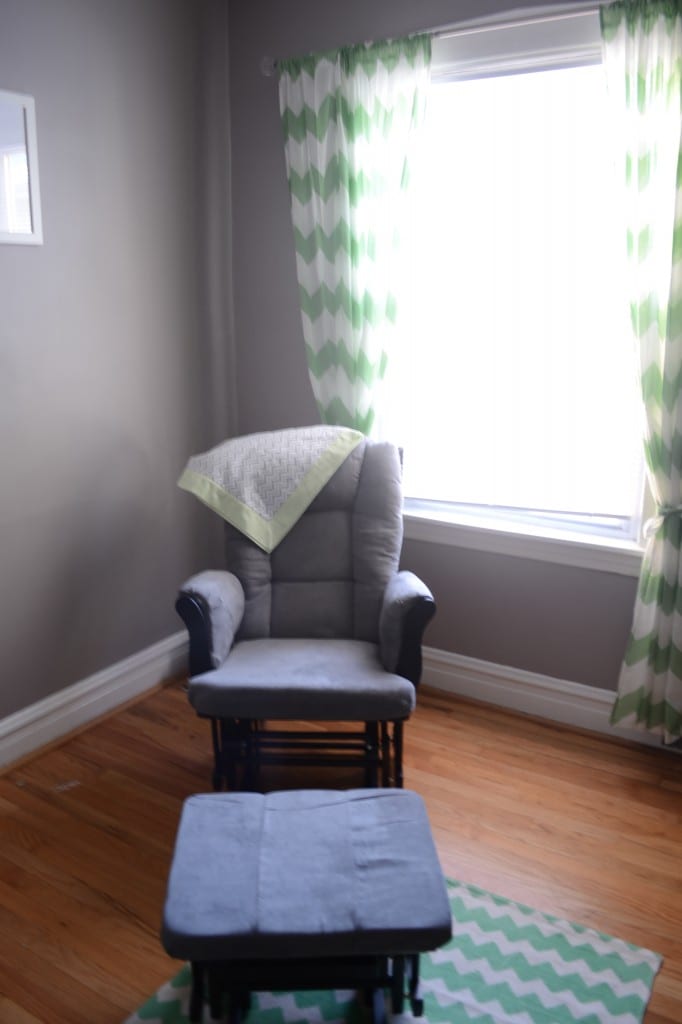 Ugh, the glider. Parents out there, why are gliders so dang expensive? I had envisioned getting a glider that was all cute and upholstered with a matching ottoman. Picture like a mini fancy Lazy Boy. Yeah, right! Those things start in the upper $300's not including the ottoman! Ridiculous! This one, I got on Amazon. It was relatively inexpensive and is really comfortable. The only downside was having to put it together.
Also, if you are looking for inexpensive but pretty good quality curtains, rugs, and shelves, you should check out the apartment section of Urban Outfitters. You would be surprised with what deals you can find.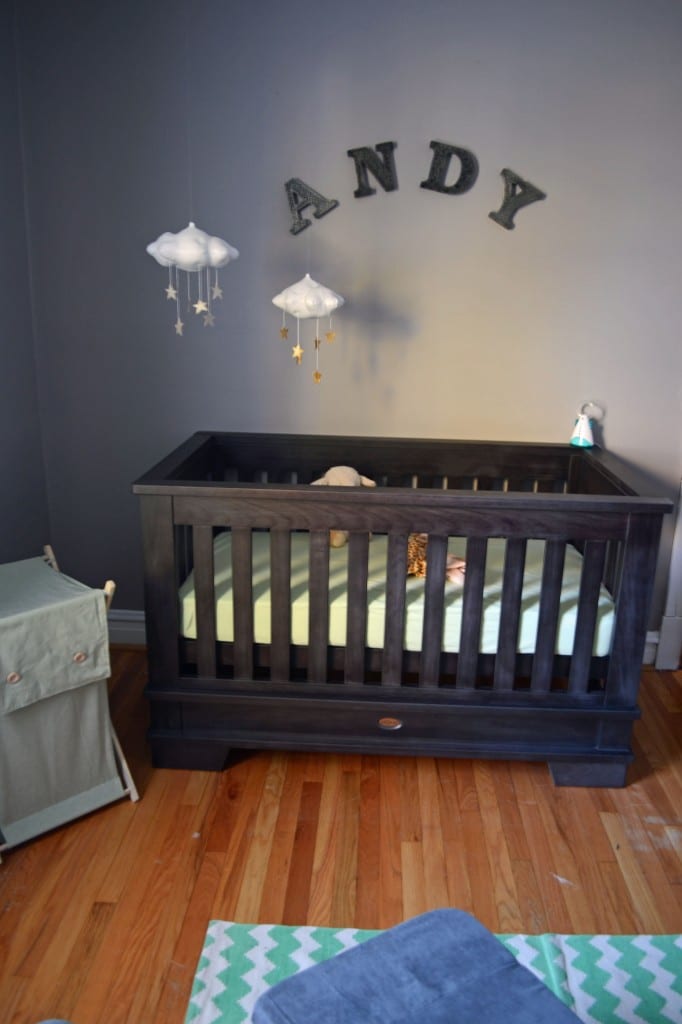 TA DA! Yep, we have decided to name our little guy Andrew and will call him Andy. We think it has a nice ring to it. Hopefully he agrees. I am so obsessed with those mobiles. They are handmade from this little amazing company called Baby Jives. Mike thinks I am crazy for even wanting mobiles, but they help with eye development and tracking, in addition to being super cute!
Once again, Urban Outfitters to the rescue with the metal letters on the wall. For about a month all we had were the N,D,Y because the A was back ordered. Go figure.
The crib and dresser are from Buy Buy Baby. Any way you cut it, unless you are getting a  hand me down, cribs and dressers are expensive. Oh, also a word of advice: order your crib and dresser as early as possible! There were so many delays with my stuff getting here. It was super annoying.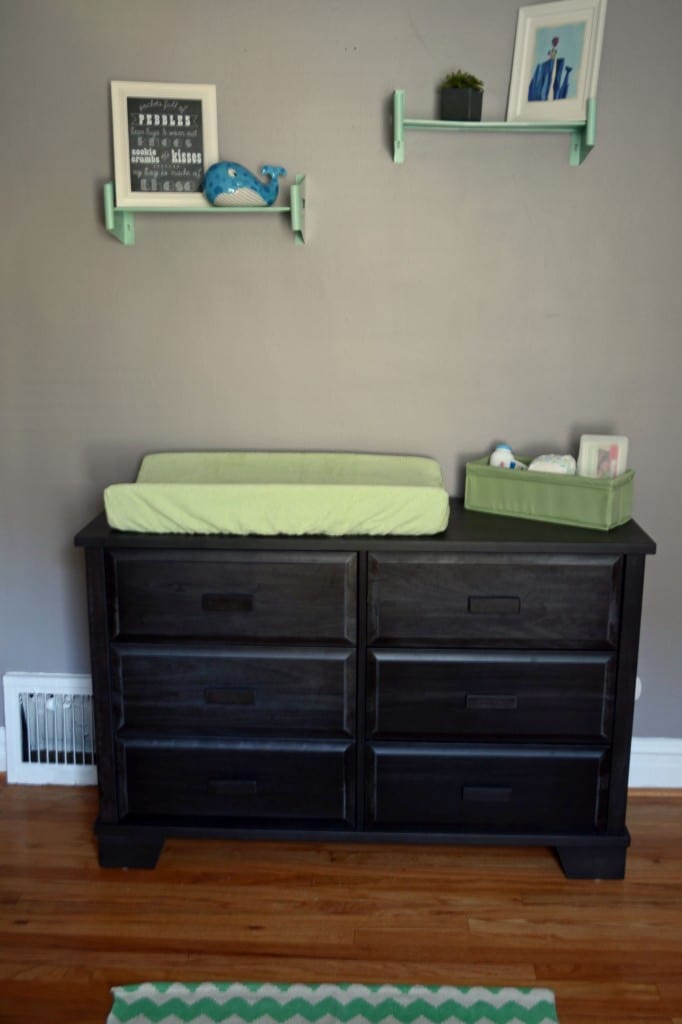 Next up, we have the dresser/changing station. Above the dresser we have some mint green shelves. On the shelves we have a cute framed saying my BFF brought to the baby shower, a whale bank from my mom, a fake succulent, and a print from the movie Up. That movie gets me and Mike every time.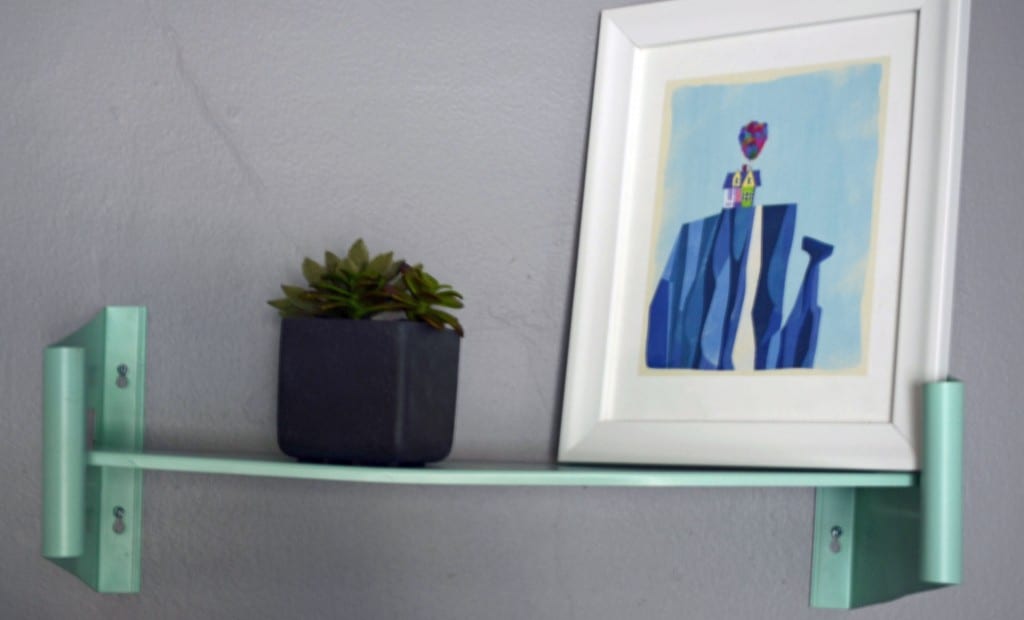 On the closet, we decided to use some chalkboard paint and give little Andy something to play with when he gets older. I also had this vision of his cousins leaving him notes or pictures when they come to visit.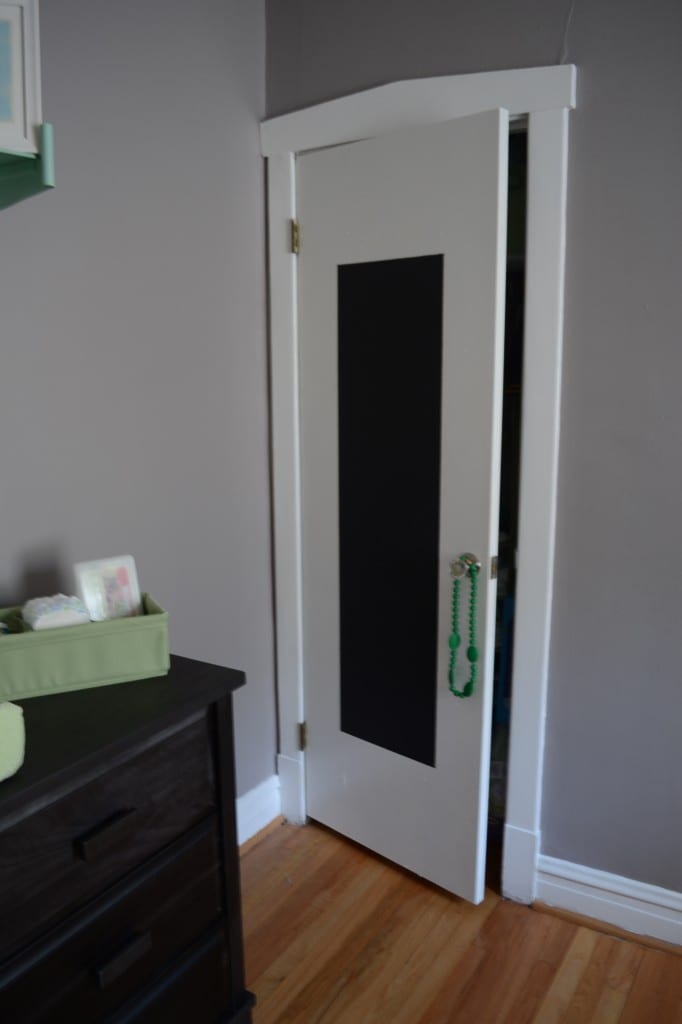 Lastly, a shout out to a few of my favorite baby clothes and toys. My sister in-law and my nephew highly recommend the Cloud B Sleep Sheep and the Angel Dear blankies. They are so soft and washable. Weezer has had his eyes on that Sleep Sheep ever since I put it in the crib. He seriously just goes in there and cries and stares at it.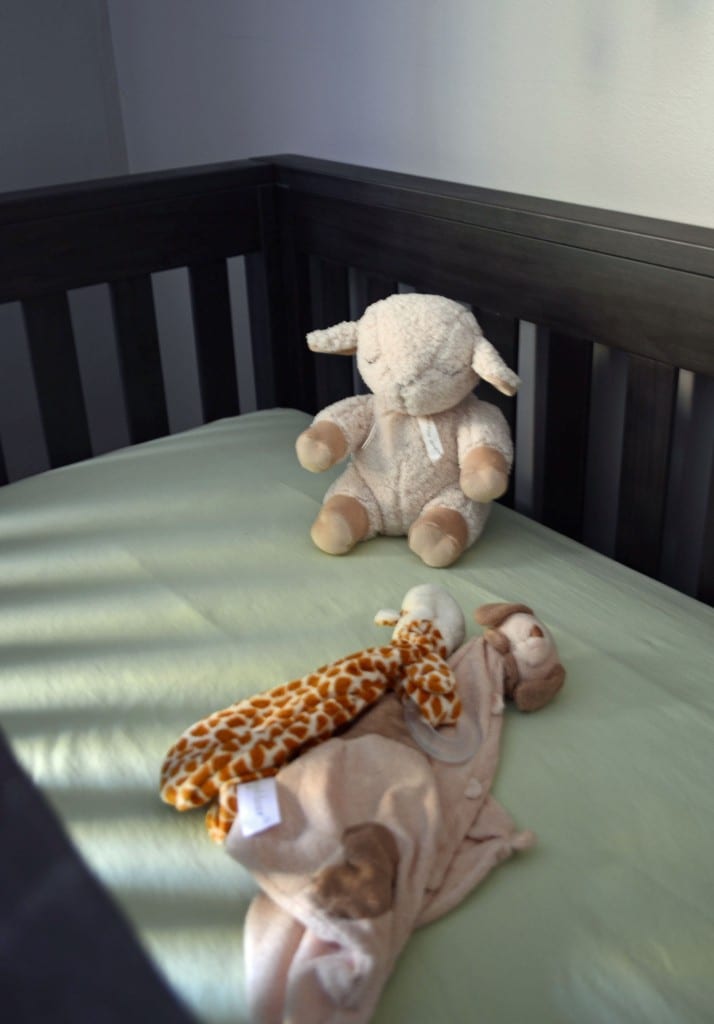 And as far as baby clothes are concerned, whoever said boy clothes are not as fun as girl clothes was full of it! I am having a blast getting this guy looking dapper before he is even born! I love these little mocs from Freshly Picked. I have also ordered a bunch of shirts for when he gets bigger from Loved by Hannah and Eli, Sly Fox Threads, and a little store in Chicago called Urbababy. That is just to name a few.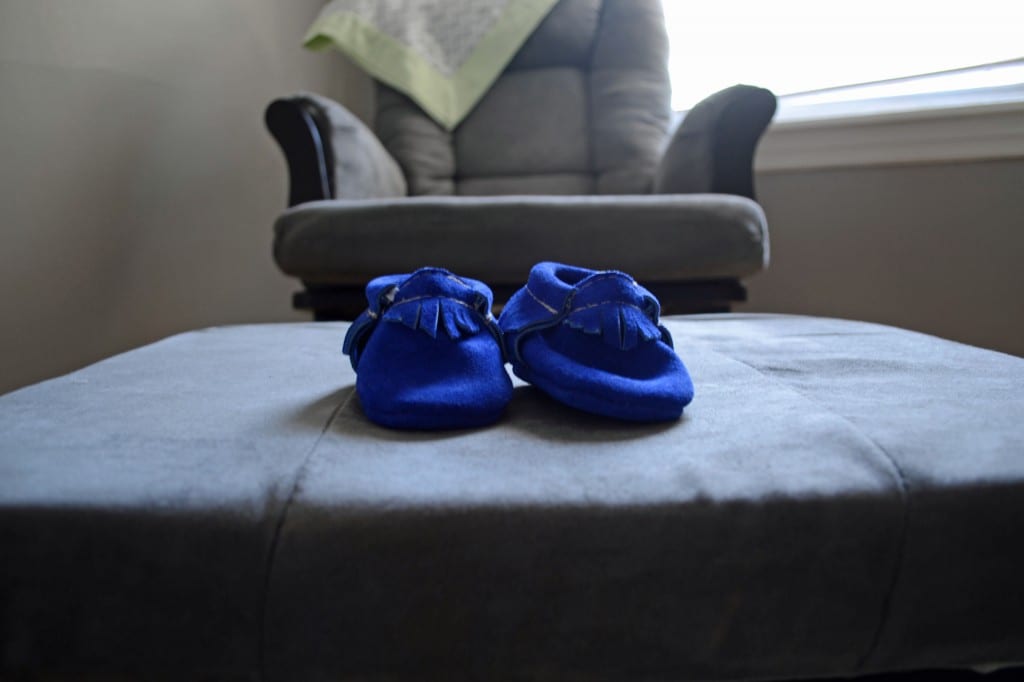 Mike asked me when the baby related spending would stop. I laughed and told him, "It is only just beginning!!!!" Thanks for making it through all these pictures and all this baby talk!
Related posts: