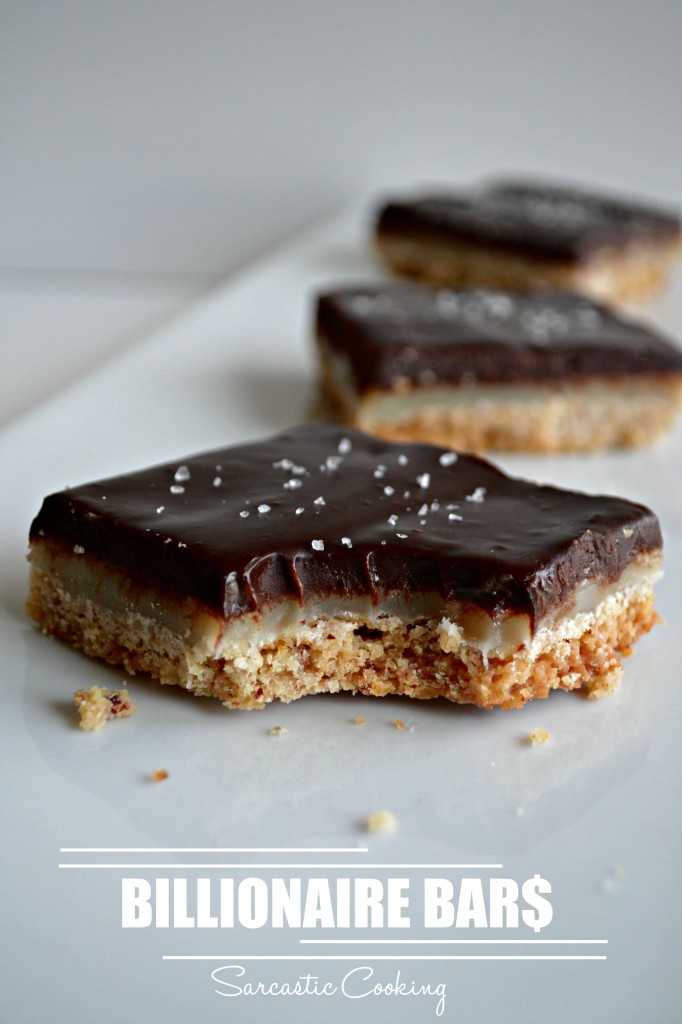 Yessss!!! Finally. Here it is. The long awaited sweet treat I have been promising since Saturday. I normally ship the treats I bake off with Mike to share at school with his fellow teachers. Since Mike is on spring break, this week these babies stay here with me!
That is right. Sixteen beautiful bars of chocolate ganache, caramel, and hazelnut shortbread layers calling my name every single day from the kitchen.
I don't need to eat these. The five, give or take, pounds of leftover baby weight on my belly is a good reminder that I do not need these bars.
However, the stress of trying to clean out and redo the office while arguing with Mike about what to keep and what to throw out has me running to these bars for solace. Just a bite, then back to work. Ok, another bite while I figure out how to hide this comforter from Captain Throw All This Crap Out, then back to work.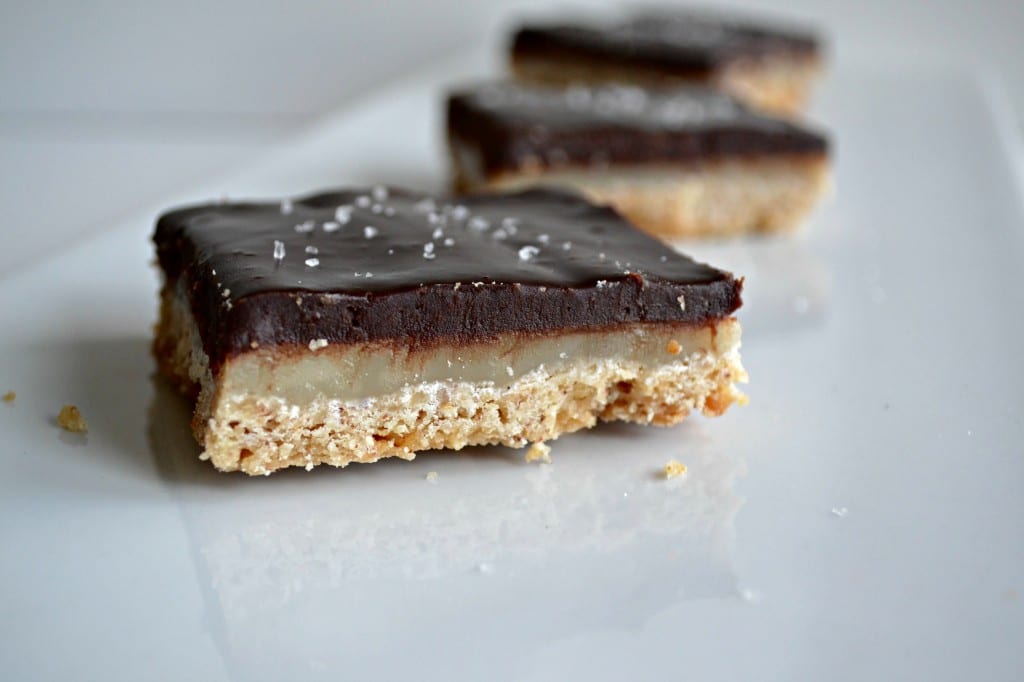 Next thing you know, I have started fifteen other mini side projects and have gotten nowhere on the office project, but six bars have been successfully devoured. Oops!
This is why the office redo has been going on since last Christmas. I have big project ADD. I start with cleaning off the desk, this leads to organizing old Food & Wine magazines, which then leads to cleaning off the bookshelves, and then it is time for a meal break. Then it gets dark out and I start watching TV and I put everything off until the next day.
I swear to God, this is not happening this time. I will finish this redo. I have two giant boxes that are in my living room which contain my new desk and chair that need to go where they need to go. I also need to start working back in the office instead of on the coffee table in front of the TV.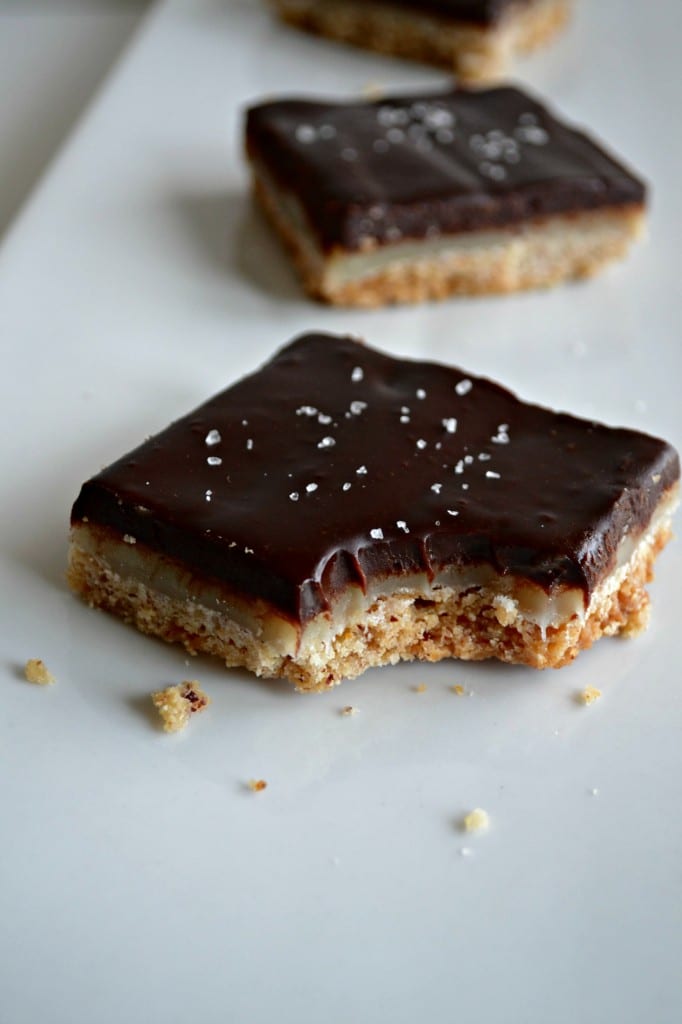 Ugh, 99 problems, but a billionaire bar ain't one!
Billionaire Bars
Cookie bars with a layer of dark chocolate ganache, salted caramel, and hazelnut shortbread.
Yields: 16 Bars
Hazelnut Shortbread:
1 Stick Cold Unsalted Butter, cubed
¾ Cup All Purpose Flour
¼ Cup Hazelnut Meal
½ Teaspoon Salt
Salted Caramel Layer:
1 Stick Unsalted Butter
½ Cup Heavy Cream
1 Teaspoon Kosher Salt
1 Cup Sugar
2 Tablespoons Water
Chocolate Ganache:
9 Ounces Semisweet Chocolate Chips
¾ Cup Heavy Cream
Preheat the oven to 350 degrees F.
Line an 8-inch square baking pan with parchment paper. Grease the pan before placing the parchment in to help the paper stick.
In a food processor, combine the butter, flour, sugar, hazelnut meal, and salt and pulse a few times until a dough forms. If your food processor isn't big enough, you can also combine ingredients in a bowl using a pastry blender.
Press the dough into the prepared pan and bake for 20 minutes until golden around the edges. Cool completely.
In a small sauce pan, heat the butter and cream until the butter melts. In a separate saucepan, heat the sugar and water over moderate heat, stirring occasionally, until the sugar becomes a deep gold color, about 5-7 minutes. Carefully drizzle in the heated cream and butter while whisking continually. Add in the salt, stir. Keep whisking until the temperature of the caramel reaches 230 degrees F. Pour the caramel over the cooled shortbread and then chill in the fridge for 30-40 minutes.
Next make the ganache. Add chocolate chips to a small heatproof bowl. Heat the cream in a small saucepan until it comes to a simmer. Pour the cream over the chocolate and let it sit for two minutes. Stir chocolate until it is combined with the cream and smooth. Pour the chocolate over the caramel layer. Chill in the fridge for an hour.
Slice into 16 bars and top with sea salt or chopped hazelnuts.
Preparation time:

1 hour 50 minutes

Cook time:

30 minutes

Total time:

2 hours 20 minutes
Recipe adapted from Food & Wine.
Special thanks to Bob's Red Mill for supplying me with hazelnut meal!