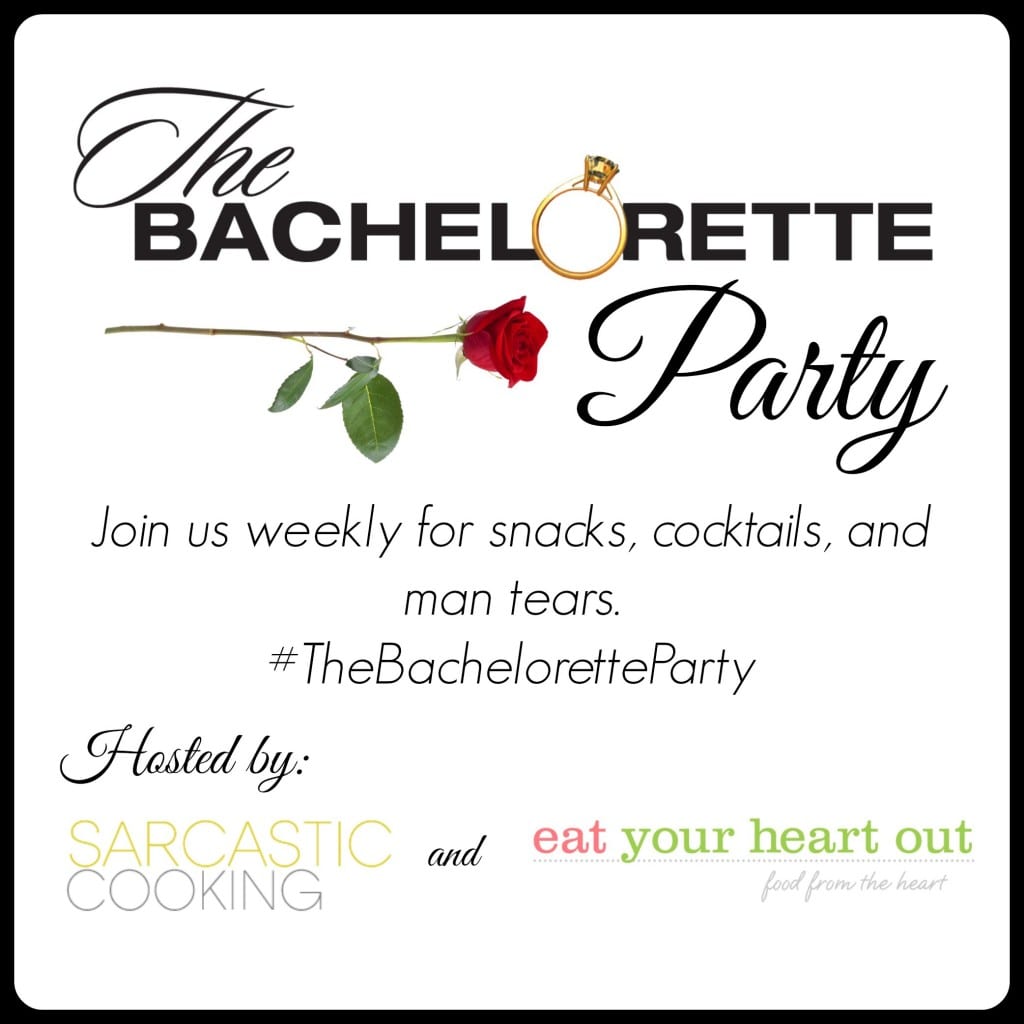 Welcome to another week of man trash-talking, man tears, mini ponytails, pickle fears, and of course the deepest vee's you have ever seen on reality TV. This week, Andi made some sort of obvious choices in cutting the herd down to the final four for hometown dates. Let the record show, Miss. Dorfman, that Stephie and I sooooo called this episode from the start AND let it also reflect we have NOT read any spolier sites.
Thank you.
Now, let's dive right in! This week the gents were in Brussels. The first one on one went to Marcus. Marcus and Andi went shopping at a market kind of like the date she went on with Brian. The similarities end right there because this date went a whole lot better. Just in case any producers read this little old blog, let me just state this again, please stop repeating dates every single season! This would include private concerts, creepy dinners at a too small table, shopping at markets, any sort of heights challenge, and the list goes on. Ok, I am off my soapbox. So the date went on and Marcus opened up about his family life and abandonment issues and how now him and his mom hang out like twice a week. He then dropped an L bomb on Andi. Marcus moves on to hometown.
In between the two solo dates it is announced that Dylan (who was trying to rock a teeny ponytail that just did not work), Brian aka the coach, Farmer Chris (my new fave now that JJ is gone), and the villainous Nick are going on the group date. At that moment, Nick decides that is BS and goes to the front desk of the hotel and says he forgot his key to the room he and his wife are sharing. I know I am not the only one that found this super creepy and almost stalkery. He finds Andi and tells her some BS and they make out. Barf. I cannot wait until the guys find out he went to see her. Men tell all is def the best part of The Bachelorette series.
Josh got the next one on one. Josh opted to stray away from his European uniform of a deep vee and a bulky scarf and wear a crew neck sweater. Their date was serenaded by some creepy traveling clown band and their gaggle of marching geese. Seriously, check this shit out. So weird.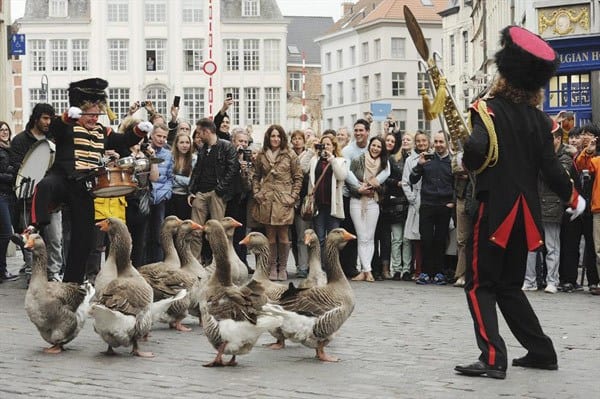 They then ate some food and drank on the side of a road/river. (Note: I am not too sure about that one I was sort of distracted by sleep training and a crazy thunderstorm at that time.) They then moved on to a stereotypical concert where they danced awkwardly and kissed loudly. Josh dropped another L bomb!
Group date time! The guys ride a weird rail-tandem-bike thing while Andi parks her booty in the middle and does nothing. They head to some abbey and have beers in the gardens but cannot kiss on the grounds because of some hocus pocus pact/tradition thing. She goes off with farmer Chris first. They basically reenact the famous Ghost pottery wheel scene, smooch, and then head back to the group. Next she goes off with Nick. Nick's confidence is sickening to me. He is already acting like he has the thing won. I guess Andi is into that kind of thing because she gives him the rose. The other guys are super salty!
They head back and all pretty much verbally assault Nick, while drinking red wine of course! They accuse him of being too into strategy and not really into Andi. Blah, blah, blah. I really hope Nick is out soon so all this crap will end and we can focus on more important thing, like what does Josh really do if he is a former athlete???? Am I right?
Ok, on to the cocktail party and rose ceremony. During the cocktail party there was a lot of vying for Andi's attention. I felt like more so than before. A lot of double take-back's. Chris was my fave because he stole Andi twice (double take-back, get it now). The second time he just kissed the heck out of her and Andi said my favorite thing from the whole season, "You go, farmer!"
Fast forward to rose ceremony. Marcus, Nick, Chris, and Josh get roses. We say a tearful goodbye to Dylan and his weird wet/greasy/min-pony hair. We also say goodbye to Coach Brian who even while leaving is still just too nice.
Next week hometown dates episode looks drama filled! During the episode; Chris tells Andi something about being a homemaker, Nick seeks his Mom's approval, and Josh is worried about his athlete of a brother stealing his thunder. We also see when Andi finds out that the former contestant Eric has died in a tragic accident. It looks like she finds out during the visit with Nick. I somehow feel that cannot bode well for him.
Aside from the farmer comment, my favorite moment had to be the last clip of Brian confessing he is afraid of pickles. That is sooooo my husband! He then was chased around the room by a pickle wielding Dylan. If only the show could be more of what these guys do when left to their own devices. NO ESPN, NO sex, and NO outside contact make men go crazy.
Side note: I still miss JJ.
Thanks for all you who joined us on twitter last night. Be sure to follow along next week. I'll be bringing something berry good to the Bachelorette Party and Stephie will be handling the recap.
Related posts: