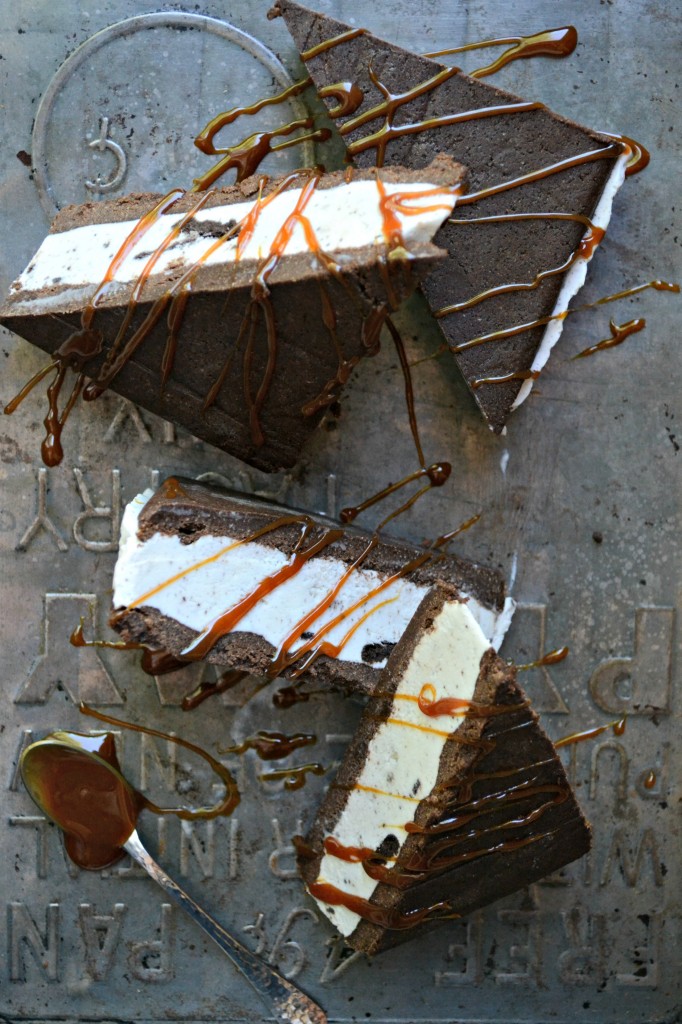 Oh man. Summer is in full swing here in my casa. Baby pool, check! SPF 50 for my pale body, check! Beers that require fruit, check! Watermelon, check! Ice cream sandwiches, check!
Summer as a child was full of Push Pops, Fudgsicles, and ice cream sandwiches. It was also full of staying out in the yard until the sun set. We promised my parents we would be quiet so we could stay out later and catch fireflies. Skinned knees, asphalt scratches, grass stains, sticky fingers, and hair plastered to your forehead by sweat. All those things mean summer as a kid to me!
Of course, somebody would do something to annoy somebody else and cause them to yell, "Maaaahhhhmmmm!!!" We would then be met by the back screen door by either my mom or dad hushedly shouting at us through gritted teeth to get in the house.
We would come in and have a bath then some dessert before bed. I remember my mom using UltraSwim on my hair so it wouldn't turn green from all the chlorine in the pool. Then she would comb my hair, put on footie pajamas, and let me have a choice of dessert. We would watch a little TV and eat our snacks.
The best part and worst part about an ice cream sandwich is the way the brownie/cookie would stick to your hot fingers. It is like the dessert form of Cheeto fingers. Once you finished your sandwich, you had the pleasure of a sort of second dessert of the remnants on your fingers. I feel like this was probably the bane of my parents' existence. Like, well, let's forget that bath you just took.
All of these memories and feelings make me so excited for summers as a parent. I cannot wait to be the one yelling at my crazy kids from the back screen to come inside and get ready for their baths. I also cannot wait to share in sweet summer treats with the kiddos. Well, maybe enjoy this sweet summer treat with my feet kicked up and a glass of wine after the crazies are asleep.
Chocolate Cookie Dough Cookies and Cream Ice Cream Sandwiches
Homemade ice cream sandwiches with cookies and cream ice cream between two pieces of chocolate cookie dough.
Yields: 4 Sandwiches
1/2 Cup Unsalted Butter, softened
2/3 Cup Light Brown Sugar
1/4 Cup Granulated Sugar
1 Teaspoon Vanilla
1 Tablespoon Milk
1/3 cup Unsweetened Cocoa Powder
1 1/2 Cups All-Purpose Flour
1 Quart Cookies and Cream Ice Cream, slightly melted
2 Teaspoons Salted Caramel Sauce
Line two loaf pans with tin foil. Grease the foil with butter or coconut oil to prevent sticking. Set off to the side.
Take the quart of ice cream out of the freezer so it will become slightly melted.
In the bowl of a stand mixer fitted with the paddle attachment, beat together the butter and sugars until creamy and smooth, about two minutes.
Add the vanilla and milk, mix until combined.
Add the flour and cocoa powder all at once. Mix on low until no bits of flour are visible.
Transfer half of the cookie dough to each prepared pan. Press into one even layer. It is ok if it does not reach the edges. Chill the cookie dough for an hour while the ice cream is melting.
Remove prepared pans from fridge. Add ice cream to one pan, right on top of the cookie dough layer. Spread in one even layer over the cookie dough. Gently remove the cookie dough from the other pan. Press it right on top of the ice cream, making sure not to press too hard to squeeze all the ice cream out.
Chill the sandwiches in the freezer overnight.
When ready to serve, flip the loaf pan over on to a cutting board. Gently remove the foil. Cut the large rectangle in half width wise. Then cut each half in half again, diagonally to make triangle sandwiches. Drizzle each sandwich with a little bit of salted caramel sauce and then serve.
Preparation time:

24 hours 30 minutes

Total time:

24 hours 30 minutes
Recipe for cookie dough from Crazy for Crust