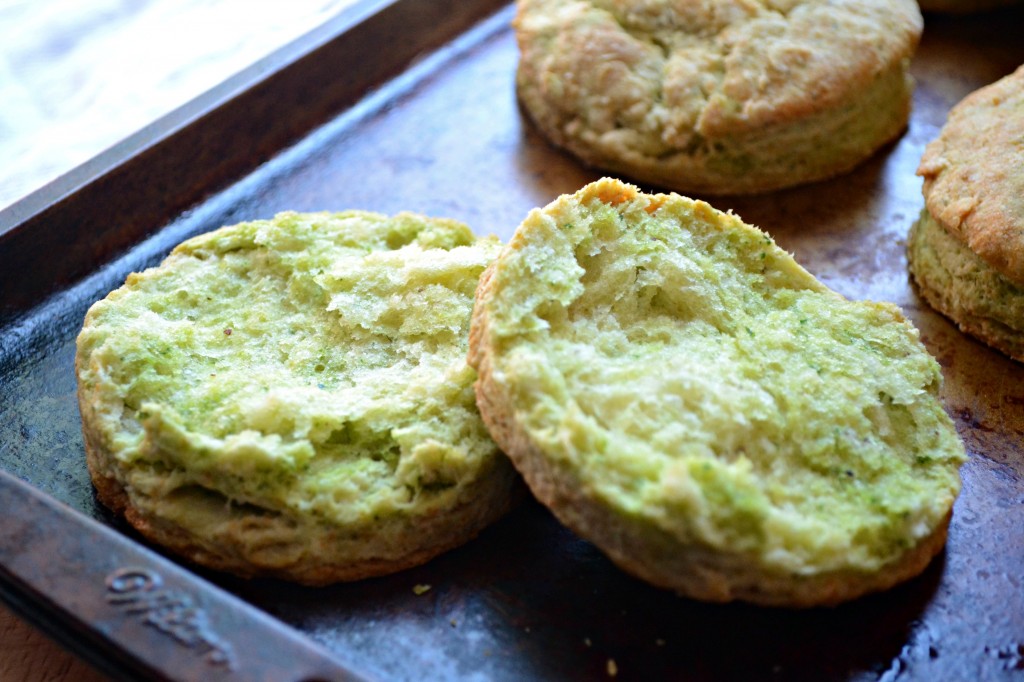 You know how there are those certain comfort foods that just make you think of a lil cute and sassy grandma cooking and slaving away in a kitchen all day? Biscuits of any kind are one of those foods for me.
It makes me wish my grandma was this sugar-coated trash talking gray haired lady who slaves away on this big country breakfast that would make Ron Swanson run all the way from Pawnee just for a seat at the table. Well, I guess that is my G-Ma, just minus the country breakfast.
There would be sweet tea in mason jars at each seat set out on a perfect gingham tablecloth…warm and flaky biscuits set out in napkin lined baskets with a cute honey bear bottle on the side…big plates full of bacon and a big skillet of country sausage gravy.
My imaginary sassy grandma would wipe her hands off on her apron and come and sit at the head of the table. She wouldn't eat too much. She would just take pleasure in watching her kids and grandkids enjoy all the food and of course, telling her grandkids what they are doing wrong in their lives.
On the way out the door after breakfast she would sneak you some extra biscuits and tell you to be sweet to your parents.
Sigh…
Since I do not have a southern grandma, I have to make my biscuits myself. I always make too many which makes me feel like I am ready, when that time comes, to step up and be that country grandma for my little Midwestern family.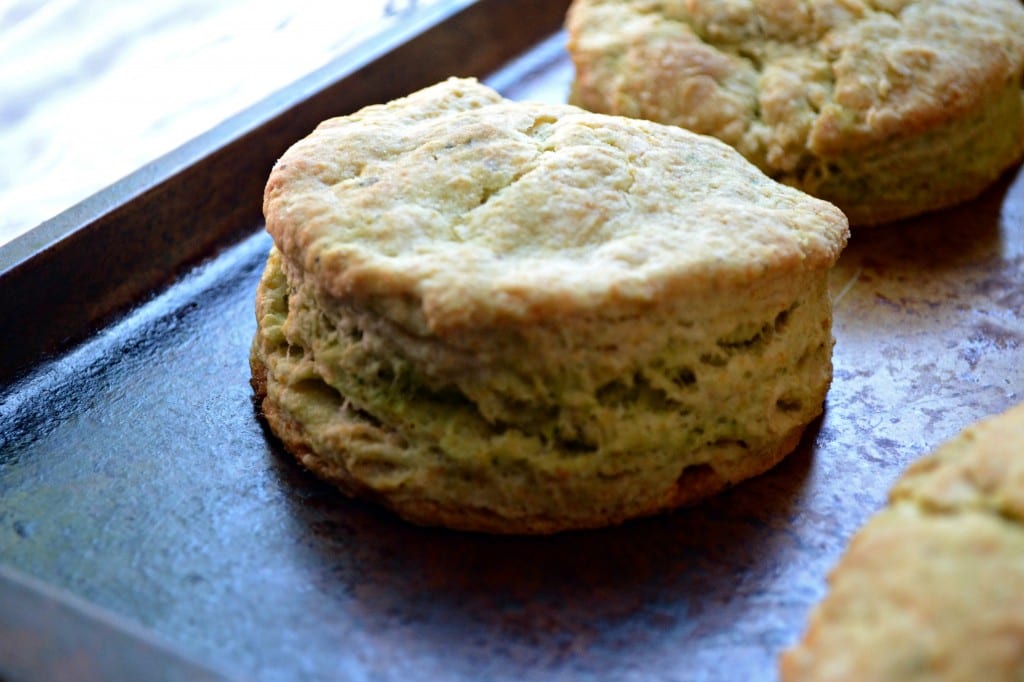 However, I will postpone all biscuit making activities, pesto and otherwise, if you have a grandma you would like to loan me for a sleepy Sunday morning. Oh! And if you have a spitfire Italian grandma who makes sauce every summer, send her over too! I am hiring.
Arugula and Spinach Buttermilk Biscuits
A herby and green twist on traditional buttermilk biscuits.
Yields: 10-12
For the Pesto:
½ Cup Arugula
½ Cup Fresh Spinach
1 Tablespoon Walnuts, chopped
1 Clove Garlic, grated
1 Teaspoon Grated Parmesan
1 Tablespoon Lemon Juice
Pinch of Salt and Pepper
1/3 – ½ Cup Olive Oil
For the Biscuits:
4 Cups All-Purpose Flour, plus more for dusting
1 Tablespoon Coarse Sea Salt
1 ½ Tablespoons Baking Powder
1 Teaspoon Baking Soda
2 Sticks Unsalted Butter, cold and cubed
1 ½ Cups Low-Fat Buttermilk, plus more for the tops of the biscuits
½ Cup Arugula and Spinach Pesto
To make the pesto, combine the spinach, arugula, garlic, and nuts in a food processor. Pulse a few times until all the ingredients are finely chopped. Add the parmesan, lemon juice, salt, and pepper. Pulse the food processor a few times, scraping down the sides as needed, until combined. Add the olive oil and puree until almost smooth. Measure out ½ a cup of pesto and set off to the side. Save the rest of the pesto for another recipe for another time.
Preheat the oven to 400°. Line 2 baking sheets with parchment paper.
In a large bowl, whisk the flour with the salt, baking powder and baking soda. Using a pastry blender or two knives, cut in the butter until it is the size of small peas. Add the buttermilk and pesto; stir together, until a shaggy dough forms.
Knead the dough on a floured surface until it comes together. Pat the dough 3/4 inch thick. Using a 3 1/2-inch round cutter or large glass, stamp out as many biscuits as possible. Reroll the scraps and stamp out more biscuits.
Transfer the biscuits to the baking sheets and bake for about 30 minutes, until golden and risen, shifting the pans and brushing with buttermilk halfway through baking. Let the biscuits cool.
Preparation time:

10 minutes

Cook time:

30 minutes

Total time:

40 minutes