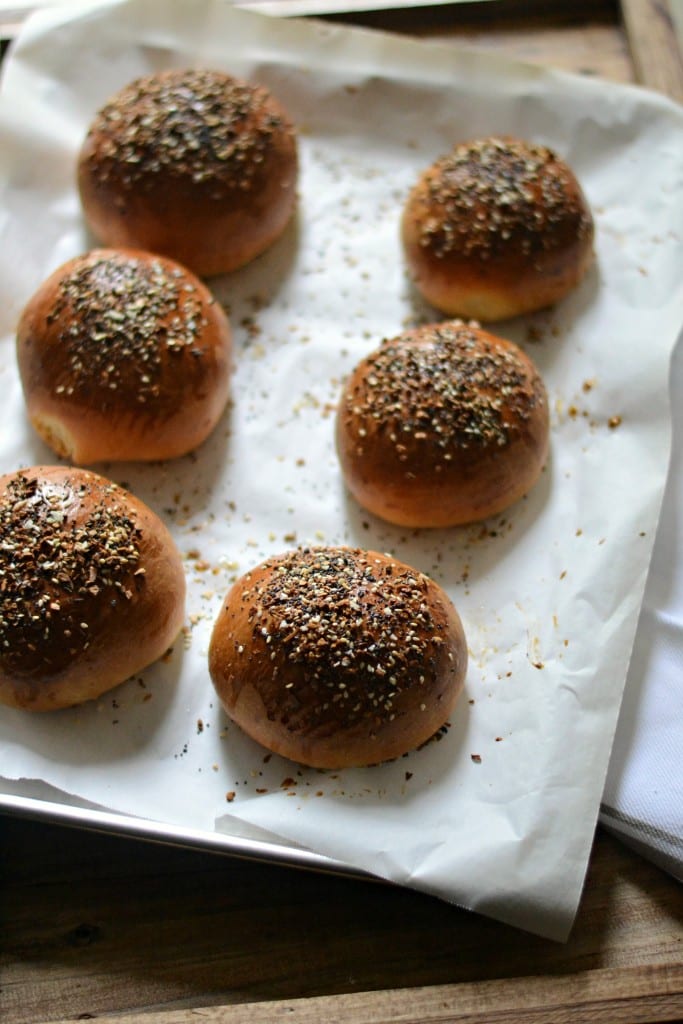 Something I learned from my years of vegetarianism, aside from the fact that I love a good beefy burger, was that good bread can make or break a sandwich. When all your toppings consist of vegetables, you really need that good bread with a crunchy crisp crust and soft fluffy interior to pull the whole thing together.
There is nothing worse than compiling or ordering all your favorite fillings inside a sandwich and then the bread falls apart. What?!?! Ugh, might as well have ordered a salad.
After years and years of sampling veggie subs from around the land, I made a list of my favorite veggie subs based on the bread. My top veggie sub is from Jimmy John's. Their bread is just killer!!! It is dense enough and the exterior holds up well to extra veggies and extra guac. Remember when they served sprouts? I was thinking about that today. I loved sprouts. If sprouts are supposed germ and bacteria carriers, why haven't they jumped on the microgreen craze yet? Just a thought.
I have to be honest and say my next favorite is Potbelly's. Their bread is so crackly and crisp on the outside. It really holds up well to all the loads of pickles I like to pile on! I used to be a Quizno's fan but then every single one around me closed down. Are they even still around? Remember those weird commercials they had back in the day? Creepy.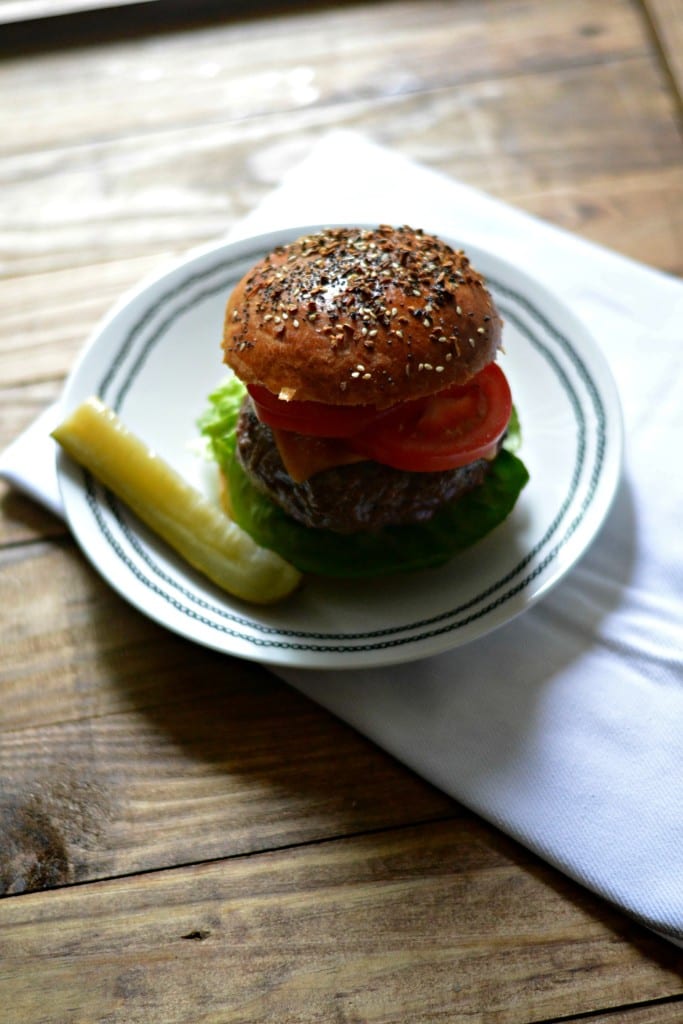 Now, I have to rogue and call out the major chain, Subway. I will still eat a veggie sub from Subway even though I survived on veggie subs for lunch and dinner for my entire freshman year of college. It is never my first choice though. The bread never holds up. It always breaks somewhere along one of the beautiful designer slits in the top. Ugh. It is like having two three-inch subs.
Don't even get me started about how Subway broke my family's heart back in high school when they switched from that deep v cut in the top of the sandwich to that dumb side slit. How is anything supposed t be evenly distributed in my sub? The bread to veggie filling is totally thrown off. You know what I'm saying, right? That bread fold is always the worst bite because it is just that, nothing but bread!
Since I am such an apparent bread snob, I made a little summer bucket list and decided to make my own buns for burgers (or any sandwich really). I went out on a limb and tried out the brioche bun recipe from The Perfect Egg
. Brioche sounds all foofy and fancy, but it was in fact very easy. By easy, I mean my arm is still kind of sore from all the flour mixing, but don't be discouraged; as I am highly out of shape unlike you!
The everything topping is a perfect way to spice up a burger or simple deli sandwich. Give it a try this weekend for your Memorial Day grilling!
Everything Brioche Burger Buns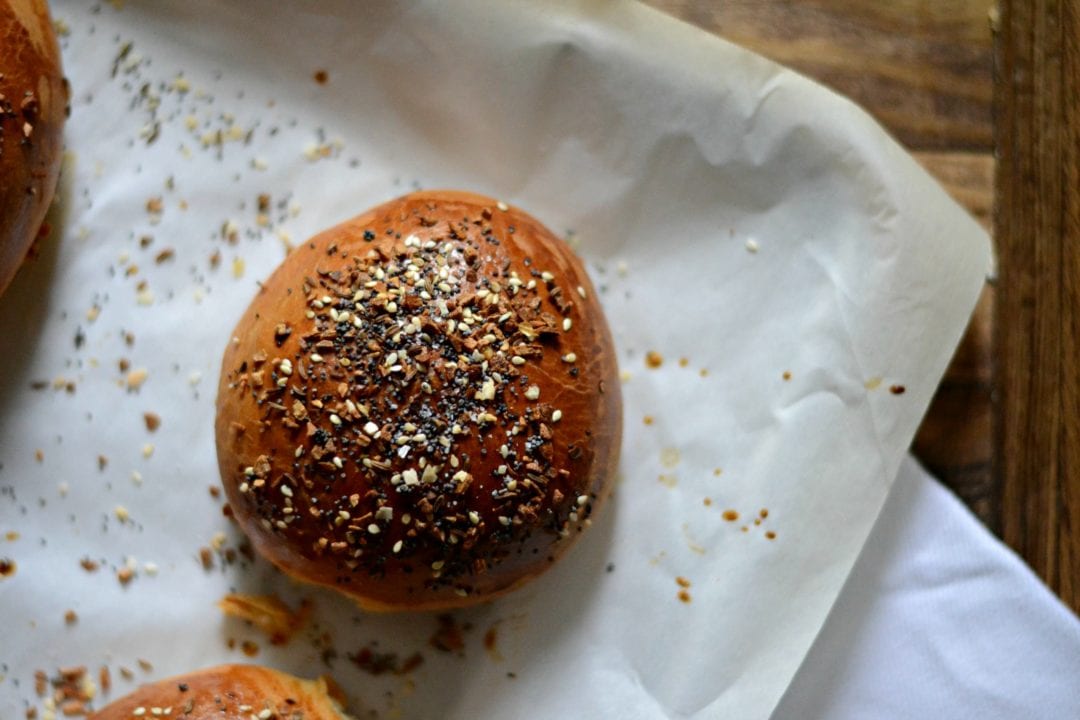 Decadent and flavorful brioche buns topped with an "everything" topping liven up any burger or sandwich.
Yields: 9 Burger Buns
½ Cup Plus 2 Tablespoons Whole Milk
3 ½ Tablespoons Fine Sugar
2 ½ Teaspoons Active Dry Yeast
3 Eggs, lightly beaten
¾ Cup Unsalted Butter at room temp, cut into cubes
1 ½ Teaspoons Salt
4 ½ Cups Bread Flour
Topping
1 Egg Yolk plus 1 ½ Tablespoons Water
½ Teaspoon Caraway Seeds
½ Teaspoons Poppy Seeds
½ Teaspoons Sesame Seeds
½ Teaspoon Garlic Flakes
½ Teaspoon Onion Flakes
½ Teaspoon Coarse Sea Salt
Stir together the milk and the sugar in a heatproof measuring cup. Microwave for a few seconds, until the temperature is 110 degrees F. Mix to make sure the sugar is dissolved. Pour the milk mixture into the bottom of an electric stand mixer fitted with the dough hook attachment. Sprinkle the yeast on top of the milk and let sit for 10 minutes, until foamy.
Using a wooden spoon, mix in the eggs, butter, and salt. The mixture will be very lumpy. Stir in ½ cup of flour at a time. Once about 3 ½ cups of flour have been mixed in by hand you can add the final cup and turn the mixer on low and let the dough hook do the work. Mix on low until flour is no longer visible. Turn the mixer up to medium speed and knead the dough for 8-10 minutes until it is soft and elastic and not sticky.
Add the dough to a greased bowl and cover with a damp dishtowel. Let the dough rise for an hour to an hour and a half, until the dough has doubled in size.
Line two large baking sheets with parchment paper. Punch down the dough. Turn the dough out on a lightly floured surface. Form the dough into a ball. Cut the dough into 9 equal pieces and form into small balls. Arrange the balls on the baking sheets about three inches apart on the baking sheet. Loosely cover the dough balls in plastic wrap. Let the balls rise for another hour.
After an hour, preheat the oven to 375 degrees F. Mix together the egg yolk and water. In a small bowl, mix together the caraway, sesame, poppy, salt, garlic, and onion. Brush the egg wash over the top of each bun. Sprinkle a little of the everything seasoning on each bun.
Bake the buns for 30 minutes until golden brown. Buns will keep in an airtight container at room temp for three days.
Preparation time:

2 Hours 20 minutes

Cook time:

30 minutes

Total time:

2 hours 50 minutes