Yeah, yeah, yeah. I know. It's not Monday anymore. Saaahhhhhhrry! Between the little babymoon Mike and I took this weekend and the severe head cold that has it's grips on me right now, this post got pushed into the "worry about it later" category. My little brother keeps telling me, "I feel like you guys are always sick." I would normally beg to differ, but these past three weeks have been brutal on my little clan. And not to play the martyr, but particularly tough on ol' 8 months pregnant me.
Being sick sucks. Being sick and having to take care of another little human is suuuuper sucky. Being sick and having to take care of another little human plus harbor another little kicker inside of you is extra extra sucky. If you are like my mom, you are currently saying to yourself, "Suck it up. It could be worse." I feel you. I agree.  I am heading to the doctor tomorrow in hopes she can give me something to help this move along and help me get back to being the super mom (hahahah) that I normally am.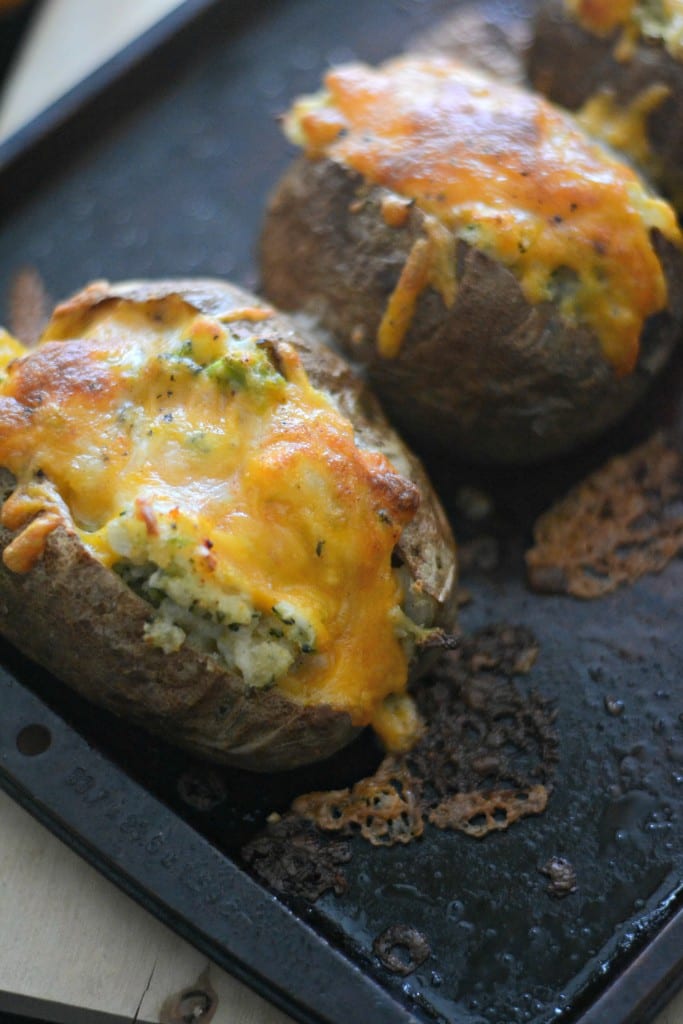 Tomorrow I will be back to my totally positive and zero complaints self. (Duh, this blog is called sarcastic cooking for a reason).
In the meantime, I will spare you my charm and get right to these beauties. I like to think the broccoli balances out the three cheeses stuffed inside the potatoes. Mike and I ate these for lunch one day and then with soup for dinner the next day. I would even dare to say that for those of you looking to get away from traditional mashed potatoes at Thanksgiving dinner, these might be the way to go!
They are fairly easy to make, require little hands on time, and are totally a family favorite. Win, win!
Related posts: