Yeah, yeah, yeah. I know. It's not Monday anymore. Saaahhhhhhrry! Between the little babymoon Mike and I took this weekend and the severe head cold that has it's grips on me right now, this post got pushed into the "worry about it later" category. My little brother keeps telling me, "I feel like you guys are always sick." I would normally beg to differ, but these past three weeks have been brutal on my little clan. And not to play the martyr, but particularly tough on ol' 8 months pregnant me.
Being sick sucks. Being sick and having to take care of another little human is suuuuper sucky. Being sick and having to take care of another little human plus harbor another little kicker inside of you is extra extra sucky. If you are like my mom, you are currently saying to yourself, "Suck it up. It could be worse." I feel you. I agree.  I am heading to the doctor tomorrow in hopes she can give me something to help this move along and help me get back to being the super mom (hahahah) that I normally am.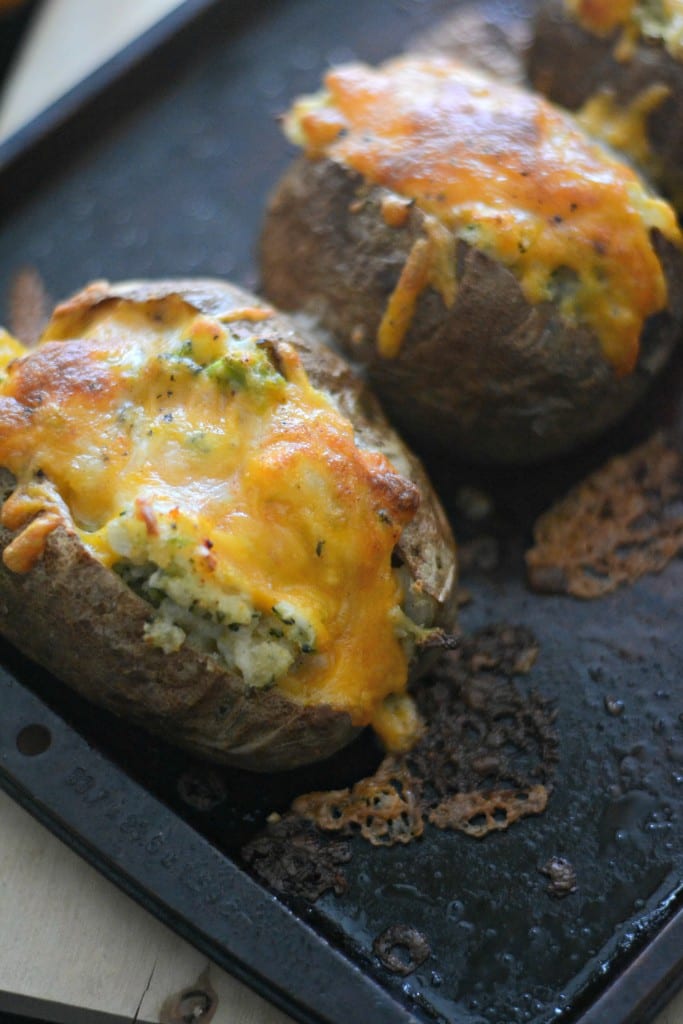 Tomorrow I will be back to my totally positive and zero complaints self. (Duh, this blog is called sarcastic cooking for a reason).
In the meantime, I will spare you my charm and get right to these beauties. I like to think the broccoli balances out the three cheeses stuffed inside the potatoes. Mike and I ate these for lunch one day and then with soup for dinner the next day. I would even dare to say that for those of you looking to get away from traditional mashed potatoes at Thanksgiving dinner, these might be the way to go!
They are fairly easy to make, require little hands on time, and are totally a family favorite. Win, win!
Twice Baked Broccoli and Three Cheese Potatoes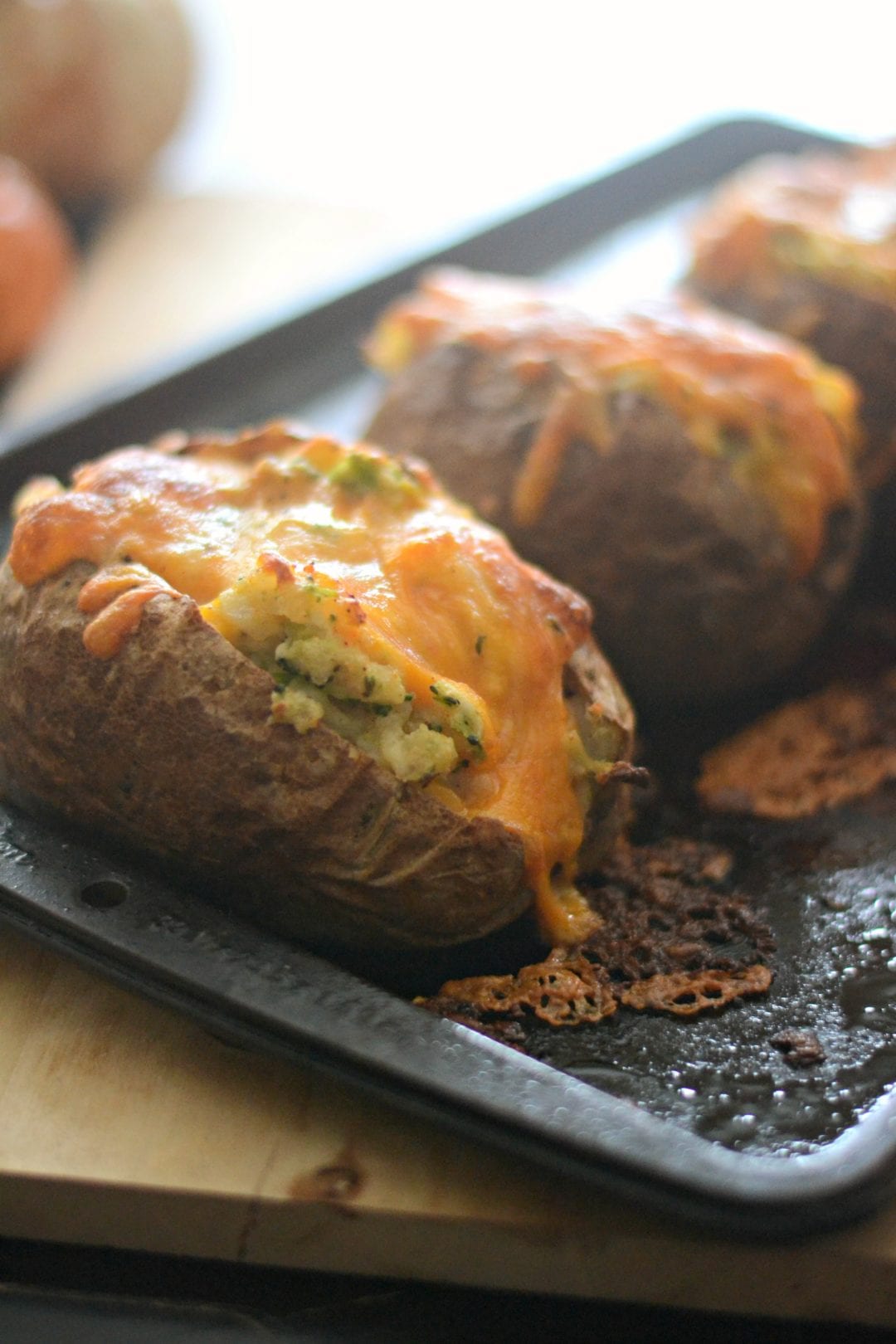 Twice baked crispy potatoes filled with broccoli, cheddar cheese, cream cheese, and mozzarella cheese.
Yields: 4 Potatoes
4 Large Russet Potatoes
Salt and Pepper
Olive Oil
2 Cups Frozen and Thawed Broccoli, chopped
1/2 Cup Shredded Mozzarella
1/2 Cup Shredded Sharp Cheddar Cheese
4 Ounces Cream Cheese, room temperature
1/2 Teaspoon Salt
1/2 Teaspoon Ground Black Pepper
1/4 Teaspoon Smoked Paprika
Preheat the oven to 425 degrees F.
Use a fork to poke several holes in each potato. Place potatoes on baking sheet, drizzle with olive oil, and season with salt and pepper.
Bake the potatoes for 50-60 minutes, turning occasionally, until fork tender.
Let the potatoes cool slightly until easily handled.
Use a knife to cut a slit, length-wise in each potato. Squeeze the two ends of each potato to make the gap wider. Scoop out all the insides of the potatoes. Add the cooked potato, 3/4 of the cheese blend, the cream cheese, salt, pepper, and paprika to a medium mixing bowl.
After giving the broccoli and chop, add it to the mixing bowl. Use a fork to mash everything and mix it all together.
Use a spoon to fill each crispy potato skin with the potato and broccoli mixture. Top each potato with a big pinch of the remaining cheese mixture.
Return the potatoes to the oven for 15-20 minutes until the cheese is melted and starting to crisp.
Let the potatoes cool for ten minutes before serving.
Preparation time:

15 minutes

Cook time:

60 minutes

Total time:

1 hour 15 minutes