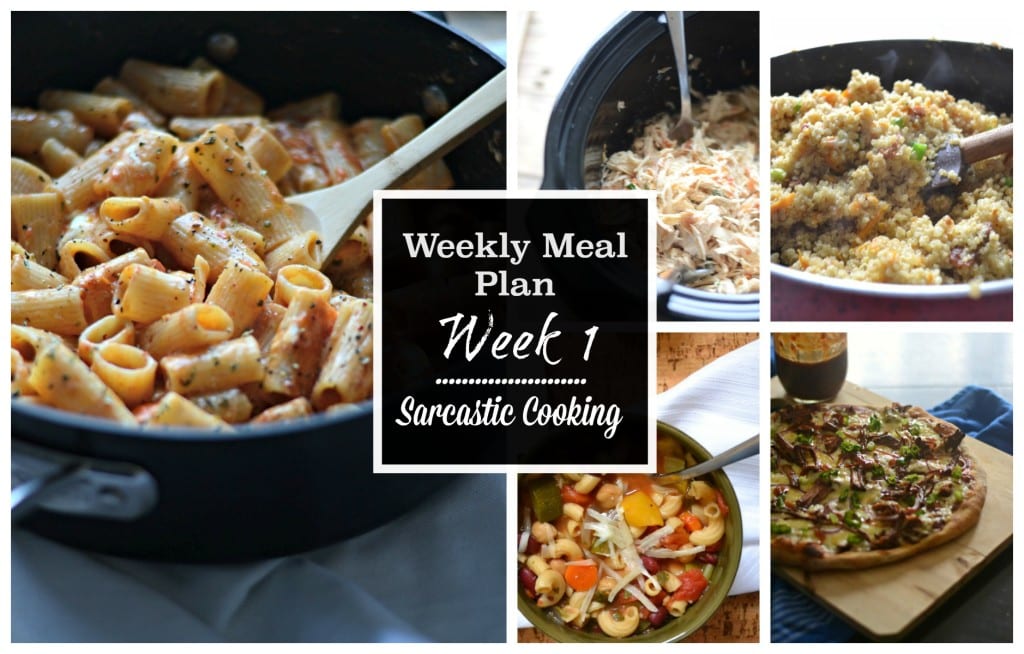 A long, long time ago. In a galaxy far away. Just kidding. But really, a while ago I asked my loyal Facebook followers and readers if they would be interested in seeing weekly meal planning on Sarcastic Cooking. I have to tell you it was a resounding, "Yes." To my surprise, this little comment got the most likes ever. Well, aside from my posts about my boys being born…But, that says something!
This blog has evolved over time from a rambling place where I cook fancy food and stretch my comedic chops to a place where I share stories about my family and what we are eating/cooking/baking these days. I may have shed the fancy food hang up but I like to think I haven't lost my flair for the comedic.
This is the first installment of weekly meal plans on Sarcastic Cooking. I am taking what me and my family cook Monday through Friday and sharing it directly with you here. On Sunday (or sometimes Friday if I feel ambitious) I write down dinner ideas for the upcoming week in a little $3.00 notebook from Target I keep on my kitchen island. I try to stick with a pasta night, soup & sandwich night, Mexican night, leftover night, pizza night, and the all too popular stare into my fridge until a lightbulb goes on in my head night.
It's real life, people. So, here goes nothing!
Monday – One Pot Garlic Butter Rigatoni (with some frozen mini meatballs thrown in).
Tuesday – Taco Tuesday!
Wednesday – Breakfast-y Fried Rice
Thursday – Slow Cooker Minestrone plus BLTs/BLATs or Garlic bread.
Friday – Pizza Night *I always use this dough recipe but if you don't wanna mess with the whole yeast rising thing, Whole Foods has a pre-made multigrain dough that is pretty legit and Trader Joe's has a whole wheat pre-made dough that is good too. I am also a fan of this no knead dough recipe when in a pinch.
Weekend – I told Mike before we got married that since I cook all during the week, weekends I am off. So we normally order out and have leftovers for our meals. If I am feeling ambitious I make this breakfast casserole and eat it all week/weekend long.
I hope this gives you a glimpse into our cooking and eating life with two kids under 3. I plan to add some grocery shopping lists and other fun stuff to go with this in the future but for now this is all I got. Let me know what you guys think!
PS I promise to include when we have take-out nights during the week too. Or even when I give in to my guilty pleasure, TACO BELL! Don't judge. Just keeping it 100 over here!
Related posts: