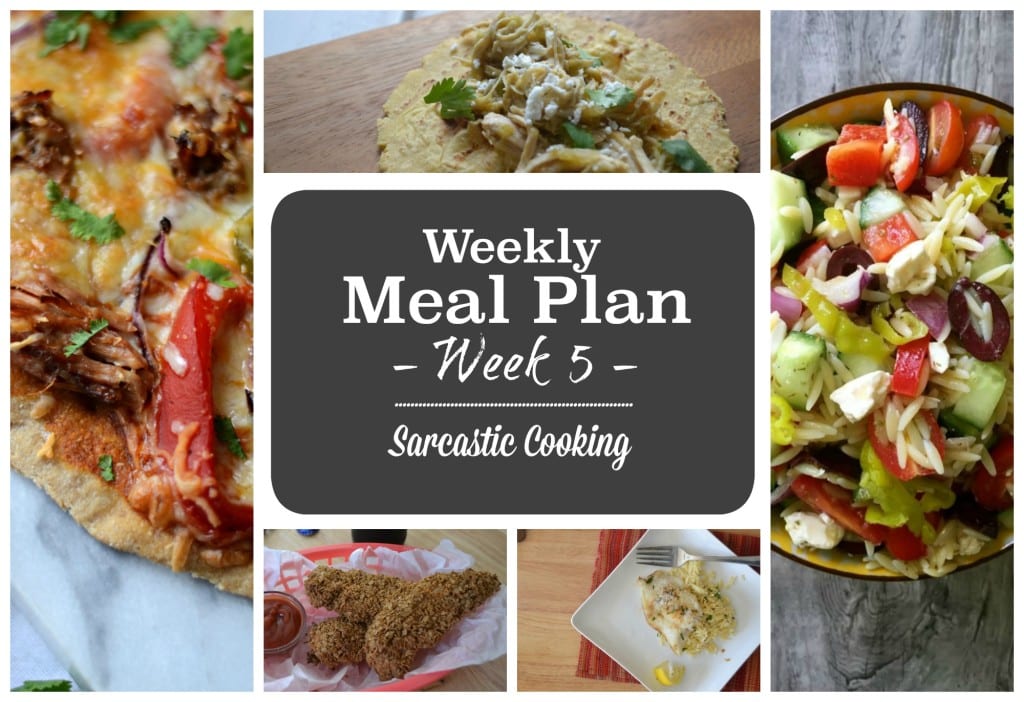 Welcome to week 5 folks! This week my dinners were not very complicated. Mostly chicken and not a lot of prep. It has been tough being the solo parent from sun up to sundown while Mike is teaching and coaching after school. We are making it work though! I have to go grocery shopping so hopefully next week will have more variety (aka less chicken).
Monday – Leftovers/Pizza (We have a lot of pizza in our house right now).
Tuesday – Slow Cooker Chicken Chile Verde. I halved this recipe and it still worked for me. Plus, it left me with a jar of salsa verde for taco night!
Wednesday – I made this Greek Orzo Pasta Salad but instead of orzo I just used lettuce.  I love that salad dressing! Then for some extra protein, I added in some of Andy's fave baked chicken tenders.
Thursday – Taco Night! I made this salsa verde chicken for tacos, but instead of in the slow cooker, I just did it in the pan over high heat for like 20 mins, then shredded the chicken.
Friday – Lemon Brown Butter Roasted Cod with some quinoa. Instead of cod I used frozen tilapia I had in my freezer. It's all the same to me!
Be back on Monday after a weekend of house hunting, probably depressed. Good thing that pizza month continues so I can eat my feelings!
Related posts: