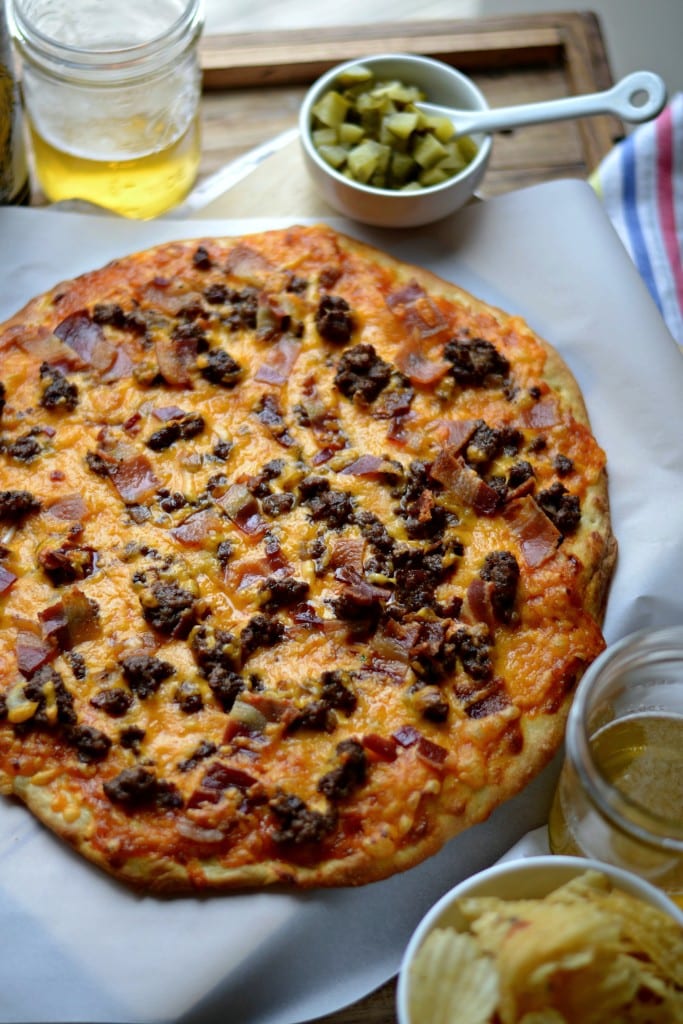 First and foremost, let me apologize to those of you Lenten warriors who are braving the whole "no meat on Fridays" thing. I really had intended on sharing this recipe yesterday, but life kinda got in the way. We went to go see houses with kids in tow. Three surround sound meltdowns in the minivan in between houses kind of wiped me out. Once the boys were in bed, so was mommy. And no post was to be written. Once again, my apologies.
Alright, let's talk cravings. Because if you can't eat this pizza now, I am sure you'll be craving it for the weekend.
I am talking pregnancy cravings, to be exact. Fellow moms out there, hit me with your craziest cravings in the comment section so I don't feel alone here. I craaaaved salad while I was pregnant with Andy–big leafy greens of romaine and kale topped with avocado slices and a drizzle of olive oil AND a squirt of lemon juice and voila! Perfection! I was so into eating healthy. Gotta make sure this kid gets all the nutrients he needs from what I am eating. If only my rookie mom brain could have realized, "Hey dummy! Your fetus gets most of their vitamins from that giant horse pill you're popping every night." Maybe I could have felt a little less guilty about a hot dog or gasp, a deli meat sandwich every once and a while.
These cravings are what I like to attribute to Andy's aversion to green food. Wait, I was mistaken. Green food is fine if it is on a pizza, but on it's own, nuh-uh! I even tried saying a green bean was a green french fry. He took one bite and looked at me like I had murdered a puppy right in front of his eyes. How dare you, mama!
Well, when it was time to see what the craving would be for the duration of Jack's pregnancy, I was kind of scared it wasn't salad. Even though salads can get kinda boring, day after day, they are good for you. I even thought for a while my pregnancy craving would be cups of Jell-O. But once the morning sickness was gone, I couldn't look at another cup of Jell-O. It was cheeseburgers! All I wanted at least once a week was a big and greasy cheeseburger.
It didn't even matter where I bought the cheeseburger. I loved to get down and durrrty with a McDonald's Daily Double. Oh, what? You have never had the pleasure of stuffing your face with two all beef patties, sliced tomato, and probably too much mayo? You must! At least once. For me. Mmm, Portillo's cheeseburger is charred just to perfection and they have the best burger pickles. I had a local joint I loved too! At the time, my mom was coming over once a week to help organize for New Baby and play with Andy so I could kind of try and rest. After a few weeks, she started asking me, "A cheeseburger? Again?" Yep. And this went on for the whole 9 months. I ate so many cheeseburgers that my mom joked that Jack was going to be born a cheeseburger.
You know who was loving this anti-salad campaign I was running? My little gremlin, Andy. At two years old, the boy knows when we pass a McDonalds. He says "Hi, Cheeseburger!" Makes a mother proud?
So, if Jack is anything like Andy, he will grow to hate cheeseburgers since I definitely clogged his poor baby arteries with them for 9 months. I mean, life IS about balance right? One veggie lover and one meat lover is a pretty good balance. That also sounds like an epic pizza delivery order. Once Jack starts eating real food, dinner time is going to suuuuuck. But, hey, that is a problem for future Stefanie to worry about.
Oh! You know what I discovered from 9 months filled with over 40 cheeseburgers (wow, that sounds like a lot when I put it that way)? I never really liked the whole mayo, ketchup combo thing. But, now, I can't do without it! That is why I had to do a different kinda sauce for this pizza. This pizza was too special for just plain old tomato sauce. Plus, that takes away from it actually being like a cheeseburger. And, to be extra down and durrrty, you can add some crushed potato chips to the top.
Go big or go home. This pizza was an ode to my cheeseburger-craving pregnancy days so don't judge me. I had to appease the lingering hormones.
Related posts: