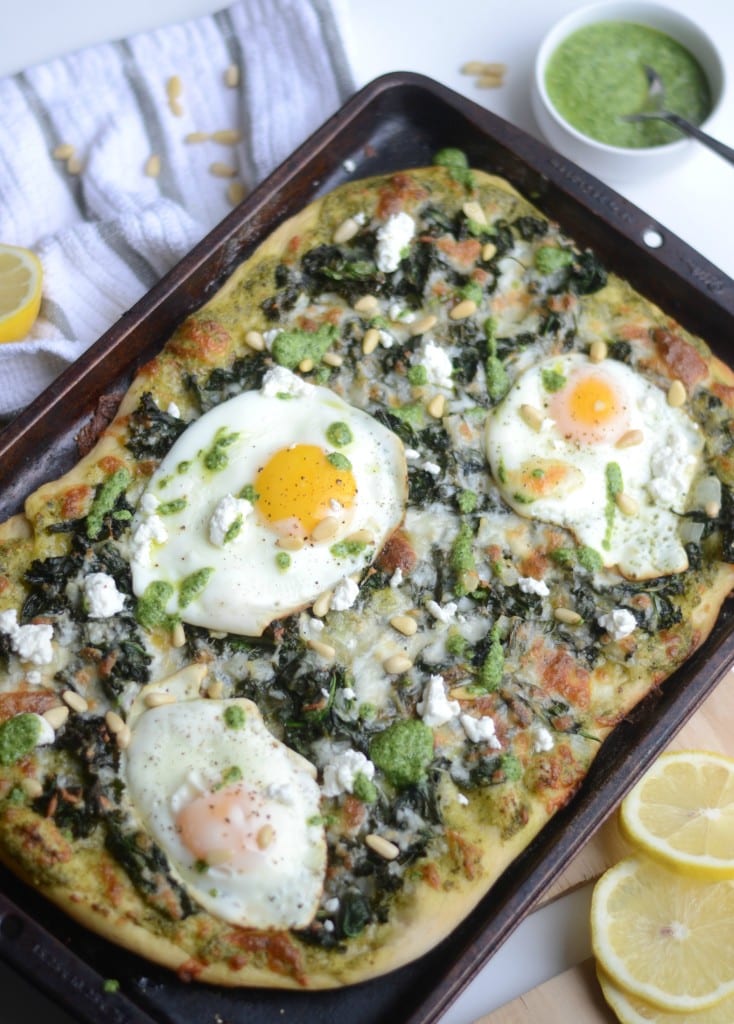 Because it's green, it is healthy! Duh! And a healthy pizza recipe for you, because I care. A month of indulgent pizzas can take a toll on a waistline, so super greens to the rescue!
Now, can we talk about greens? Those fresh, leafy guys never want to stay crisp and beautiful for me. I buy them on Friday and by the time Monday comes around they are wilted, brown, or even worse, slimy! What do you guys do to keep your greens green?
Maybe I need to eat them sooner instead of living off Chipotle and pizza and take-out (oh my!) all weekend long.
Maybe treat the greens with more respect than as a mere afterthought or a way to make up for loading my veins with grease.
Hmm…
Anybody else have this problem?
Or are the greens just out to make me waste my money and then feel even guiltier about my diet when I have to dump a bag of slimy spinach into the trash can?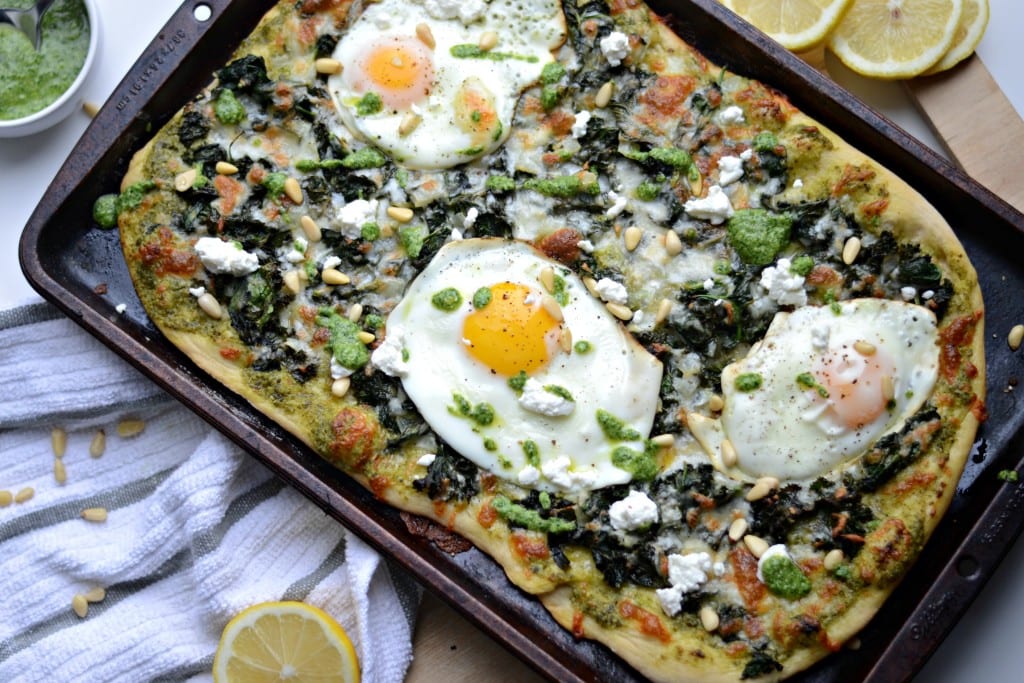 Last week I had to throw out a whole unopened container of fresh basil. I was so mad. This week, I decided not to let that happen again. Right away, I took the basil out and made a pesto to try and preserve some of the green goodness. Haha! Stef – 1, Greens – 0!
Next two culprits to tackle were the spinach and kale. Stinky, slimy, wilty kale is not a scent you want wafting out of your refrigerator. Talk about a punch in the face.
I cooked up the greens ahead of time with a little garlic, onion, lemon juice, and olive oil. This way I can add them to a pasta dish or grilled cheese or, hmmm, let's say a pizza later in the week. total time saver and green saver! Score update: Stef – 2, Greens – Nada!
PS I am not even sure if this scoring method makes sense. Anyway.
While coming up with my next pizza creation, I knew I had to incorporate healthy greens and brunch, since the brunchiest of brunchy holidays is this weekend (for those of you that celebrate). Plus, I totally missed the whole green food holiday of St. Patrick's Day. Oops! Sooooo, I give you green pizza now.
Gimme your green saving tips and please make this totally healthy breakfast/brunch pizza this weekend for those you love. Pizza love is real love, my friends!
Super Greens Breakfast Pizza
Crispy thin crust loaded with a basil pesto, garlicky wilted kale, and spinach. Then topped off with fried eggs and goat cheese. The amount of greens make for one healthy pizza!
Yields: 1, 9x13 Inch Pizza or 1, 12 Inch Pizza
Best Yeast Pizza Dough
For the Pesto:
2 Cups fresh Basil Leaves
2 Tablespoons Pine Nuts
1/4 Cup Grated Parmesan Cheese
Juice from 1/2 Lemon
2 Garlic Cloves, grated
1/2 Cup (or more) Extra Virgin Olive Oil
Salt and Pepper to taste
For the Pizza:
1/2 Cup Basil Pesto
1 Tablespoon Olive Oil
1/2 Cup diced Yellow Onion
1 Garlic Clove, grated
3 Cups Fresh Kale, stems removed
3 Cups Fresh Baby Spinach, long stems removed
1 Tablespoon Fresh Lemon Juice
1/8 Teaspoon Ground Nutmeg
Salt and Pepper, to taste
1 Cup Shredded Mozzarella
1 Tablespoon Toasted Pine Nuts
1/4 Cup Crumbled Goat Cheese
3 Fried Eggs
Follow the directions to make the no-knead whole wheat pizza dough found here or the best yeast pizza dough found here. Make dough ahead of time.
Preheat oven to 500 degrees F with a baking sheet inside.
While the oven preheats, make the pesto.
Add basil, pine nuts, parmesan cheese, and garlic to a food processor. Pulse until very finely minced.
Add in the salt, pepper, and lemon juice.
While the food processor is going, stream in the olive oil until a smooth creamy, not too thick, pesto is formed. Add more or less olive oil as needed. Once combined, add salt and pepper to taste and then pulse once to combine.
Add olive oil to a large skillet. Heat over a medium/low flame. Add in the diced onion. Cook for 5 minutes until almost translucent. Add the garlic and cook an additional minute.
Add all the spinach and kale to the pan. Once the bottom layer starts to wilt, mix to combine. Cook for about 5 minutes until all the greens are slightly wilted. Remove from heat. Add the salt, pepper, nutmeg, and lemon juice. mix to evenly combine.
Roll out the pizza dough on a lightly floured surface into either a 12 inch circle or a 9x13 inch rectangle.
Remove hot pan from the oven, carefully.
Transfer the dough to the pan.
Top with almost all of the pesto, reserving a tablespoon or two for the garnish. Top with the wilted greens and onion mixture, then the cheese. Bake for 10 minutes.
While the pizza cooks, toast the pine nuts and fry the eggs. You can add the eggs to the pizza while it bakes. I never have luck getting them exactly how I want them so I cooked them separate.
When the pizza is finished baking, remove it from the oven. Top the pizza with the fried eggs, crumbled goat cheese, toasted pine nuts, and remaining pesto sauce.
Slice and serve while the eggs are still hot!
Preparation time:

25 minutes

Cook time:

20 minutes

Total time:

45 minutes