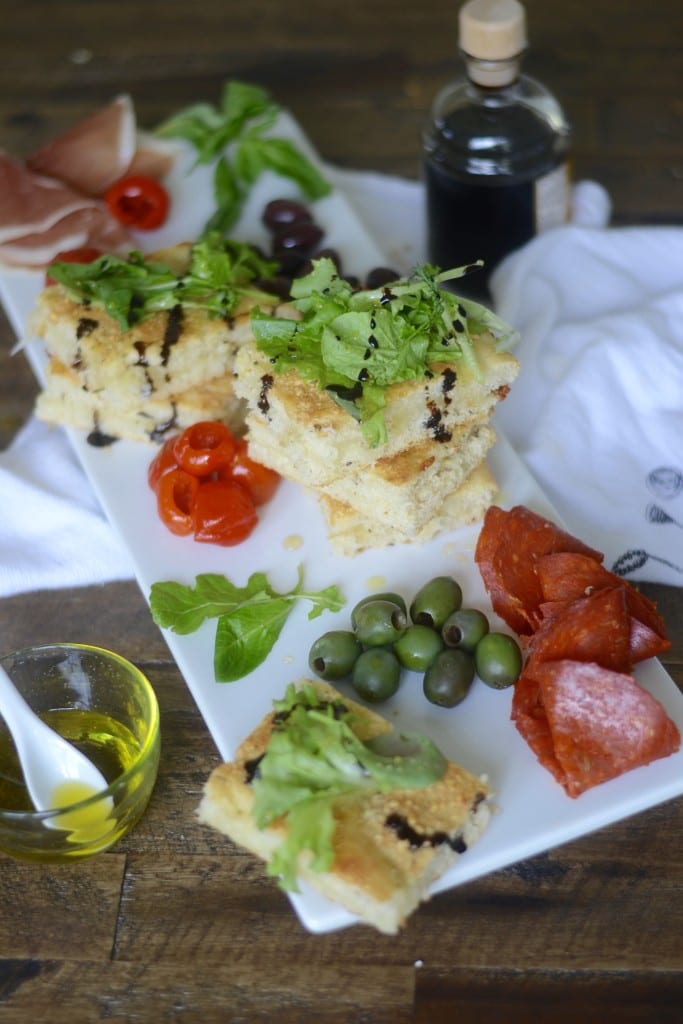 And like a phoenix from the flames, she rises! Well, that was a bit of a dramatic entry, but, hey, I do like the drama. I am back! I have three words for you; hand, foot, mouth. Disease. Well, that's really four, but the first three are the dramatic ones. Don't Google it! You already did, didn't you? Well little Jacky B got it first. He didn't get it as bad as you may think, from your Google images. My first key that he was sick was he just stopped eating solid food. The kid turned down puffs! I knew something was wrong.
Then, just when Jack was starting to feel better, boom! Andy wakes up with a fever! Then (because I mean, at this point, why wouldn't this happen) later that day, I got it! Being sick and still having to take care of little sickos (i.e. carry them up two flights of stairs, change diapers, cook for them, clean up after them, and bathe them) is seriously the worst! Thank God my mom came over and gave me a morning off so I could nap and shower and finally shake the fever and chills.
Enough of the sick talk though. There is hot fresh bread on the table.
Right before Jack got sick, I made this bread. It was supposed to be an homage to an appetizer we all ate during our girls' weekend. Sigh, that seems like a lifetime ago now. #dramatic Anyway, I froze half of it and then made a big pot of pasta to serve alongside the rest. Andy and I were eating our pasta and "cheesy bread," as he calls it. Then I looked over at Jack. He was literally drooling over the piece of bread I was holding in my hand. Hm, ok.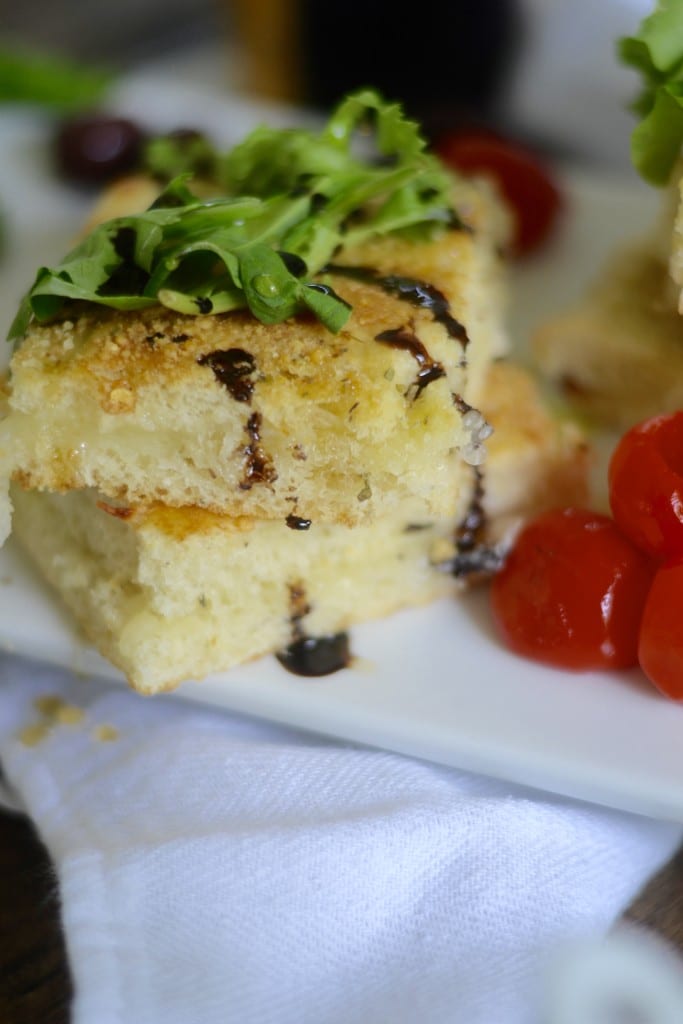 I think at this age, I let Andy gnaw on some bread. Why not?
At most I am buying myself a few more minutes of sitting at the table and actually eating. Some nights I seriously finish my dinner in the bathroom while the kids bathe. No joke. Jack is the kind of kid that doesn't like to eat and linger, very much like Mike. Not only does my little baby look like Mike, he has the jimmy legs just like him too!
But wait, just when I  thought Jack wasn't anything like me, there he goes and polishes off two hunks of focaccia bread. Yaaaassss!
I think the reason Jack liked this bread so much is because, well, it's stuffed with cheese and it is baked twice so it is a little sturdier and crunchier than traditional focaccia bread. This is a super simple recipe that I pictured as a side or, as you can see from these pictures, a part of a lovely meat antipasto platter. I topped it off with fresh baby arugula and a drizzle of balsamic along with olive oil and honey! It is perfection.
I wish I had better pictures of when the cheese was ooey gooey, but sometimes kids just don't want to nap when I want them to and cheese cools rather quickly. Sorry. It is still delicious. You will just have to make it at home now to see the ooey gooey cheesiness for yourself!
Twice Baked Cheese Stuffed Focaccia Bread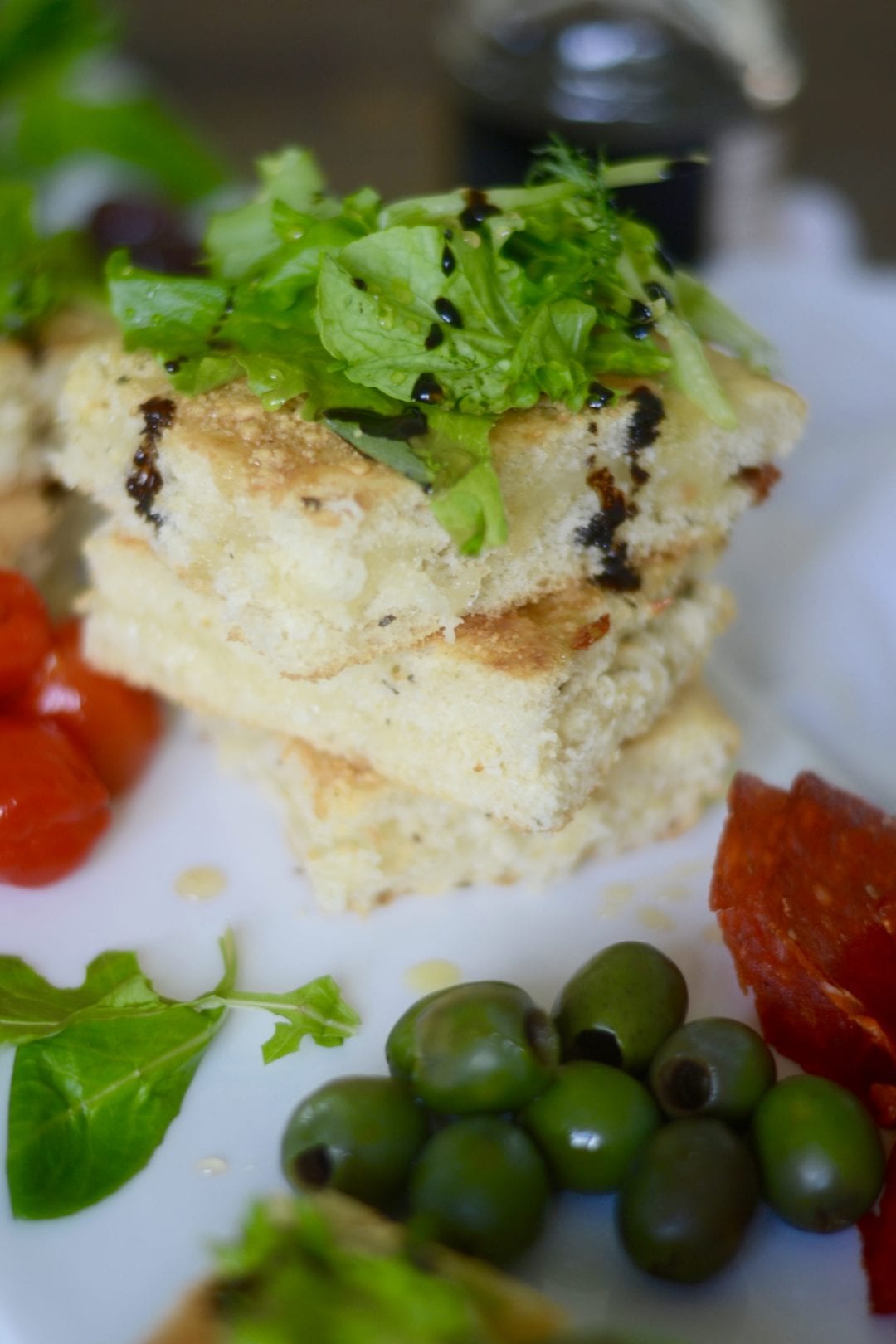 Simple, herb studded, crispy, and crunchy focaccia bread that is stuffed with a layer of mozzarella cheese.
Yields: 12-15 Pieces
For the bread:
1 Package Active Dry Yeast (about 2 1/4 Teaspoons)
1 Cup Warm Water, not above 110 degrees F
1 Teaspoon Honey or Agave
2 ½ Cups All-Purpose Flour, plus more for dusting
1 Teaspoon Salt
¼ Cup plus 2 Tablespoons, divided
1 Teaspoon Dried Basil
1 Teaspoon Dried Oregano
2 Cups Low Moisture Shredded Mozzarella
1/4 Cup Grated Parmesan-Romano Cheese
Optional Toppings:
Baby Arugula
Drizzles of Balsamic Vinegar, Olive Oil, and Honey
More Grated Parmesan-Romano Cheese
Add honey/agave to the bowl of an electric stand mixer fitted with the dough hook attachment or to a large mixing bowl. Pour in the warm water and whisk to combine. Sprinkle the yeast on top of the water. Whisk to combine. Let the yeast sit for 5 minutes until foamy.
Add the flour, salt, basil, oregano, and 1/4 cup of olive oil to the bowl. Mix on low until a shaggy dough starts to form. Turn the mixer on medium/high and knead for five minutes until smooth and elastic.
Transfer the dough to a lightly oiled mixing bowl. Cover with plastic wrap and place in a warm spot to rise for an hour and a half, until doubled in size.
Once doubled, punch down, and transfer to a lightly oiled 9 inch x 11 inch or 9 inch x 13 inch rimmed baking sheet. Stretch the dough to fit the pan as best you can. Poke the dough a dozen times to make slight indentations. Drizzle the dough with remaining olive oil. Cover with plastic wrap and let rise another thirty to forty minutes.
Preheat the oven to 450 degrees F.
Sprinkle the top of the dough with the grated cheese. Bake in the oven for 12 minutes.
Once the bread is cool to the touch, use a serrated knife to slice the entire loaf in half right down the middle, like a sandwich. Place each half cut side up on two different baking sheets. Cover each half in one cup of cheese.
Bake in the oven for another 5-7 minutes until the cheese is melted. Carefully place the two halves back together. Allow bread to cool on a wire rack for a few minutes before slicing and serving.
Preparation time:

1 hour 30 minutes

Cook time:

15 minutes

Total time:

1 hour 45 minutes