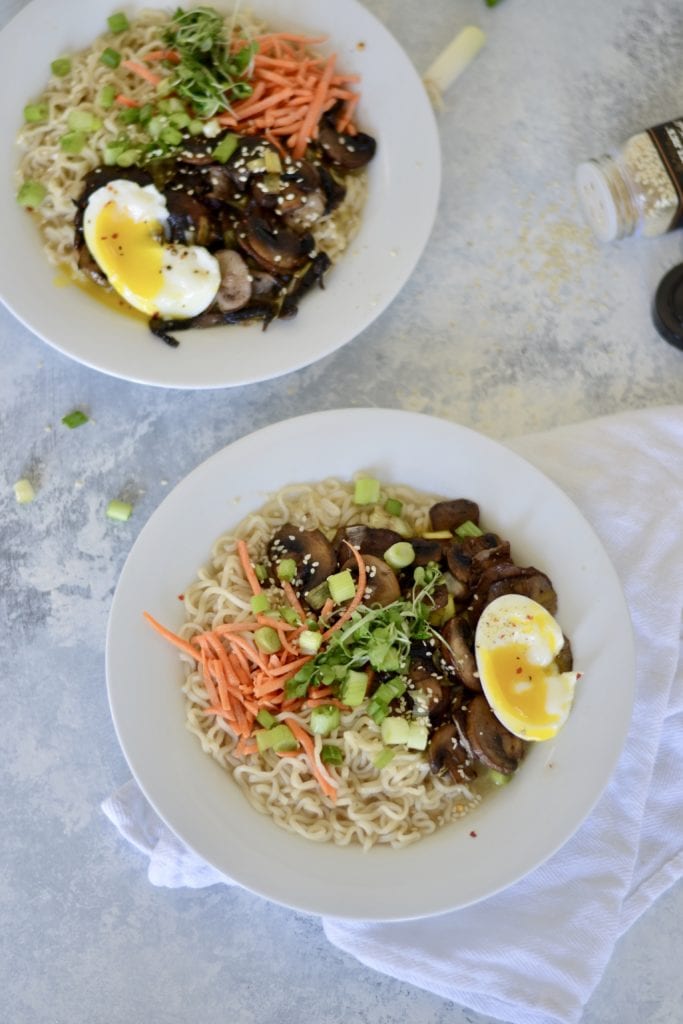 Two huge announcements for you guys! Number one, we have a refrigerator. Yes! Finally. After three weeks without, we finally have a fridge. No thanks to Sears. Also, Lowe's, you definitely got yourself a customer for life! Next day delivery for the win!
Second big announcement, I have a 3-year-old!
A friggen 3-year-old!!!! Can you believe it? I can't. Thinking back to when the doctors placed him in my arms has me feeling all the feels. I cannot even imagine what it will be like when this little rascal goes off to preschool. Oh brother! Send wine and chocolate because the littler one turns one on Saturday. Waaaahhhhh! What is happening? And, can I stay the same age?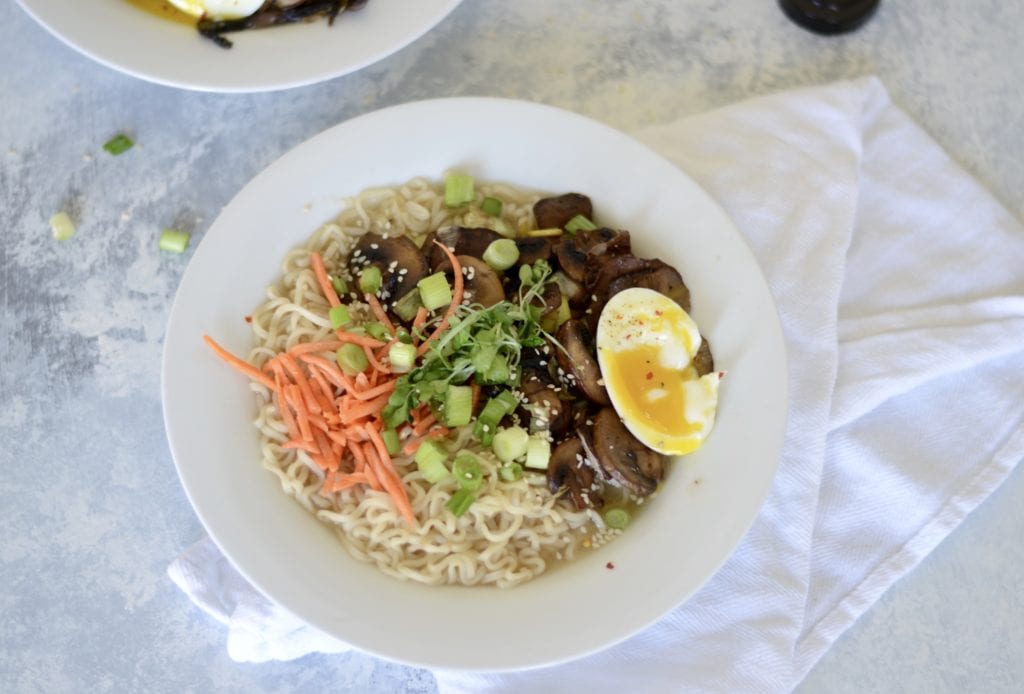 Like I said, send wine and chocolate!
Before the big fridge breakdown of 2016, I cooked up a big batch of this ramen recipe. I started it because all my produce was going bad with no place to keep it cool. I also knew that soup would keep a little longer, I could pawn it off on people, and I could freeze a bunch. Winter without a freezer stash of soups and chilis is not a winter! Hibernation season!
I have never been a big pho and ramen kind of person.
Don't judge!
I fell in love with pho when I finally made it from scratch. Pho and ramen are fun dishes because you put all the time into the broth and then top it with a bunch of different foods/garnishes. No two bowls are the same. This ramen is  made with Top Ramen noodles because, why not?!?!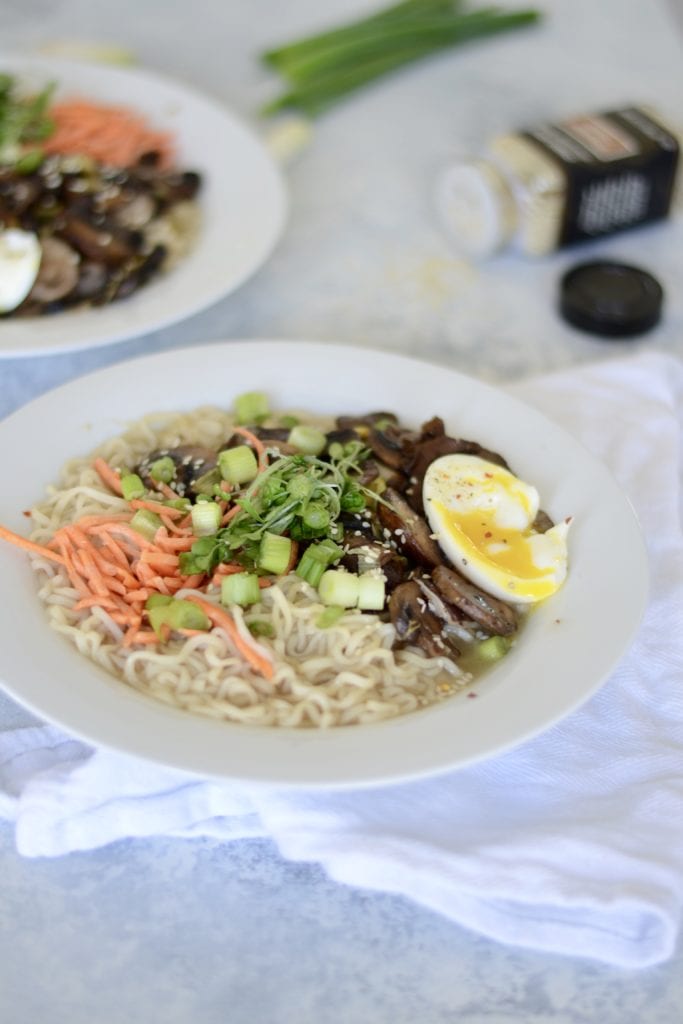 For these bowls of ramen, I went with a homemade mushroom stock, soft-boiled eggs, shredded carrot, microgreens, green onion, and the best part in my opinion, tons of crispy cooked mushrooms. My years of vegetarianism made me looooove mushrooms. I could eat them every day. Raw or cooked!
The thing I love most about soups and chilis is that they go well with a good beer. (Shameless plug)! Which reminds me. If you are not watching my Batch Sesh episodes on Snapchat and Instagram Stories, what are you waiting for? This past weekend we talked about a wonderful seasonal ale from 21st Amendment called Fireside Chat. How seasonally awesome does that sound? I will try to remind you guys to watch this weekend. Probably Sunday night because, like I said, I will be having an emotional breakdown on Saturday when Jack turns one.
In closing, make ramen. Cry into ramen about how old your babies are. Feel comforted by said ramen. Then drink beer with me on Snapchat.
fin!
Mushroom Loaded Ramen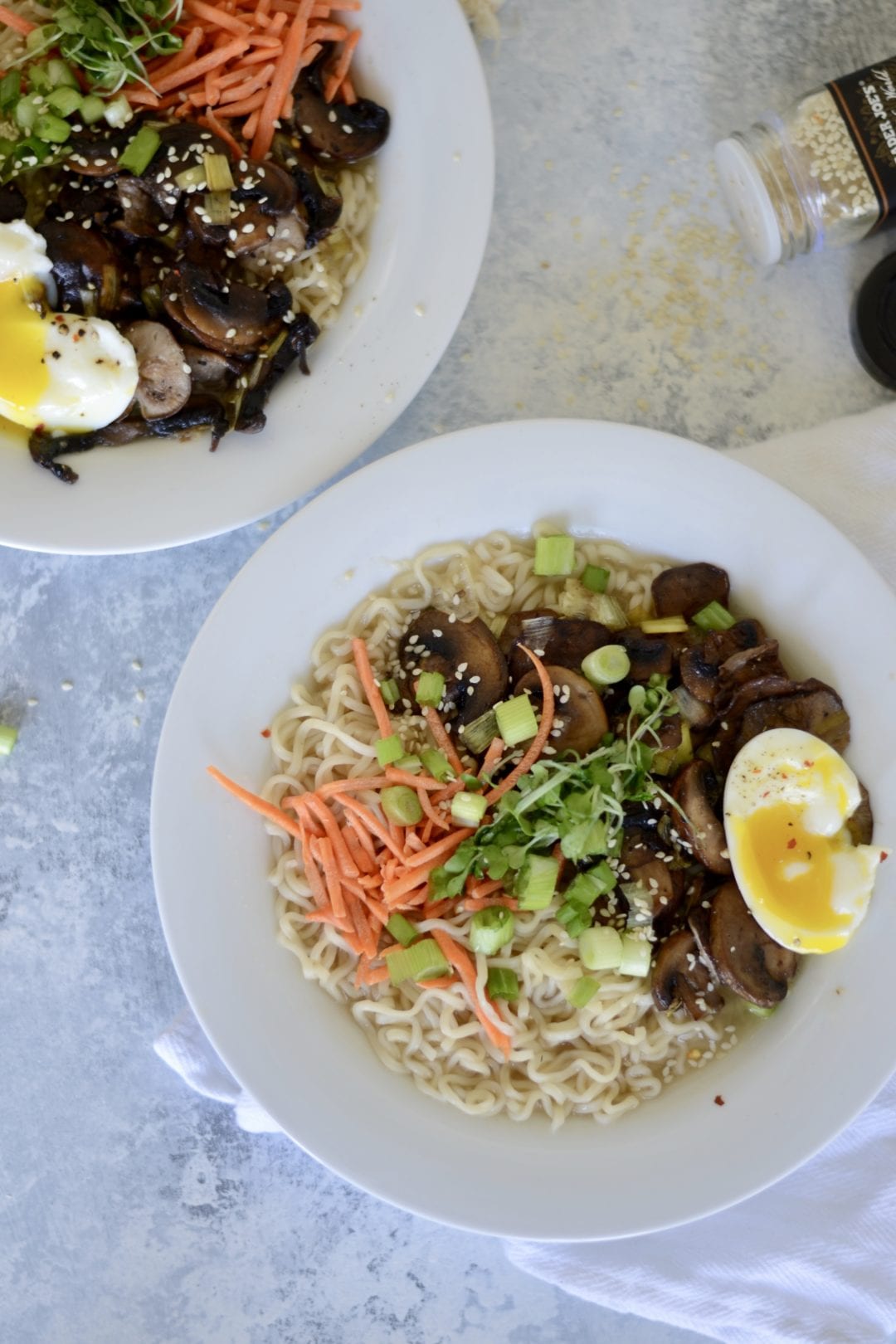 Simple and easy homemade mushroom broth topped with lots of crispy mushrooms and veggies.
Yields: 2-4 Servings
1 Tablespoon Olive Oil
10 Ounces Cremini Mushrooms, stems removed and reserved, cleaned, and sliced
8 Ounces Shiitake mushrooms, stems removed and reserved, cleaned and sliced
8 Ounces Sliced Button Mushrooms
2 Cloves Garlic, grated
1 Teaspoon Soy Sauce
Freshly Ground Black Pepper
48 Ounces of Water
1 Tablespoon Salt
4 Peppercorns
1 Bay Leaf
2 Packages of Top Ramen Noodles only
4 Green Onions
1 Cup Shredded Carrot
Sesame Seeds
1-2 Soft Boiled Eggs
Hot sauce or Crushed Red pepper Flakes
Add olive oil to a large skillet. Heat over medium flame. Add mushrooms. Cook for 10-15 minutes, turning regularly until each side is crispy. Add in the garlic, pepper, and soy sauce and saute for 2 minutes, stirring to incorporate. Keep warm over a low flame until the broth is ready.
Meanwhile, bring the water to a simmer in a large pot over medium heat. Add in the salt, peppercorns, mushroom stems, and bay leaf. Simmer covered for 20-25 minutes.
After 20-25 minutes, remove the stems, peppercorns, and bay leaf. add in the noodles and boil according to package instructions, about 7-10 minutes.
Add the broth and noodles to a large bowl. Top with mushrooms, onion, carrot, sesame seeds, and a soft boiled egg.
Preparation time:

10 minutes

Cook time:

35 minutes

Total time:

45 minutes