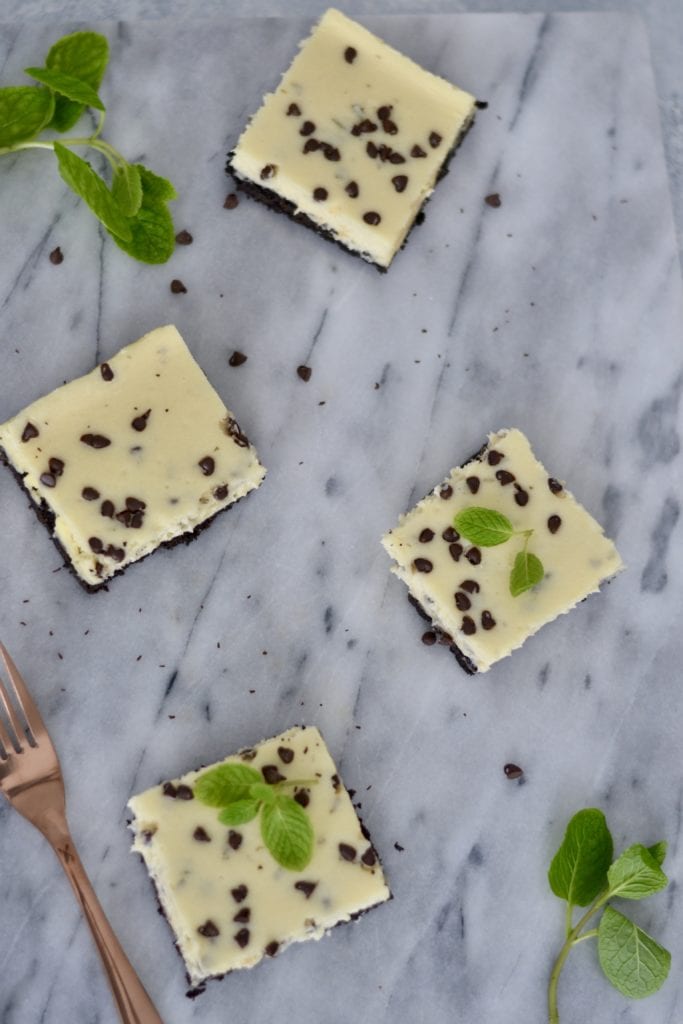 It's that time of year… Where we eat our weight in cookies and sugar. It's ok. It is just one time a year, right? My son is basically living the Buddy the Elf diet, sugar based. Cupcakes for breakfast. A cookie with lunch. M&M's for a post nap pick me up. Two cookies after dinner. A fruit snack right before bedtime. Yeah, I should probably be brushing his teeth more than twice a day.
It is kind of like Halloween. Andy goes trick-or-treating. He eats candy for snacks for two days after. He then forgets about the candy and I try to toss it but Mike stops me. For the next month, I will be finding candy wrappers in Mike's pockets while doing laundry.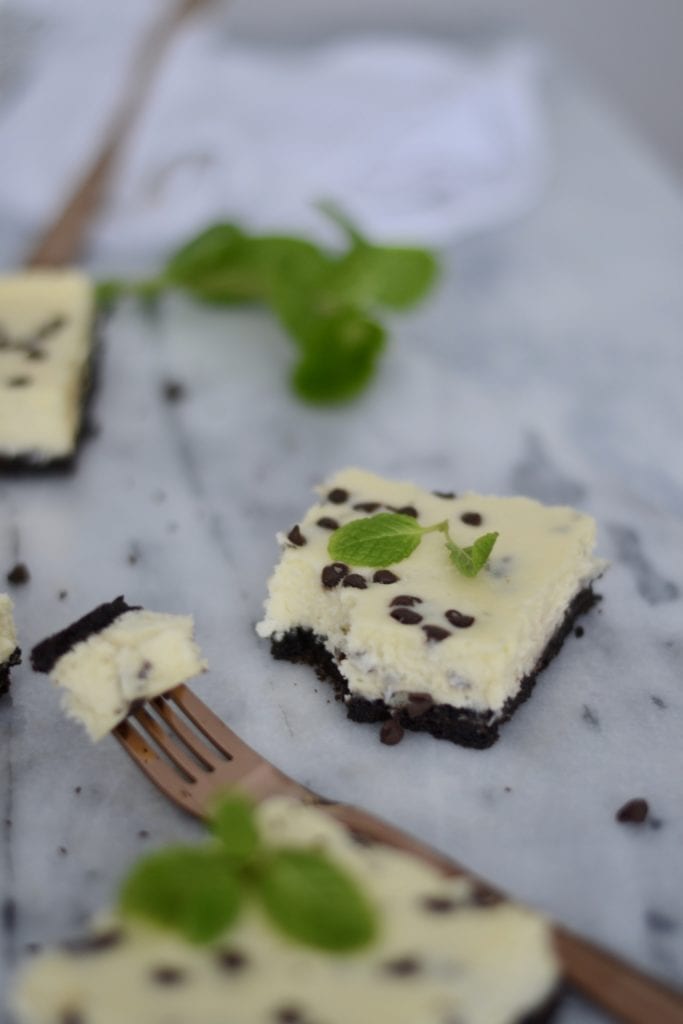 The problem with Christmas baking is that all my baked goods are lined up on the dining room table. It is a logical place to cool cookies and set up multiple wire racks because it is a loooong table. I would start moving them to the garage but after a mouse scare and below zero temps…ugh, I will take the random theft of a cookie by a sticky handed child.
I made these amazing cheesecake bars for my wonderful neighbors and Mike's co-workers. The good thing about cheesecake bars is they are stored in the fridge. Ha! Can't get your hands on these, Andy!
The bad thing is that when bars go missing out of the stash I saved and didn't give as a gift, I have nobody to blame but myself. Womp, womp.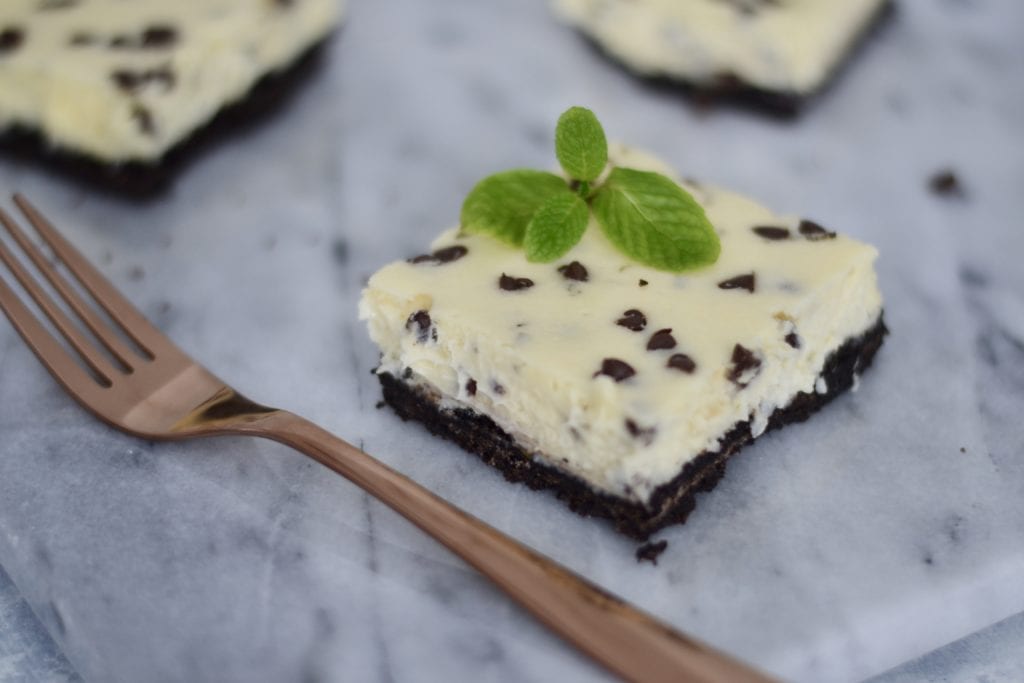 This is about as pepperminty as I get guys. I like the sweet, subtly flavor from the fresh mint as opposed to the clear-your-sinuses punch of candy canes. I think this pair goes together really swimmingly! In fact, this isn't the first time I have done the whole fresh mint and chocolate thing. These cookies are always a huge hit this time of year.
If you are still looking for cookies to make and exchange with neighbors, first off, make these, theeeeennnn secondly, come back tomorrow for a big round up of COOKIES!
Fresh Mint and Chocolate Chip Cheesecake Bars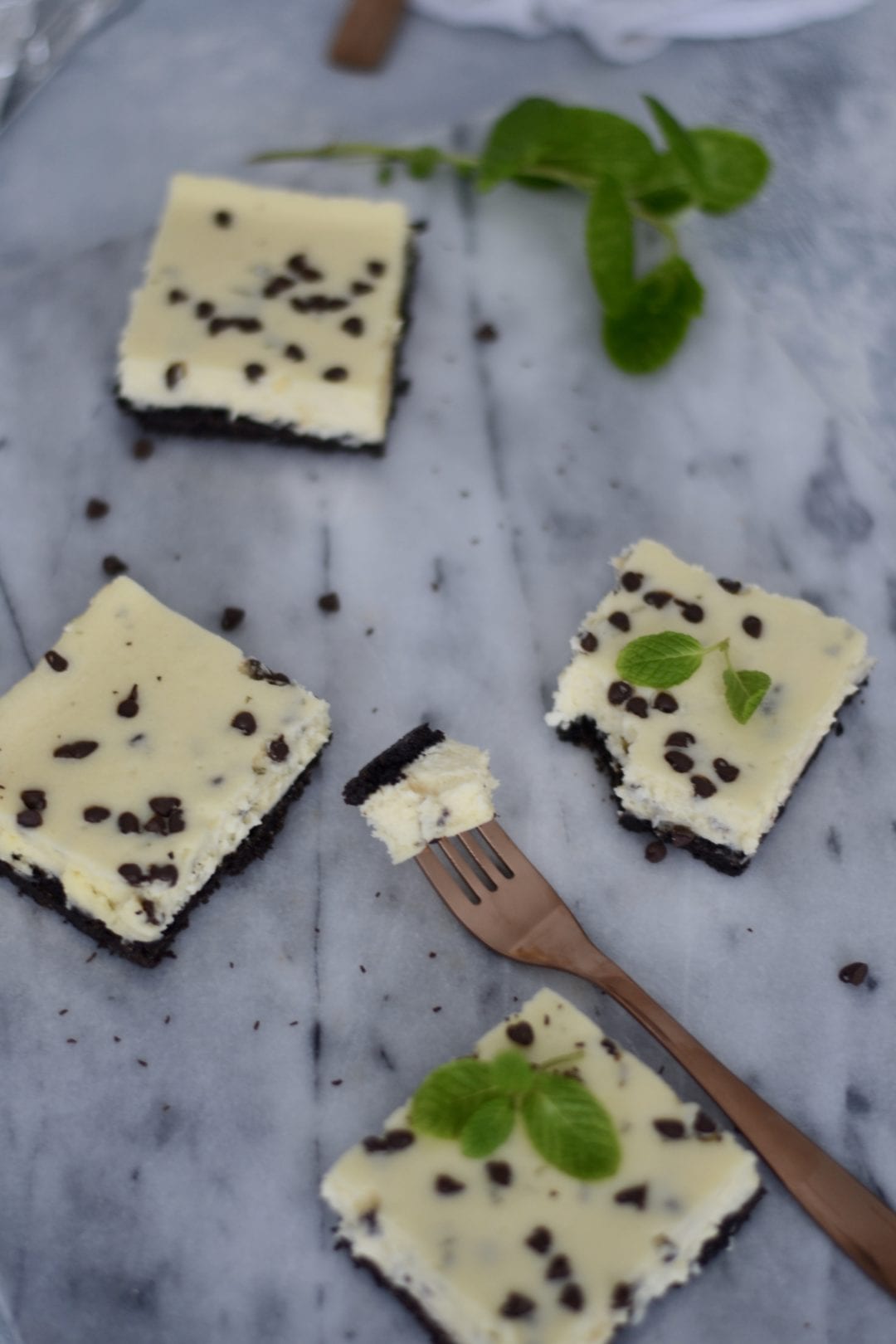 Fresh, sweet mint and chocolate chips combined with creamy cheesecake and an Oreo crust make for the best indulgent treat!
Yields: 12-16 Bars
For the Crust:
30 Oreo Sandwich Crackers
3 Tablespoons Unsalted butter, melted
For the Cheesecake:
1 Pound (2 blocks) Cream Cheese, at room temperature
1 1/3 Cups Sugar
1/2 Teaspoon Salt
2 Teaspoons Pure Vanilla Extract
2 Large Eggs, at room temperature
1/2 Cup Milk, any percent will do
2 Tablespoons Low-fat Sour Cream
1/2 Cup Mini Semi-Sweet Chocolate Chips
1 Tablespoon Finely Chopped Fresh Mint
Preheat the oven to 350 degrees F. Line a 9x13-inch baking dish with foil. Spray with nonstick spray and set off to the side.
Add Oreo Cookies in batches of 10 to a food processor. Pulse until finely ground. Add the crumbs to a medium mixing bowl. Pour int he melted butter and mix until all the crumbs are coated.
Transfer the crumbs to the baking dish. Press the crumbs down in one even layer. Bake for 15 minutes. Let cool slightly as you prepare the cheesecake.
Reduce the heat of the oven to 325 degrees F. Place another 9x13-inch baking dish or a large rimmed baking sheet on the bottom rack of the oven. Fill about halfway with hot water. This will keep the oven nice and humid and help prevent cracks in the cheesecake.
Add the cream cheese and sugar to the bowl of an electric stand mixer fitted with the whisk attachment. Beat on high for 2-3 minutes until light and fluffy. Scrape down the sides as needed.
Add the salt and vanilla. Mix to combine. Scrape down the sides as needed.
With the mixer on low, mix in each egg one at a time until combined. Stop to scrape down sides at least once to make sure it is combined.
Add the milk and sour cream. Mix on medium until smooth and luscious and creamy.
Add in the mint and most of the chips, reserving about 1 tablespoon. Once the chips and mint are combined, pour the batter into the dish with the crust. Top with remaining chips and then bake for 50 minutes.
The cheesecake is done when the center is mostly firm and slightly jiggly. Let the cheesecake cool for another 30 minutes in the oven, leaving the oven door slightly cracked. Then transfer the baking dish to the refrigerator for 24 hours for best results.
When cutting the bars, first run your large knife under warm running water. Run the knife under water between each slice and then wipe the knife clean with a paper towel. This will help to make the cleanest edges possible on the bars.
Store the bars for up to a week in an airtight container in the refrigerator.
Preparation time:

24 hours and 40 minutes

Cook time:

50 minutes

Total time:

25 hours and 30 minutes