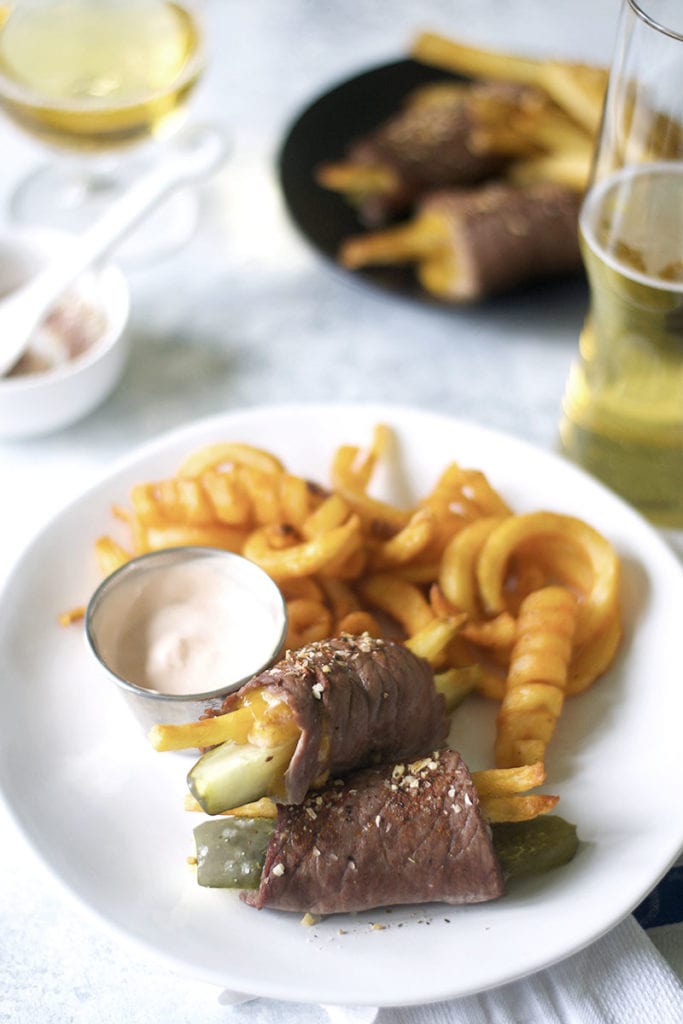 Ah yes, from one giveaway to the next! All month long is National Burger Month. Now that Brunch Week is over, we can give burgers the ever-loving attention they so rightly deserve. I have to say, taking a lot of cheese and dairy out of my diet has affected a lot of things. One thing it really hasn't affected is burgers. If you have a good burger, it will be a good burger, with or without cheese. Now, you may argue the point, but i stand by my bold statement.
This recipe was originally my Mom's and my Dziadzia's (jah-jah, Polish for Grandpa). The original recipe is called a beef roll-up. It has thinly sliced meat wrapped around a slice of bacon, sliver of pickle, sliver of onion, and 1 french fry. And since I bastardize everything they ever make, I had to make some changes. I am going to say this is Mike's fault though, not mine. He is the one that doesn't like pickles or onions. How dare he, right?
I wanted to pump this burger roll full of fries. I love fries. No shame in admitting that.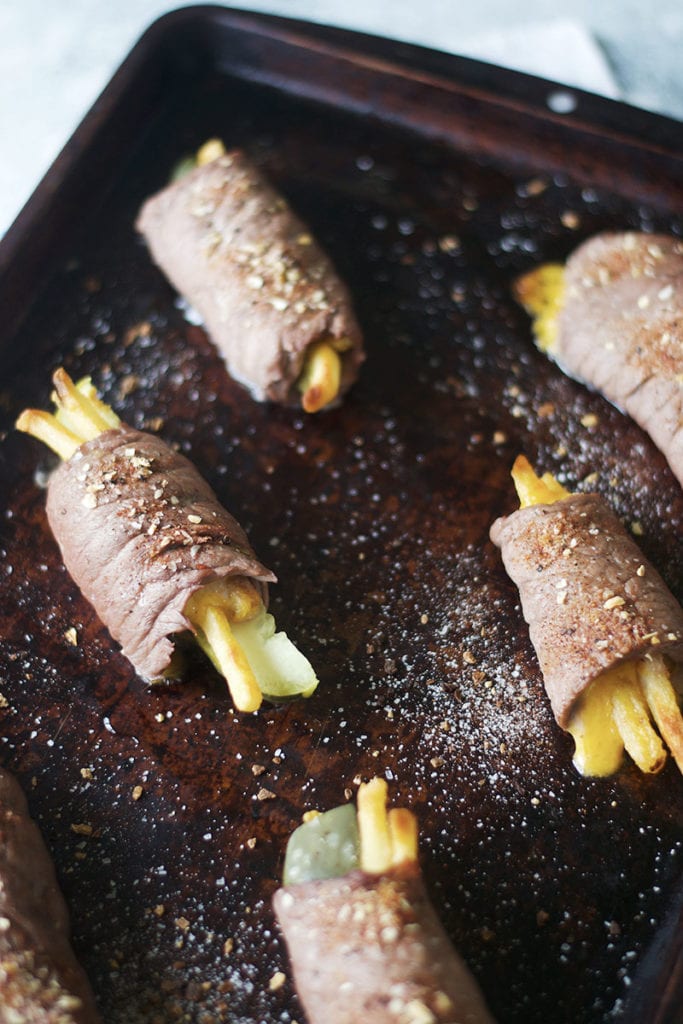 Some have cheese, some don't. Some have pickles, some don't. The go-to burger seasoning totally makes these guys. I will leave the stuffing to you!
Now, down to some burger biz! Each week this month there is a different prize to be won from entering HERE.
WHERE THIS EPIC BURGER CREATION IS MY OWN FOR #BURGERMONTH 2017, I WOULD LOVE TO THANK American Lamb Board, Anolon. Beef, It's What's For Dinner, Char-Broil, Curly's BBQ, Cuttingboard.com, Melissa's Produce, Primal Stone, Spiceologist , Thermoworks , & Veal Made Easy FOR THE KICK BUTT GRILL PRIZE PACKAGES!
THIS POST IS PART OF THE #BURGERMONTH CELEBRATION HAPPENING ALL MONTH LONG HERE AT GIRLCARNIVORE AND ACROSS THE INTERWEBS WITH 100 OTHER TALENTED FOODIES!! BE SURE TO FOLLOW #BURGERMONTH TO CHECK THEM ALL OUT!
Related posts: