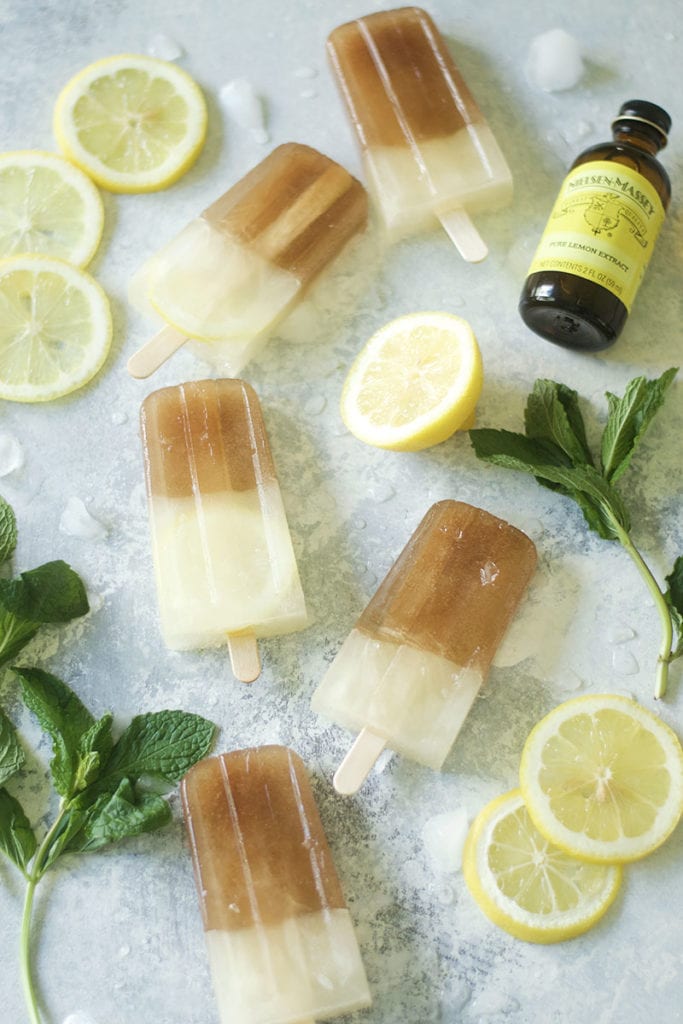 Today's recipe for Arnold Palmer Popsicles is in partnership with Nielsen-Massey Vanillas. I was paid by Nielsen-Massey for this collaboration. All opinions are my own.
Happy 4th of July you 'Mericans. What are you guys up to today? I mean, can't be much more than a park trip or a little BBQ since nothing is really open. Yay America. A day in a house full of bored kids and a napping husband. Thanks a lot.
We will be grilling up some steaks and asparagus for dinner. As for dessert, these popsicles.
For those of you unfamiliar with the greatest drink of all time, the Arnold Palmer, it is a layer of lemonade, then a layer of tea. I go the route of always unsweet tea on top. The lemonade sweetens things up enough.
The layers in the drink stay separate. That for me was the main reason to turn this into a popsicle. When you lick the popsicle, you get that tea flavor and then that burst of lemon. The perfect blend. I added a little dash of the Nielsen-Massey Pure Lemon Extract to the tea just to brighten it up a little bit. Since it is unsweetened, some people might find that a little hard. The lemon extract really brings this popsicle together.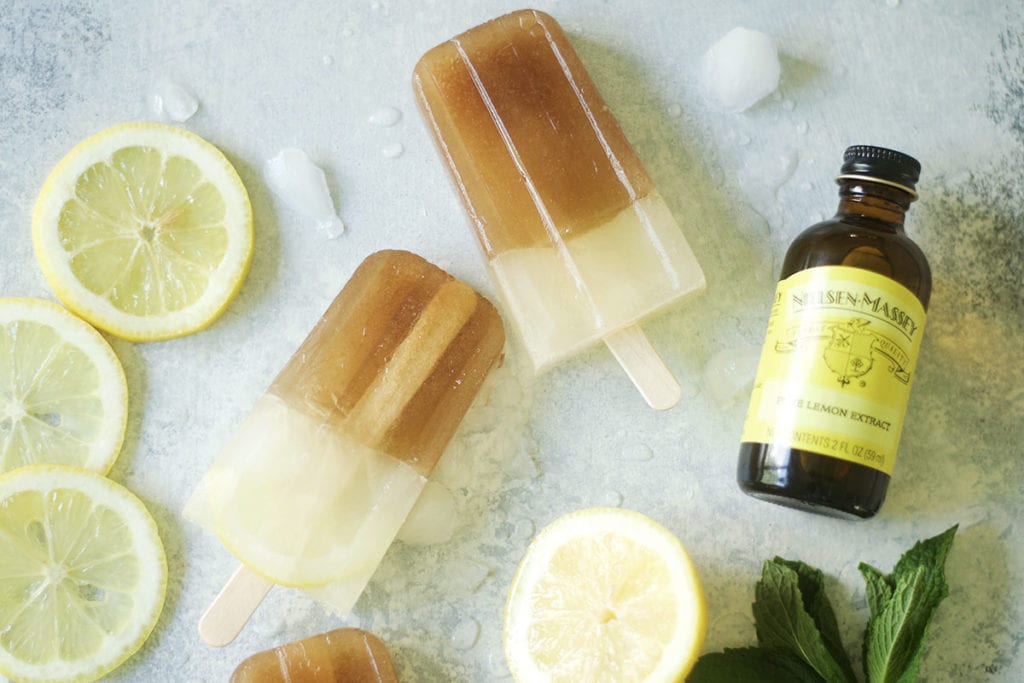 I love working with Nielsen-Massey because I actually have used their products for a while now. Madagascar Bourbon Vanilla is my go to. It is available in every baking section of all the grocery stores (except Aldi) that I have ever shopped at in my area.
Back to the popsicles.
Since there is no booze and not a lot of fruit puree in these popsicles, they freeze up in a matter of hours. So, if you put them in the freezer now, you would for sure be able to enjoy them by the time dinner rolls around.
I added in little lemon slices for looks, not to eat. I bet you could throw in some candied ginger or candied lemon slices and eat those! Maybe my next batch.
Until then, happy/safe grilling and backyarding on this 4th. If you want to learn more about Nielsen-Massey and their products or even get some good recipes, follow them on Twitter, Instagram, Facebook, and Pinterest.
Thank you for allowing me to share sponsored content from brands I really believe in. Sponsored content allows me to pay the bills and keep this little blog going. Thanks for your support!
Related posts: