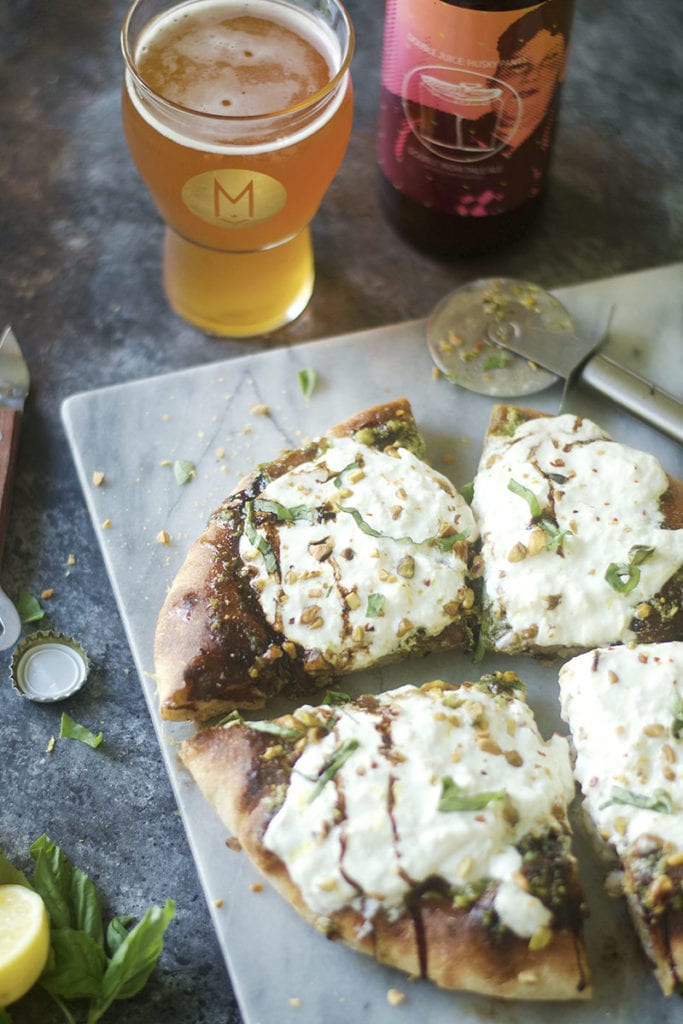 Is it Friday yet? I know that I ask this question a lot on the site. But this time, I have a good reason. And, no it is not related to the teeny tiny terrorists running my life. Yesterday I got to live the life of a brewer with the guys from Maplewood Brewery. Well, not really.
I mean, I didn't have to lift anything or endure hot, hoppy steam blowing in my face from the kettles. But, I did get to watch and learn a lot about the craft beer brewing process.  But it made it feel like a Friday since it was kind of a day off from the kiddos.
It was very, very cool and I cannot wait to share the final product of yesterday's work with you.
You hate that I am such a tease, I know. Until that post comes out, check out my new little segment over on Facebook called "Ask a Brewer." Sidenote: This is going to be a running series in which I talk to multiple brewers, so keep the questions coming!!!! And like my teacher husband would tell you, there are no dumb questions.
My last question in the segment is the ultimate question for a food and beer lover. Oh! Spoiler Alert, if you haven't watched the video yet. Beer and pizza or burger and beer?
I can't pick. It is like deciding which child is your favorite. That is why I make the brewers decide!
Muahahaha!
If you are team pizza, then this bad boy is for you. I think that the crunchy pistachio totally compliments the creamy, gooey burrata. Mike would tell you it needs meat, so yeah, you could add some prosciutto on at the end. For me though, there is nothing better than a good old summer basil pesto. It is my summer Frank's Red Hot. I put that s**t on everything.
Also, since my Maplewood buddies were so nice to me, I switched up my normal pizza dough recipe and made a Husky Pants Double IPA dough. Add beer to your pizza dough mix. Trust me. If you don't, at least drink one along side.
Burrata, Pesto, & Pistachio Pizza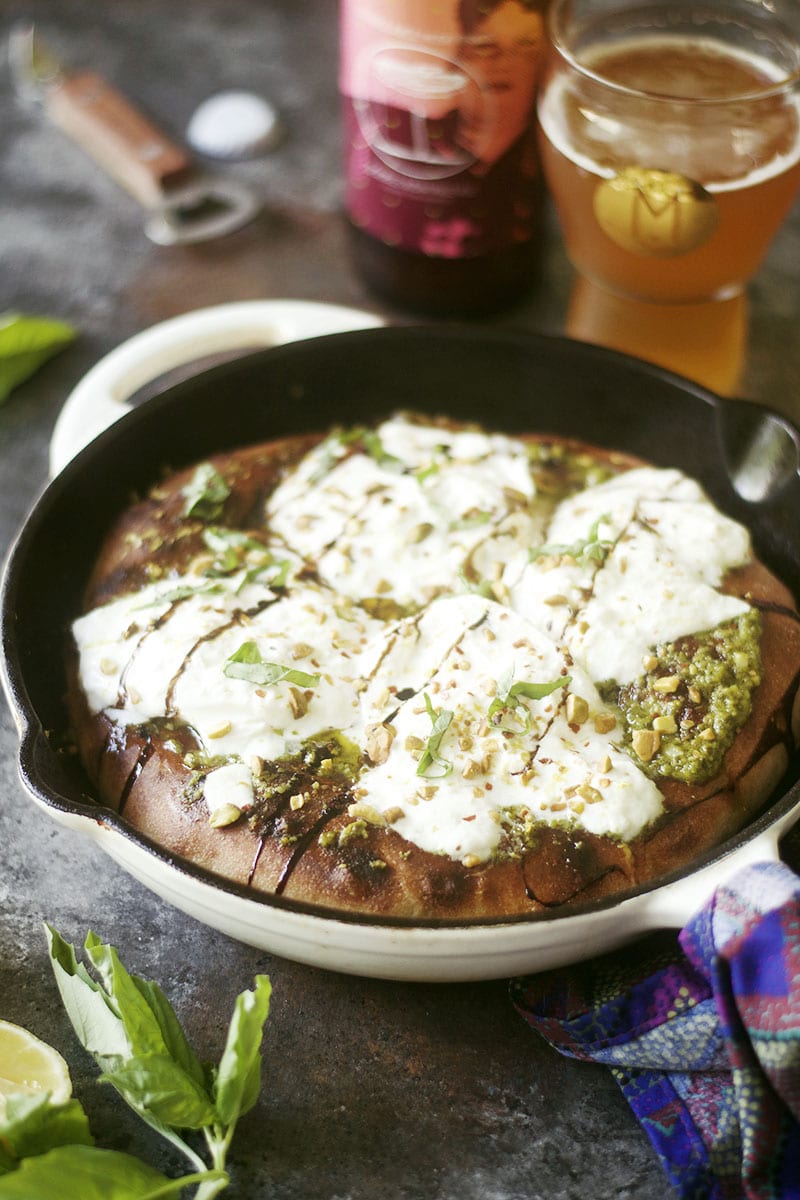 A decadent, burrata and pesto covered pizza with crunchy pistachios, fresh basil, and a little balsamic drizzle.
Yields: 1 Pizza
Husky Pants Pizza Dough (see below)
1/2 Cup Basil Pesto
2 Balls of Burrata Cheese, sliced
2 Tablespoons Shelled Pistachios, chopped
Fresh Chopped Basil for garnish
Crushed Red Pepper Flakes
Trader Joe's Balsamic Glaze Drizzle
Preheat oven to 450 degrees with a pizza pan inside.
Stretch dough out on a well floured surface to about 12-14 inches wide.
Carefully remove hot an from preheated oven and transfer dough to the pan.
Spread pesto all over the pizza dough, leaving 1/2 an inch crust from the edge. Top with burrata and bake for 12-14 minutes until crust is golden and cheese is gooey.
Top pizza with chopped pistachios, fresh chopped basil, and a little drizzle of balsamic glaze. I recommend crushed red pepper flakes, but if that is too spicy, you can skip them.
Let the pizza cool for a few minutes before slicing.
Preparation time:

12 minutes

Cook time:

12 minutes

Total time:

24 minutes
Maplewood Husky Pants Pizza Dough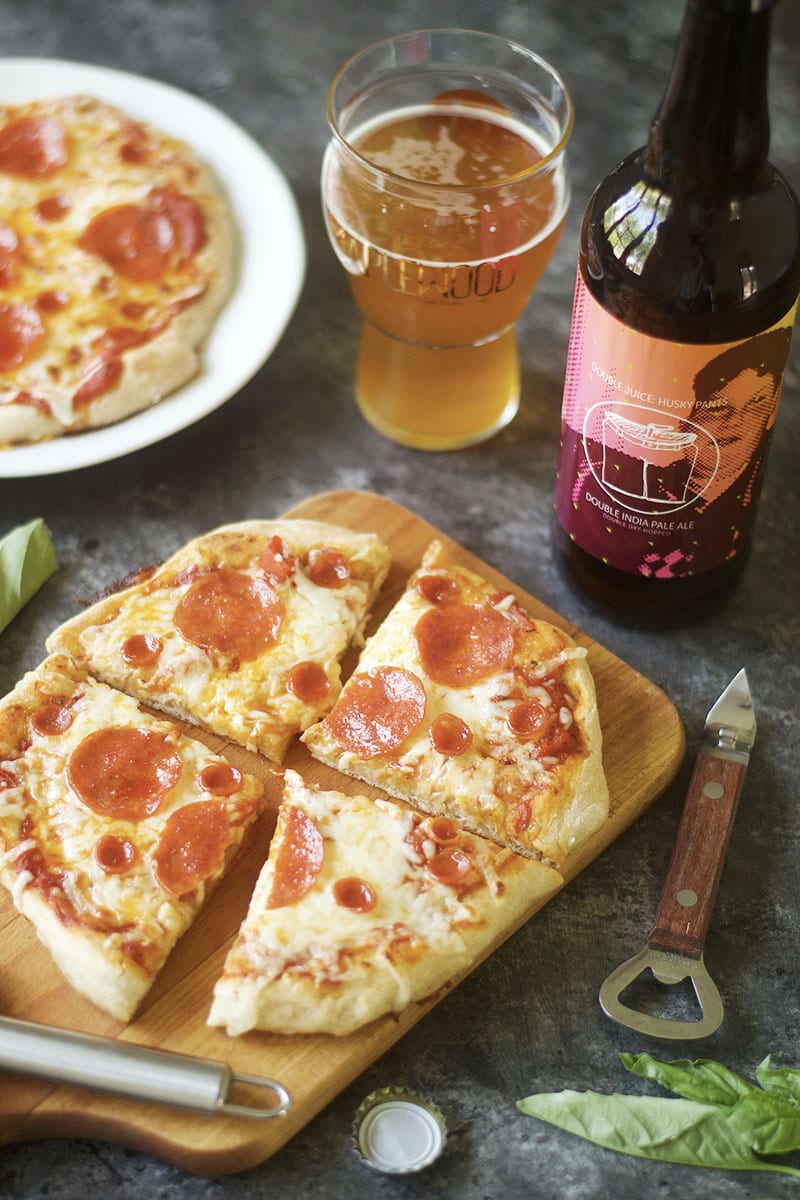 Homemade double IPA pizza dough with a slight citrus hint and an airy yet crisp crust.
Yields: 2 Pizzas
1 Teaspoon Honey
1/2 Cup Warm Water, not over 110 degrees F
2 1/4 Teaspoon Active Dry Red Star Yeast
2 1/2 Cups All Purpose Flour, plus more for dusting
1/2 Cup Whole Wheat Flour
1 Tablespoon Olive Oil
1 Teaspoon Salt
3/4 Cup Maplewood Husky Pants DIPA (or an IPA/APA of your choice)
Add honey to the bowl of an electric stand mixer fitted with the dough hook attachment. Pour in warm water. Whisk to combine.
Add yeast, whisk to combine. Let sit at least five minutes until foamy.
Add flours, olive oil, salt, and beer to the bowl. Mix on low until dough comes together. If it is looking to sticky, add a few tablespoons of flour to get things going.
Knead on medium for at least 5 minutes. Use your hads to pull dough off hook and form into a ball.
Transfer dough to a bowl greased with a little olive oil. Turn the dough so it is evenly coated in oil. Cover the bowl with plastic wrap and let it sit in a warm spot for an hour and a half.
After an hour and a half, transfer dough to a well floured counter spot or baking sheet. Use a bench scraper to cut the dough in half. Form into two separate balls of dough. Cover with plastic wrap and let rise another 30 minutes.
Preheat the oven to 450 degrees F with a pizza stone in the oven or a pizza pan in the oven. use your hands to gently press one dough ball out into a 14 inch pizza.
Top as you see fit.
Transfer to pizza stone or pizza pan and bake for 12 minutes until golden and the cheese is melted.
Let cool slightly before slicing.
Preparation time:

2 hours

Cook time:

12 minutes

Total time:

2 hours 12 minutes
Related posts: