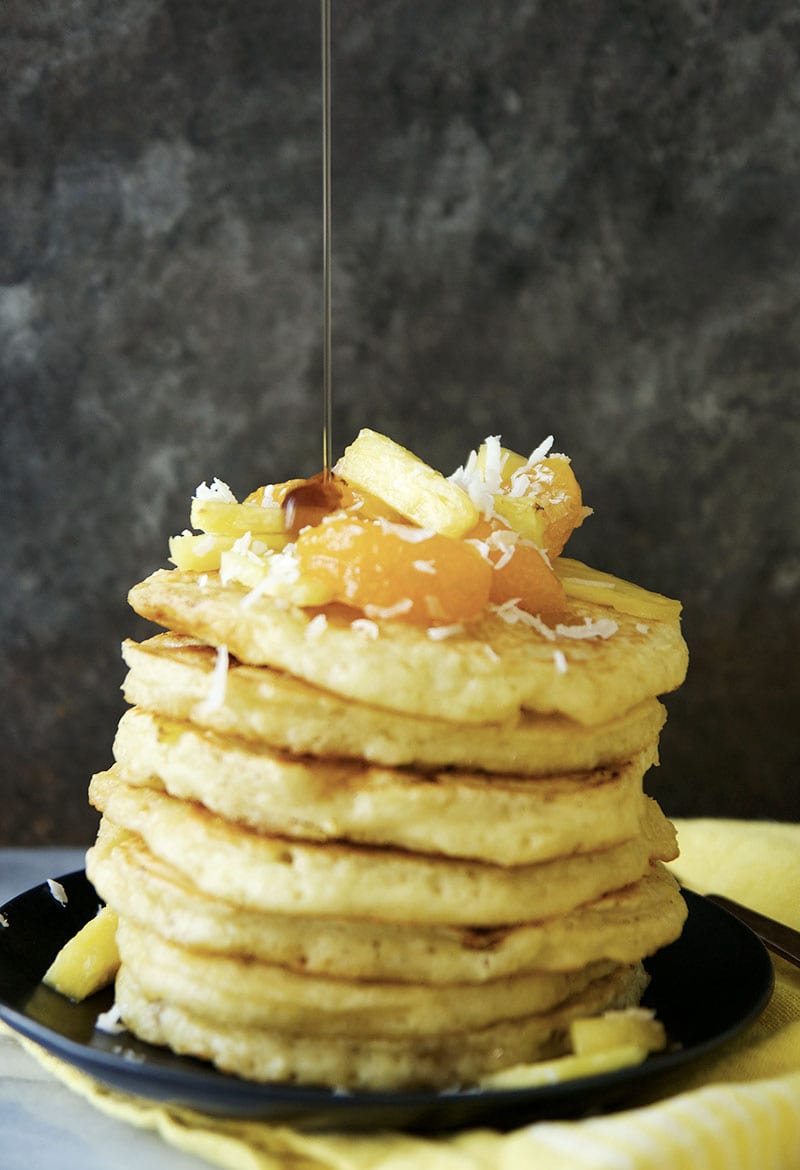 Yes. You read that title right. Before I tell you guys what Hawaiian Salad is, I want to know how many of you (I am hoping for a small group) have ever heard of or even eaten Hawaiian Salad?
I'll wait.
Phew!
For those of you not in the know, Hawaiian Salad is this Mad Men era dessert salad. It probably came to life around the time of Jell-O salads and fruit cakes. This "salad" typically contains, mini marshmallows, madarin oranges, pineapple tidbits, coconut, and don't forget good old sour cream to keep it all together.
Sounds weird right?
It isn't, I swear! My Grandma used to make this all the time growing up. I am pretty sure my brother, Nick, and I devoured it and our scaredy cat baby bro, Zack, stayed far away. He was always asking for chocolate chip cookies. And in typical youngest child fashion, he would always get them.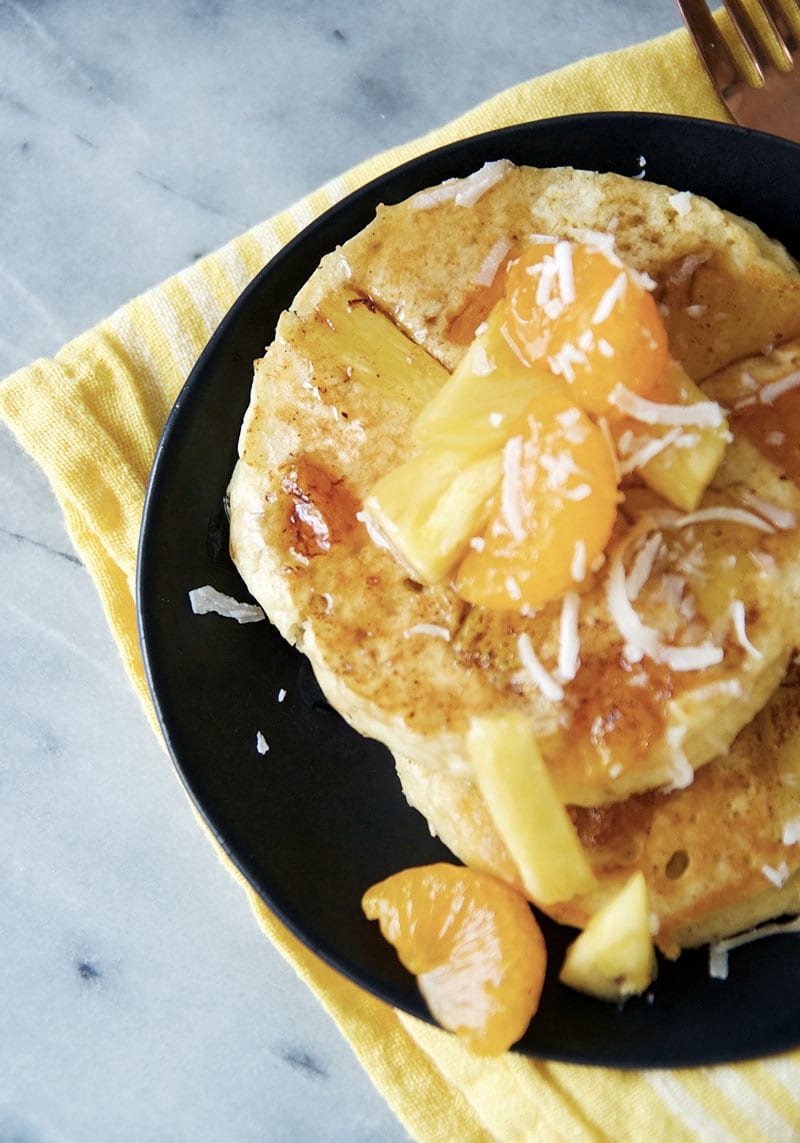 Imagine my surprise when I went to write this post and did a little research to find you guys a link to some other crazy person whose grandma made them eat this as a child, and I discovered I forgot the flipping marshmallows. Ugh!
Don't worry though. They are totally not necessary in this recipe. In the salad form, though, you totally need them.
This would have been one of those recipes I made and ate entirely myself. If I had gone the route of the salad version. Since I didn't feel like eating another thing all alone while my family stares at me in disgust, I went the pancake way.
I mean, think about it. Sour cream or Greek yogurt is used all the time in pancakes. It is the perfect fit. And since you use good old fashioned canned fruits, you can eat these any time of year when that Hawaiian Salad craving hits.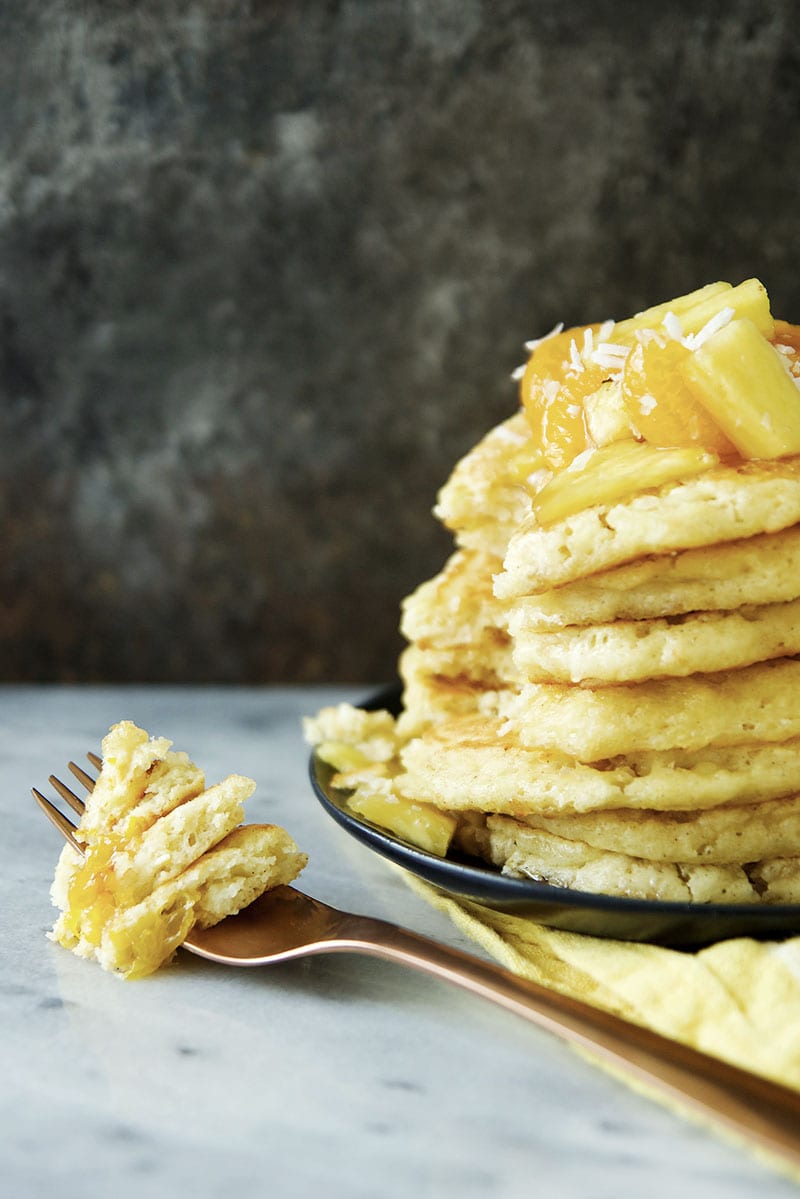 I passed some along to my Dad to see if I got the flavors right. And wouldn't you know, I seemed to have forgotten something again!
My Dad is one of the few people that hates coconut. He was stationed in Hawaii during his time in the Army and overdid it then, so he likes to stay away from it now.
Poor baby.
He suffered for the blog and begrudgingly ate five pancakes. Guess he didn't mind all that coconut after all. Maybe it was just that I came very close to recreating one of our fave family recipes and it just made him happy.
Plus it tasted dang good, if I do say so myself.
Hawaiian Salad Pancakes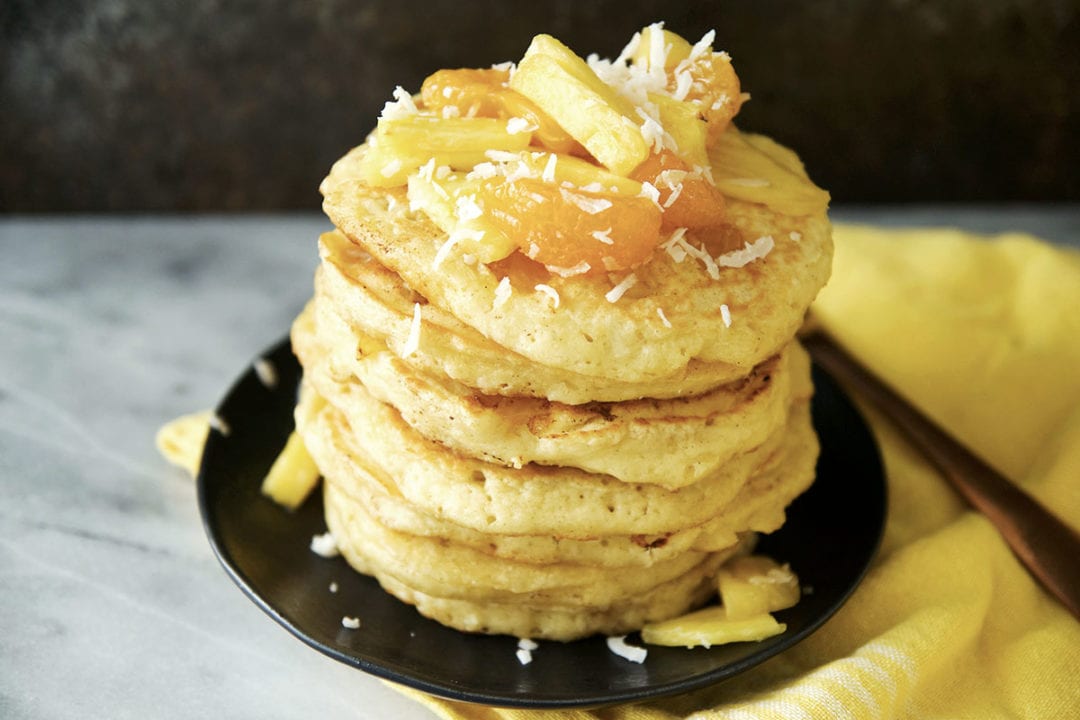 A dense and still fluffy pancake with coconut, Mandarin oranges, and pineapple chunks.
Yields: Serves 6
2 Cups All Purpose Flour
2 Tablespoons Granulated Sugar
2 Teaspoons Baking Powder
1 Teaspoon Baking Soda
1 Teaspoon Salt
3/4 Cup Shredded Dried Coconut
2 Large Eggs
4 Tablespoons Unsalted Butter, melted
2 Teaspoons Nielsen-Massey Madagascar Bourbon Pure Vanilla Extract
1 1/2 Cups Almond Milk or Regular Milk
1/2 Cup Sour Cream
1/2 Cup Chopped Fresh Pineapple or Canned and drained PineappleTidbits
1/2 Cup Canned and Drained Mandarin Oranges
In a medium bowl, whisk together the flour, sugar, baking powder, baking soda, salt, and coconut.
In a separate medium bowl, whisk together the eggs, butter, milk, sour cream, vanilla. Pour the wet ingredients into the dry and mix until combined. A few lumps are okay.
On a griddle or large cast iron skillet, melt a few tablespoons of unsalted butter over a medium flame. Once melted swirl around the pan to evenly coat. Spoon about 1/3 portions of batter on to the pan/griddle.
Cook until little air bubbles start to form around the edges, about 2 minutes. While the first side cooks, press a few pineapple and orange slices into the batter, then flip when ready. Cook the second side for 2 minutes.
Transfer to a a foil lined baking sheet and keep in a warm oven until ready to eat.
Continue process, adding butter to the pan in between batches, until all the batter is used.
Preparation time:

7 minutes

Cook time:

20 minutes

Total time:

27 minutes