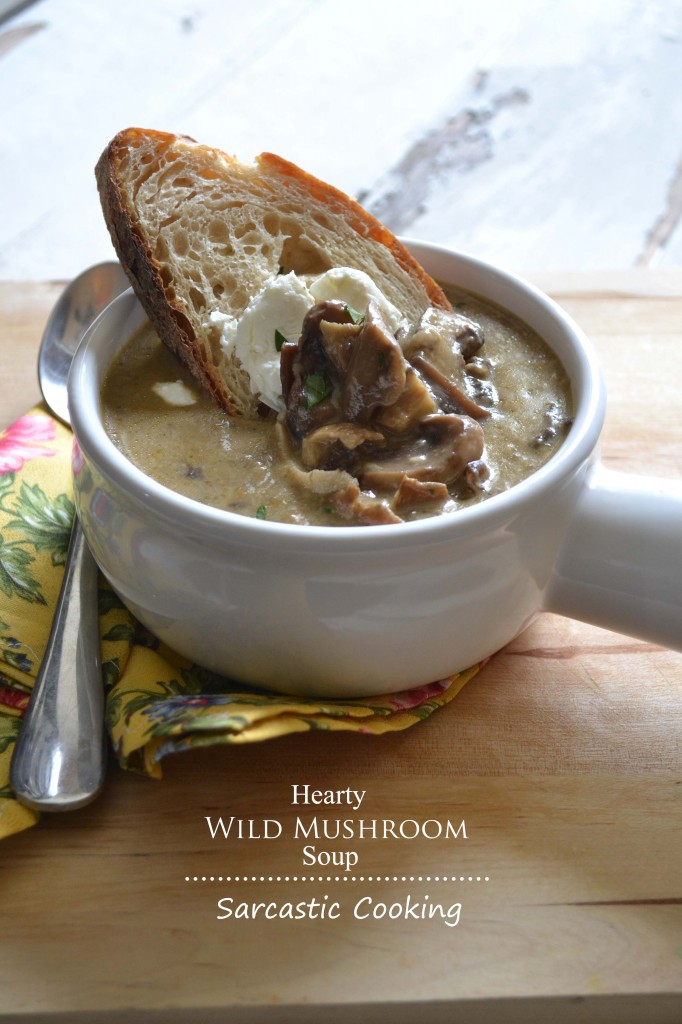 Hearty Wild Mushroom Soup
Author: Sarcastic Cooking
Prep time: 10 mins
Cook time: 25 mins
Total time: 35 mins
1 Ounce Dried Mushroom Medley (dried porcini mushrooms is ok too)
3 Cups Boiling Water
2 Tablespoons Olive Oil
9 Cups Various Mushrooms (portabella, shitake, button), cleaned and chopped
½ Cup Diced Red Onion
2 Cloves Garlic, grated
3 Tablespoons Butter
3 Tablespoons All-Purpose Flour
3 Cups Vegetable Stock
1 Tablespoon Salt
1 Teaspoon Pepper
3 Sprigs Thyme
2 Tablespoons Goat Cheese
2 Tablespoons Fresh Chopped Parsley
Combine dried mushrooms with boiling water in a medium bowl. Let steep while you prepare the other ingredients. Clean mushrooms with a damp paper towel. Remove stems and chop mushrooms.
In a large soup/stock pot, heat olive oil over medium heat. Add mushrooms and sauté while stirring for about 5 minutes. Add the red onion to the pot and sauté for another 4 minutes. Add grated garlic, stir, and cook for a minute.
Add the butter to the pot and cook until melted. Add the flour and stir until all the mushrooms are coated and roux starts to form. Cook for a minute.
Strain the rehydrated mushrooms, reserving the newly made mushroom stock. Remove any stem bits and chop rehydrated mushrooms. Slowly add the mushroom stock, whisk to break up the roux and incorporate it into the mushroom stock.
Add the vegetable stock, salt, pepper, and thyme. Stir to combine. Cover pot with lid and bring to a simmer. Simmer over medium heat for 15 minutes.
After 15 minutes, remove the thyme stems. Add goat cheese and parsley, stir until goat cheese melts. Remove from heat. Let the soup cool for about 10 minutes.
When the soup has slightly cooled, use a measuring cup to scoop out about three cups of the soup. Add the soup to a blender. Blend until completely smooth. Add the smooth soup back to the pot and stir to combine.
Soup will last in an air-tight container in the refrigerator for a week or frozen for a month.
Recipe by
Sarcastic Cooking
at http://www.sarcasticcooking.com/2012/11/11/hearty-wild-mushroom-soup/