Dear Future Children,
I know you don't exist yet, but I am pretty confident in saying that I think we will get along pretty swimmingly.
It bodes well for me that your cousins really like me. But, that also might have something to do with the fact that it is very hard for me to say no to their cute little pixie faces. If you are anything like I was at your age, you have learned of this weakness and use it against me. Frequently.
I would also like to state for the record that I am not a fan of you guys constantly wiping dirt, snot, grease and other unmentionable grossness on my nice clothes. When you have kids of your own who try to use you as a napkin, I want you to remember that I never yelled. Instead, I smiled, wiped off the grossness, and carried on watching you play happily amongst your own filth.
I'm sure you have figured out by now, I will never have a problem putting cheese on any vegetable to get you to eat them. Also, I am sure you now know that I know you are just faking dislike of your vegetables just so you can have extra cheese. Well played kids, well played indeed.
So, if you guys don't take advantage of me too much, stop wiping goo on me, and eat your cheesy veggies we will never have an issue….Until you reach your teens and we will have to strike up a new set of guidelines.
Love you kids!
Stefanie aka "Who I was Before I Became Mommy"
Ingredients
1 Large Head of Cauliflower
1 Cup Heavy Cream
1 Garlic Clove, grated
1 Tablespoon of Horseradish, grated
½ Teaspoon Salt
¼ Teaspoon Pepper
2 Cups Gruyere Cheese, shredded
1 Tablespoon Parsley, chopped
Preheat the oven to 425 degrees. Chop the large head of cauliflower into small chunks.
Heat the heavy cream over medium heat in a small saucepan. Bring to a simmer. Add the grated garlic, grated horseradish, salt and pepper. Stir to combine.  Reduce heat to low and then add in one cup of the gruyere cheese. Heat until melted , then remove from heat.

Add the cauliflower to a buttered casserole dish. Pour the cheese sauce on top of the cauliflower. Cover with remaining cheese and sprinkle with chopped parsley. Bake for 30 minutes.
Remove from oven and let cool for ten minutes before serving.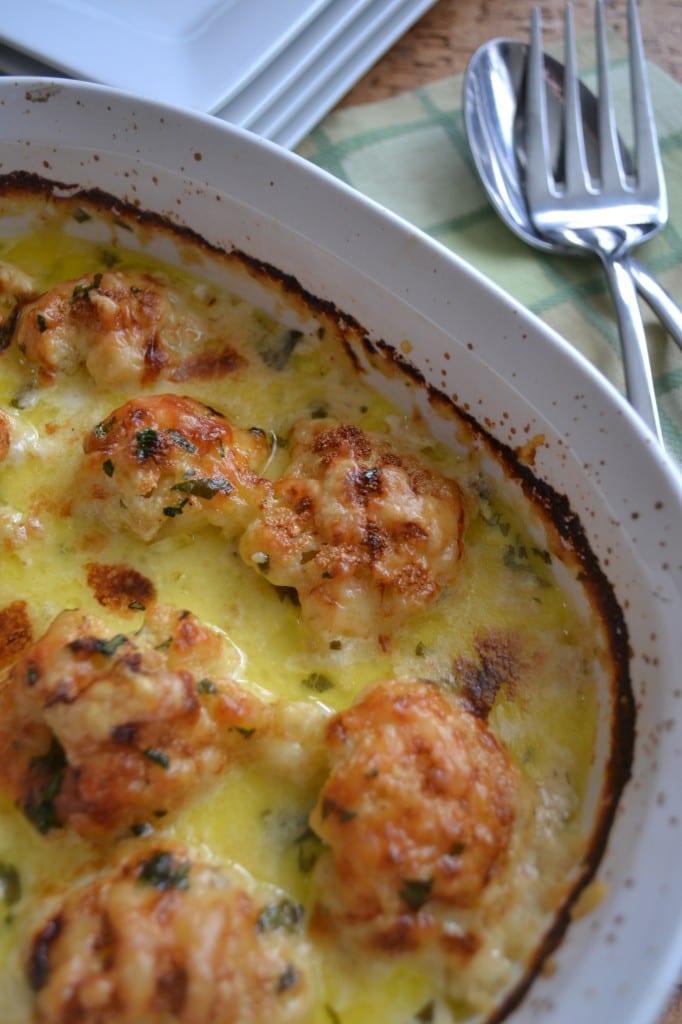 There you have it, a great cheesy side dish for parents and kids (or even future kids) alike.
Related posts: