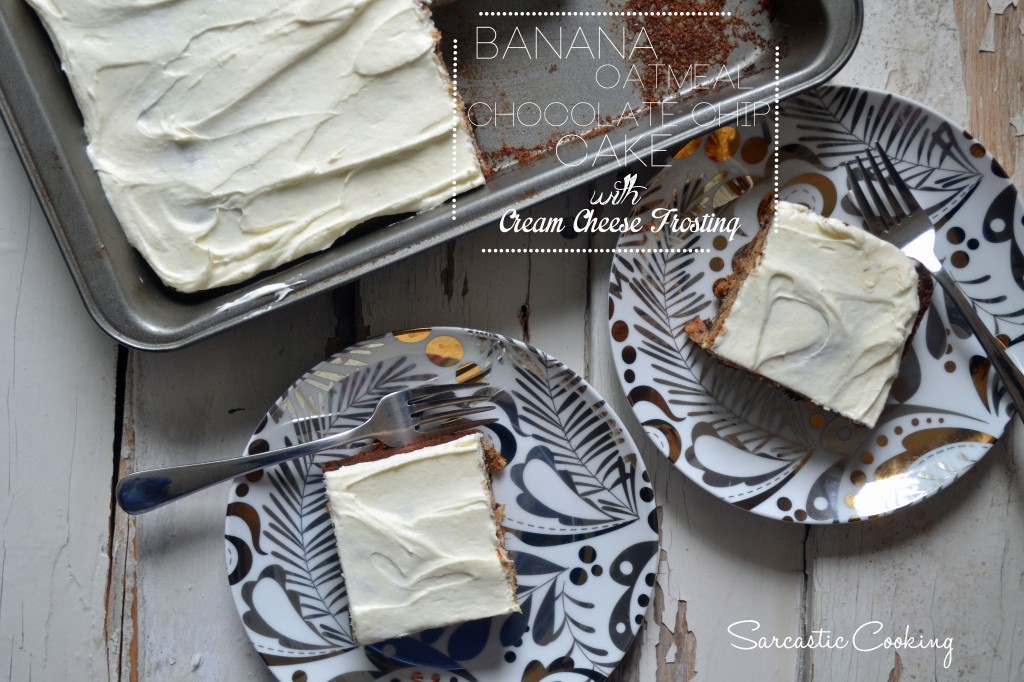 Banana Oatmeal Chocolate Chip Cake
Author: Sarcastic Cooking
Prep time: 30 mins
Cook time: 45 mins
Total time: 1 hour 15 mins
8 oz. semi-sweet chocolate chips
1 1/2 Cups + 2 Tablespoons All-Purpose Flour
1 Cup Rolled Oats
1/2 Teaspoon Bourbon
1 Stick Unsalted Butter, cubed-at room temperature
3 Ripe Bananas, mashed
2 Large Eggs, beaten
3/4 Cup Sugar
1 1/4 Cups Brown Sugar
1/2 Teaspoon Salt
1 Teaspoon Baking Soda
1 Teaspoon Baking Powder
1 1/2 Teaspoons Cinnamon


For the Frosting:
4 Tablespoons Unsalted Butter, at room temperature
6 oz. Cream Cheese, at room temperature
1 Cup Powdered Sugar
1 Teaspoon Vanilla Extract
Preheat the oven to 375 degrees F. Butter a 9x13-inch baking pan and set off to the side.
In a small bowl mix the bourbon and chocolate chips together. Add two tablespoons of flour to the bowl, mix to coat all the chips.
In a small saucepan, bring 1 ¼ cup water to a boil. Add the oats and butter to a heatproof bowl and pour the water over the oats. Mix to melt the butter into the oat and water mixture. Let the oats sit for at least thirty minutes mixing a few times.
Whisk together the eggs, sugars, bananas, salt, baking powder, baking soda, and cinnamon in a large mixing bowl. Fold in oatmeal until well combined. Fold in remaining flour until just about combined. Add in chocolate chips and fold until no more flour appears.
Pour the batter into the prepared pan and bake for 40-45 minutes until a toothpick inserted into the center comes out clean. Cool the cake in the pan on a cooling rack for at least thirty minutes before topping.
To make the frosting, add the butter to a bowl and using an electric hand mixer beat the butter until light and fluffy.
Add the cream cheese to the butter and mix until well combined and smooth. Add the vanilla and powdered sugar. Beat the sugar into the mixture on low until combined. Up the speed and mix until smooth, about one minute.
Add frosting to cooled cake in one thick layer and then refrigerate cake for 15 minutes before slicing and serving.
Recipe by
Sarcastic Cooking
at https://www.sarcasticcooking.com/2013/07/01/banana-oatmeal-chocolate-chip-cake/