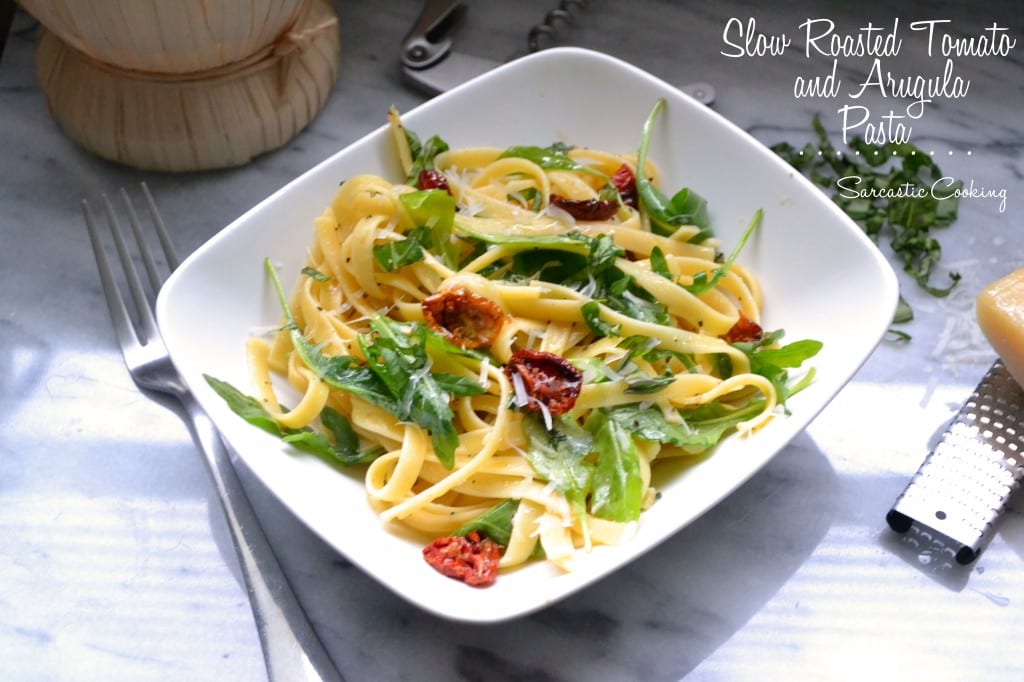 Slow Roasted Tomato and Arugula Pasta
Author: Sarcastic Cooking
Prep time: 10 mins
Cook time: 2 hours 12 mins
Total time: 2 hours 22 mins
Slow-roasted, sweet cherry tomatoes tossed with arugula and fresh lemon juice in your new favorite summer pasta dish.
1 Pint Cherry/Grape Tomatoes, halved
½ Cup Olive Oil, plus more for drizzling on the pasta
Salt and Pepper
½ Pound Pasta
3 Cups Arugula
Juice from 1 Lemon
Cheese of Choice
Chopped Fresh Basil, optional
Preheat the oven to 250 degrees F. Line a medium baking sheet with tin foil.
Slice tomatoes in half length-wise and place cut side up on the baking sheet. Drizzle olive oil over tomatoes. Add salt and pepper. Roast the tomatoes for two hours, turning the pan every once in a while.
When the tomatoes are almost done, bring a large pot of salted water to a boil. Once boiling, add your noodle of choice and cook according to instructions on packaging. Drain the pasta and add it back to the pot.
Add the roasted tomatoes along with the oil to the pot with the noodles. Add the arugula and give the pasta a toss so the arugula becomes slightly wilted.
Add lemon juice and an extra drizzle of olive oil, toss to combine. Serve in bowls with whatever cheese you desire.
Recipe by
Sarcastic Cooking
at https://www.sarcasticcooking.com/2013/08/12/slow-roasted-tomato-and-arugula-pasta/