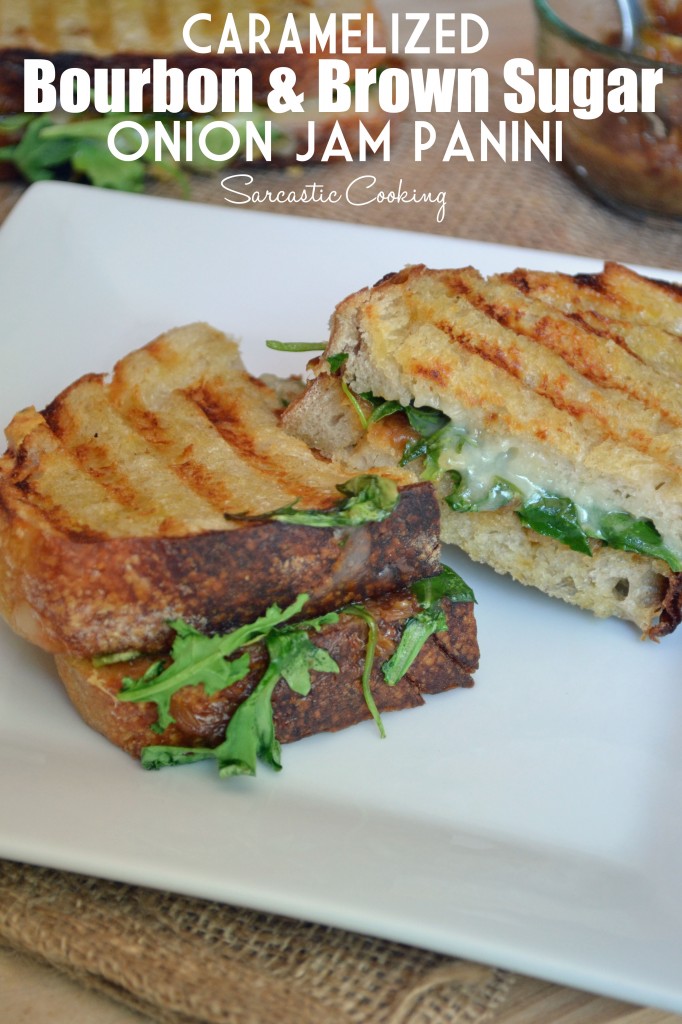 Caramelized Bourbon and Brown Sugar Onion Jam Panini
Author: Sarcastic Cooking
Prep time: 15 mins
Cook time: 45 mins
Total time: 1 hour
2 Tablespoons Unsalted Butter
1 Tablespoon Olive Oil, plus more for the bread
1 Yellow Onion, sliced
1 Tablespoon Bourbon
1 Teaspoon Brown Sugar
½ Teaspoon Molasses
4 Thick Slices of Bread
1 Cup Arugula
¼ Pound Smoked Fontina Cheese, shredded
Add the butter and olive oil to a medium skillet. Heat the pan over medium/low heat until the butter melts. Add the onions to the pan.
Sautee onions over low heat, covered with a lid for 45-50 minutes, stirring occasionally.
Once the onions start to turn light brown, add the bourbon, brown sugar, and molasses. Stir to combine. Sautee onions an additional 5-10 minutes without a lid to cook off the alcohol and combine the flavors.
Let the onions cool for ten minutes before adding them to a food processor. Pulse onions for a few seconds until the large slices are broken up and the mixture resembles a jam/paste.
Heat a grill pan or Panini press for a few minutes until very hot.
Lightly coat a side of each slice of bread with olive oil. Spread onion jam on one or both opposite sides of the bread. Add half the fontina and arugula to each sandwich. Press or grill each side for about 5 minutes until the bread is crisp and golden and the cheese is melted.
Let cool for a minute before slicing and serving.
Recipe by
Sarcastic Cooking
at https://www.sarcasticcooking.com/2013/08/14/caramelized-bourbon-and-brown-sugar-onion-jam-panini/