Print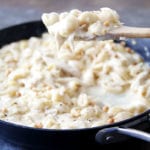 One Pot Chicken and Shells with Honey IPA Cream Sauce and Macadamia Nuts
A 30 minute, one pot pasta dish with rotisserie chicken, shells, a honey IPA cream sauce and lots of Mauna Loa Dry Roasted Chopped Macadamia Nuts for crunch.
1/4

Cup

Unsalted Butter

1/4

Cup

All Purpose Flour

3-4

Cloves

Garlic

grated or minced

2

Cups

Heavy Cream

2

Tablespoons

Honey

1 1/4

Cups

Low-Sodium Vegetable or Chicken Stock

salt and pepper to taste

7

Ounces

IPA

a hoppy pale ale

2

Cups

Medium Shells

2

Cups

Shredded Mozzarella or Parmigiano-Reggiano

2

Cups

Shredded Rotisserie Chicken

3/4

Cup

Mauna Loa Dry Roasted Chopped Macadamia Nuts

Chopped fresh Basil

for garnish
Add butter to a large skillet over medium heat. Once the butter is melted whisk in the flour. Let the flour cook for one minute.

Reduce the heat to low, add the garlic, and stir to combine.

Slowly pour in the heavy cream, honey, stock, and beer. Stir continuously to combine the roux into the liquids. Increase the heat to medium. Bring to a simmer.

Add salt and pepper to taste.

Add the noodles and cover the skillet with a lid. Simmer the covered noodles for 12-15 minutes. Make sure to lift the lid every now and then and stir the noodles so they don't stick together.

Once the noodles are almost cooked to al dente, add in the chicken and cheese. Stir to combine and then cover with the lid. Cook for another 5-7 minutes.

Line a small baking sheet with parchment. Set your broiler to low. Add the chopped macadamia nuts to the parchment lined sheet. Toast them under the broiler for 1-2 minutes, until lightly golden and fragrant.

Uncover the pasta, give it a good stir to evenly incorporate everything. Add more salt and pepper if needed. Once the pasta is cooked to al dente and the chicken is heated through, top the pasta with all the macadamia nuts and a little bit of chopped basil for garnish.