Print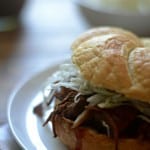 Slow Cooker BBQ Pulled Pork Sandwiches
The easiest slow cooker BBQ pulled pork sandwiches ever!
Total Time
10
hours
10
minutes
Combine the BBQ sauce, beer, and garlic in the bowl of the slow cooker. Place the pork shoulder into the liquid.

In a small mixing bowl, whisk together the salt, pepper, cayenne, paprika, and cumin. Generously season the top of the pork shoulder with the mixture. Top with the onions. Cover with the lid.

Set your slow cooker to low for 10-12 hours. I find it best to do it overnight for the next day's dinner. Once the pork is cooked through, remove the bone and use a pair of tongs to break apart the meat into small chunks for sandwiches.

Note: If there is still sometime before dinner is being served and you don't want to have to reheat the meat, just leave the crock pot on simmer. It will allow the liquid to reduce even more and make the edges of the pork caramelized with the sauce.