Print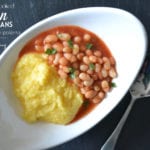 Slow-Cooked Italian White Beans with Parmesan Polenta
Tender, slow-cooked white beans in a simple tomato sauce served over creamy parmesan polenta.
The night before you plan on cooking the beans, rinse the beans under cool running water for a minute or two while you pick out any shriveled or discolored beans. Add the rinsed beans to the crockpot. Pour the water over the beans, cover, and let sit overnight.

The next morning, stir in the tomato sauce, tomato paste, salt, pepper, crushed red pepper flakes, Italian seasoning, parmesan rind, and 1 tablespoon of basil. Cover with lid. Set crockpot to low and cook beans for eight hours.

Once the beans are finished cooking, set the crockpot to warm, and make the polenta.

Bring the three cups of water and salt to a boil in a medium saucepan over medium heat. Once the water is boiling, add the polenta. Stir continuously until the polenta starts to thicken. Reduce heat to low.

Stir in the shredded cheese and remove from heat. Remove remaining bits of parmesan rind from beans before serving.

Serve beans on top of or alongside polenta. Beans are also very good over rice or your favorite noodle. Beans can be frozen in an airtight container for up to a month or stored in the refrigerator in an airtight container for a week.