-Or-
Why Food Always Sounds Better in Other Languages
Last night, my husband I were having a discussion about how cool the word Chorizo sounds. (Granted, he wasn't really giving me his whole attention, because I couldn't sleep and he was most likely sleep-talking to me, and as he reads this will think "I don't remember this.")
Chorizo compared to the American translation, "saaah-sedge", is way sexier!
Think about other translations. Which sound more enticing?
Polpette or Meatball?
Carne Asada or Grilled Steak?
Baguette or French Bread?
Cabernet Sauvignon or Red Wine?
Clearly, the last translation is not 100% accurate, but you get my point.
As Americans, we are made up of a "melting pot" of different backgrounds and ethnicities yet we are still trying to forge ahead and make things "American."
Sometimes during that process, there are casualties, like, a butchered language.
I remember the time (the first and last time) my father took me and my siblings through the drive-thru at Taco Bell (yes, I know that is not a shining example of true Mexican food, but oh well). He ordered the Nachos Bell Gran-dee…..
My brothers and I gave him the hardest time! It was mortifying yet also hilarious!
But, if I take a second to think about it, my parents (and I'm sure some of yours as well) never had to learn other languages besides the ones they were either born knowing or were raised speaking.
Consider all the people in the world that have never tried chorizo out of fear of the unknown or not knowing how to pronounce it. Such a shame…
As Americans, one of our flaws every so often is pride. A lot of times I think people don't order foreign food because they don't want to risk looking stupid trying to pronounce it.
While we, a younger generation of foodies, winos, and food snobs can appreciate the sexy, foreign, and sometimes mysterious sounds of these foods, the elder generations are still catching on or even, in some cases, thinking, "What's so wrong with calling it saaah-sedge?"
My fellow Americans, young and old, it is our duty to embrace new foods and languages because not only is it what America is all about, it just sounds better!!!
Ingredients (serves four)
4 Eggs, cooked any way you like them
3 Large Potatoes, cubed
1 Red Pepper, roughly chopped
1 Jalapeno, seeded and finely diced
½ Onion, finely diced
1 Garlic Clove
1 TSP Crushed Red Pepper Flakes
1 TSP Salt
1 TSP Pepper
1 TSP Ground Cumin
4 TBSP Olive Oil
1 Large Link/Piece of Chorizo*, uncooked
*If you don't like pork feel free to substitute a spicy chicken sausage or if you don't eat meat Trader Joe's has this wonderful Soyrizo that has all the same flavors of chorizo…. except, not.
1 Cup Shredded Cheddar Cheese (Any cheese can be substituted here.)
1 TBSP Fresh Cilantro, chopped for garnish
 
Roughly chop or dice all your vegetables.
Place all vegetables in an oven-safe skillet or casserole dish.
Coat all veggies with the olive oil.
 
Add in the dry seasonings and grated garlic. Mix well.
 
Bake vegetables at 400 degrees for 45 minutes.
In a skillet, sauté onions with 1 TSP of olive oil over medium heat for a minute or two.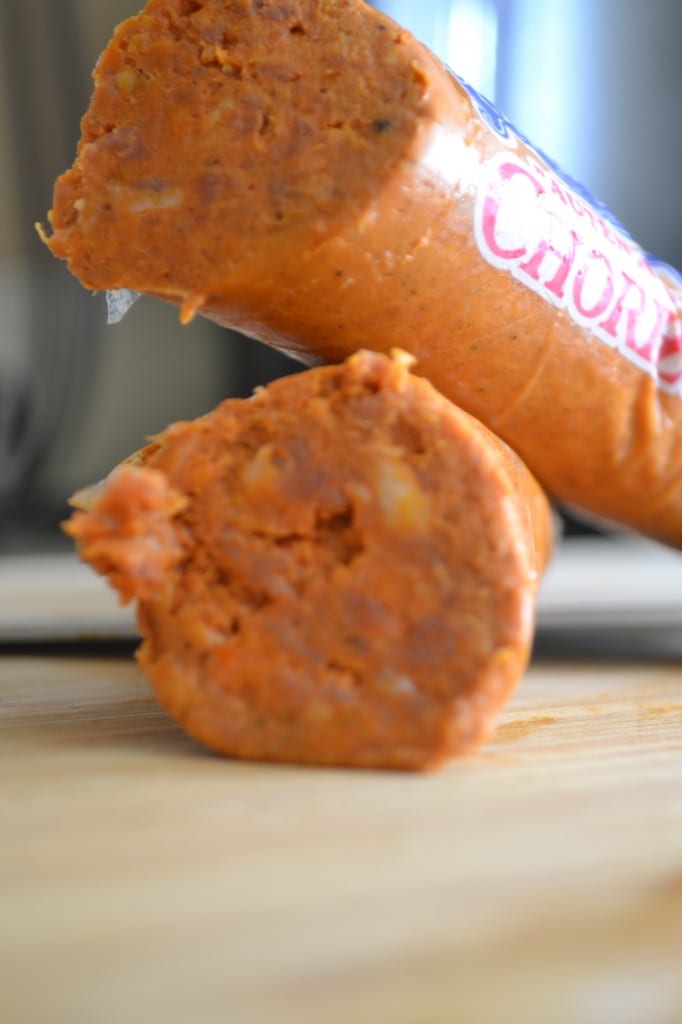 Add the uncooked chorizo. Cook the chorizo over medium high heat for 10 – 15 minutes until all the fat and grease cooks out and the chorizo is a dark deep red color.
Fry, poach, or scramble your eggs.
 
When potatoes and vegetables are done cooking, add the chorizo to the dish and mix. Then add a layer of shredded cheddar cheese on top. Put the skillet/dish back in the oven for a few more minutes until the cheese has melted.
Take the dish out of the oven, top with eggs and garnish with cilantro.
 
This meal also goes nicely with some hot sauce, salsa, or cool guacamole.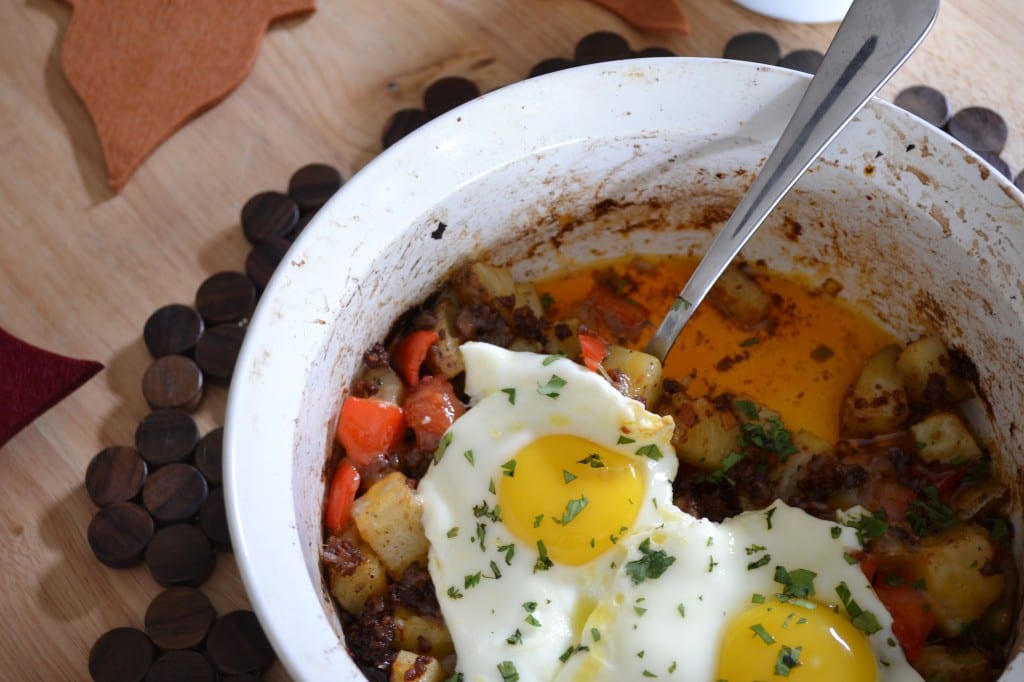 Eating this dish makes me want to run away to Spain, or France, or Italy, any place with an amazing plethora of unbelievably tasty and cool sounding foods! (Just kidding hubby)
Related posts: