Now that the haze from my weekend long food coma has lifted, I find myself inspired by my friend's Italian creation over Friendsgiving. Well, that's partially the reason behind this week's recipes.
To be completely honest, I have all the Italian ingredients because I was supposed to make a pasta dish for Friendsgiving. When the menu was revised, my good friend with a case of pregnancy brain forgot to tell me the main dish now consisted of pasta. I'm not just going to let all these ingredients go to waste…
So, Italian food it is!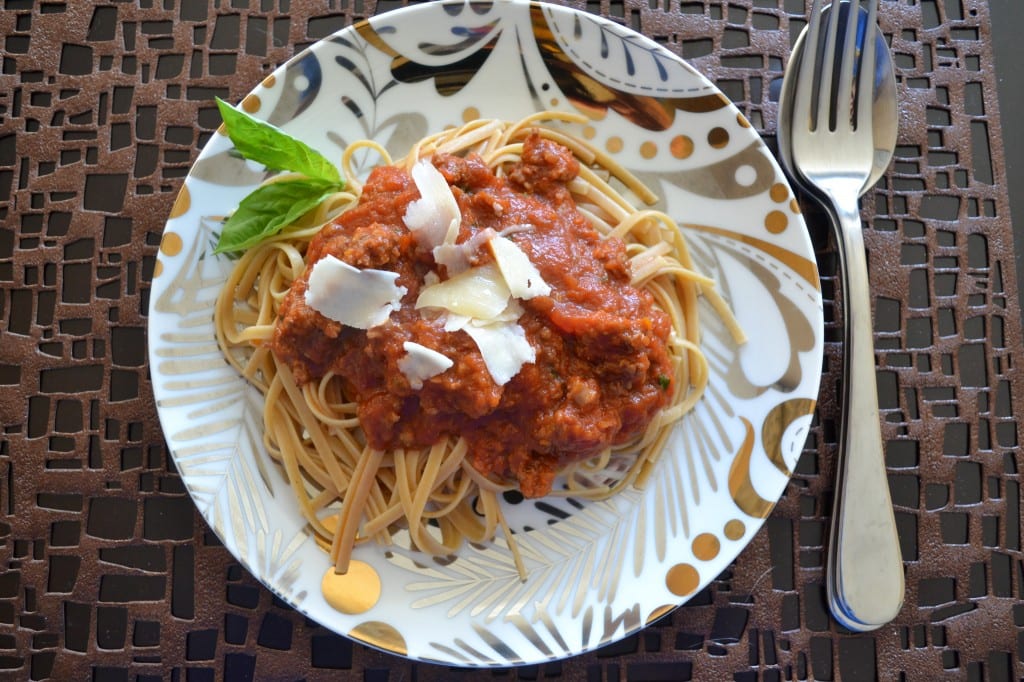 Ingredients
2 Stalks of Celery, roughly chopped
2 Carrots, peeled and roughly chopped
½ of an Onion, roughly chopped
2 Cloves of Garlic
1 Tablespoon of Olive Oil
1 lb. of Ground Beef
4 Links of Mild Italian Pork Sausage, casings removed
1 Teaspoon of Salt
½ Teaspoon of Pepper
½ Teaspoon of Dried Oregano
½ Teaspoon of Dried Basil
½ Teaspoon of Crushed Red Pepper Flakes
1 Cup of Red Wine
2 Tablespoons of Tomato Paste
2 Cans of Crushed Tomatoes
2 Tablespoons of Fresh Basil, finely minced
 
Place the celery, carrots, onion, and garlic in a food processor. Pulse the ingredients until they are finely minced. Add the olive oil to a large stock pot and bring up to temperature over medium heat. Add the carrot, celery, onion, and garlic combination to the pot. Cook over medium until the mixture releases most of its moisture, about five to ten minutes.
 
Combine the beef, Italian sausage, and seasonings in a large bowl. Use your hands to make sure all the ingredients are properly combined. Raise the temperature to high heat. Add the beef and pork mixture to the pot. Break the meat apart into small chunks using a rubber spatula. At this time there will still be a good deal of liquid in the pot. That is ok, we want all that beef and pork flavor in the sauce.
 
When the meat is slightly browned, add the wine, and reduce the heat to medium. Using a rubber spatula, remove all the bits of meat which have seared to the bottom of the pot. Let the wine simmer for about fifteen minutes.
 
When the wine has reduced, add the tomato paste. Mix until the tomato paste has combined with the wine. Then add the crushed tomatoes. Simmer the sauce over low heat for about an hour to get the maximum amount of flavor from all the ingredients.

After an hour, add the basil. Remove from the heat. Let the sauce cool for about fifteen minutes before serving.
 
Bolognese. Not only is it fun to say, but it is also a sneaky way to get a serving of vegetables into the diet of the carnivore in your life!