The only mashed potato recipe you will ever need is my mom's overnight refrigerator mashed potatoes. They are dense and packed full of sour cream, cream cheese, and butter. What else could you need?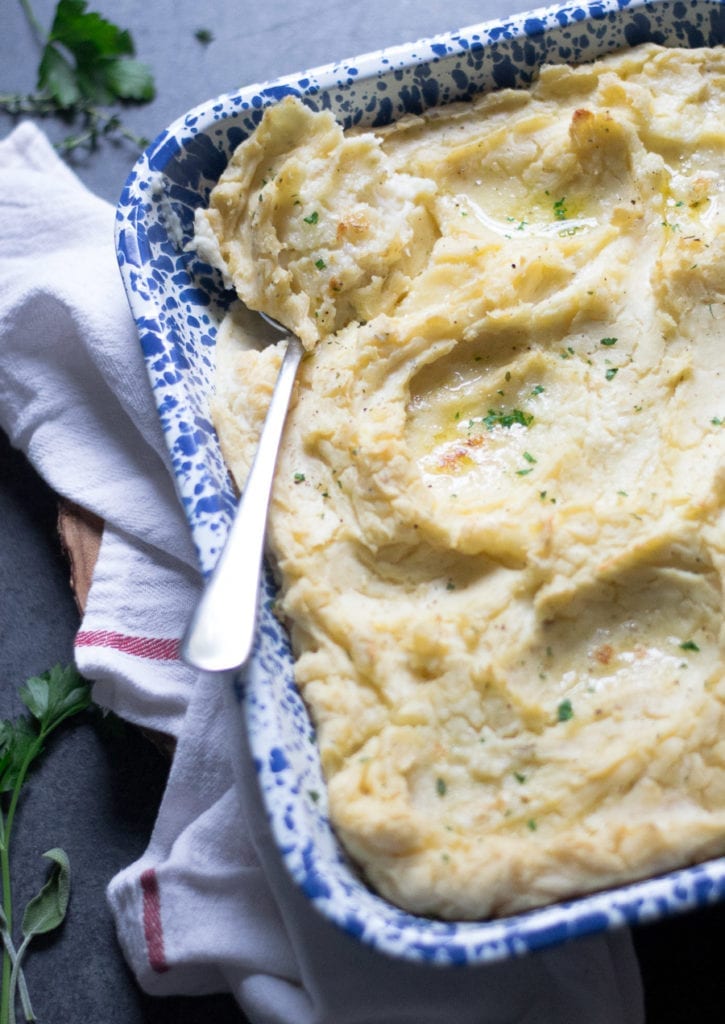 The second family recipe I want to share with you this week is my mom's refrigerator mashed potatoes.
I know everybody thinks their mom makes the best mashed potatoes. Well, sorry to inform you, that you are all wrong because my mom makes the greatest mashed potatoes, hands down!
I could go on and on about my mom. Clearly you can tell that she is a huge influence on me just from how often she has appeared in my blog. I could list a million recipes of hers that are amazing, but if I had to pick one recipe of importance, it would be this one!
Every single holiday dinner, these refrigerator mashed potatoes are loaded up on by the entire family and are bartered and fought over when it is time to take home leftovers.
They have cream cheese, butter, and sour cream in them. It's like the holy trinity of all things so wrong*, but soooo right! Plus, my mom was on the right track making these the night before because it allows all the flavors to marry and saves you time the next morning.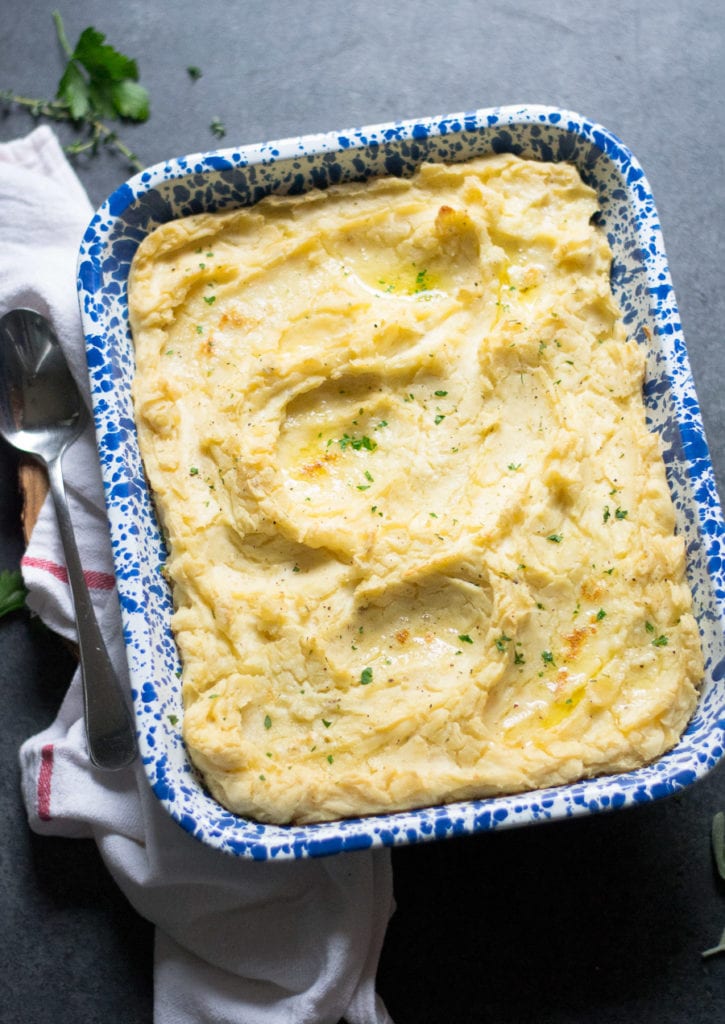 Trust me; it's one less thing you have to worry about tomorrow. Boil and mash the potatoes tonight. Add the cream cheese, butter, sour cream, and seasonings and let them sit overnight.
A half an hour before you are planning to eat, pop these in the oven for a half an hour and you basically get the equivalent of a twice baked potato minus the pointless potato skin.
Holidays are about sharing. I hope you will share this recipe with your family on this Thanksgiving.

Cook the peeled potatoes in boiling water until fork tender, about 20-30 minutes. Drain the potatoes and then put them in a large bowl and get to mashing. Mash potatoes until smooth.

Add the cream cheese, sour cream, onion salt, pepper, and salt. Using a hand mixer, beat the mixture until it is light and fluffy. Refrigerate the potatoes over night. Potato mixture can last in the refrigerator for up to two weeks.

The next day place the desired amount in a Pyrex dish and dot the top with the butter. Bake at 350 degrees for 30 minutes, until edges start to get crisp and golden.

*My mom would want me to lovingly caution you against eating too much of this dish, along with other things this holiday, because you look so good, why let it all go down the drain for one more scoop of potatoes.
(Seriously, who else could get away with telling you to mind your figure?")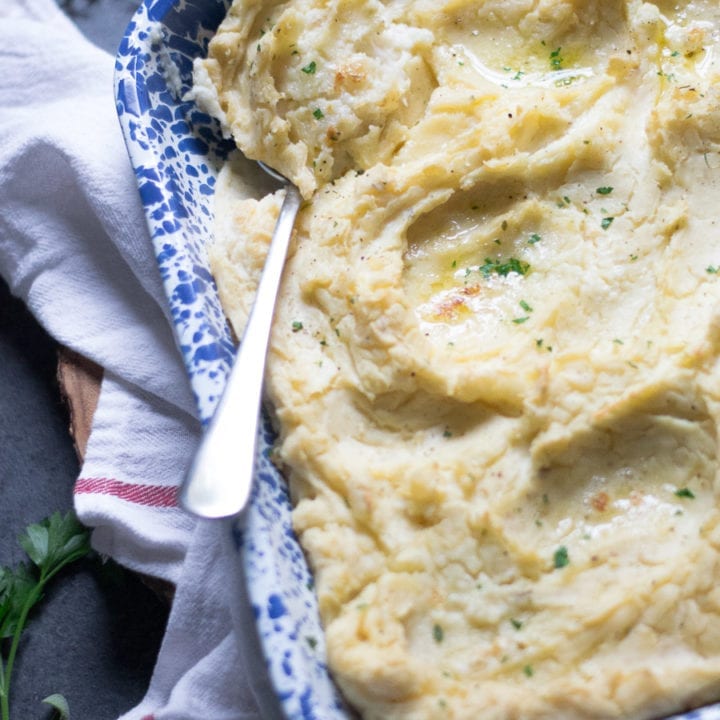 Mom's Refrigerator Mashed Potatoes
Creamy, dense, and decadent make-ahead refrigerator mashed potatoes are easy and loaded with butter, sour cream, and cream cheese then baked the day of until little crispy edges form.
Ingredients
5 lbs. Russet Potatoes, peeled
6 oz. Cream Cheese
1 Cup Sour Cream
2 teaspoons of Onion Salt
¼ teaspoon of Pepper
1 teaspoon of Salt
2 tablespoons of Unsalted Butter
Instructions
Cook the peeled potatoes in a large pot filled with cold water. This will ensure the potatoes cook evenly. Boil for about 20 minutes until fork tender.
Drain the potatoes and then place into a large mixing bowl. Use a potato masher to mash the potatoes.
Mix in the sour cream, cream cheese, onion salt, pepper. Either use an electric hand mixer or am immersion blender to whip the potatoes until creamy and fluffy.
Transfer the potatoes to a large bowl with a lid and store overnight or up to 1 week int he fridge until ready to bake.
Preheat the oven to 350 degrees F. Grease a large oven-safe baking dish with butter. Spoon the potatoes into the baking dish. Use the back of the spoon to spread the potatoes into one even layer. Leave a few bumps and wells and ridges on top so that they will get crispy when the potatoes bake.
Dot the top of the potatoes with the butter. Bake for 30-40 minutes until the top of the potatoes are golden and the edges are crisp.