Cheesy twice baked veggie loaded potatoes are stuffed with roasted broccoli, roasted cauliflower, two cheddar cheeses, and chives. These potatoes make a great quick meal and also a wonderful holiday or party side dish.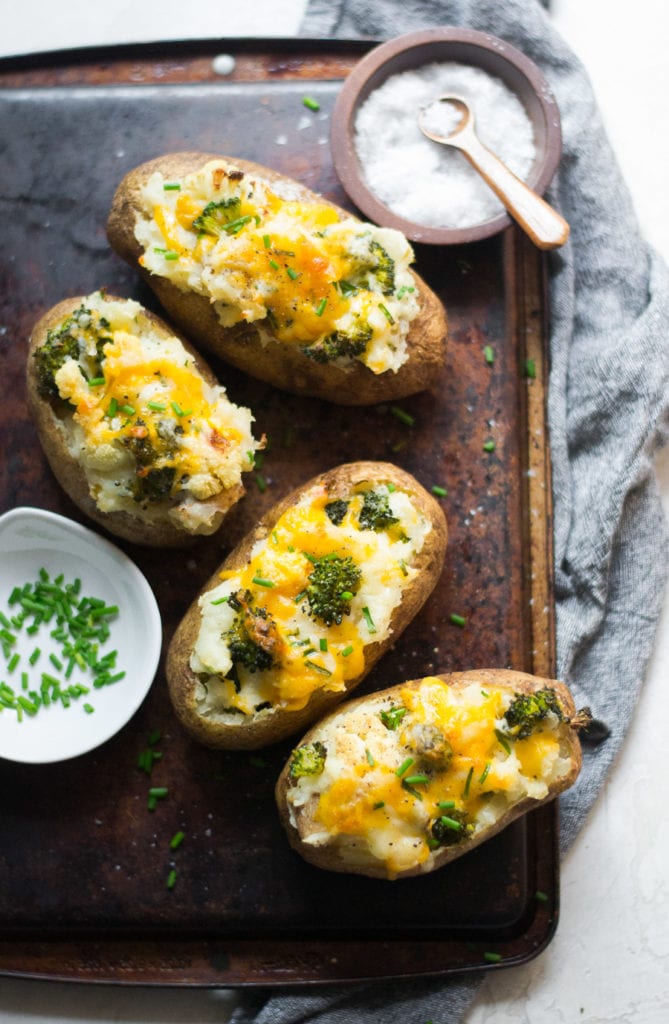 It's the last cauliflower recipe for the month. I swear. Wait. Do you want more? You love cauliflower as much as I do! More, more more! How do ya like it? How do ya like it?
Sorry for the musical interlude.
Is it too early to talk about THANKSGIVING?
I'll take it that's most likely a yes from your radio silence. I know it isn't even Halloween yet. Wouldn't these potatoes be a great side dish option for Thanksgiving or Christmas dinner? You would only have to make one super vegetable, this potato, to feed the crowd.
Cheesy twice baked veggie loaded potatoes are made right along side roasted broccoli and cauliflower. The insides of the potatoes are scooped out, added to a bowl with cheese, chives, milk, sour cream, and the roasted veggies. It all gets mixed and added back to the potatoes.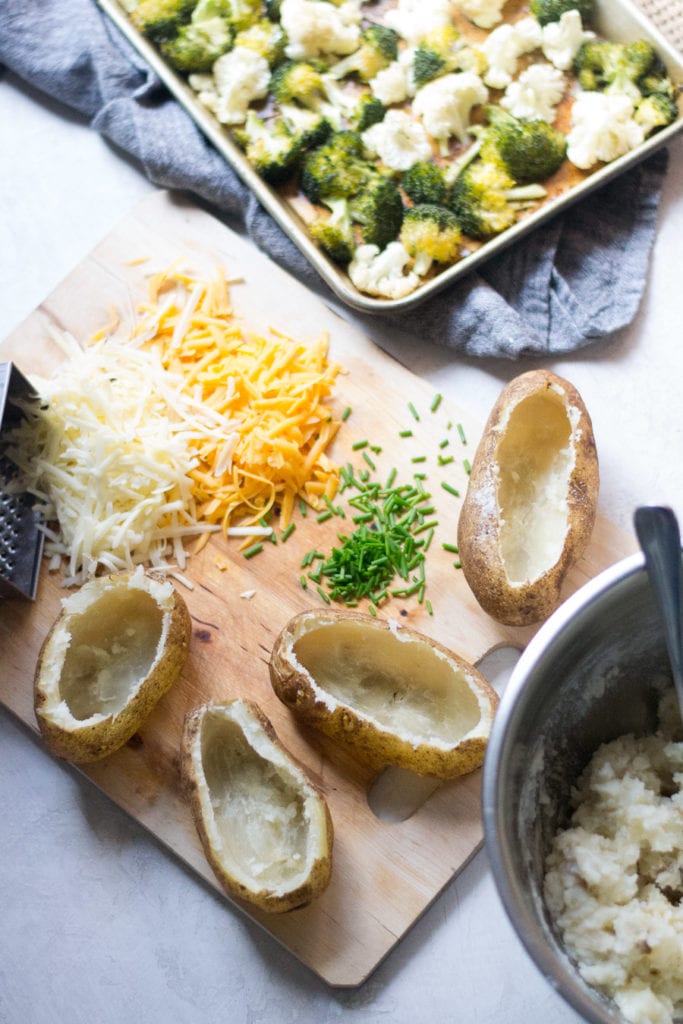 Bake them until the cheese is melty and then top with more chives. It's simply potato perfection. Three veggies in one convenient "container."
Mike and I not only ate these potatoes for a filling lunch, but we also ate them for dinner. That was all in the same day. It was a get-rid-of-all-the-leftovers-in-the-fridge kind of day.
I recommend a little hot sauce on top and maybe a dollop of sour cream on the side. This potato is decadent while also still being packed with healthy veggies.
The ultimate vehicle of balance. I should call this recipe "twice baked zen potatoes." No?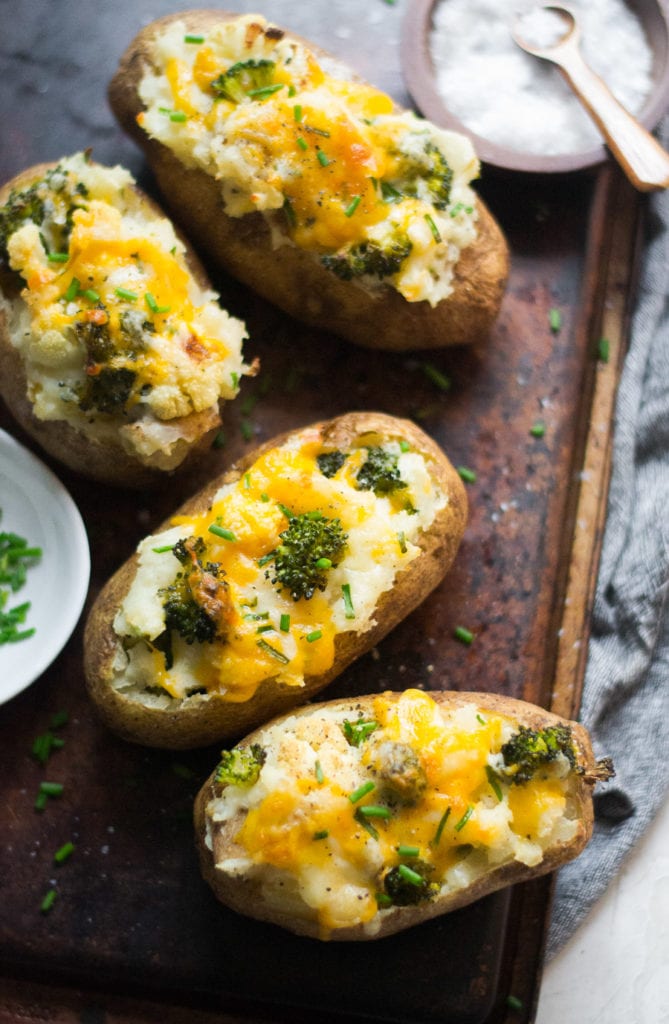 Do you like a good baked potato recipe? How about a twice baked potato recipe? Feel free to try any of the recipes below.
Avocado, Lime, Cilantro Baked Potatoes
Twice Baked Loaded Sweet Potatoes
Twice Baked Potatoes with Crispy Mushrooms and Herbs
How about we move on to other in season vegetables or fruits like kale or apples? It sounds like I am getting ready to feed horses or something. I better do some research to see what other produce is in season right now.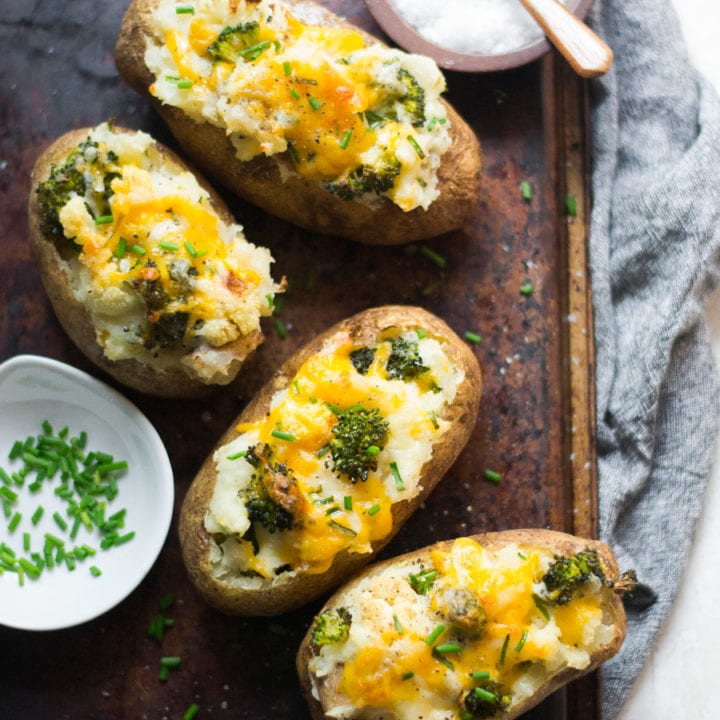 Cheesy Twice Baked Veggie Loaded Potatoes
Cook Time:
1 hour
20 minutes
Total Time:
1 hour
30 minutes
Twice baked potatoes stuffed with roasted cauliflower, broccoli, cheese, chives, and sour cream.
Ingredients
4 large Russet Potatoes
1 1/2 Cups Fresh Broccoli Florets
1 1/2 Cups Fresh Cauliflower Florets
2 tbsp extra virgin olive oil, divided
salt
pepper
1/2 cup heavy cream
1/2 cup light sour cream
1/2 cup freshly grated white cheddar
1/2 cup freshly grated sharp cheddar
2 tbsp minced chives
Instructions
Preheat the oven to 350 degrees F. Scrub each potato clean. Pat potatoes dry with a clean kitchen towel. Use a fork to poke holes all over each potato. Drizzle 1 tbsp olive oil all over the tops of the potatoes. Use your hands to rub the oil to cover the entire potato. Sprinkle each potato with salt and pepper.
Place potatoes right on the middle rack in the oven. Bake for 45 minutes.
After 45 minutes of baking, add the broccoli and cauliflower to a small baking sheet. Coat the veggies with remaining tbsp olive oil, a pinch of salt, and a pinch of black pepper. Roast the veggies along with the potatoes for 15-20 more minutes. Once the potatoes are fork tender, carefully remove them and the veggies from the oven.
Cut the top 1/4 of each potato off. Roughly chop the removed "cap" of the potatoes and then add to a large mixing bowl. Using tongs or oven mitts to grip the potatoes, scoop the inside out of each potato, leaving the skin behind. Add the scooped out potato to the large mixing bowl.
Add the heavy cream, sour cream, broccoli, cauliflower, 1/4 sharp cheddar cheese, 1/4 white cheddar, 3/4 the chopped chives, a large pinch of salt, and a small pinch of black pepper to the mixing bowl.
Use a fork to mix and roughly mash the potato mixture until combined.
Scoop the potato/broccoli/cauliflower filling back into each potato. Make sure to use the back of the spoon to press the filling down to get as much in as possible.
Place each potato on to the small baking sheet you used for the broccoli and cauliflower. Top each potato with the remaining cheese and chives. Bake for 20-25 more minutes until the cheesy is melted and golden.